While the kids are out on Winter Break, why not celebrate the holiday SEA-son at The Aquarium Of The Pacific? There are three different ways to celebrate winter fun and family time now through December 31st.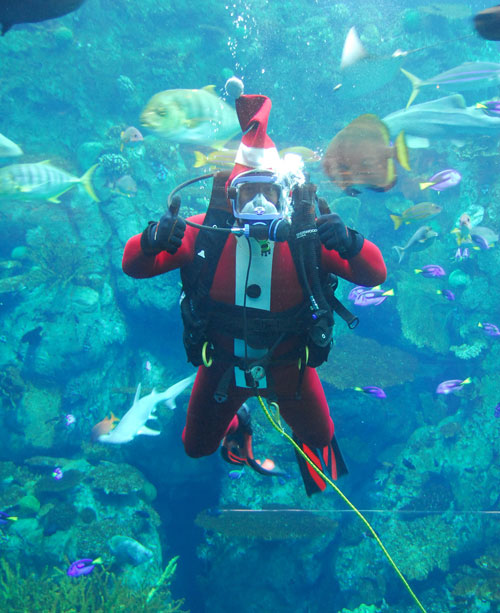 Aquarium of the Pacific
100 Aquarium Way, Long Beach, CA 90802 (562) 590-3100
During Discounted Late Nights (select nights), guests can enjoy the Aquarium of The Pacific for $14.95 per person (the kid regular ticket price). If you're a member or a child three and under., you had free admission.
Discounted Holiday Late Nights: Dec. 26, 28, 29, 30 & Jan. 2, 3 / 5:00 p.m. to 8:30 p.m.
Want to sleep with the fishies? The Aquarium of the Pacific is offering a Winter fun Family Sleepover Night on Sun., Dec. 28 / 5:00 p.m. to 7:00 a.m.  $70 per person (member discounts available).
Winter Fun also includes camp that will be available for children during the holiday break – either Sea Squirt Winter Camp or Winter Day Camp:
Sea Squirt Winter Camp (5-6 year olds only): Mon., Dec. 22-24 / 8:30 a.m. to 11:30 a.m.  $115 per child for the session (member discounts available)
Winter Day Camp (7-9 year olds only: Mon. Dec. 29-31 / 8:00 a.m. to noon. $150 per child for the session (member discounts available)
For more information about the winter fun planned, visit the Aquarium of the Pacific's website or call (562) 590-3100
About The Aquarium Of The Pacific:
The Aquarium of the Pacific, a nonprofit institution, celebrates our planet's largest and most diverse body of water: the Pacific Ocean. The Aquarium is dedicated to conserving nature and its resources by building interactions among people. Home to more than 11,000 animals, the Aquarium explores the waters of Southern California and Baja and the Northern and Tropical Pacific. The Aquarium features hands-on discovery labs staffed by knowledgeable volunteers, the Molina Animal Care Center, the Lorikeet Forest aviary, its interactive Shark Lagoon, the Ocean Science Center, the Wonders of the Deep gallery, the June Keyes Penguin Habitat, and Discover the Wonder exhibits. The Aquarium is open daily, 9:00 a.m. to 6:00 p.m. (except Dec. 25 and during the Grand Prix April 17-19, 2015). Beyond its exhibits, the Aquarium offers educational programs for people of all ages, from hands-on activities to lectures by leading scientists. It is a community gathering place where diverse cultures and the arts are celebrated and important topics facing our planet and our ocean are explored by scientists, policy-makers, and stakeholders in the search for sustainable solutions. A world of discovery awaits.