Summer is just about here and we've been hearing that California still conserving water because of our drought. The last few years, cities had restrictions on water usage, but what about this year at our parks? There are several Orange County Splash Pads Southern California residents rely on to stay cool and have a little fun.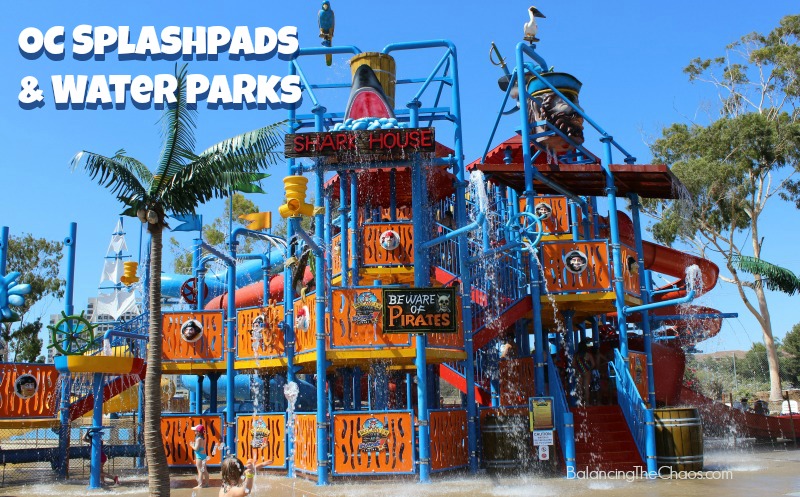 Check out the local Orange County splash pads listed below. Some were built with some sort of reclaim water/recycling system and will be open starting this Memorial Day Weekend.
7111 Talbert Ave (Youth Shelter & Amphitheater), Huntington Beach, CA 92844 (714) 892-6015
If you plan on visiting Adventure Playground, plan on having a blast while getting dirty! It is an outdoor play experience designed for children 5-12 years old. Kids can raft on a small pond, go down a mud slide, go across a rope bridge and build forts with wood. Admission is $4 per child. Adults 16 and older are free. Open from June 18 through August 19, 2018 Monday-Saturday 10am – 4pm; Closed Sunday.
13630 Atlantis Way, Garden Grove, CA 92844 (714) 892-6015
One of my favorite parks in Orange County, this adorable splash pad is located in a historic park that is getting ready to celebrate their 50th Anniversary.  The splash pad's water is scheduled to start up TBD.
1250 Santana Way, Corona, CA 92881 (951) 736-2241
Citrus Park at 1250 Santana Way [MAP], the Citrus Splash Zone features a number of water features including spraying jets and water cannons – making it a cool and fun activity for all ages to enjoy! The splash pad is open from 10 a.m. to 7 p.m. from May 1st to Sept. 30th.
29751 Crown Valley Parkway, Laguna Niguel, CA 92677 (714) 425-5100
Now Open: Crown Valley Community Park has just been remodeled with it's newest feature – a splash pad or "spray ground," with 20 separate water features. In light of the drought and to protect users, the splash pad has a closed-loop system with chlorinated water and will be open seasonally. Also part of the remodel are two new ADA-accessible playgrounds with rubberized surfaces, for 2- to 5-year-olds and for 5- to 12-year-olds. They are located at the north side of the park inside a fenced area. 10:00 a.m. to 5:00 p.m. from Memorial Day May 28, 2018 through Labor Day September 3, 2018.
10350 Fern St. Stanton, CA 92841 (714) 379-9222 x 270
Harry M Dotson Park, also knows as the "Pirate Park" is a themed park in Stanton with one entrance with an open gate.  There are two play structures, one a gigantic pirate ship and the other one for toddlers.  The saloon splash pad opens Memorial Day weekend, May 26, 2018 and will continue through Labor Day, September 3rd, 2018. Hourse are 12 p.m – 5 p.m.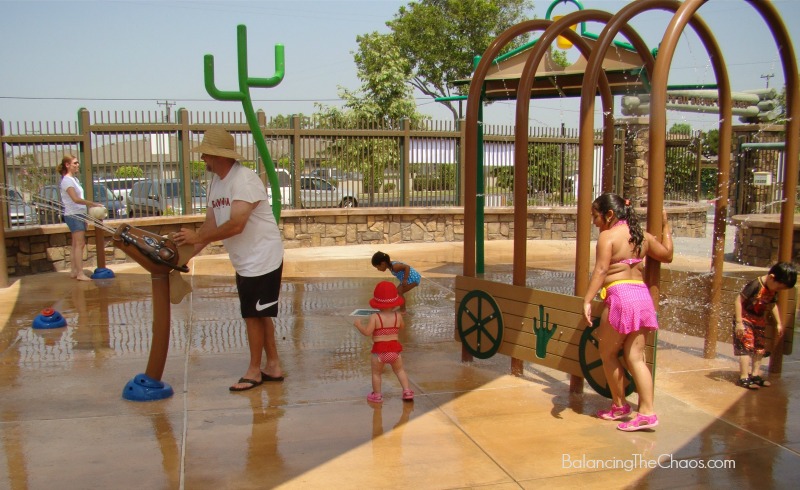 Frontier Park
:
1400 Mitchell Ave. Tustin, CA 92782 (714) 573-3000
A fun park in Tustin, Frontier has play structures, fitness equipment, disk golf course, open grassy areas and a splash pad. This water feature will be open 10:00 a.m. – 4:00 p.m. Memorial Day (May 28) through Labor Day (September 3rd).
14301 Yale Avenue, Irvine, CA (949)724-6750
There is a nice playground and the splash pad consists of a star with water that shoots up in arches. Fun for the kiddos. This splash pad runs year round because of specific water recycling features built into the facility.
701 S. Lemon Street Fullerton, CA 92832  (714) 738-6575
The Spray Pool is open daily, Memorial Weekend (May 26th) through August 7th; and weekends only through September 25th from 1:00 p.m. – 5:00 p.m. Remember, you must wear a bathing suit to play in the Spray Pool..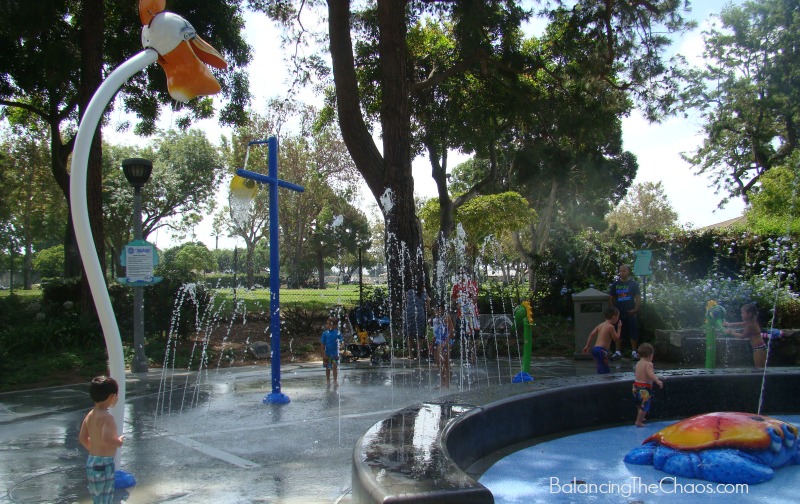 10250 Pioneer Road Tustin, CA 92782 (714) 573-3000
A fun park in Tustin, Pioneer has play structures, open grassy areas and a splash pad that will be open 10:00 a.m. – 4:00 p.m. Memorial Day (May 28th) through Labor Day (September 3rd)
Rancho Jurupa Park

:
4800 Crestmore Road, Riverside, CA 92509 – Phone: 951-684-7032
A gorgeous 200-acre recreational area with many amenities. Activities include a thrilling splash pad for water play, a rock climbing playground, miniature golf surrounded by spectacular waterfalls, and a disc golf course. Splash pad will be open upon demand. Due to the state drought crisis kiddie pools are now restricted in Rancho Jurupa Park and Lake Skinner Recreation Area. For more information, please contact (800) 234-PARK (7275).
7200 Plaza Street Westminster, CA 92683 (714) 895-2860
Located in Westminster, this splash pad is in a beautiful park setting with the splash pad enclosed with a gate. Picnic tables are available to sit on and watch the youngsters enjoy the water but if I recall, you are not allowed to bring food into the splash area.  Hours of operation for the 2018 season: Weekends: May 26th through June 17th; Daily June 23rd  through September 3rd. Hours: 12:00 p.m. – 5:00 p.m.
10660 Western Ave. Stanton, CA 92841 (714) 890-4268
The newest of parks in Stanton, the Central Park offers an interactive Water Play Area that opens Memorial Day weekend, May 26, 2018 and will continue through Labor Day, September 3rd, 2018.
26281 O'Neill Drive Ladera Ranch, CA
For Ladera Ranch residents and guest only, this park features restrooms, outdoor showers, small splash & play area, water features including a bucket that dumps water into pool ever 3 minutes, 3 reservable picnic areas (covered), little kid bike course with BBQ's.  The splash pad will be in operation Memorial weekend (May 26th) through Labor Day (Sept 3rd), then weekends only throughout September.
Now if you are looking for something a little more adventurous, check out the following locations:
13806 La Mirada Blvd. La Mirada, CA 90638 (714) 902-3191
"Buccaneer Bay" is loads of family fun with a pirate themed water park.  Enjoy a floating river, three water slides and a kids interactive play structure. The zero-depth beach entry and two spray pad areas are perfect for the little ones.  Pirate themed elements include: a marooned ship, a dramatic skull rock, shade canopies that resemble sails, cannon walls, wharf plank benches, and crow's nests. The park opens weekends 10:30am – 5:30pm on Saturday, May 26, 2018 through Sunday September 30, 2018.  The park will be open daily June 1 through August 12, 2018  10:30am – 5:30pm.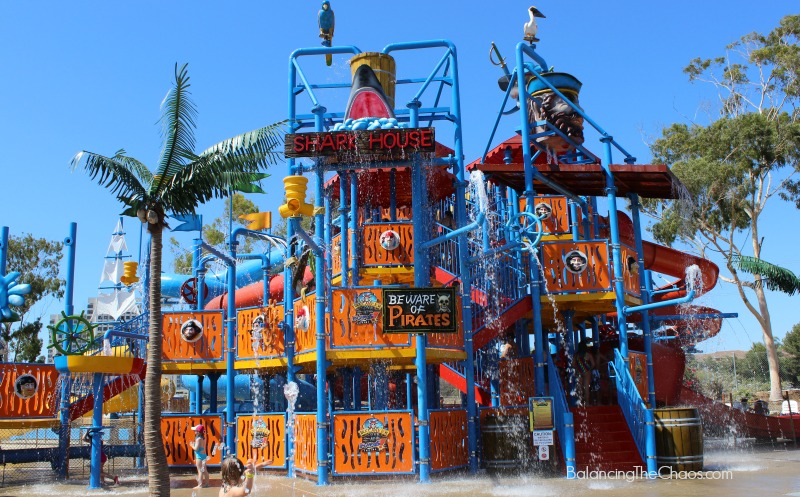 3405 Michelson Drive, Irvine CA  (949) 559-38341
Buccaneer Cove, the newest attraction is now open at Boomers, Irvine.  It's a super-sized water play area that's five levels high with slippery slides, wet tunnels, spray loops and a huge splash bucket. Children have so much fun with the spray cannons and the interactive aqua dome. There is over 1000 feet of water slides for older kids and the smaller kids will enjoy a kiddie slide and a splash pad area. Buccaneer Cove Open Memorial Day Weekend through Labor Day! May 26th – June 11th and open daily June 11th – September 3rd. $19 all day admission; $5 non participant; Children 2 and under are free.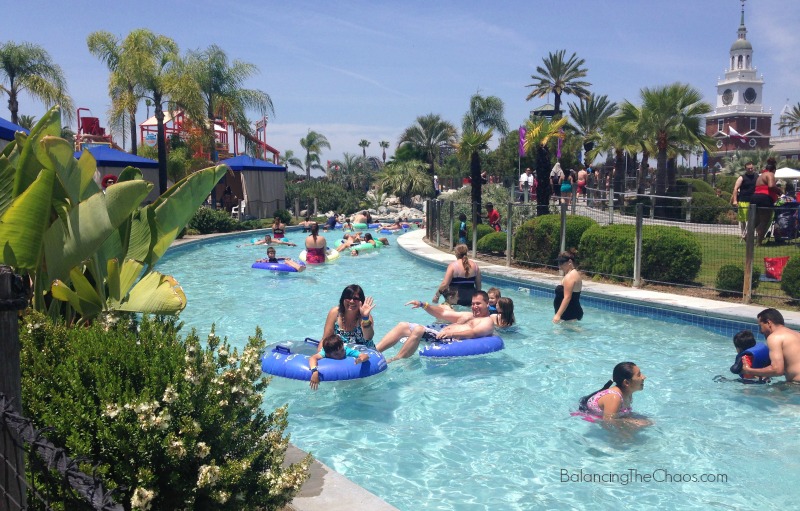 8039 Beach Blvd, Buena Park, CA 90620 (714) 220-5200
Across from Knott's Berry Farm, Knott's Soak City offers guests a little bit of everything when it comes to water entertainment.  For the little ones, there is a kiddie lagoon, the lazy river and the wave pool.  For the daring, there are several slides that will keep you coming back for more.  Soak City opens May 19, 2018 at 10:00am daily May 25th through August 26th and select days in September.
111 Raging Waters Dr, San Dimas

, CA 91773 (909) 802-2200
Raging Waters Los Angeles is a great place to visit for splashing fun! With 50 beautifully landscaped acres of slides, attractions and our own sand beach, they offer family fun for everyone. Grab a board and catch a gnarly wave on the Flowrider, or race for the win on the super-fast Ragin' Racer. There is also several areas for the youngsters with different levels and slide speeds. The park opens for select days beginning May 19th, but will be open daily June 1st through August 26, 2018. Daily hours may vary. Refer to Raging Waters' website for current times.
Plan you summer with this great resource! Ruth at SoCalPocketMemories.com has compiled an awesome list of FREE things to do this summer with your family. Lots of great activities to add to your Summer Bucket List!!!
All days of operation and hours are subject to change.  Please contact individual cities for questions regarding the parks, reservations, water schedule.