Taking our children to the theater is an experience that we cherish in our household, and Segerstrom Center for the Arts offers so many "family friendly" events and shows that they have a wide variety of performances to attend. On Tuesday, May 28th, Segerstrom Center for the Arts has a special Kids Night on Broadway for the opening night of Roald Dahl's CHARLIE AND THE CHOCOLATE FACTORY at 7:30 p.m.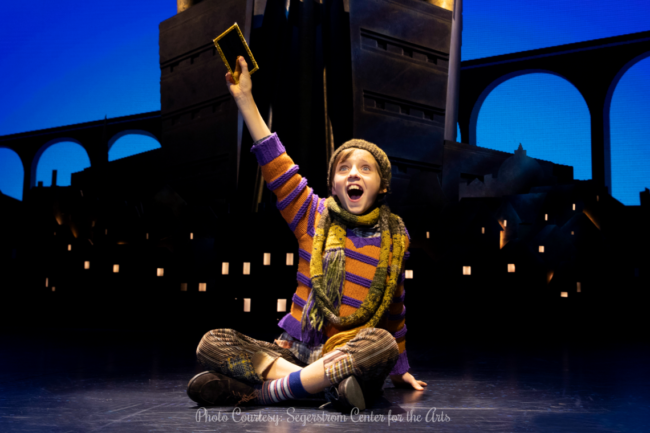 Plan a family night out to enjoy Kids Night on Broadway for opening night at Charlie and the Chocolate Factory. With the purchase of one full-price ticket, parents can receive a second ticket FREE for children. Ticket prices start at $29. Use code OOMPA when purchasing. Children and families are also encouraged to arrive early and enjoy pre-show activities in the Segerstrom Hall lobby beginning at 6:00p.m., including coloring stations, crafts, activities, photo opportunities and more!
I am so excited to share this production with my children. The past two years they have enjoyed Roald Dahl's stories during their English Language Arts Classes. In Roald Dahl's CHARLIE AND THE CHOCOLATE FACTORY, we dive into the world of Willy Wonka, world famous inventor of the Everlasting Gobstopper. Mr. Wonka decides to open his marvelous and mysterious factory, to a lucky few. Charlie Bucket and four other golden ticket winners will embark on a mesmerizing, life-changing journey through Wonka's world of pure imagination. Families will love getting lost in the world of Oompa Loompas, incredible inventions, the great glass elevator, and more, more, more at this everlasting
showstopper!
Single tickets to Roald Dahl's CHARLIE AND THE CHOCOLATE FACTORY start at $29 and are on sale now at SCFTA.org, by calling (714) 556-2787 and at the Box Office at 600 Town Center Drive in Costa Mesa. For inquiries about group ticket savings for 10 or more, please call the Group Services office at (714) 755-0236. The 2:00 p.m. performance on Saturday, June 8 will include audio description, open captioning and sign-language interpretation.
About Segerstrom Center for the Arts:
Segerstrom Center for the Arts is an acclaimed arts institution as well as a beautiful multi-disciplinary cultural campus. It is committed to supporting artistic excellence, offering unsurpassed experiences and to engaging the entire community in new and exciting ways through the unique power of live performance and a diverse array of inspiring arts-based education and community engagement programs.

Previously called the Orange County Performing Arts Center, Segerstrom Center is Orange County's largest non-profit arts organization. In addition to its six performance venues, Segerstrom Center is also home to the American Ballet Theatre William J. Gillespie School.