It's almost here! The Queen Mary's Dark Harbor Returns this week to the Infamously Haunted Ship this Thursday, September 28th through November 1st. This year, they are unleashing the all new ultimate scream experience ticket. Whether you've decided to brave it all alone, or feel more secure with a group, the Ultimate Scream Experience Ticket allows you to experience all 7 petrifying mazes and discover 1 amazingly cool secret bar with a host to guide you through. No lines, no getting lost, this exclusive VIP opportunity will take you on an insanely wild time.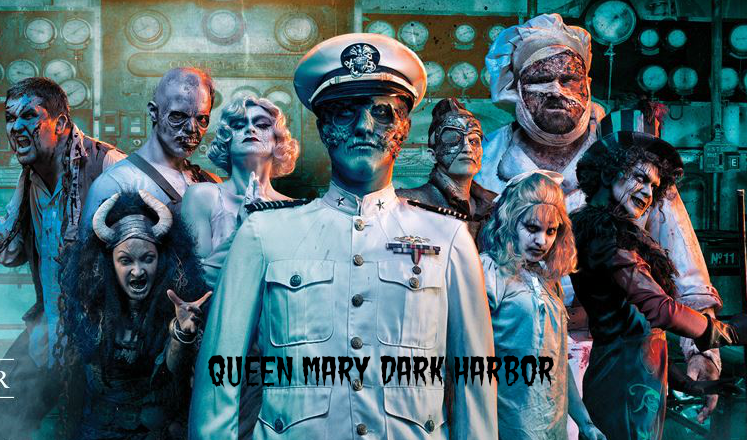 For a few select dates, ultimate Dark Harbor fans can enjoy the best hauntingly ultimate scream experience for $229, which includes:
Expedited VIP Entry Line
Fast Fright Access to All Mazes
R.I.P. Lounge Access
Guided Tour of Each Maze (bypass even the Fast Fright Line)
Access to 1 Secret Bar
This would be a great way to experience Dark Harbor's all-new 4th maze on the haunted ship, Chef's Feast Experience; will take you on a terrifying journey into areas of the ship that have never before been accessible to Dark Harbor guests. In addition, many of your favorite mazes will be intensified this year with more terrifying new scares.  Live your nightmares aboard the haunted Queen Mary and join our cast of ghouls, spirits, and undead for an unforgettable, frighteningly authentic haunted experience.
Returning this year are mazes with over 200 Monsters, Mummies & Freaks where you will get lost in the depths of the Queen Mary's haunted history through the Deadrise, Soulmate, Lullaby, Intrepid, Circus and B340 mazes.
While wandering the grounds of Dark Harbor, you will possibly across paths with The Ringmaster, The Captain and their band of spirits including Samuel the Savage, Graceful Gale, Half-Hatch Henry and of course Scary Mary. One of my favorite things to do – watching them creep up on unsuspecting victims.
Ticket prices to the Queen Mary's Dark Harbor start at just $20 online, with Fast Fright, Ultimate Scream VIP Passes, and lodging packages available. For more information or to purchase tickets online, visit www.queenmary.com/dark-harbor.