A couple of weeks ago, a couple of girlfriends and I were out and about in LA on an adventure and decided to skip rush hour traffic. It was unanimous – Lazy Dog Restaurants & Bar was the perfect place to hang out, sip on cocktails and sample the delicious appetizers while enjoying the festive celebrations of the season.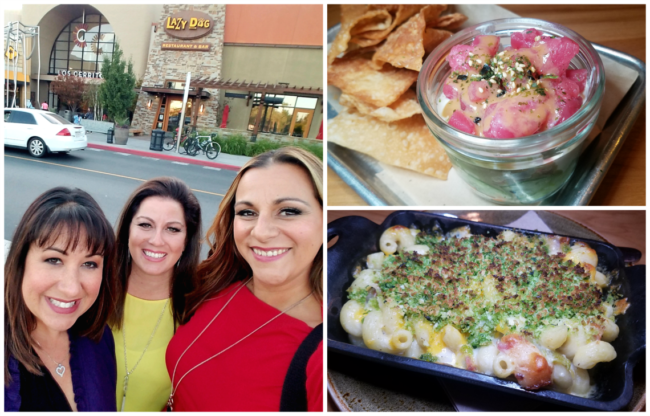 The Lazy Dog Restaurants & Bar offers an affordable Happy Hour menu with $3, $4 and $5 appetizers as well as $6, $7 and $8 dinner entrees.
The girls and I decided to order what turned out to be our favorites – The Ahi Poki Jar, The Wok Fried Calamari and the Mac and Cheese with Hatch Chile and Bacon.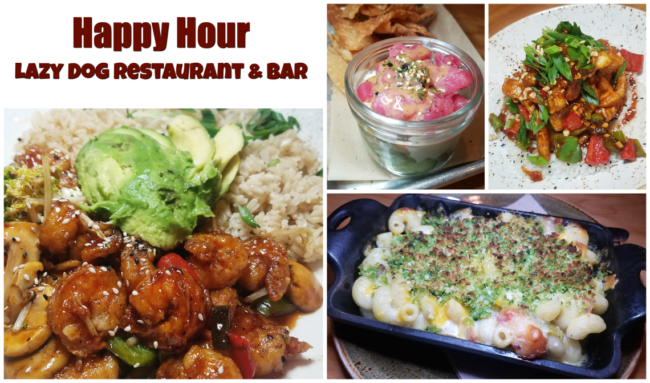 My favorite was the Ahi Poki Jar which was served in a cute little jar. Delicious sashimi grade ahi tuna, avocado, pickled cucumbers, peanut vinaigrette, wasabi dressing, and crispy wonton chips. (photo above)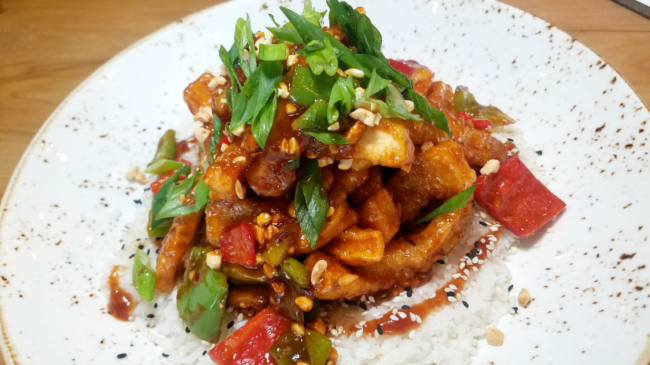 The Wok Fried Calamari was a delicious blend of peanuts, bell peppers and a little bit of green onion and sesame seeds with a plum sauce over a bed of steamed rice.
Lazy Dog offers a bit of a spin on their Mac N Cheese with smoked bacon, hatch chilies, five cheeses and a green onion crumble. I was worried that it would have a spicy kick, but it was on the mild side, which is exactly the wayt I liked it. (photo above)
Unfortunately we didn't have the opportunity to try them all, as there are quite a lot of options on the Happy Hour Menu at Lazy Dog ($3-$9 favorites):
Cajun Fries + Chipotle Ranch
Waffle-cut Parmesan Chips
Buffalo Chicken Lollipops
Mac N' Cheese with Hatch Chile + Bacon
Togarashi Edamame Beans
Sweet Potato Tater Tots with Jalapeno-lime Aioli
Loaded Potato Hush Puppies
Grilled Garlic Flatbread
Chicken Wings
Chicken Lettuce Wraps*
All-American Burger*-1/4 burger comes a la carte + can only be ordered after 9pm
The Dirty Dog- bacon-wrapped nathan's hot dog in a king's hawaiian bun, topped with potato chips, bleu cheese dressing, buffalo sauce + slaw
Mini Brick Oven Pizza
Chicken Chile Verde Nachos
Ahi Poke Jar*
Wok-Fired Calamari-plum sauce, peanuts, bell peppers
Housemade Hummus
Burrata + Heirloom Tomato Crisp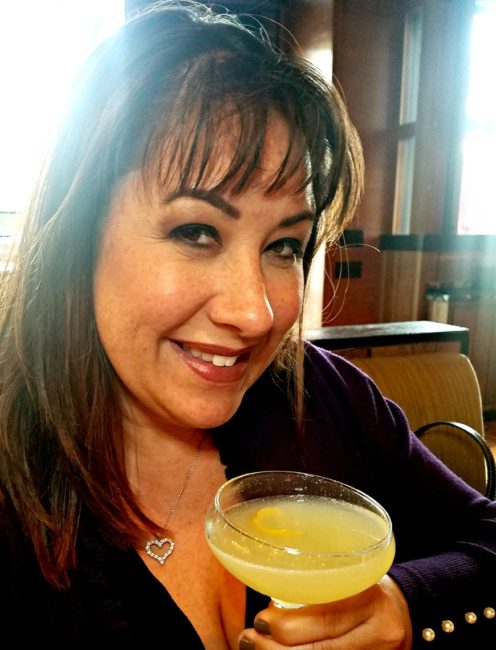 Lazy Dog will also help you quench your thurst with these $3-$8 favorites:
16oz Coors Light or Bud Light drafts
16oz Lazy Dog house drafts
Flat Rock Chardonnay
Flat Rock Merlot
all well drinks
Lunazul Reposado Margarita
Dark Horse Cabernet Sauvignon
Deep Eddy Vodka your way
Sailor Jerry rum + Coke
Housemade Sangria: pomegranate red, white peach or raspberry rosé
House Beer Sampler
Pink Lemon Drop Martini
Seasonal Meyer Lemon Margarita
J.Lohr Chardonnay
Cucumber + Mint Martini
Asian Pear Martini
Cowboy Up- 16oz. house draft + shot of whiskey [choice of Jameson, Jack Daniel's, Altos Tequila or Milagro Tequila]
Pitcher of Sangria
Seasonal Meyer Lemon Margarita
Since I am not the typical martini drinker, I decided on the Asian Pear Martini based on the recommendation of the staff, and was delighted that it had just enough sweet for me to love it.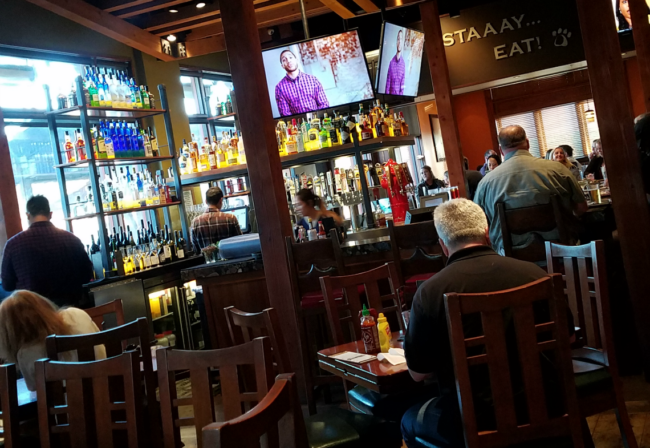 If you're looking for a place to host a holiday get together, I'd totally recommend Lazy Dog. At the Cerritos location, they have the outside patio with a beautiful barbeque pit, the wide open bar area and generous seating in the restaurant area to host large and small gatherings.
Southern California Locations:
Brea: 240 S State College Blvd., Brea CA
Cerritos: 278 Los Cerritos Center, Cerritos CA
Downey: 8800 Apollo Way, Downey, CA
Irvine: 13290 Jamboree Rd., Irvine CA
Orange: 1623 W. Katella Ave., Orange CA
Torrance: 3525 West Carson Street, Torrance CA
Huntington Beach/Westminster: 16310 Beach Blvd, Westminster CA
+ Many more California Locations
Connect with Lazy Dog via social Media: Facebook, Instagram, Twitter