Looking for a family friendly activity while the kids are on Winter Break? Head on over to Kidspace Children's Museum Friday, December 26th to Tuesday, December 30th for the Museum's 7th annual Snow Days.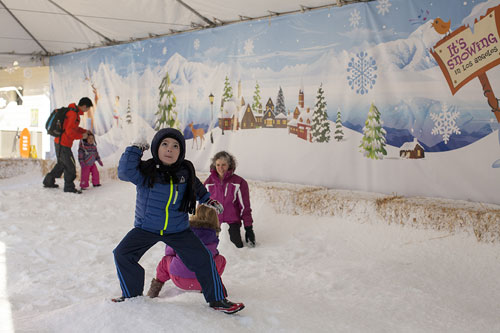 Snow Days at Kidspace takes place from 9:30 a.m. to 5:00 p.m. on the weekdays and 10:00 a.m. to 5:00 p.m. on the weekend.
At Kidspace Children's Museum – Snow Days, guests will find snow play for all ages, including a special toddler zone for children ages four and younger, in the central courtyard, dry ice experiments in the Nature Exchange, seedling adoption in the Kidspace Gardens, snowflake art pendants by Color Me Mine, snow themed story time, art activities, and more all over the Museum. The snow play, and science and art activities are free with admission except for the Snowflake Pendant activity, which costs $8 in addition to general museum admission.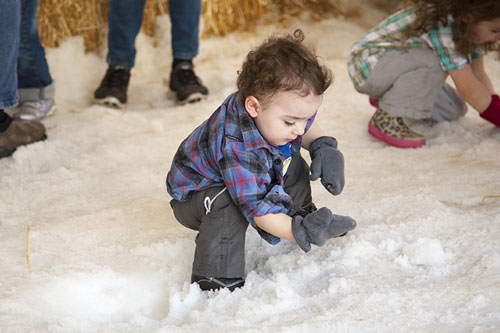 The Kidspace Children's Museum will also be hosting daily live performances in the Stone Hollow Amphitheater from such groups as Chris & Maggie, Nathalia Palis, Just Kidding, and more. Kidspace Educators will also be presenting a special interactive demonstration about the formation of snow to add to the fun.
"This will be our 7th year bringing Snow Days to the community and every year it has gotten bigger and better," said Julianne Sando, Kidspace Events Manager, "It is a very special week here at Kidspace and seeing children discover, encounter, and play in snow, some for the very first time, never gets old."
480 N. Arroyo Blvd. Pasadena, CA 91103
(626) 449-9144
About Kidspace:
In 1979 Kidspace Children's Museum was established as a hands-on, participatory children's museum, dedicated to enriching the lives of children. 35 years later, Kidspace has grown to be an industry leader in the field of informal, free-choice education and continues to seek out new ways to bring children and families together to learn and play.
Located on nearly three and a half acres in Pasadena, California, Kidspace Children's Museum has more than 40 hands-on exhibits, in addition to its outdoor spaces, programs, and activities that are designed to encourage a child's growth and development through exploration of the environment, investigation in science, and artistic expression. Kidspace is located at 480 N. Arroyo Blvd., in Brookside Park, Pasadena, California, adjacent to the Rose Bowl Stadium. Free parking is available in Rose Bowl Parking Lot I. Kidspace is open Tuesday through Friday from 9:30 a.m. to 5:00 p.m., Saturday and Sunday from 10:00 a.m. to 5:00 p.m. (Kidspace is open seven days a week between Memorial and Labor Days). Admission for all adults and children one year and older is $11.00. Children under one year and members are free.
Kidspace Children's Museum is a non-profit 501(c)(3) organization that exists to enrich the lives of children. For more information about exhibits, events, and other activities, please visit: www.kidspacemuseum.org or on Facebook at: www.facebook.com/kidspacechildrensmuseum.