Tis the season to be merry and bright! This December, Pretend City Irvine celebrates the holidays and celebrations from different cultures around the world. All through December, visit Pretend City Children's Museum's City Express and send season's greetings all throughout the city.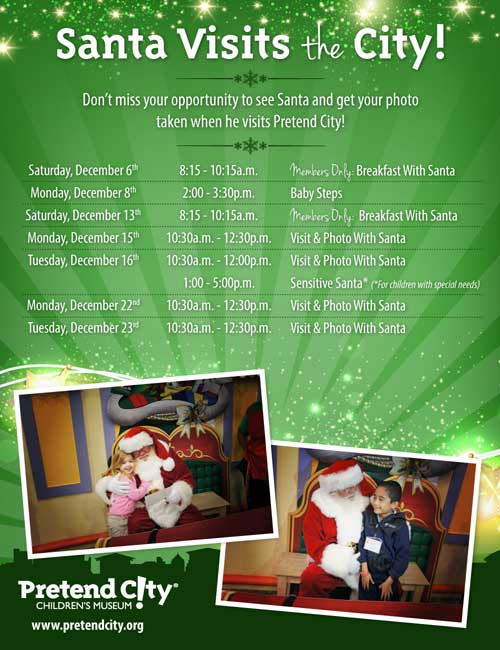 December Holiday Activities Include:
Monday, December 1 – December 23: CHOC Toy Drive
Bring a new child's toy valued at $5 or greater to receive 25% off general admission on the day of your visit. All toys will be donated to the children at CHOC Children's Hospital. Pretend City Children's Museum is partnering up once again with Orange Coast Harley Owners Group and Orange County Harley-Davidson to benefit patients at CHOC Children's Hospital.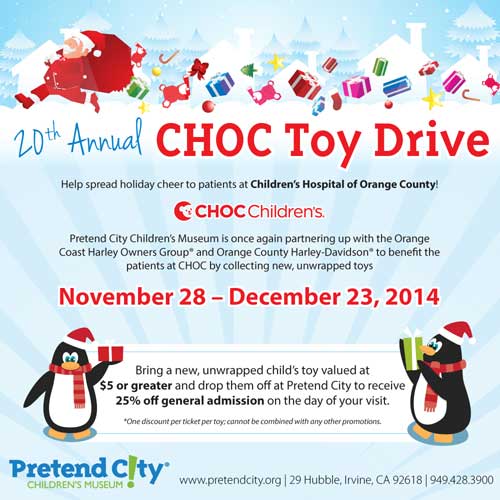 Friday, December 12 – December 23: Christmas Countdown
Thursday 18th-(A.M. Activity) Twinkly Christmas Lights
Wednesday 17th-(P.M. Activity) Christmas Stockings
Tuesday 16th-(P.M. Activity) Reindeers
Monday 15th-(10:30a.m.-12:30p.m.) Visit & Photo with Santa
Sunday 14th-(P.M. Activity) Christmas Trees
Saturday 13th-(A.M. Activity) Candy Canes
Friday 12th-(P.M. Activity) Gingerbread Man & Houses
Friday 19th-(P.M. Activity) Presents & Sleighs
Saturday 20th-(A.M. Activity) Popcorn Decoration
Sunday 21st –(P.M. Activity) Christmas Snow
Monday 22nd- (A.M. Activity) Christmas Carols
Tuesday 23rd-(P.M. Activity) Christmas Eve Excitement
Friday, December 12 : Harley-Davidson CHOC Toy Drive Pick Up
Time: 12:00p.m.
See Santa and his Harley helpers as they pick up the toys that have been previously collected at Pretend City Children's Museum.
Wednesday, December 17- 23: Hooray for Chanukah
Learn and enjoy activities about the Hanukkah miracle through games, finger play rhymes, art projects and activities.
Wednesday, 17 (A.M. Activity): Menorah
Thursday, 18 (P.M. Activity): Dreidel, Dreidel
Saturday, 20 (P.M. Activity): Star of David
Sunday, 21 (Art Studio): Chanukah Art
Monday, 22 (P.M. Activity): Tzedakah Box
Tuesday, 23 (A.M. Activity): Chanukah Story Time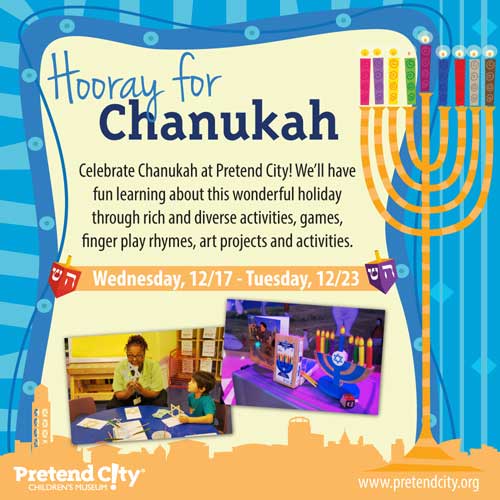 Sunday, December 21: Celebrate the Winter Solstice
Put on your warm mittens and cozy scarves. It's officially winter! The beginning of winter is marked by the solstice, the shortest day of the year.
Smart Art: Visit the Art Studio where we'll have a flurry of winter-themed art activities for you and your children to create.
Snow Much Fun – A gorgeous winter art activity with a child-directed process and a beautiful result too!
Ice City – This community project will draw inspiration from the glassy snow to create a different type of city.
Winter Prints – See what your child's little hands will make – a winter tree, a snowflake, or perhaps a cute winter animal?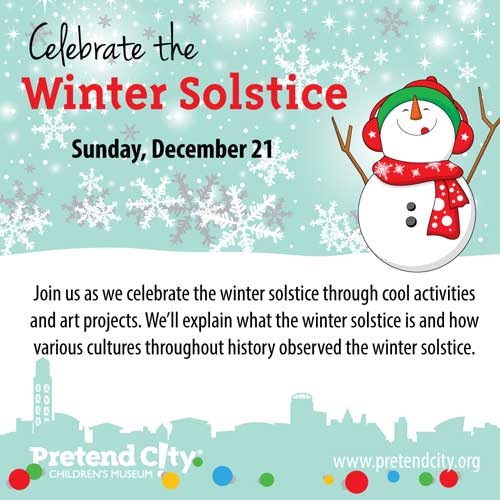 Friday, December 26-30: Festival of Kwanzaa
During the Festival of Kwanzaa to "light" a candle on the Kinara. Every day, we'll celebrate a new Kwanzaa principle through a variety of activities including working at the family stand, making gifts for family and friends, playing Kwanzaa games, and even having a "feast"!
Friday 26th: Kwanzaa Kinara
Saturday 27th: Kwanzaa Placement/Quilt
Sunday 28th: Kwanzaa Corn
Monday 29th: Kwanzaa Necklace
Tuesday 30th: Kwanzaa Kufi & Kwanzaa Unity Cup
Monday, December 29: Author's Day – Ari Loves the Holidays presented by Reetu Dua
Time: 11:00A.M.
Explore the exciting Holidays that await us in the New Year. Join Ari as he celebrates with fireworks, goes on an Easter egg hunt, passes out a valentine, puts on his favorite costume, and so much more! Each holiday is filled with love, color, family, and cheer. This special story time will be presented by the author Reetu Dua. Happy Holidays!
Wednesday, December 31: Annual Noon-Year's Confetti Countdown!
Twas' the day before New Year's and all through the city the citizens are stirring and buzzing about! With sparkling streamers and festive party hats this is one celebration you won't want to miss. Confetti Countdown: 12:00p.m. 2:00p.m. 4:00p.m.
About Pretend City Children's Museum
Pretend City Children's Museum features a small, interconnected city designed to "build better brains" through purposeful play, hands-on learning experiences, role playing, and educational programming. As a non-profit 501(c)(3) organization serving all children, it depends on community-based funding and guest support. Through 17 interactive exhibits and activities guided by a highly trained professional staff, children learn foundational math, reading and science skills, while fostering curiosity, creativity, critical thinking, problem solving, organization, teamwork, self-confidence and socialization. The museum is a unique community resource offering developmental screenings and tools for families, educators and community agencies working to ensure that each child gains the experiences needed to discover their potential and build toward a productive and fulfilling future. Pretend City Children's Museum is located at 29 Hubble, Irvine, CA 92618. For more information, please visit www.pretendcity.org.