What a strange year it has been where we unable to celebrate the holidays and family as we usually do. As a Knott's Berry Farm Ambassador, we are are excited to share that a The Farm is keeping their merry tradition alive, while while the theme park rides remains closed. Knott's Taste of Merry Farm is a new seasonal food and retail event, celebrating the merriest season of all. The Christmas spirit shines bright with holiday charm brimming out of every corner of the park that has been wondrously transformed into an enchanted wonderland with a variety of picturesque holiday settings, all serving as a backdrop to the tastiest holiday foods around.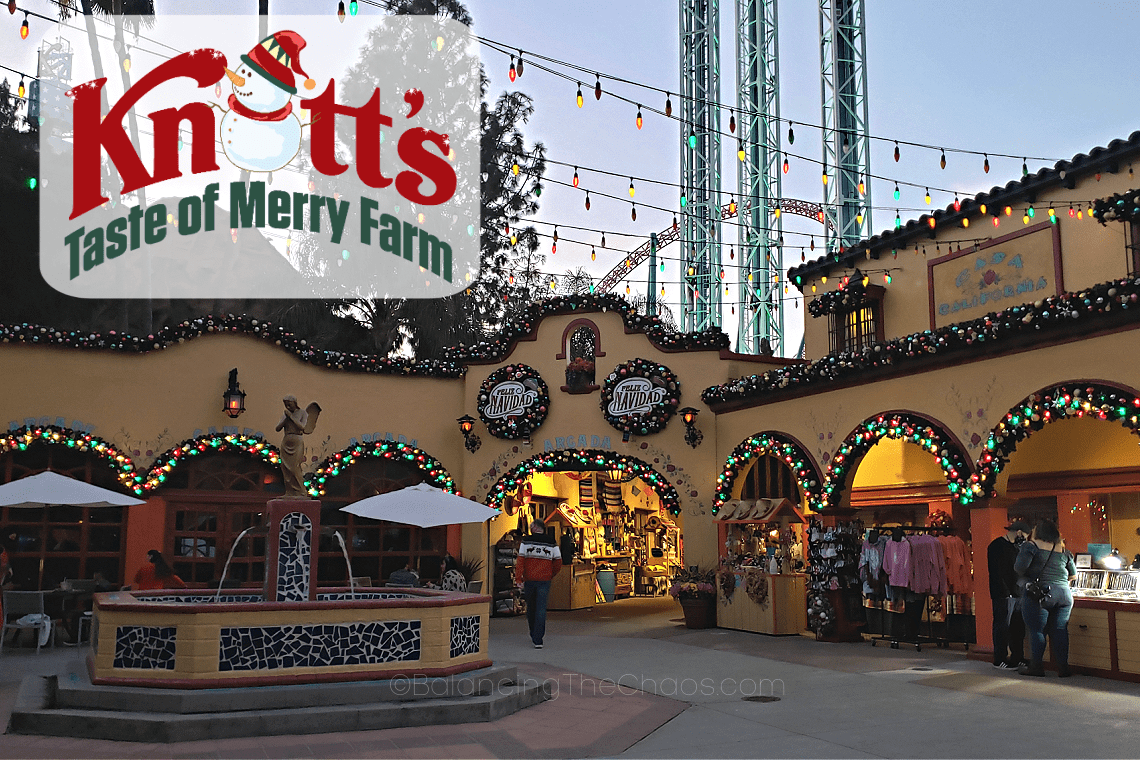 During the Taste of Knott's Merry Farm, socially distanced guests will have the option of over 60 unique food and drink items offered on the tasting card. We had the opportunity to try a few items last week, and our favorites – Comet's Cinnamon Bun with a Maple Glaze and Candied Pecans.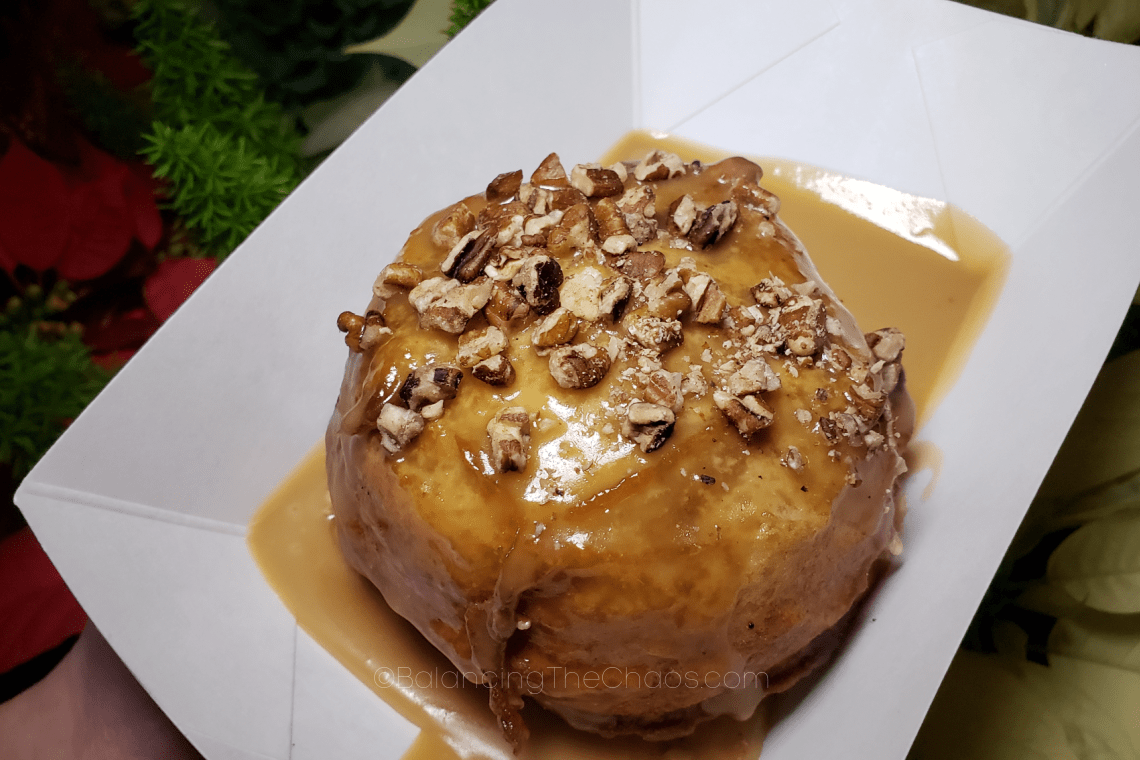 A MUST, this tasty cinnamon roll is tipped in funnel cake batter, fried and loaded with the maple glaze and walnuts. You can find it at Sutter's Funnel Cake, Ghost Town Grub and the Log Ride Funnel Cake.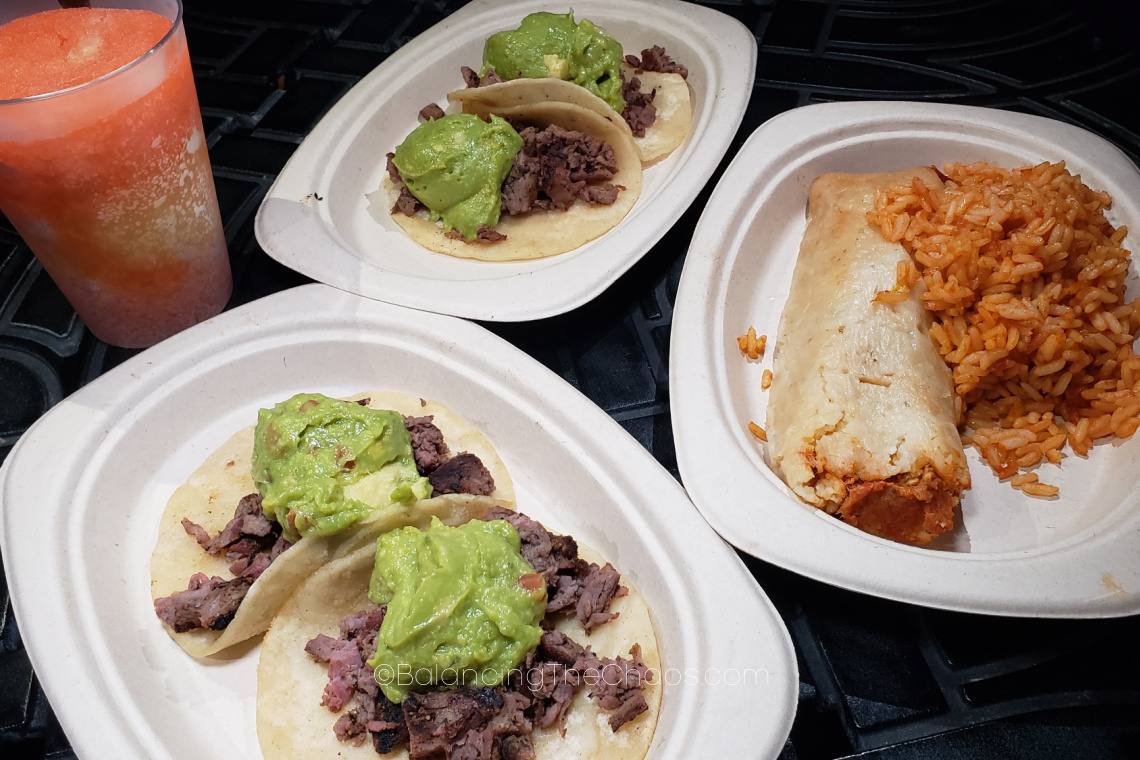 From the Cantina, we enjoyed the carne asada street tacos with guacamole and the pork tamale with salsa roja and spanish rice.
The best way to plan out your visit is to check out the menu that we've listed below. Each item can be found at several tasting booths scattered throughout the park.
Taste of Merry Farm Safety Precautions:
Orange County recently reverted back to the state's purple tier with more restrictions due to the Covid Pandemic. Knott's Berry Farm continues to follow state, local and CDC health guidelines, these are the continued safety measures and operational changes established to ensure the safety of Merry Farm guests: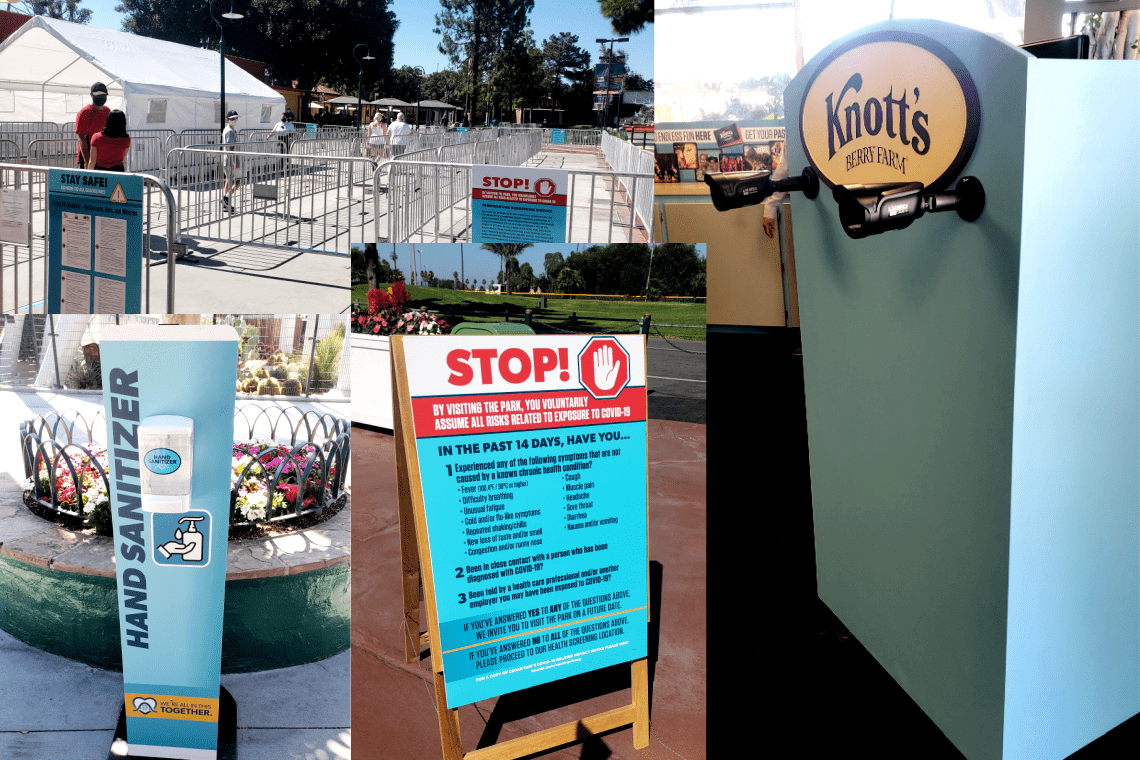 Tasting cards are limited each day to ensure proper physical distancing
Upon arrival, guests will be required to enter a temperature screening and security checkpoint at the main gate
All associates and guests must wear a facial covering while visiting Taste of Merry Farm or the Knott's California Marketplace store locations and restaurants – masks are not required while sitting at a table or bench to eat
Frequently touched surfaces are disinfected daily and sanitized frequently. This includes but is not limited to cash counters, scanners, EMV readers, pens at cashier counters, register screens, store fixtures, door handles, and shopping baskets
Signage is present to aid guests in the proper direction of travel and as a reminder to practice social distancing
Seating is spaced out throughout the Taste of Merry Farm event footprint
Hand sanitizing stations are available throughout the event area
All associates will be screened, including temperature and symptom checks using CDC guidelines before being allowed on the property to work
Associates have been trained on the importance of handwashing, physical distancing, and overall hygiene
Separate entrances and exits will appear at some store locations
Store occupancy is limited to less than 50% of the normal building capacity Queue lines outside of store locations are marked with six-foot markers where needed.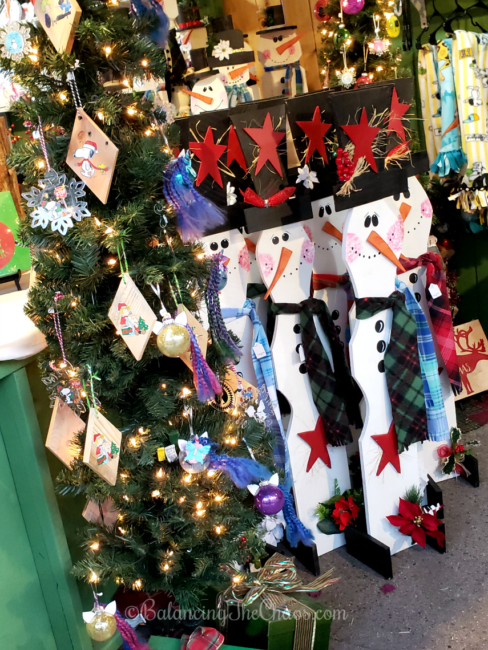 The Taste of Knott's Merry Farm is a great place to pick up one-of-a-kind gifts like rare, handmade, and personalized items from over 23 artisan local crafters. For the Knott's fan, pick up specialty holiday items too, like the Holiday Spirit Shirt that I'm planning on going back to get, or their famous boyseberry jam and novelty items.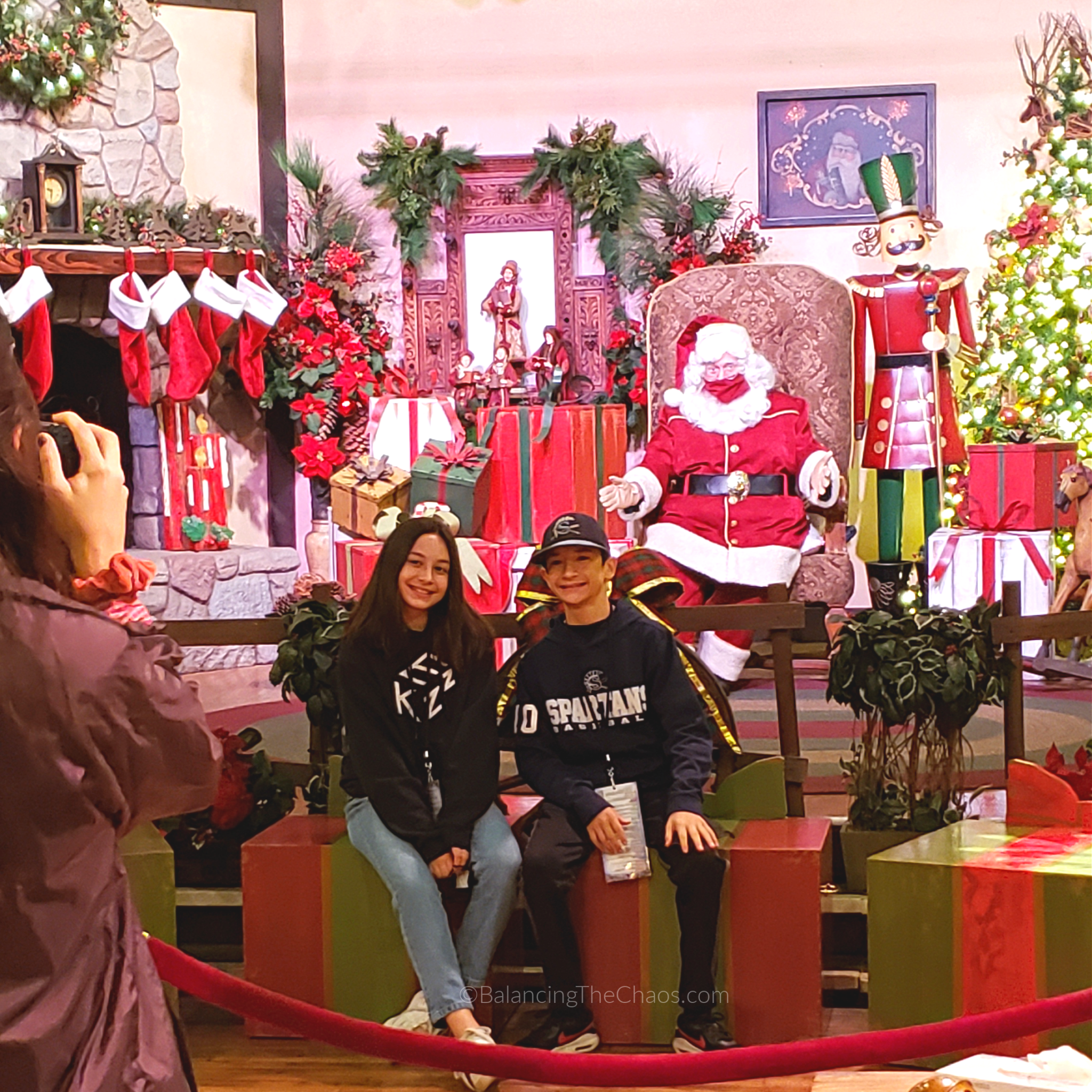 Don't forget to visit Santa's Cabin (The Wilderness Dance Hall) for the traditional photos with Santa. This year, expect specialty precautions like advanced reservations and socially distanced visits. Your advance purchase includes (2) 4×6 photos and (4) wallet sized. Reservations are time specific, limited, and can sell out.
Things to note:
For the best photo opportunity and to allow for proper social distancing, it is best to limit each group size to 4 guests or less. Due to state requirements, Santa will be wearing a mask during the interaction and photo.
Must arrive at Santa's Christmas Cabin to check-in at least 10 minutes before your reservation time.
Not valid for park or event admission. A valid tasting card to Knott's Taste of Merry Farm is required on the day of your reservation.
Festive photo opportunities are also scattered throughout the park to add to your memory books. As we've been told, you may take remove your facemask for a quick photo snap, but you MUST immediately put it back on.
The only way to experience the limited time Knott's Taste of Merry Farm is with a tasting card purchased in advance at knotts.com (a tasting card is required for event entry). Scheduled dates are November 20-29, December 4-6, December 11-13, December 18-24, December 26-30, and January 1-3. Adult tasting cards (ages 12+) are priced at $40 (plus tax) and will include five food tastings, and Junior tasting cards (ages 3-11), including three food tastings, are $20 (plus tax). Tasting cards are date specific and must be purchased online at knotts.com or through the Knott's Berry Farm mobile app prior to the date of visit. Knott's Taste of Merry Farm hotel packages are also available at Knotts.com. Now, check out the menu:
Taste of Merry Farm Menu with Station Locations
A. Wagon wheel pizza
Cupid's Corn Chowder Soup in a Bread Bowl with Chives
Meatball, Cheese or Cauliflower Pizza Slice
Pumpkin Pie Slice with Whipped Cream
Chocolate Cranberry Tart
Boysenberry Smoothie
Cauliflower Pizza with Vegan Cheese and Peppers
B. Spurs booth
Turkey Dinner Big Bites – Turkey, Stuffing, Cranberry Sauce, and Gravy
Pomegranate Molasses Brussel Sprouts garnished with Shaved Almonds
C. Pemmican Pickle
Merry Mint and Pineapple Aqua Fresca
Boysenberry Citrus Mule – Sabe citrus, boysenbery punch and ginger beer
D. Calico Tater bites
Turkey Dinner Tater Tots – Tater tots topped with turkey, stuffing, gravy and cranberry sauce
Green Bean Fries with a creamy mushroom dipping sauce
E. Sutter's Grill
Gyro with Butternut Squash Slaw, Tzatziki, and Pickled Red Onions in a Naan Bread
Turkey Dinner Tater Tots – Tater Tots topped with Turkey, Stuffing, Gravy, and Cranberry Sauce
Green Bean Fries with a Creamy Mushroom Dipping Sauce
Vegan Chicken Tenders tossed in Buffalo Sauce served in a Pita with a Carrot and Celery Vegan Ranch Slaw
F. Sutter's Funnel Cake
Strawberry Funnel Cake with Vanilla Ice Cream, Sprinkles, and Raspberry Drizzle
Comet's Cinnamon Bun with a Maple Glaze and Candied Pecans
Red Raspberry Cheesecake Slice with Whipped Cream and Raspberry Drizzle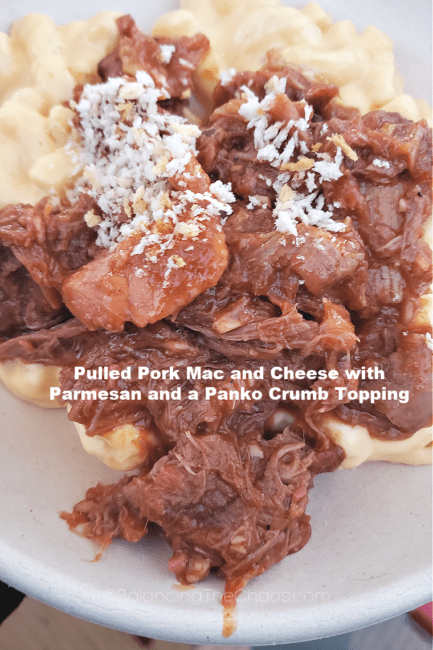 G. Silver Bullet Booth
Pulled Pork Mac and Cheese with Parmesan and a Panko Crumb Topping
Veggie Chili with Cilantro Lime Cauliflower Rice
Red, White, Boysenberry, or Hot Mulled Wine
Boysenberry Sangria
Assorted Beers
Pineapple Cider
H. Ghost Town Grub
Strawberry Funnel Cake with Vanilla Ice Cream, Sprinkles, and Raspberry Drizzle
Comet's Cinnamon Bun with a Maple Glaze and Candied Pecans
Red Raspberry Cheesecake Slice with Whipped Cream and Raspberry Drizzle
I. Fireman's BBQ
Apple and Chicken Sausage with Boysenberry Mustard
Corn on the Cob with a Garlic Herb Butter and Cotija Cheese
Rudolph's Winter Pear Lemonade – Lemonade with Pear, Whipped Cream, and a Ginger Rim
J. Wilderness Broiler
Deli Style Turkey, Brie, and Arugula Sandwich with a Boysenberry-Cranberry Relish,served with French Fries
Green Bean Fries with a Creamy Mushroom Dipping Sauce
Blitzen's Christmas Tree Bundt Cake – Red Velvet Cake with Chocolate Chips and topped with a Decorated Waffle Cone
Rudolph's Winter Pear Lemonade – Lemonade with Pear, Whipped Cream, and a Ginger Rim
K. Wilderness Dance Hall Patio
Pulled Pork Mac and Cheese with Parmesan and a Panko Crumb Topping
Mrs. Knott's Chicken Noodle Soup with a Biscuit and Jam
Red, White, Boysenberry, or Hot Mulled Wine
Assorted Beers
Red, White, Boysenberry, or Hot Mulled Wine
Seasonal Sangria
Seasonal Cider
L. Gourmet Churro Factory
Peppermint Swirl Cheesecake Stuffed Churro
Chocolate Peppermint Cheesecake Bars with White Chocolate Peppermint Bark
Eggnog Brulee with a Butter Cookie
Hot Chocolate with Whipped Cream and a Candy Cane
M. Chowhouse Ice Cream
Raspberry and White Chocolate Cookiewich with Strawberry Soft Serve Ice Cream
Elf's Float – Lime and Sugar Plum ICEE with Vanilla Soft Serve
Rudolph's Winter Pear Lemonade – Lemonade with Pear, Whipped Cream, and a Ginger Rim
N. Calico Saloon
Assorted Beers
Red, White, Boysenberry, or Hot Mulled Wine
Boysenberry Sangria
Pineapple Cider
Boysenberry Smoothie
Boysenberry Citrus Mule – Sabe Citrus, Boysenberry Punch, and Ginger Beer
O. Judge Roy Beans
Mrs. Knott's Chicken Noodle Soup with a Biscuit and Jam
Assorted Beers
Red, White, or Boysenberry Wine
Boysenberry Sangria
Pineapple Cider
Boysenberry Smoothie
P. Log Ride Funnel Cake
Strawberry Funnel Cake with Vanilla Ice Cream, Sprinkles, and Raspberry Drizzle
Comet's Cinnamon Bun with a Maple Glaze and Candied Pecans
Red Raspberry Cheesecake Slice with Whipped Cream and Raspberry Drizzle
Hot Chocolate with Whipped Cream and a Candy Cane
Q. Log Ride Mix-It-Up
Elf's Float – Lime and Sugar Plum Icee with Vanilla Soft Serve
R. Strictly on-a-stick
Mistletoe Maple Syrup Breakfast Sausage Dog
Merry Mint and Pineapple Aqua Fresca
S. Gourmet Coffee hut
Acai Bowl with Granola, Raspberries, Cran-raisins and Nutella
Boysenberry Smoothie
Hot Chocolate with Whipped Cream and a Candy Cane
Chocolate Cherry Tart
Chai White Russian
Hot Apple Cider
T. Hollywood Hits
Prancer's Pesto Chicken Pizza Slice
Pepperoni Pizza Slice
Cauliflower Pizza with Vegan Cheese and Peppers
Cupid's Corn Chowder Soup in a Bread Bowl with Chives
Chocolate Chip Cookie Pizza Slice with Vanilla Ice Cream
Hot Chocolate with Whipped Cream and a Candy Cane
Elf's Float – Lime and Sugar Plum ICEE with Vanilla Soft Serve
Assorted Beers
Red, White, Boysenberry, or Hot Mulled Wine
Pineapple Cider
Frozen Cherry Lime Margarita
Frosty Jack and Coke
Boysenberry Citrus Mule – Sabe Citrus, Boysenberry Punch, and Ginger Beer
Champagne and Boysenberry Ice Cream Float
U. Charlston Circle Booth
Pulled Pork Mac and Cheese with Parmesan and a Panko Crumb Topping
Veggie Chili with Cilantro Lime Cauliflower Rice
V. Boardwalk pier booth
Apple and Chicken Sausage with Boysenberry Mustard
Corn on the Cob with Buttered Herbs and Cotija Cheese
W. Coasters Diner
Vixen's Turkey Burger with Cheese, Cranberry Mayo, and Stuffing on a Pretzel Bun, served with French Fries
Knott's Holiday Bowl with Chicken Tenders, Mashers, Corn, Stuffing, Gravy, and Cranberry Sauce
Cold Salmon Winter Salad – Spinach, Apples, Pecans, Cranberries, and a Raspberry Vinaigrette
Chicken Tenders with a Ranch Dipping Sauce
Veggie Burger on a Pretzel Bun with a Spinach Aioli, served with French Fries
Rudolph's Winter Pear Lemonade – Lemonade with Pear, Whipped Cream, and a Ginger Rim
Hot Chocolate with Whipped Cream and a Candy Cane
Assorted Beer
Assorted Wine
Frozen Cherry Lime Margarita
Frosty Jack and Coke
X. Boardwalk BBQ
Hot Turkey Sandwich with Turkey, Stuffing, Cranberry Mayo, and Gravy, served
with Mashed Potatoes
Spiral Ham with Scallop Potatoes
Scrooge's Spicy Cranberry-Pomegranate Glazed Wings
Eggnog Brulee with a Butter Cookie
Gingerbread Cake with Cream Cheese Icing
Assorted Beer
Red, White, or Boysenberry Wine
Boysenberry Sangria
Pineapple Cider
Champagne and Boysenberry Ice Cream Float
Y. Dippin' Dots
North Pole Oatmeal Toffee Cookiewich with Pralines & Cream Hand Scooped Ice Cream
Eggnog Ice Cream and Barqs Root Beer Float
Concha Stuffed with Ice Cream
Z. La Papa Loca
North Pole Oatmeal Toffee Cookiewich with Pralines & Cream Hand Scooped Ice Cream
Eggnog Ice Cream and Barqs Root Beer Float
Concha Stuffed with Ice Creamap
Pozole with Cabbage, Cilantro, Onions, and Lime
Mexican Street Corn Salad with Tortilla Chips – Served Cold
Chicken Enchiladas with Spanish Rice
Vegan Dog
Horchata
Assorted Beers
Assorted Wine
AA. Fiesta Dogs
Pozole with Cabbage, Cilantro, Onions, and Lime
Mexican Street Corn Salad with Tortilla Chips – Served Cold
Chicken Enchiladas with Spanish Rice
Vegan Dog
Horchata
Assorted Beers
Assorted Wine
BB. Fiesta Booth
Pumpkin Pie Slice with Whipped Cream
Chocolate Peppermint Cheesecake Bars with White Chocolate Peppermint Bark
Gingerbread Cake with Cream Cheese Icing
Horchata
Assorted Beers
Michelada
C.c. Cantina
Carne Asada Street Tacos with Guacamole
Pork Tamale with Salsa Roja and Spanish Rice
Frozen Cherry Lime Margarita
Boysenberry Slushy Sangria
Horchata
Estrella Jalisco Pilsner
Michelada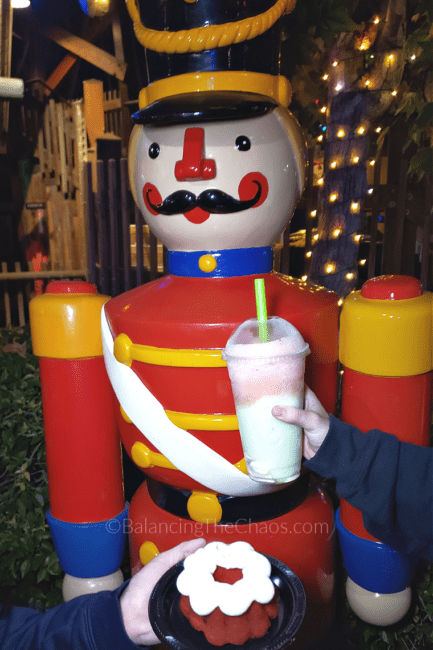 DD. Cave Inn
"Ode to Santa" – Milk or Eggnog with Candy Cane Cookies
Blitzen's Christmas Tree Bundt Cake – Red Velvet Cake with Chocolate Chips and
topped with a Decorated Waffle Cone
Hot Chocolate with Whipped Cream and a Candy Cane
Chocolate Cranberry Tart
Elf's Float – Lime and Sugar Plum ICEE with Vanilla Soft Serve
Merry Mint and Pineapple Aqua Fresca
EE. Grizzly Creek Lodge
Knott's Holiday Bowl with Chicken Tenders, Mashers, Corn, Stuffing, Gravy, and Cranberry Sauce
Turkey Dinner Big Bites – Turkey, Stuffing, Cranberry Sauce, and Gravy
Plain or Ham Mac and Cheese
Vegan Mac and Cheese Chicken Tenders with a Ranch Dipping Sauce
Hot Chocolate with Whipped Cream and a Candy Cane
Hot Apple Cider
Chocolate Peppermint Cheesecake Bars with White Chocolate Peppermint Bark
Gingerbread Cake with Cream Cheese Icing
Pumpkin Pie Slice with Whipped Cream