We're planning a long family road trip this summer and decided that the AI-100SS Portable Ice Maker by NewAir was a necessity for our RV. Last year when we went on a summer road trip, if we wanted ice, we'd stop at fast food locations or convenience stores for a quick cup since our freezer is too small to store large bags of ice.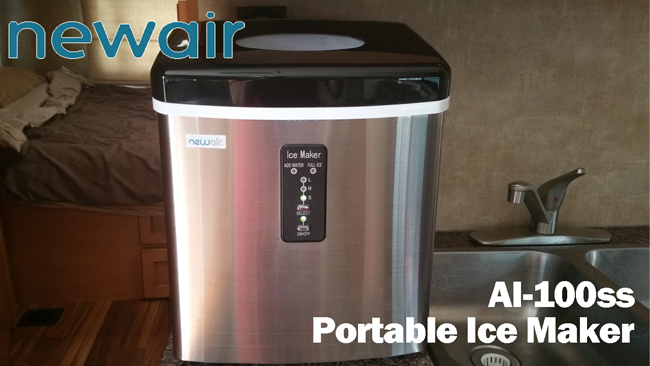 As a NewAir Ambassador, we were invited to incorporate the AI-100SS portable ice maker into our everyday lives, however I felt we'd get the most use when camping. With our ice maker, we get fresh ice every 6 to 15 minutes! It can make up to 28 pounds of ice a day, which is perfect during the hot days of summer while traveling in our RV.
The AI-100SS portable ice maker is only 26 lbs and can easily be cleaned and stored away so we can utilize our valuable counter space for cooking. As you can see, it is the perfect size for our the minimal counter space we have in our RV kitchen with dimensions of 14.5 x 11.75 x 15 inches high. I love the color scheme we chose as it matches our RV perfectly.
With the control panel, we can customize our ice by choosing one of three ice cube sizes with an easy push button control panel. Indicator lights on the control panel flash to let me know when I need to add water or empty the ice basket.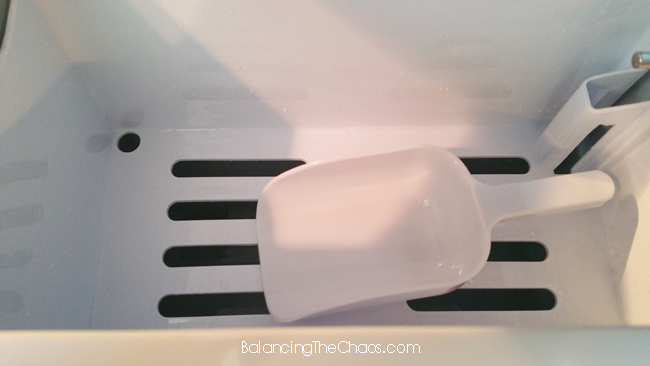 This ice tray is easily removable if I want to take out the ice and store it in our little freezer. The ice scoop, which is included makes it easy to scoop out the ice to transfer to a glass or container.
AI-100ss Portable Ice Maker Set up:
Unpackage and place on a stable counter
Grab a clean damp cloth with a little bit of dish detergent and wipe down all inside surfaces
Pour water to the fill line into the bottom water reservoir
Replace ice tray
Turn on the portable ice maker and select your size ice cubes.
You will hear the compartment fill and begin to freeze. Wait for ice to release into the tray.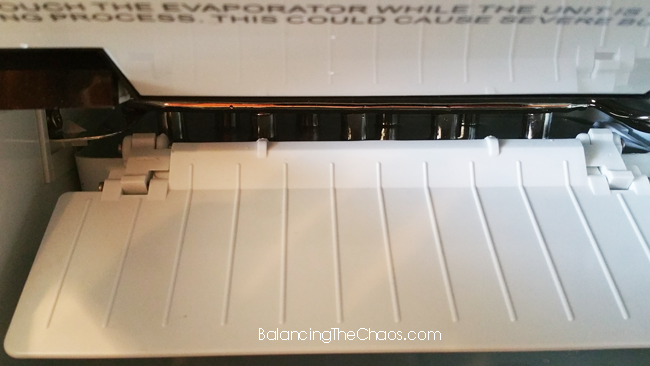 The ice will be pushed out from the above freezing tray, down the ice shovel and into the ice tray so you can start using right away.
The NewAir AI-100ss portable ice maker also has a built in safety feature, an automatic shut off if the water tank is empty or the ice tray is full, and it is super quite – you wouldn't even know it is on until you hear the ice dump into the tray.
Want to see it in action? Check it out:
My husband thinks I was crazy to want a portable ice maker. Since we host several parties a year, he usually runs out and picks up the ice for our events. With the NewAir Ai-100ss portable ice maker, he doesn't' even have to make a special trip now. We can either set it up inside on our kitchen counter or outside.
One thing to note: The ice tray itself is not refrigerated, so the ice will begin to melt if left in for extended periods of time. My suggestion is to move the ice to a freezer, ice bucket or a cooler.
Disclaimer: As an NewAir Ambassador, we are invited to sample products to share our experiences. No other form of compensation is received.