Yesterday we had a monster sized lesson with Menace from Monster Jam. Kids from Anaheim Achieves, and after school program at Maxwell Elementary school in the Magnolia School District in Anaheim, were able to a sneak peak at one of the giant monster trucks that will be appearing at Monster Jam.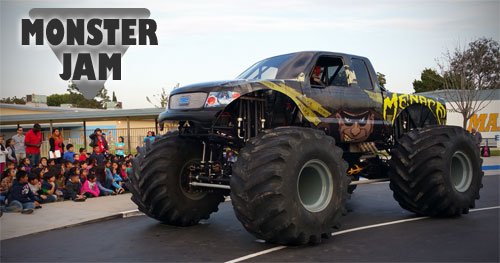 During the special engagement at Maxwell Elementary, the students were especially excited to see the Monster Truck, Menace, come out of the big rig it is stored and transported in.
The children were invited to speak with Darren Migues, the owner and driver of Menace, who told the tale of absolutely loving everything about Monster Trucks as a kid, and his passion to eventually own one.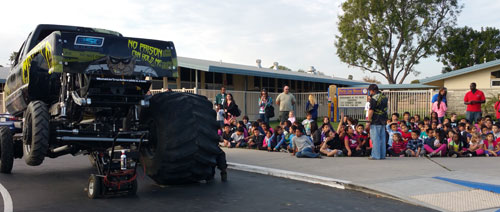 In Anaheim Achieves at Maxwell, the students have been concentrating on a STEM curriculum which focuses Science, Technology, Engineering and Math. The visit by Darren Migues and Menace complements their studies. Some of the information they gathered about Menace was:
Height: 15 feet tall, 12 feet wide
Weight: 5 tons
Tire Weight: 800 pounds
Diameter of the Tire: 66 inches
Many of the kids marched out to see Menace with their own K'Nex Monster Jam Truck they personally built, many of which were signed by Darren.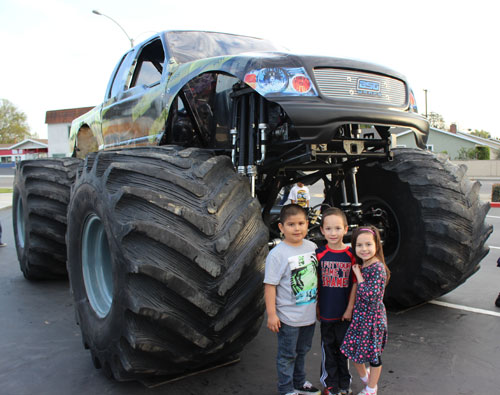 My kids are HUGE fans of Monster Jam. We LOVE having the opportunity to get up close with the trucks, meet the drivers and hear the engines fire up – it was so loud, many driving by pulled over to get a look.
Interested in seeing these enormous trucks in action? Monster Jam will be at Anaheim Stadium the following dates:
January 10th, January 24th and February 7th
If you're planning on attending the world class racing and free-style competition, make sure you plan to arrive early for the "Party In The Pits". This pre-show experience gives you the opportunity to get up close to the trucks, meet the drivers and get amazing photos and autographs.
For more information about Monster Jam or how to get tickets, visit https://www.monsterjam.com/