Jump-start the New Year at Pretend City with an emphasis of health and wellness.  For the month of January, Pretend City will be focusing on the complete package: mind, body and soul.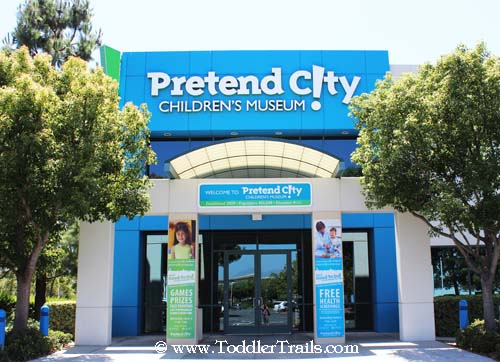 Pretend City's Calendar of events are as follows: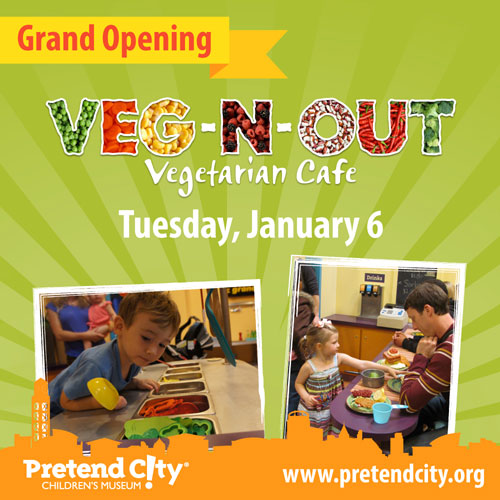 Tuesday, January 6: Grand Opening of Veg-N-Out Cafe
The Veg-N-Out Café is a small pretend vegetarian restaurant bursting with delicious healthy foods. The Veg-N-Out Café uses only community supported agriculture making deliciously organic vegetarian meals with farm fresh produce from our trusted Pretend City Seeds of Change Farm. Featured menu items include:
Oh My Goji – raw organic goji berry, papaya, mango, O.J., and agave smoothie
Mushroom Avocado Burger – mushroom coco pattie with raw mayo and avocado
Hale Kale Salad – avocado, sprouted wild rice, and mung beans.
Thursday, January 8: Bubble Bash – Celebrate National Bubble Bath Day
Proper hygiene is just one way to make sure you are staying healthy, and a bubble bath helps us stay clean and germ free. Not only is a bath a great way to unwind and stay clean, but there are some great teachable moments that can happen in the bathtub for little ones. Activities will serve as inspiration for some of the fun you can have at home:
Smart Art: Rainbow Soap Foam Bubbles Sensory Play
Sensational Story Time: Bubbles, Bubbles
Simple Science: Bubble Bath Eruptions
Silly Science: No bubble bath is complete without the classic rubber ducky! Waddle on over to the Marina all day to participate in some rubber ducky fun. Rubber duck races will give your child the opportunity to learn about wind and water currents
Bring in your rubber ducky with you to receive $1 off general admission!
Monday, January 12: Baby Steps through Pretend City
Time: 2:00-3:30p.m.
Specifically for: Infant (0-18 months), grownups. For the comfort of our infant guests, no older siblings please.
You and your baby can come and play, and socialize with other parents in the community at Baby Steps through Pretend City! This is your opportunity to ask questions, meet other parents, and engage your baby in developmentally appropriate activities and exhibits. This monthly event allows you to take advantage of an exclusive, infant only times by engaging in age-appropriate facilitated activities which will teach you about your baby's developmental milestones.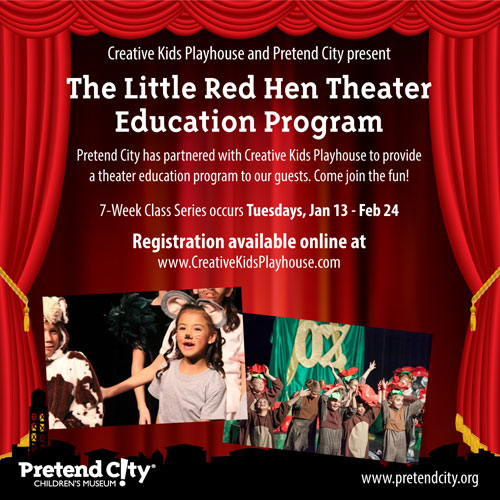 Weekly every Tuesday, January 13-February 24: The Little Red Hen Theater Education Program
Rehearsal Time: 1:45p.m. – 2:30p.m.
Performance Day: Saturday, February 28th at 11:00a.m.
Pretend City partnered with Creative Kids Playhouse to provide a theater education program. This unique program utilizes classic stories to prompt children's imagination. Children will work together to develop the characters, plot, and scenes of the show. The first program focuses on The Little Red Hen, a classic folk tale about working together, farm to table foods, and family dinnertime.
Register for classes here.
Monday, January 19: Martin Luther King Jr. Day
In honor of the gifts this American Civil Rights hero gave our nation, we'll be celebrating his vision of hope and sense of humanity throughout the day. Join us for fun and engaging activities as we celebrate Martin Luther King Jr. Day!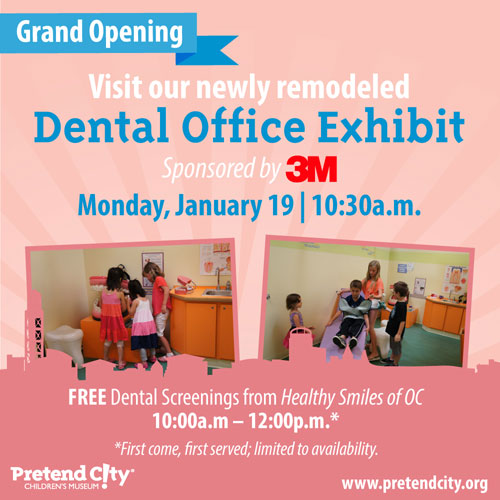 Time: 10:30a.m.Monday, January 19: Grand Opening of the Dental Office Exhibit
Be the first to play in a life-size X-Ray machine or try on some colorful braces with the 3M Paint Your Smile Kiosk. With a new giant mouth and redesigned office, children will be showing off their pearly whites in big grins as they play.
Receive a free dental screening from Healthy Smiles of Orange County. Screenings available from 10:00a.m – 12:00p.m. First come, first served; limited to availability.
Photo Fun: Smile wide for the camera! Make oral hygiene fun by taking pictures with the tooth fairy and Mr. Tooth!
Smart Art: It's tooth time! This fun activity will teach children about the number of teeth in their mouth, types of teeth, and their tongue.
Good to Grow: Brush! Brush! is a fun story that uses animals to motivate children to brush their own teeth. As the animal brush their teeth, children will have fun practicing their tooth brushing skills too!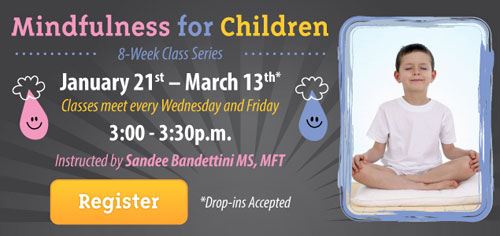 Wednesday, January 21-March 13: Mindfulness of Children Class Series
Time: 3:00p.m. to 3:30p.m.
This 8-week class series helps children (ages 4-6) explore self-awareness, kindness, compassion, and self-control. Each class will include either an art activity or a mindfulness exercise designed to encourage positive behavior. Children will also practice identifying feelings, effective communication and problem solving, as they recognize the benefits that mindfulness can bring to their lives. Register for the class series here.
Saturday, January 31: Inspire Your Heart with Art Day
Come celebrate art and the effect it can have on your heart (emotions). Art is valued and appreciated for all sorts of reasons and to honor this day, Pretend City has planned a variety of activities to inspire your little "heart-ist"!
About Pretend City Children's Museum
Pretend City Children's Museum features a small, interconnected city designed to "build better brains" through purposeful play, hands-on learning experiences, role playing, and educational programming. As a non-profit 501(c)(3) organization serving all children, it depends on community-based funding and guest support. Through 17 interactive exhibits and activities guided by a highly trained professional staff, children learn foundational math, reading and science skills, while fostering curiosity, creativity, critical thinking, problem solving, organization, teamwork, self-confidence and socialization. The museum is a unique community resource offering developmental screenings and tools for families, educators and community agencies working to ensure that each child gains the experiences needed to discover their potential and build toward a productive and fulfilling future. Pretend City Children's Museum is located at 29 Hubble, Irvine, CA 92618. For more information, please visit www.pretendcity.org.