A post written By Melissa & Jennifer Willey on behalf of the partnership of Knott's Berry Farm and Susan G. Komen OC.
Today, my mom and I went to Knott's Berry Farm to celebrate the partnership between Knott's Berry Farm and the Susan Komen Breast Cancer Foundation. For the second year in a row, they are teaming up to raise money for breast cancer awareness by offering a special "Pink Ticket" (starting January 5th) and limited edition specially designed "pink" merchandise from January 10 through March 27.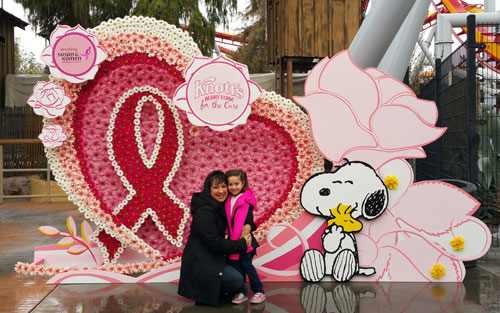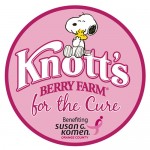 We were very excited to join in the fight and support the local survivors in attendance, especially one of our friends/bloggers, the amazing Jaime Jenkins of Polkadots on Parade who is an inspiration in her fight against cancer.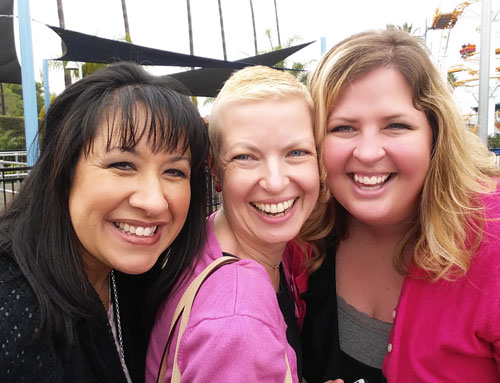 During the celebration, we discovered that through fundraising efforts, the Susan G. Komen Foundation has collected over 2.5 BILLION that has gone towards screening; education and research. Approximately 500,000 women have been screened because of the generosity of donors. It is scary to think that studies have shown that approximately one in eight women will be diagnosed with breast cancer, and it seems that everyone knows someone who is fighting, in remission or have succumbed to this terrible disease.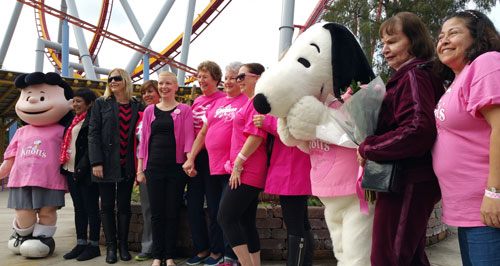 "We are honored to continue such a successful partnership with Knott's Berry Farm," said Lisa Wolter, executive director of Komen Orange County. "Without the ongoing support from our community, local access to breast health and breast cancer services for women and men would be nearly impossible. Knott's gives us the opportunity to not only reach a diverse population, but to continue saving lives."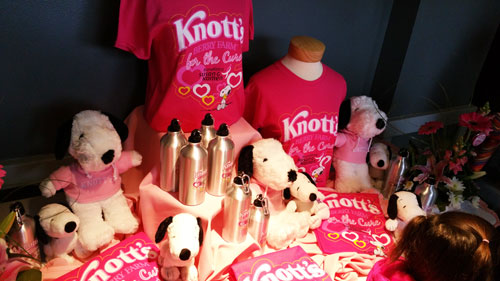 Between now and March 27th, get a "Pink Ticket" for admission to Knott's Berry Farm at www.knotts.com; a portion of which will benefit Komen Orange County. "Pink" merchandise includes t-shirts, buttons and canteens; a percentage of the proceeds will provide underserved and underinsured women and men in Orange County with access to breast health care and services.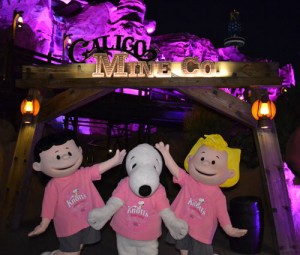 During the evenings, the Calico Mine will be "Pink" in to help raise awareness of the ongoing campaign.
Cedar Fair Entertainment Company, the parent organization of Knott's Berry Farm, has raised nearly $1 million for Susan G. Komen in the last five years. This is the second year the partnership will directly impact awareness and services on a local level within Orange County.
"During the Knott's Berry Farm for the Cure partnership, guests can honor loved ones," said Raffi Kaprelyan, vice president and general manager of Knott's Berry Farm. "The partnership between Knott's Berry Farm and Susan G. Komen Orange County is an impactful one, as the two organizations come together to advance women's health by raising money and awareness to fight breast cancer."
About Knott's Berry Farm and Cedar Fair Entertainment Company:
Knott's Berry Farm is owned and operated by Cedar Fair Entertainment Company, a publicly traded partnership that is listed for trading on The New York Stock Exchange under the symbol "FUN." In addition to Knott's Berry Farm, Cedar Fair owns and operates ten other amusement parks, three water parks, one indoor water park, and five hotels. Cedar Fair also operates the Gilroy Gardens Family Theme Park in California under a management contract. Visit knotts.com or connect with us on Facebook, Twitter and Instagram.
About Komen Orange County:
The Orange County Affiliate of Susan G. Komen Orange County was founded in 1991 by a group of individuals committed to the vision of a world without breast cancer. Celebrating its 23nd year, Komen Orange County has raised more than $35 million on behalf of the Komen promise. Seventy-five percent of funds raised are invested in local breast health needs and services. The remaining 25 percent is dedicated to the Komen Award and Research Grant Program to fund groundbreaking breast cancer research.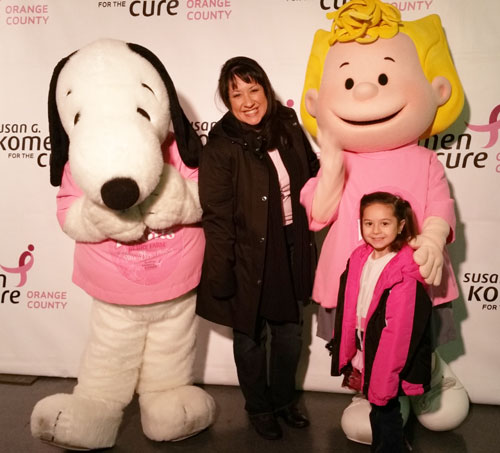 Special thanks to our friends at Knott's for a lovely day, and Gigasavvy for contributing to this post.