The big game is coming!! Are you ready to party and celebrate the BIG GAME on February 1st? I am not a huge football fan because the big bowl game always fell on my birthday when I was growing up. However, I am a fan of Farrell's and love their specialty burgers. Get ready to get your  Gridiron Grub on with their new Tailgate Burger and 4th and Goal Sundae.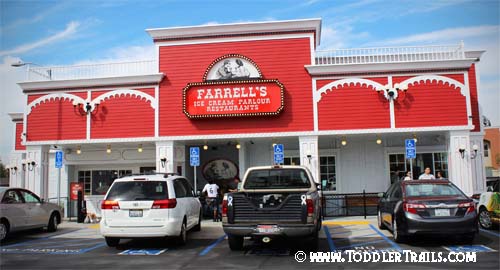 We were invited to sample the new Gridiron Grub menu specials at our local Farrell's Ice Cream Parlour in Buena Park, and let me tell you, it's something you're going to have to taste for yourself.

Imagine an action-packed burger with two favorites: a hearty cheeseburger and nachos pile in one! Yes, it's that insane. Farrell's is offering the Tailgate Burger in celebration of the big game, loaded with a 1/2 lb. Angus patty with melty Pepper Jack cheese and crisp lettuce, then, thrown on top of that, a pile of nachos built with a crisp heaping helping of Doritos® nacho chips, melted cheddar cheese, sour cream, black olives, fresh guacamole and house-made salsa.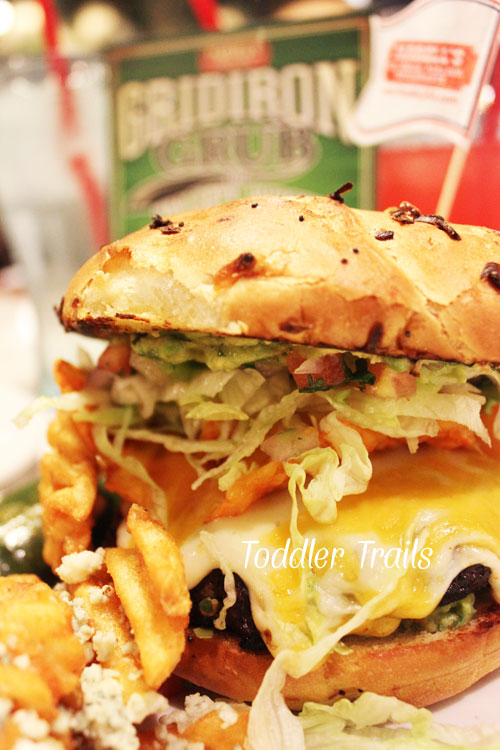 I have to admit, I LOVED this burger. Remember as a kid, loading up your sandwiches with doritos? Well, I did it all the time. This burger reminded me of the days when I'd load up my sandwiches. The guacamole was full of flavor with cilantro, tomatoes, onions and avocados.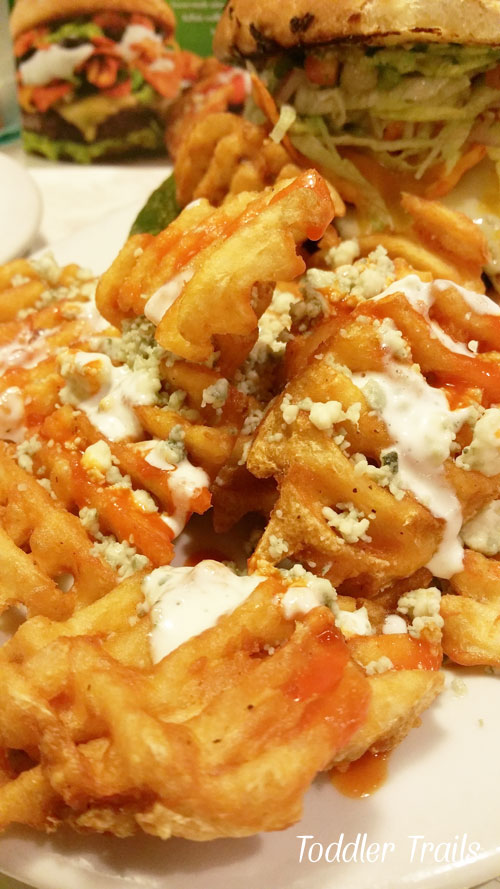 Paired with the Tailgate Burger is Farrell's new Bleu Buffalo waffle fries. Imagine Farrell's waffle fries drizzled with zesty buffalo sauce and tangy bleu cheese. Now, not being a fan of the bleu cheese, I had them without – also quite tasty. My husband however, fell in love with the fries. I think it's his new favorite – hopefully it's something they will continue to keep on the menu.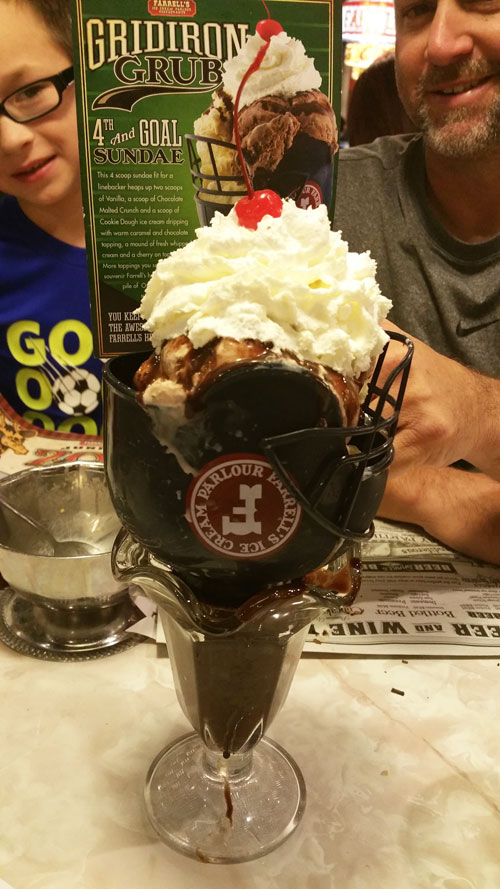 To finish off the night, we shared Farrell's 4th and Goal Sundae. Perfect to share – or tackle yourself, the 4th and Goal Sundae is loaded with two scoops of Vanilla, a scoop of Chocolate Malted Crunch, and a scoop of Cookie Dough ice cream dripping with warm caramel and chocolate topping. To top it off, they've added a mound of dairy fresh whipped cream and a cherry on top.
When the waitress brought it out, my kids' eyes about popped out of their heads. They were so excited, that they quickly finished up their dinners. The sundae is so big that it was easier to leave it in two parts. We scooped out the ice cream, whipped cream and sauces and dunked it into the accompanying dish of oreo cookie crumbles and hot fudge.
To remember your Gridiron Grub Game Day Celebration, you even get to take home the limited edition souvenir Farrell's helmet.
How would you like Farrell's catering for your "Big Game" party. All you need to do is fill out the Enter-To-Win card when dining at any Farrell's location. You can find out more details at their website: Farrell's Ice Cream Parlour
Disclaimer: We were invited in to sample the Gridiron Grub items at our local Farrell's to share our honest review with our readers. No other form of compensation was received.