This week we set off on another adventure right here in Buena Park – "Pirate's Take Christmas" at the Pirates Dinner Adventure. We joined our favorite pirates as they captured Santa and Mrs. Claus and hid them on an authentically replicated and fully rigged 18th-century Spanish galleon under night sky lighting. This interactive dinner show is great holiday entertainment for the entire family.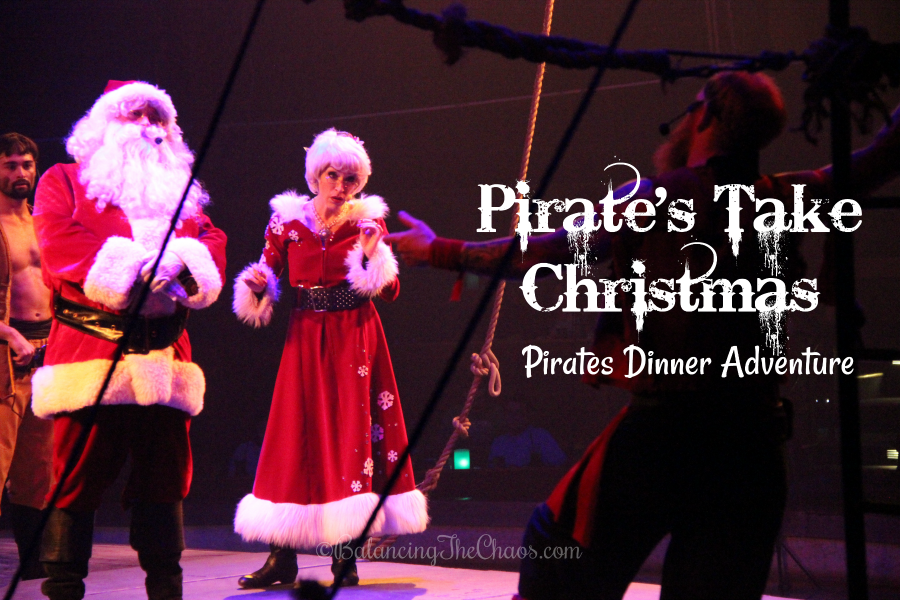 Pirates Dinner Adventure is celebrating the holidays now through January 1st.  Don't miss the "Pirates Take Christmas" show where scoundrel pirates kidnap Santa and Mrs. Claus and an acrobatic elf. The best part about this yuletide adventure was audience participation! Audience members were invited to join in on the action and competition, assisting our mascot pirate in winning Santa's Christmas Treasure. Children get into the action as they are sworn in as honorary pirates.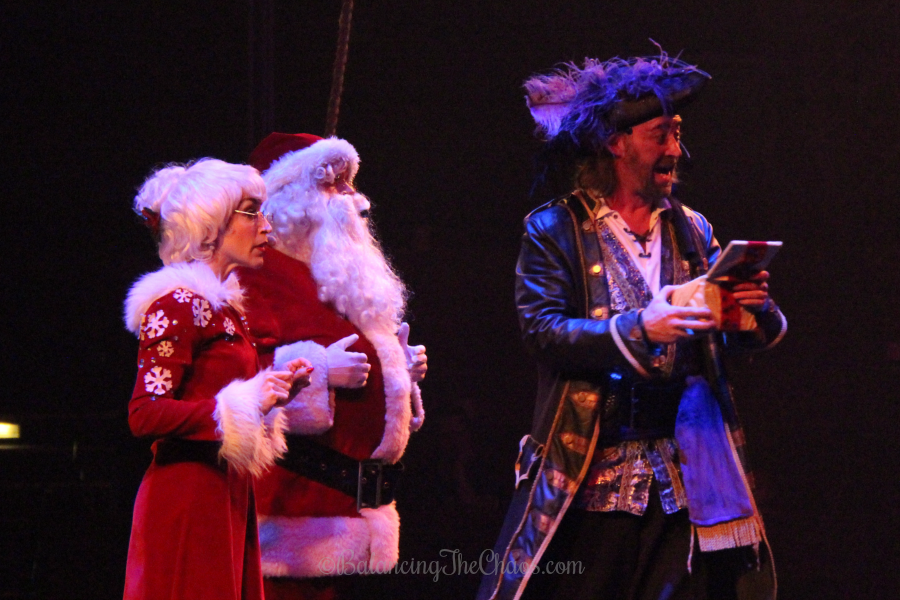 The show is set aboard an authentically replicated 18th-century Spanish galleon measuring 46 feet long, 18 feet wide with 40-foot masts, the ship is anchored in a 250,000-gallon indoor lagoon with night sky lighting. Surrounding the lagoon is a six-sided showroom of six additional ships where the audience is seated. Voyagers on each of the six ships have their own fearless pirate mascot whom they cheer on as the adventure unfolds with a cast a dozen actors, singers and stunt performers engaging in a bounty of action-packed exploits, accompanied by cannon blasts, pyrotechnics and plenty of laughs. In addition, more than 150 guests have the chance to play an actual role in each show as the evil Captain Sebastian the Black leads his crews of renegades on a swashbuckling adventure before your very eyes!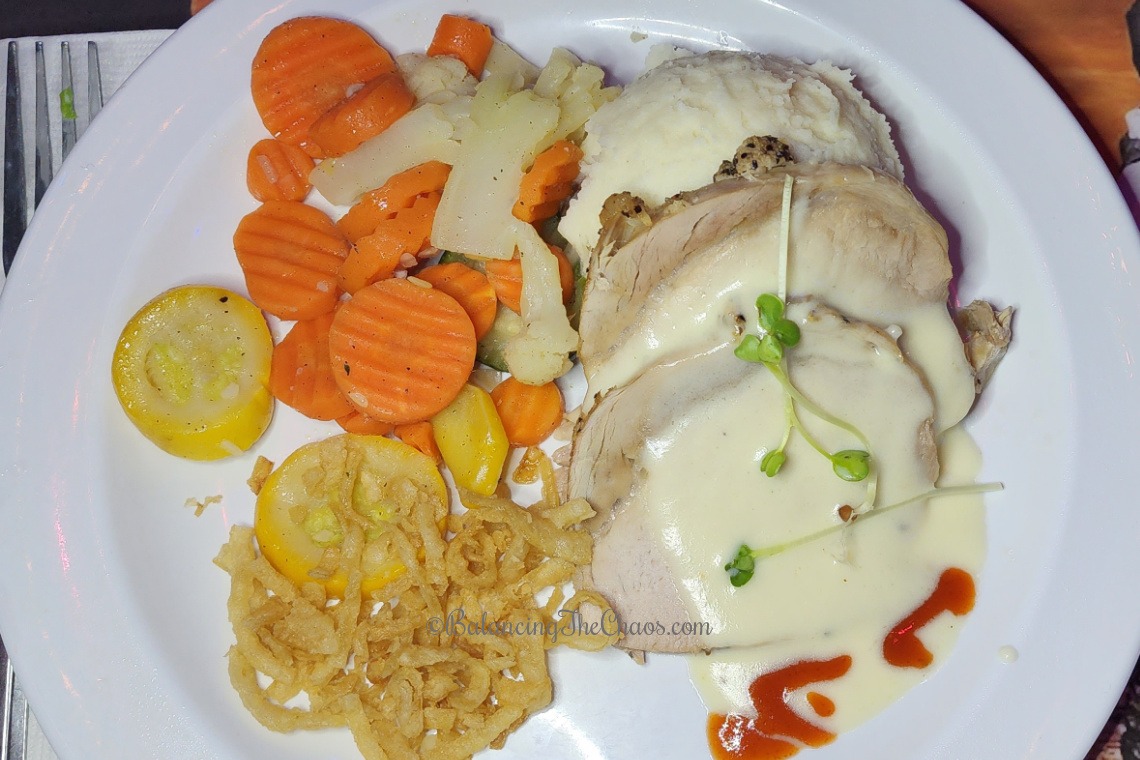 All through the show, a delightful pirate waitress presented a hearty 3-course traditional holiday feast with your choice of tomato soup or salad for a starter, choice of tender pork medallions with crispy onions or half a chicken, buttery mashed potatoes, and vegetables. And to top it off, we all polished off our delicious dessert!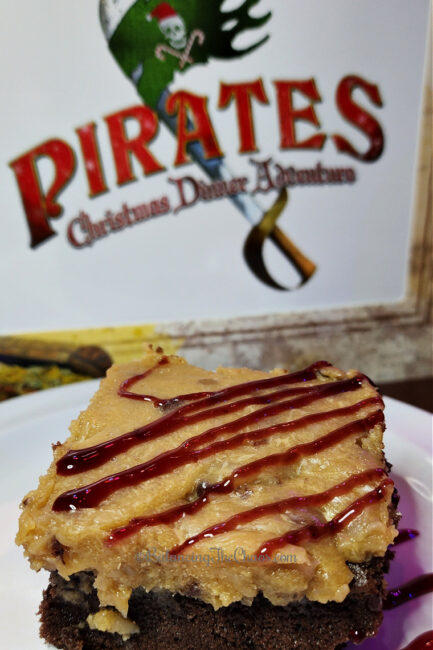 Adult $65.95 and Child $38.95
This code is valid until Jan. 1, 2023. To make a reservation, call 714-690-1497 and mention code JollyPirate at the time of purchase. Subject to availability. Reservations required.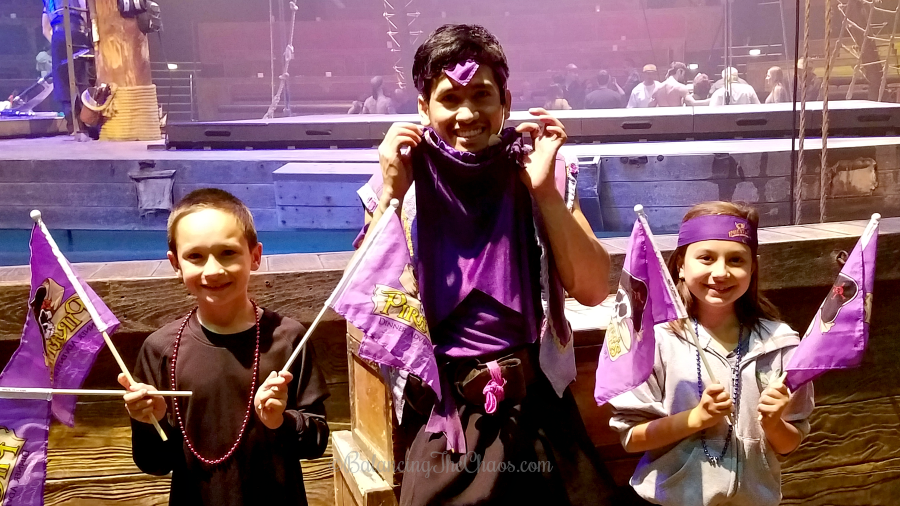 Pirates Dinner Adventure
7600 Beach Boulevard, Buena Park, CA 90620
Show Times:
7:00 p.m. Monday – Friday
3:30 p.m. and 7:30 p.m. on Saturdays
2:30 p.m. and 6:30 p.m. on Sundays.
Check in starts 90 minutes ahead of time for all shows.