Celebrate the holidays at Universal Studios Hollywood. This year, guests can enjoy visiting The Grinch in Who-Ville and partake in Grinchmas with the Whos. Also enjoy the festive atmosphere during "Christmas in The Wizarding World of Harry Potter, followed by The Magic of Christmas at Hogwarts Castle, beginning Friday, November 25 and running daily through Sunday, January 1, 2023. Families will love the holiday festivities, which are included in the price of admission.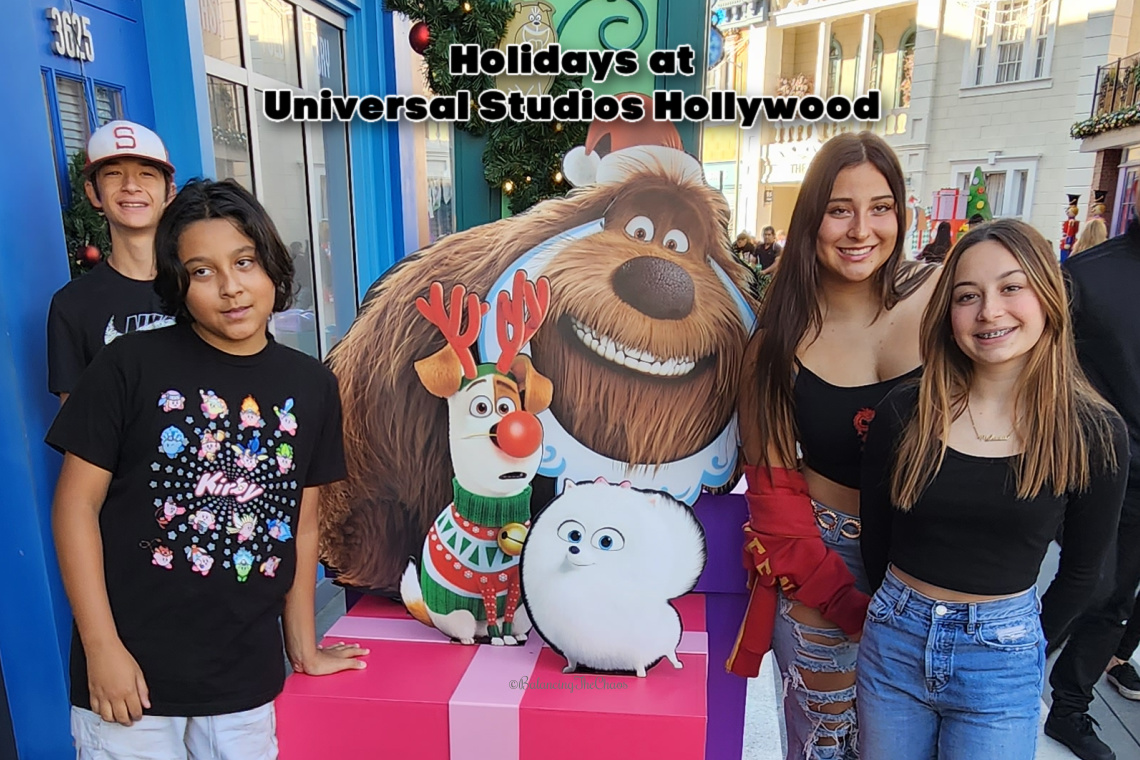 We love to spend the holidays at Universal Studios Hollywood. The festive experiences are just what we needed to kick off the season. During the holidays, Universal Studios and Universal City Walk is all decked out with holiday decor.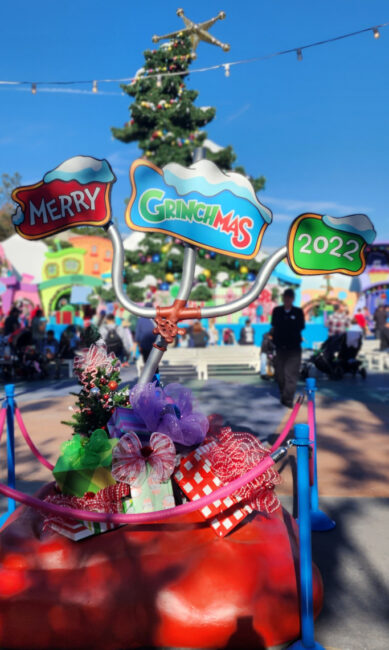 Enter the festive amusement park, and you're quickly detoured. Who-bilation returns in festive fashion as holiday park-goers will be rockin' around the topsy-turvy 65-foot-tall "Grinchmas" tree in Universal Plaza, adorned with hundreds of ornaments and thousands of LED lights. A dazzling tree lighting ceremony accompanied by a snowfall flurry will take place every evening.
In the plaza, you'll have the opportunity to visit with the Grinch, himself, and snap a memorable family photo. Watch out, he may gift you one of his stinky onions.
Max the dog is also on hand for cute family photos as well, and Cindy-Lou Who shares her favorite holiday stories.
Select residents of Who-ville will be strolling around the circle, spreading holiday cheer with Grinchmas carols.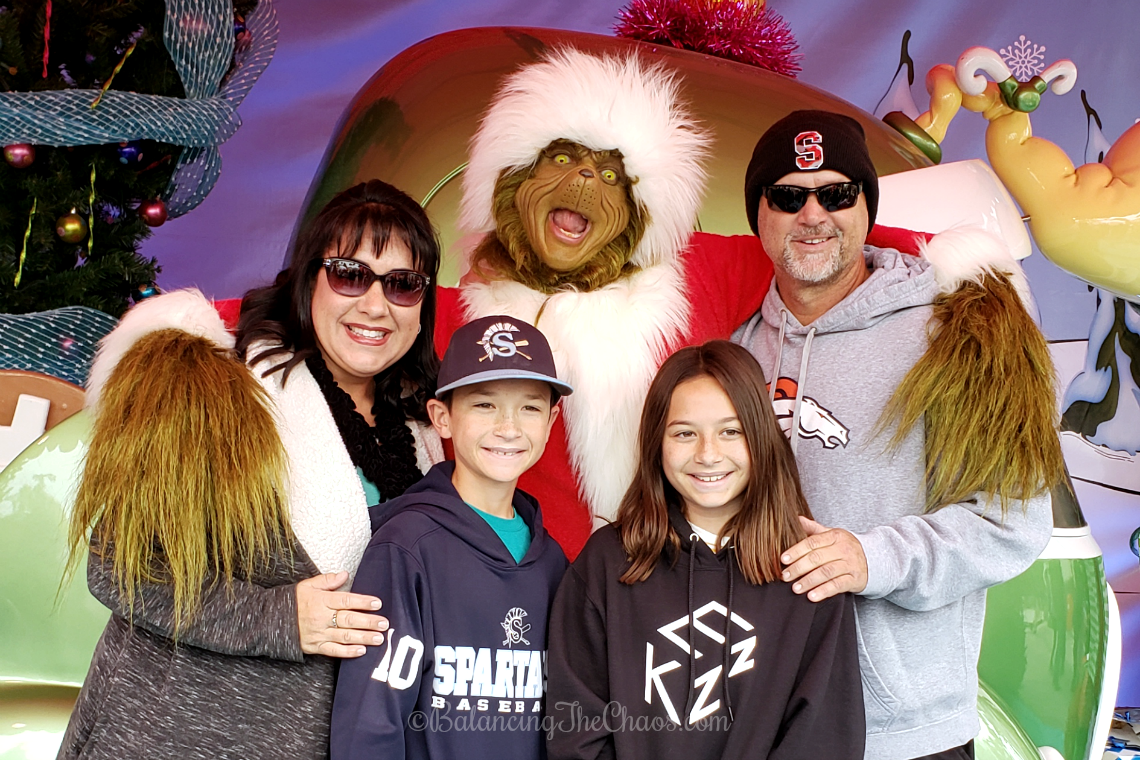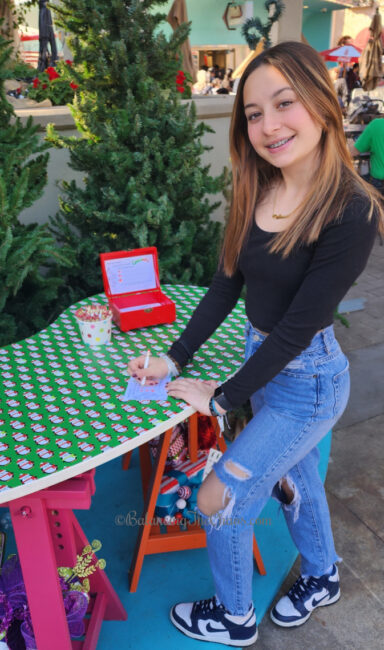 For the last few years, we've made it an annual tradition to visit Universal Studios during the holidays. We love experiencing Grinchmas at Universal Studios, with fun photo opportunities scattered through Who-Ville. We also make it a point to send letters to The Grinch, sharing good deeds. What makes it even more special is that Universal Studios Hollywood makes a charitable donation to Schools on Wheels for every postcard sent.
Our favorite part was meeting The Grinch, who took time to grumble and lovingly mock each guest as they stepped in for a hug and to snap a quick photo.
TIP: Do this early! There is quite a long line to meet the Grinch, so I'd have someone stand in line while everyone else checks out the rest of Who-Ville. You can even take photos with Max too!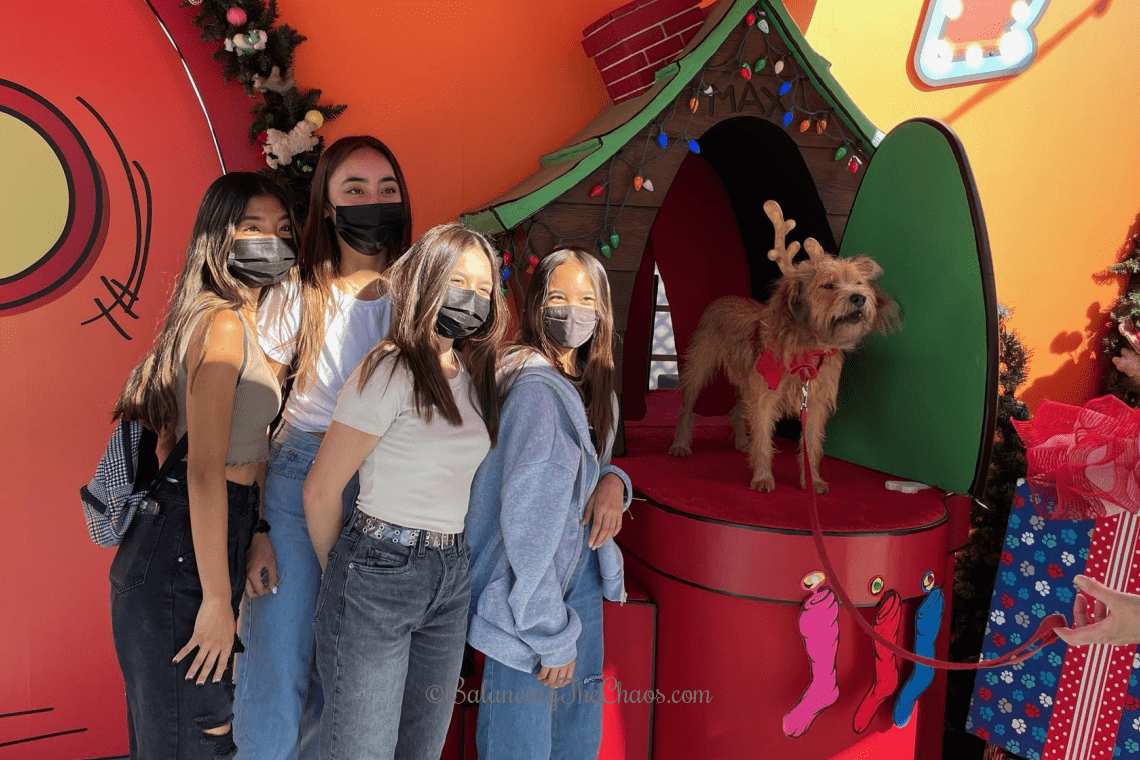 At about 5:30 p.m. and every half hour till close, be sure to stop back into Who-Ville for the tree lighting. It is a spectacular time with Who – ville neighbors, the Mayor, Cindy-Lou Who and The Grinch. Make sure you bundle up because they're expecting snow.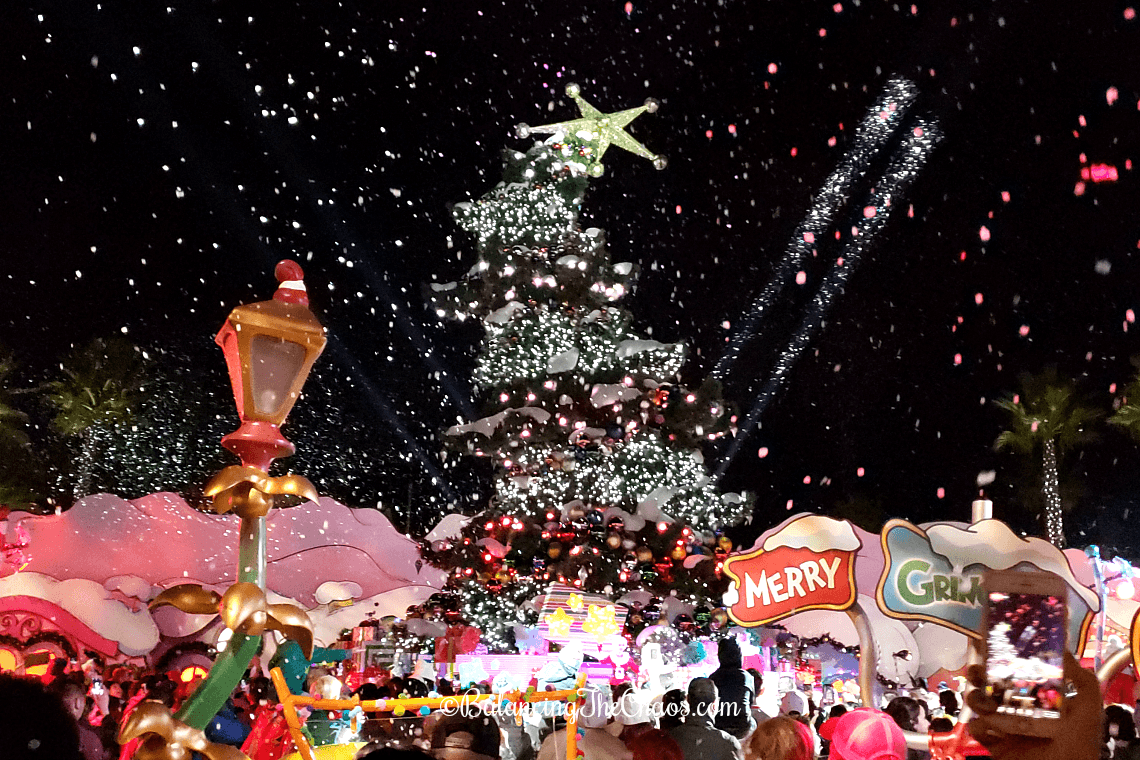 In Hogsmeade, enjoy Christmas in The Wizarding World of Harry Potter where you'll see festive holiday decorations, and see the A Cappella Frog Choir where Hogwarts students entertain guests with their harmonized holiday-themed songs.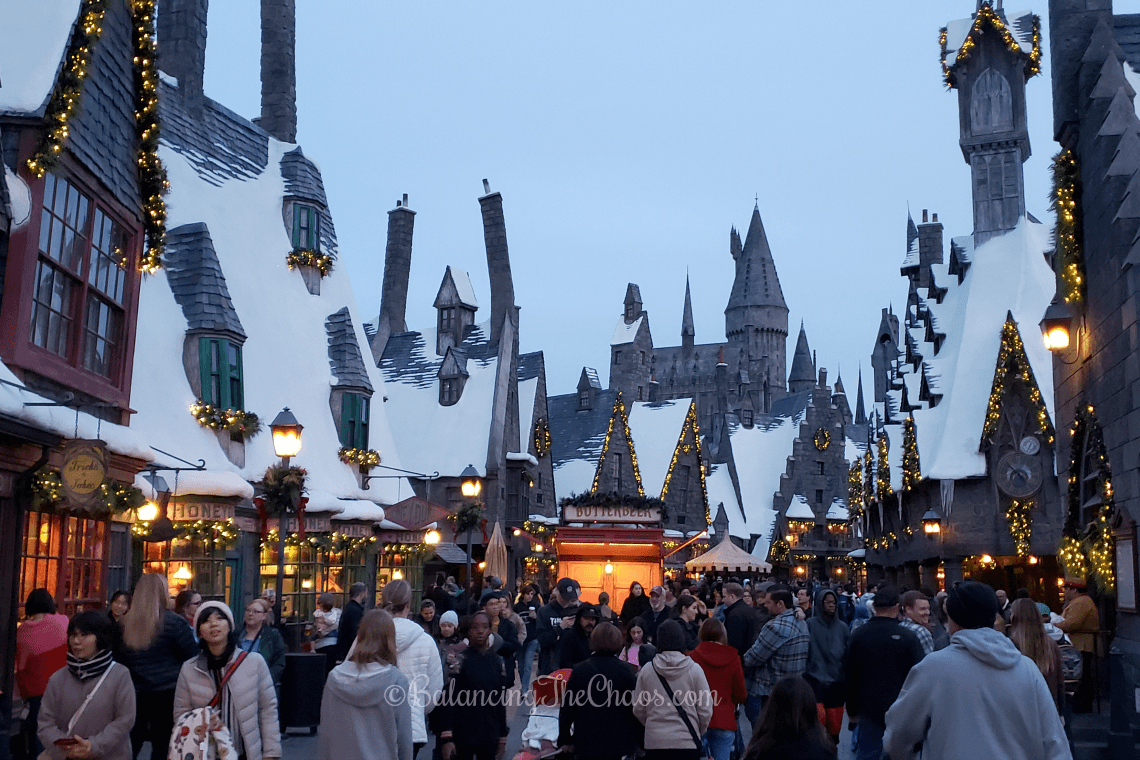 At The Three Broomsticks, enjoy holiday-themed dishes and delicious hot butterbeer. As a matter of fact, we picked up a cup of hot butterbeer while waiting for the light show at Hogwarts Castle.
Also, if you're looking for the perfect gift, try holiday shopping in Hogsmeade for exclusive items within the village shops, including personalized ornaments and notebooks,
Beginning at dusk each night, "The Magic of Christmas at Hogwarts™ Castle" dazzles with stunning imagery and animation as the impressive light projection show illuminates Hogwarts™ School of Witchcraft and Wizardry, bringing the iconic Hogwarts™ castle to life and infusing the land with the sounds of an arrangement of music from the Harry Potter film series. It is absolutely mesmerizing as you watch images of Christmas carolers, candles light up the castle and partygoers dance about.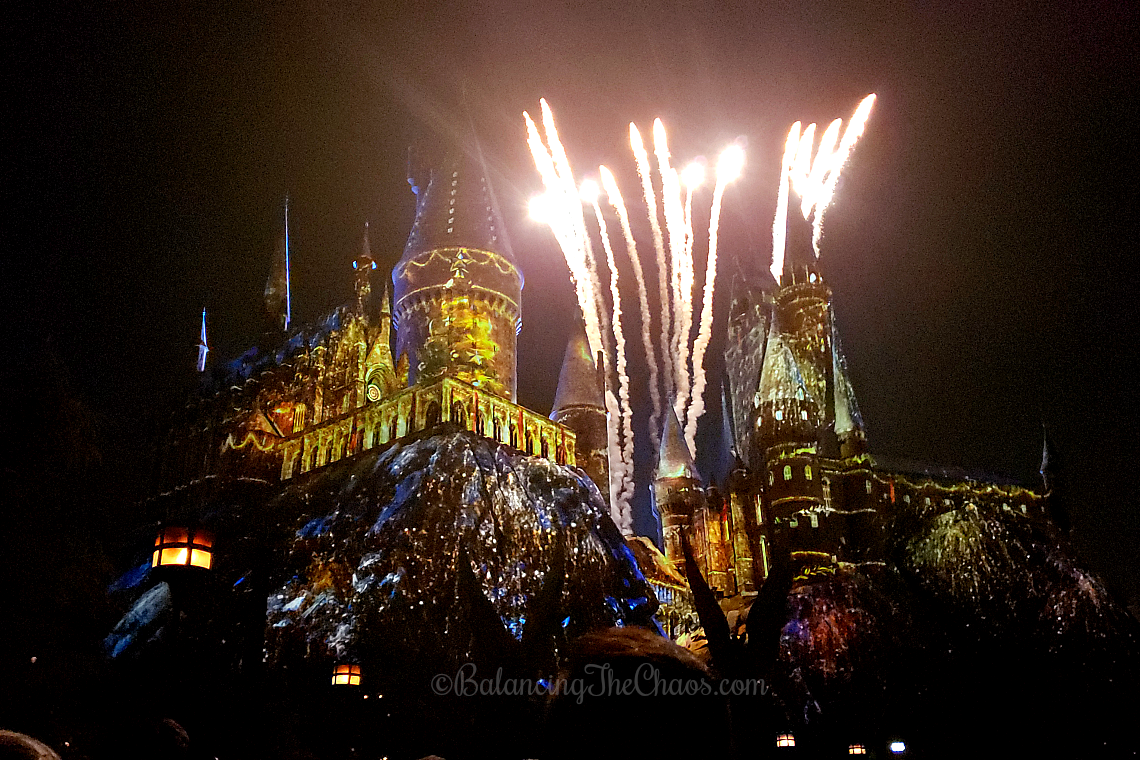 And as always, enjoy all that Universal Studios has to offer with rides, shows, and entertainment. Additionally, annual passes offer year-round fun for all.
Happy Holidays! Get your tickets now!