It's Mother's Day and it's time for Mom's to be pampered and spoiled. As a Mom, I know I particularly enjoy a day of relaxing when I have the opportunity. A massage and facial would be top on my list, however they are costly. I recently discovered Unbooked Appointments, an internet retailer that partners with local businesses to offer services at discounted prices.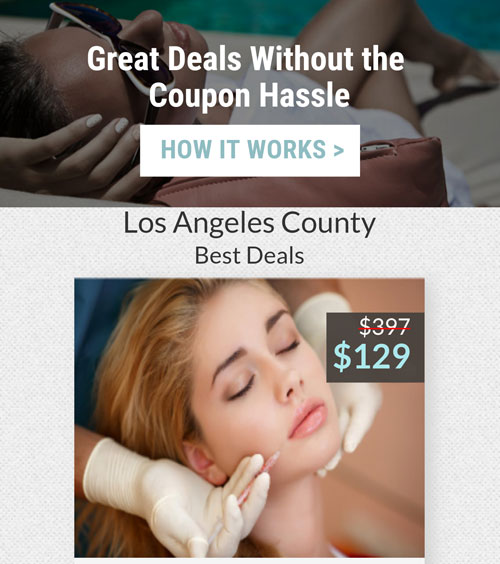 I was invited to book an treatment through Unbooked Appointments which offers services with partners in Southern California – Los Angeles and Orange County for a discounted rate.
Unbooked Appointments is quick and easy. Drop down menus provide you with easy search options for the exact services you are looking for.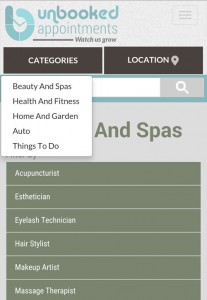 Choose from spa treatments, hair and nails, fitness classes and weight training, things to do and more. Each category breaks down into detailed selections to help narrow your search.
Once you've found what you're looking for, make your selection for available dates and time.
Want to make it a gift? Choose the "Gift Tab" and the selected service will be emailed directly to the recipient.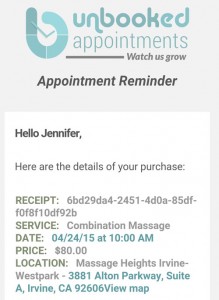 Once my appointment was booked, I received several reminders and detailed information of what I was going to receive. It's a great way to double check to make sure you have selected a date that works with your schedule as well as confirming it is the service you wanted.
Better yet, if you are attached to your phone, like most people are nowadays, Unbooked Appointments will send your reminders via text the day of the appointment.
I had booked my treatments with Massage Heights in Irvine. When I arrived at the facility, I was quite impressed. When you walk in the door, Massage Heights in Irvine has a very relaxing atmosphere. The staff was welcoming and offered me water while I filled out a few quick forms.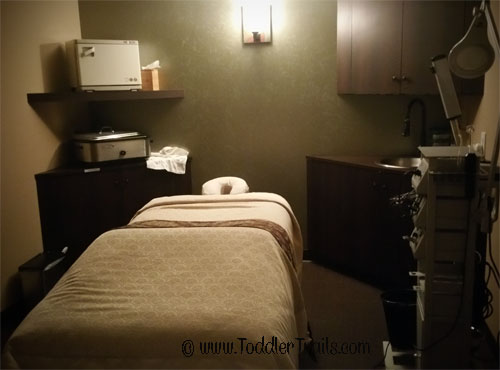 I had selected a hot stone massage as one of my treatments because it was something I had wanted to experience for years. When I was younger, I worked as an Executive Assistant at a Spa, and the stone massages were just becoming popular when I left the company; however I never had the opportunity to sample one.
My massage therapist was wonderful. She made me feel comfortable and relaxed. The stones were very hot, but in a comforting way as she used them in the massage and gently liked them up on my spine, which kept me warm while she performed the rest of the massage on my arms and legs.
I had also opted for a facial – again, simply amazing. My Esthetician was quite knowledgeable and asked me about my skin care regimen while cleansing, exfoliating and extracting. I left Massage Heights in Irvine feeling refreshed, relaxed and rejuvenated.
Massage Heights recommends memberships for their services to get them at a reduced rate. I recall seeing one of their brochures with a massage over $100 (the exact prices I don't remember). So, you have the option to sign up for a membership, or schedule through Unbooked Appointments, which is exactly what I would do. I have had friends with monthly memberships to spas, and never use them all.
Try it for yourself and let me know how you like it? I do have to mention that I had booked a previous appointment with another location through Unbooked Appointments, however I never received the treatment. It wasn't a reliable vendor, and the customer service at Unbooked Appointments was excellent. They quickly remedied the situation and that company is no longer a partner.
Disclaimer: I received complimentary spa treatments on behalf of Unbooked Appointments to review their service and share my honest experiences. No other form of compensation was received.