This weekend families are invited to enjoy MOTA Day on May 17th. Explore great architecture, historical discoveries, family fun and entertainment at six local museums all for free at Museums of the Arroyo (MOTA) Day.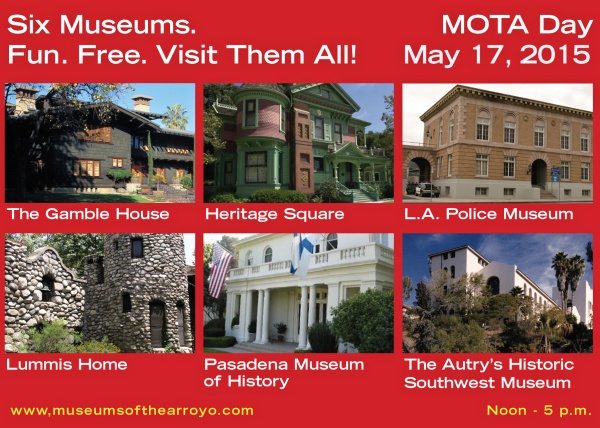 Families will have the opportunity to learn Victorian dances, make adobe bricks, check out a Civil War encampment, climb into a retired LAPD helicopter, attend a Rancho fashion show and discover what continues to make the Arroyo Seco a bustling, vibrant arts-driven community that crosses neighborhoods and social boundaries.The museums included in MOTA Day are:
The Autry's Historic Southwest Museum Mt. Washington Campus:
See more than 100 pieces of rare ceramics in the Four Centuries of Pueblo Pottery exhibition
Learn about gardening and healthy living in the Community Garden overlooking the Arroyo Seco.
From 1:00 to 4:00 p.m., visitors can explore the life of rancheros in nineteenth-century California through special MOTA Day activities led by students from Arroyo Seco Museum Science Magnet School.
Create a diseño (hand-drawn map) of your own rancho, decorate cascarón (confetti eggs), learn to make adobe bricks, and collect rancho character trading cards.
At 2:00 p.m., 3:00 p.m., and 4:00 p.m., learn about ranchero fashion at the students' Rancho Fiesta Fashion Shows.
The Los Angeles Police Museum:
Tour the facilities which feature private collections and historical memorabilia that date back to the late 1800s like a freshly restored 1955 paddy wagon.
Kids can climb into a retired police helicopter.
Experience a real jail cell and snap their own free police booking photos.
Tour three other permanent exhibits about the Onion Field murder, the Patty Hearst kidnapping, and the 1997 North Hollywood Shootout.
The Lummis Home and Garden:
Using a newly developed computer application, historian Dennis Harbach will be available to research from his database about the visiting and local dignitaries who were guests at the Lummis Home from 1897 to 1928.
MOTA guests can see if any of their relatives were part of the early Lummis' parties and gatherings.
In addition, self-guided tours of the home and garden will also be available on MOTA Day.
The Pasadena Museum of History:
View the current exhibition When Johnny Came Marching West: How the Civil War Shaped Pasadena in addition to checking out an actual reenactment of a Civil War encampment on site.
Art2Go invites young crafters to help them create a gigantic quilt among other craft projects.
Additionally, guests can take a mini-tour of the recently remodeled Fenyes Mansion as well as the Finnish Folk Museum which is housed in a replica of a 19th Century Finnish farmhouse.
All MOTA Day museums will showcase items that are rarely on display or even seen by the public. Plan your day as the event takes place from 12pm – 5pm. Free shuttles connect all museums so visitors can park their car once to experience the arts, culture and history of the Arroyo.