Isn't it more fun shopping with friends?  I certainly love wandering my favorite store with a buddy, chatting about the latest finds and trinkets for the home.  Ikea is encouraging you to join in on the fun at their Third Annual "BYOFDay" – Bring Your Own Friend Day at Ikea.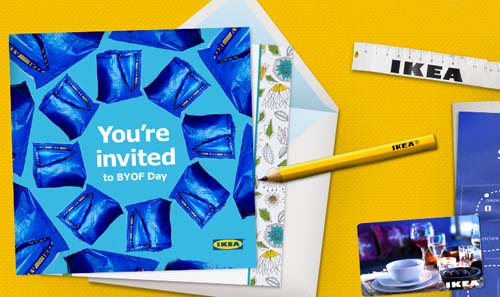 On March 8, 2014, Bring your own friends day at IKEA, a national* in-store event that offers IKEA fans and their friends a special shopping experience.  Shoppers will enjoy deals, in-store activities, raffle prizes and drawings and all kids of fun that comes with shopping with your pals.  The day is designed as a special reward for IKEA loyalists and their friends.
Ready to plan your special day out?  visit  IKEA-USA.com/BYOF  to create personalized invitations asking your friends to join you at Bring Your Own Friends Day at IKEA.  Included in the invitation are special offers to be used in-store on event day. All they have to do is print them out and bring them in when they meet you.  The best part = for each RSVP, IKEA will make a one dollar donation to Save the Children'sEarly Steps to School Success program (up to $50,000)! Such an amazing way to help children.  New this year, RSVP and be eligible for a chance to win one of four $500 IKEA gift cards.**
"At IKEA, we love to share the excitement and uniqueness of IKEA with both our loyalists and our newbies," says Lisa Allen, IKEA U.S., Product Public Relations. "BYOF Day has been a wonderful opportunity to capture everything fans love about IKEA in-store, and allow them to share the experience with their family and friends."
Bring Your Own Friends Day at IKEA participants can look forward to the following in-store offerings:
Food Freebies: Who doesn't love FREE FOOD?  Bond with your buddy over some delicious meals with coupons for free breakfast (and free coffee for IKEA FAMILY members!).Foodies can take advantage of $5 of $25 at the Swedish Food Market with coupon and enjoy buy one get one free desserts with coupon.Hungry for more? Customers can take advantage of our Eat for Free offer with home furnishings purchases over $150. Check out IKEA-USA.com/BYOF for complete details on all BYOF Day offers for foodie friends.
Free Blue Bags: The BLUE BAGS are so handy!  Redeem a coupon for a free IKEA blue bag during this shopping event. The quintessential large, reusable bag is flexible, lightweight and easy to clean. It's an ideal companion to transport anything from groceries to laundry to a perfect beach bag from IKEA!
Big Discounts on BILLY: This year, fans and friends that are also IKEA FAMILY members will receive an exclusive discount on an iconic IKEA product – the 32X80" BILLY bookcase in brown, medium brown or birch (marked down to $59.99 from $79.99). This offer is valid for BYOF Day only. Check out IKEA FAMILY for more exclusive offers throughout March and all year round.
Tips & Tidbits from an IKEA Professional: Have a design dilemma in your home? IKEA experts will be hosting DIY tutorials throughout the day covering a variety of topics from home design to storage solutions.
Twitter Sweepstakes: Want even more chances to win? Join Twitter and follow your local store's twitter handle for details on the IKEA BYOF Picture Hunt Sweepstakes and BYOF Day activities in your nearest store. See your local store for their specific rules. Every store is giving away one $1,000 IKEA gift card in the sweepstakes.
If you are a SUPER IKEA fan, become an IKEA family member by signing up for their FREE membership.  Members receive fun perks like special discounts, gift card giveaway entries with each purchase, free coffee and tea in the IKEA Restaurant and more. On BYOF Day, shoppers will have the opportunity to sign up for the free, ongoing rewards program.
Connect with IKEA via social media:
Facebook

, 

Twitter

, 

Pinterest
and

Instagram
ABOUT IKEA
IKEA strives to be 'The Life Improvement Store,' and since its 1943 founding in Sweden, has offered home furnishings of good design and function, at low prices so the majority of people can afford them. There are currently more than 340 IKEA stores in 43 countries/territories, including 38 in the U.S. IKEA, the world's leading home furnishings company, incorporates sustainable efforts into day-to-day business and supports initiatives that benefit children and the environment. For more information, go to IKEA-USA.com.