Is shopping a chore, especially with your little ones in tow? Venture to Pretend City during March to teach them how to help you shop at a grocery store.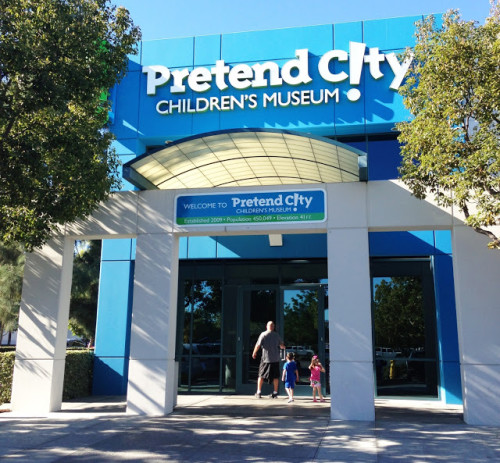 This month, grown-ups and children will learn about all the fun things that happen behind the scenes in a grocery store during the month of March at Pretend City Children's Museum's Grocery Store! What a great way to teach children about healthy produce, dairy and more.
Children will enjoy learning how to weight and sort food,which items are the most popular, why some things should be kept frozen, and how to correctly package items into a grocery bag. March Market Madness gives grown-ups and children a new perspective on how to engage in a grocery store. They will be able to create a shopping list in the "Our Home" exhibit and journey through the aisles in search of their grocery goodies all month long. The opportunities for learning are endless!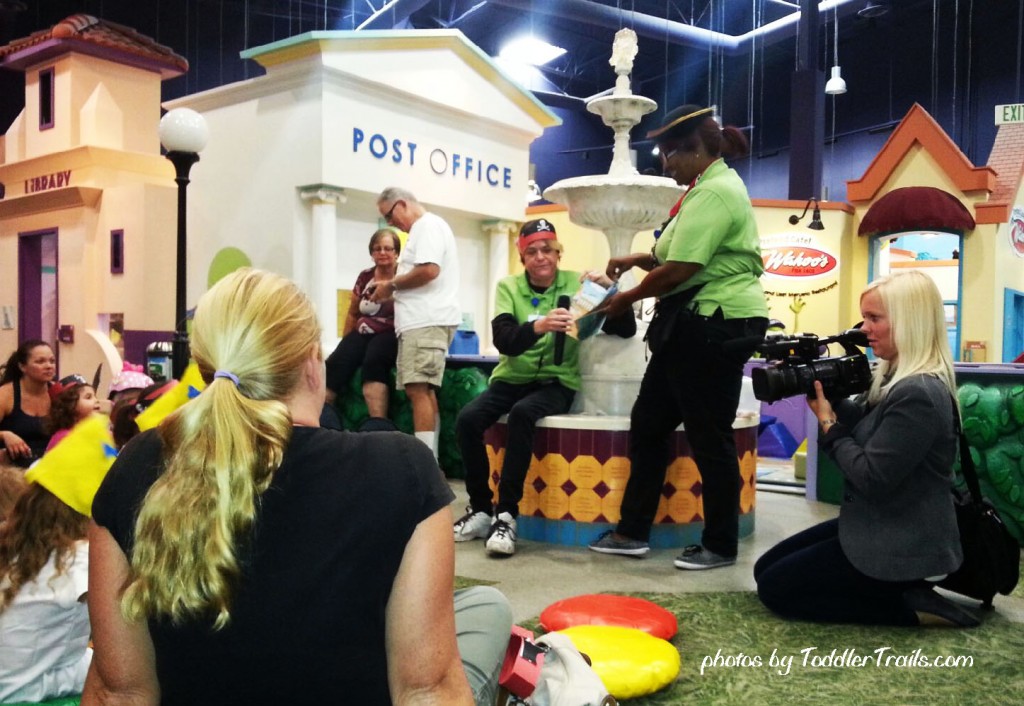 Art Studio Sessions:
Before heading off to the grocery store, it is important to understand nutrition and all about the food groups. Pretend City offers art activities that will inspire healthy eating as your child explores healthy food options in a fun and unique way – through art! Art activities will be available every day of the week, find the following educational lead art activity that best suits your child's developmental level:
Mondays – Food Fun: Infants (birth – 12 months)
Tuesday – Paint with Your Food: Young Toddler (12 – 24 months)
Wednesdays – Food Pictures: Toddlers (2-3 years)
Thursdays – Kitchen Prints: Preschoolers (3-5 years)
Fridays – Make Your Plate: Kindergarteners (5-6 years)
Saturdays – Yum Yum Art: School Ages (5-8 years)
Sundays – In the Store: All Ages
Monday, March 10: Baby Steps through Pretend City!
Time: 2:00p.m. to 3:30p.m.
Specifically for: Infant (0-18 months), grownups. For the comfort of our infant guests, no older siblings please.
At Pretend City, one is never too young for anything, including shopping for groceries. This month's special Baby Steps event will focus on your baby's adventures in the grocery store. From rolling vegetables to toppling cans, Pretend City recognizes that the "havoc" they may wreak in the grocery store is only learning in this city.
RSVP: Visit Pretend City online under Visit and click Calendar of Events to register; max 60
Fee: $10 per adult, infants and Pretend City Members are FREE!
Friday, March 28: AAA Road Safety Day Open Roads
Time: 10:00a.m. to 5:00p.m.
Many children don't really know where food comes from. Today we will focus on helping children understand the big rig journey that food takes to get from the farm to the dinner table. With the help of Pretend City's partners from AAA of Southern California, the museum will also give tips on how to stay safe on the roads while these trucks make their deliveries.
Sensational Story Time: Join Truck Driver Tom on his cross-country road trip! Children will feel like they are on the open road journey with Tom as they learn about different trucks that carry a variety of goods.
Growing Up Great Game: Share the Road – Children will get to experience share the road as they take to the streets to make deliveries to and from the grocery store. Parents: make sure you've got your listening ears on for real tips you can use while on the road.
Goods on the Go – This smart art activity will channel your child's inner truck driver. See what goods they will decide to fill their delivery truck with during this collage activity.
*AAA of Southern California will be in attendance with more information on road safety including safe driving tips near commercial vehicles and child seat safety. Make sure to bring in your AAA membership card for general admission discount.
Suggested Tweet: Visit @PretendCity on Friday, 3/28 as @AAASoCal comes to give road safety tips. Make sure to bring in your AAA Membership Card for 20% OFF!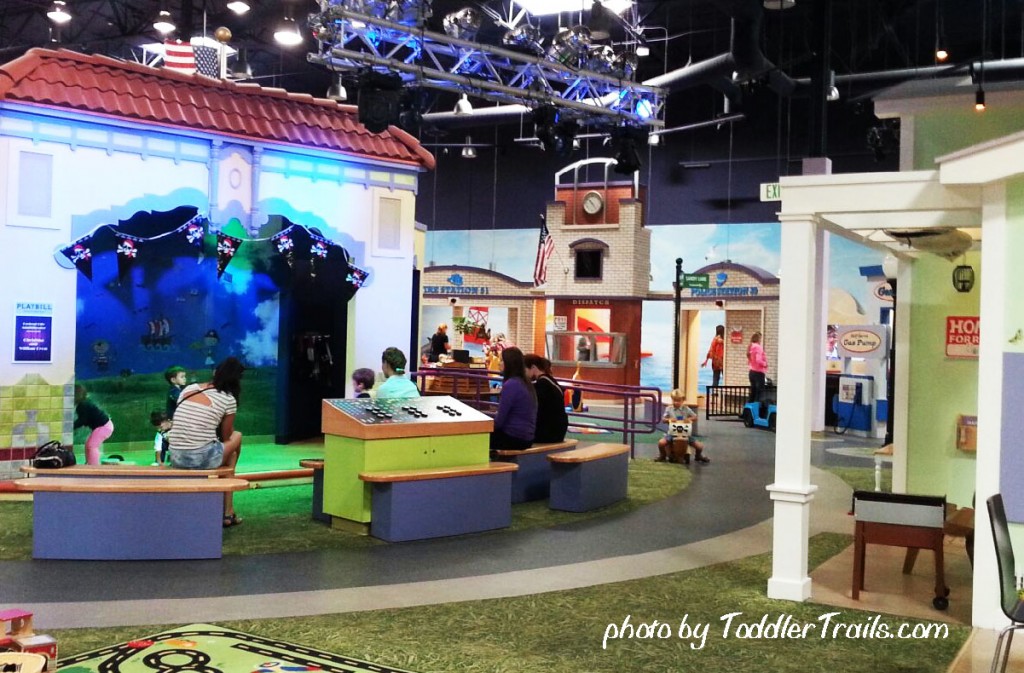 Additional March Highlights include:
Tuesday, March 4: Celebrate Mardi Gras and the Grand Opening of Bayou Café!
Time: 10:00a.m. to 3:00p.m.
Pretend City Children's Museum is throwing a party for Mardi Gras! Even though New Orleans is hundreds of miles away, we'll sing and dance and have great fun as we celebrate friends and family! This celebration with the whole family will let your little ones share in the traditions and culture of Mardi Gras in a family-friendly way. In addition, we will be celebrating the grand opening of the Bayou, which will "serve" Cajun- and Creole- inspired cuisine. Mardi Gras activities include:
Smart Art: Join us in the art studio as we explore the meaning of symbolic Mardi Gras colors and make classic pieces to complete your very own costume.
Café Creations: Visit the Café to learn about and "bake" your very own King Cake.
Carnival for Kids: From the floats to the beads, your children will enjoy participating in their very own carnival. Let them design floats in the art studio and don their floats during the parade!
Friday, March 14: Way to Play Day, A Package of Learning!
Time: 10:00a.m. to 3:00p.m.; Way to Play Days occur on the 2nd Friday of every month
Join us for a fun Way To Play Day, which is specially designed to assist parents in finding answers to questions about their child's development. With our Way To Play Adventure Guide, there are activities to enhance your play at Pretend City. Good To Go From Head To Toe, Pretend City's child development initiative, together with our play partners, are here to assist you with:
ASQ Developmental Check-Ups from 10:00a.m. to 12:00p.m.: Assess speech, motor, cognitive and social areas. First come, first served; limited spaces available.
Monday, March 17: Celebrate St. Patrick's Day
Time: A.M. Activities: Sensational Story Time, Good to Go Activity; P.M. Activities: Let's Move, Science Secrets
Green's the way to be on this fun filled day! Celebrate St. Patrick's Day through a treasure hunt, Irish art, and leprechaun visits. Today everyone will have the opportunity to participate in:
Sensational Story Time: Rainbow Ribbons – This little me morning will take you on a rainbow journey with the littlest leprechaun. Do a leprechaun dance as you watch your rainbow ribbons soar as you dance to the beat! High and low and round they go!
Good to Go Activity: End of the Rainbow Treasure Hunt – Our rainbow has lost its pot of gold! Using your child's color identification skills go on a treasure hunt through the city to see if you can find the rainbows pot of gold for you to win your very own "pot of gold"!
Let's Move: Lucky Leprechaun Game – See if you're the lucky leprechaun of the day by participating in some fun St. Patti's Day group games.
Science Secrets: Leprechauns Magic will have fun with the myth of Leprechauns and St. Patrick's Day traditions while exposing your child to the scientific explanation of each activity.
Don't forget to wear your favorite green costume for an Irish inspired heading home parade!
Thursday, March 20: First Day of Spring
Time: A.M. Activities: Music & Movement, Good to Go Game; P.M. Activities: Science Secrets, Nature Tales
Spring is in the air! There's nothing like those little buds on the trees, butterflies, birds, bees and the extended hours of daylight. And what better way to celebrate the first day of spring than with a Spring Fling! Join us in celebrating the new season with the following fun activities:
Music & Movement: Spring Sing – This spring-themed circle time will introduce your child to spring songs that will help them remember the concepts of the season.
Good to Go Game: Spring Shapes Relay – Let your little one work in cooperation with others to complete relays and build their social skills. This special spring relay will encourage children to work on identifying and matching spring shapes while working together to complete this movement relay.
Science Secrets: Planting Party – Spring is the season for growth. Children will learn all about the life cycle of a plant through song as they plant their very own take home flower.
Nature Tales: I is for Inchworm – Children will observe & interact with the worms – eew! Or is it? Come find out during this activity time.
About Pretend City Children's Museum:
Pretend City Children's Museum features a small, interconnected city designed to "build better brains" through purposeful play, hands-on learning experiences, role playing, and educational programming. As a non-profit 501(c)(3) organization serving all children, it depends on community-based funding and guest support. Through 17 interactive exhibits and activities guided by a highly trained professional staff, children learn foundational math, reading and science skills, while fostering curiosity, creativity, critical thinking, problem solving, organization, teamwork, self-confidence and socialization. The museum is a unique community resource offering developmental screenings and tools for families, educators and community agencies working to ensure that each child gains the experiences needed to discover their potential and build toward a productive and fulfilling future. Pretend City Children's Museum is located at 29 Hubble, Irvine, CA 92618. For more information, please visit www.pretendcity.org.
Connect with Pretend City via social media:
Website
,
Facebook
or
Twitter