Any Barbie fans in the house? If you don't have any plans this weekend, you are invited to celebrate Barbie's 55th Birthday at Farrell's Ice Cream Parlour!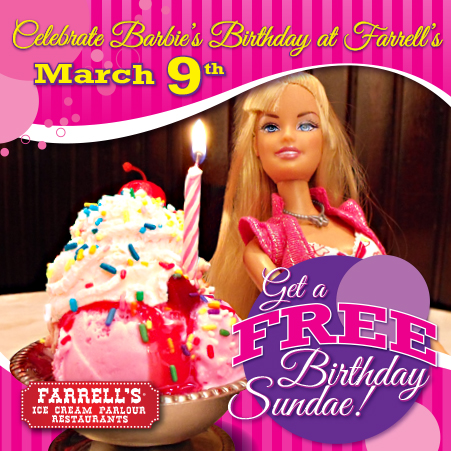 Farrell's Ice Cream Parlour will be celebrating Barbie's 55th birthday this Sunday, March 9. Join Barbie and Ken from 10am to 11am at your local Farrell's Ice Cream Parlour.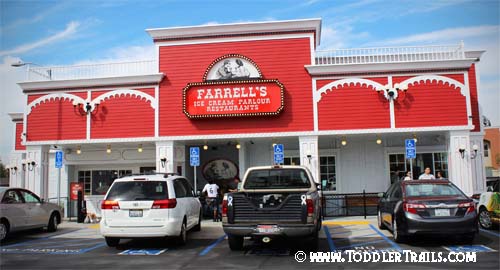 Farrell's is the perfect place to celebrate such a milestone, in a crazy special way! They are going to create a special, Barbie-inspired, Farrell's famous 30-scoop, 7 ½lb. ice cream Zoo to run around the restaurant, complete with sparklers and the guest of honor herself sitting atop. Then the entire restaurant will sing a uniquely created happy birthday song and we will dish up the Zoo for our young guests to enjoy for free*. PLUS… birthday presents will be given out to some of our guests who've brought in their Barbie*!
Can't make it to Barbie's 10am birthday party? The celebration will continue throughout the day with $1.99 pink birthday sundaes to all guests that bring in their favorite doll or action hero and purchase any regular entrée and drink*. This special birthday sundae is fashioned from one scoop of strawberry ice cream, strawberry sauce, whipped cream, party sprinkles and a cherry on top – so awesome!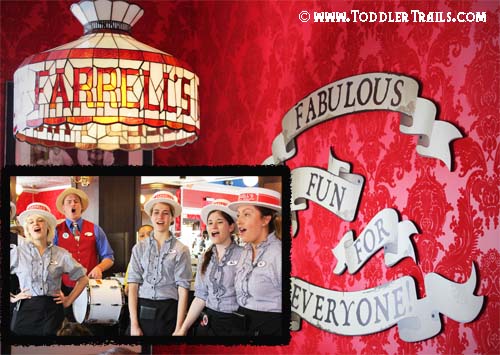 Now, the only question is which Barbie are you going to bring to the party? Astronaut Barbie, Doctor Barbie, Ballerina Barbie, President Barbie…
*Free ice cream is for children 12 years and younger. Any child's doll or action figure will do, including Ken, G.I. Joe or any other action hero for the boys. Each $1.99 birthday sundae must be accompanied by a purchased regular kid or adult entrée and drink. Barbie is a trademark of Mattel Inc. which is in no way associated with this event. To find your local Farrell's Ice Cream Parlour, visit: FarrellsUSA.com