It's summertime, which means spending hot summer days, cooling off at Knott's Soak City Waterpark. Plan for extra visits this year, as the Buena Park water playground, will keep you cool during the heated summer months. Open May 21 through September 10, catch a ride down 23 different speeds, tubes, and body slides, or take a relaxing trip down one of the longest lazy rivers in the country.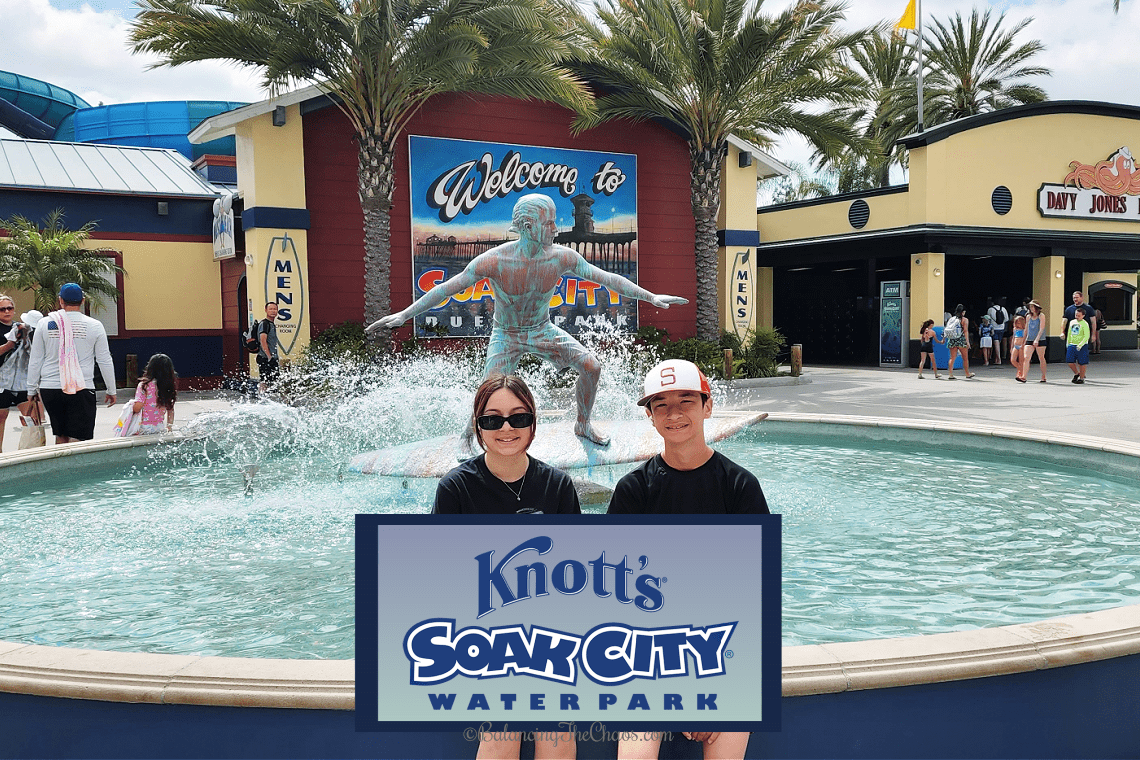 As a Knott's Berry Farm Berry Ambassador and Snoopy's neighbor, when school is out for the summer, one of the first things my family wanted to do was hit up Knott's Soak City Waterpark with their friends.
The 15-acre water park has something for each member of the family with 23 different speed, tube, and body slides for the more adventurous or a relaxing trip down one of the longest lazy rivers in the country.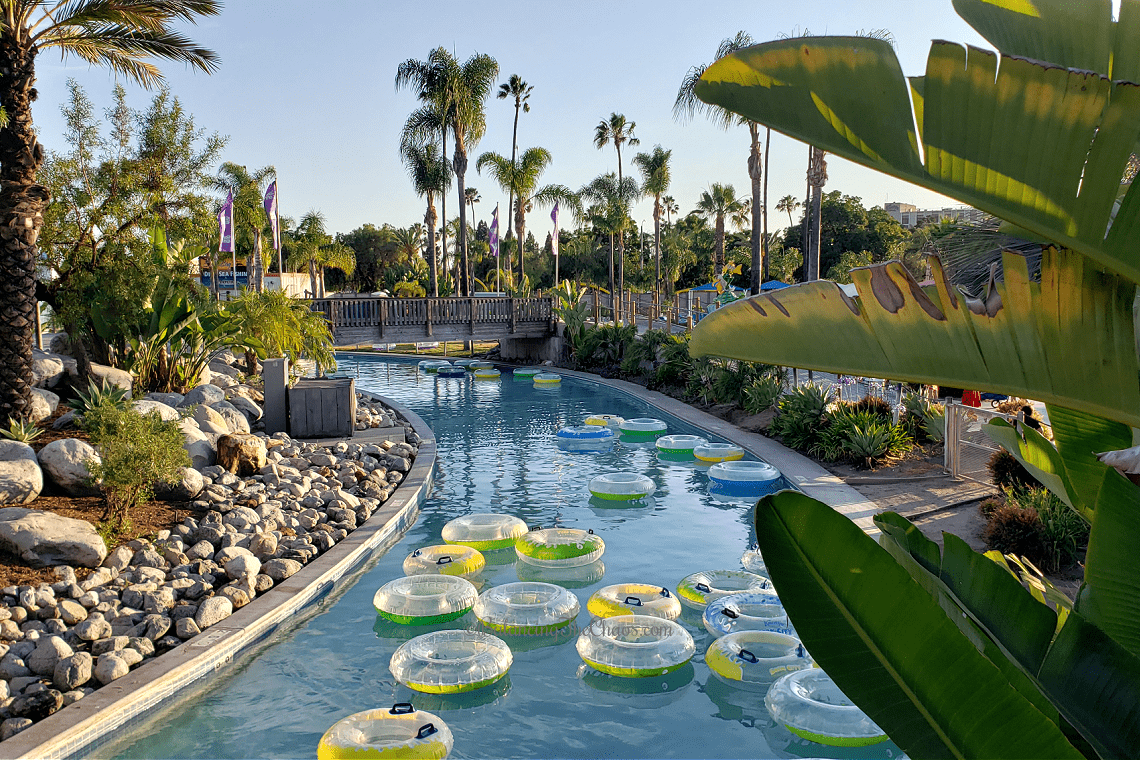 Family Fun
Many parents ask what there is to do for the younger adventurers while at Knott's Soak City Waterpark. They have several different levels of attractions for youngsters. The littlest will have fun splashing around in Gremmie Lagoon while elementary-aged school kids will enjoy floating around Sunset River or exploring the Beach House.
Beach House
Beach House Slides
Gremmie Lagoon
Sunset River (42″ height requirement)
Tidal Wave Bay (42″ height requirement)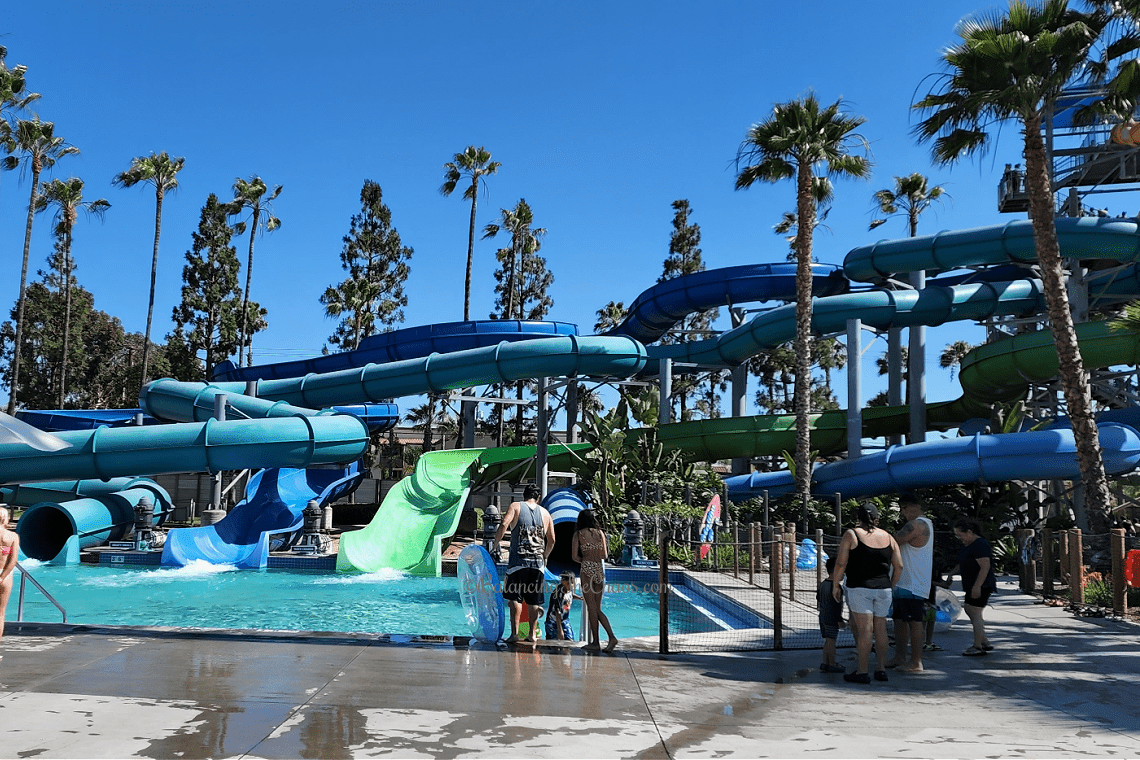 Thrill Rides
Older kids and adults looking for speed and excitement will enjoy these flume rides:
Banzai Falls (42″ height requirement)
Laguna Storm Watch Tower (42″ height requirement)
Malibu Run (48″ height requirement)
Old Man Falls (48″ height requirement)
Shore Break (48″ height requirement)
The Wedge (42″ height requirement)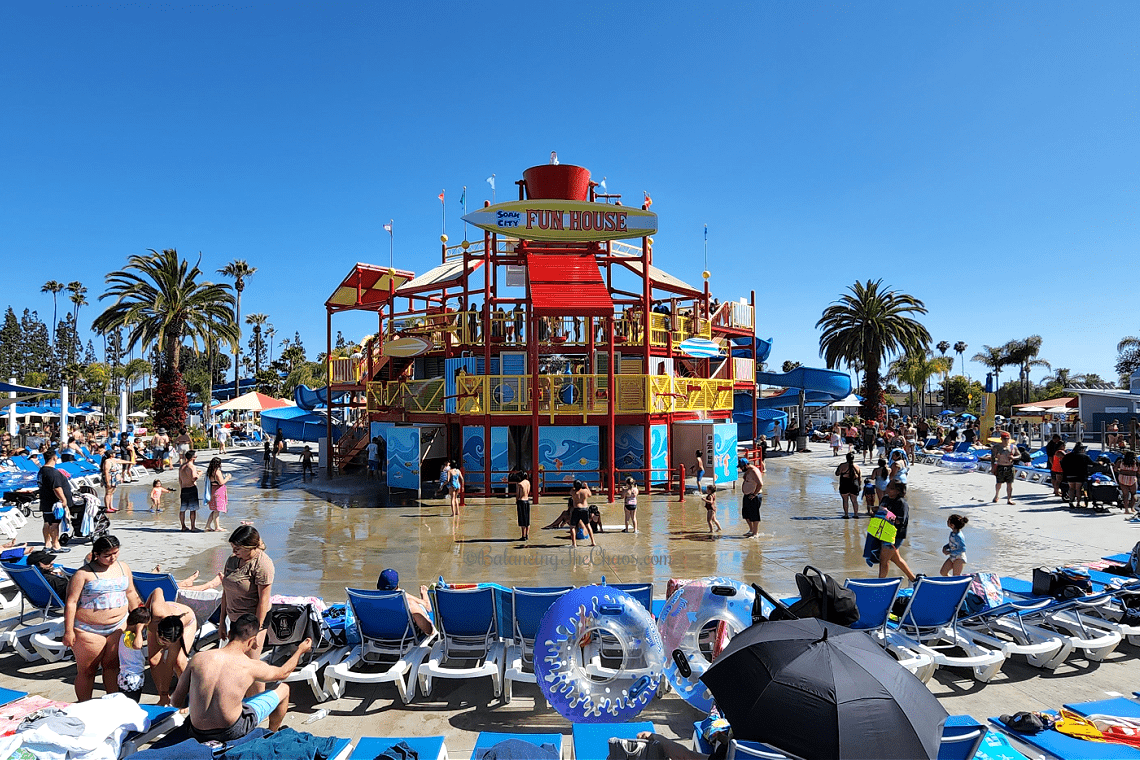 A Day at Knott's Soak City Waterpark
If you're planning a day at Knott's Soak City Waterpark, here are some tips and tricks you should keep in mind:
Don't forget: towel, sunblock, water shoes/flip flops, waterproof phone case
Lounge chairs are provided. Bringing your own is not permitted
Umbrellas are permitted, however, there are many areas where lounge chairs have shaded covers.
Outside food and drink are not permitted in the park. Soak City is a cashless venue, so make sure you have credit cards or Apple Pay/Samsung pay.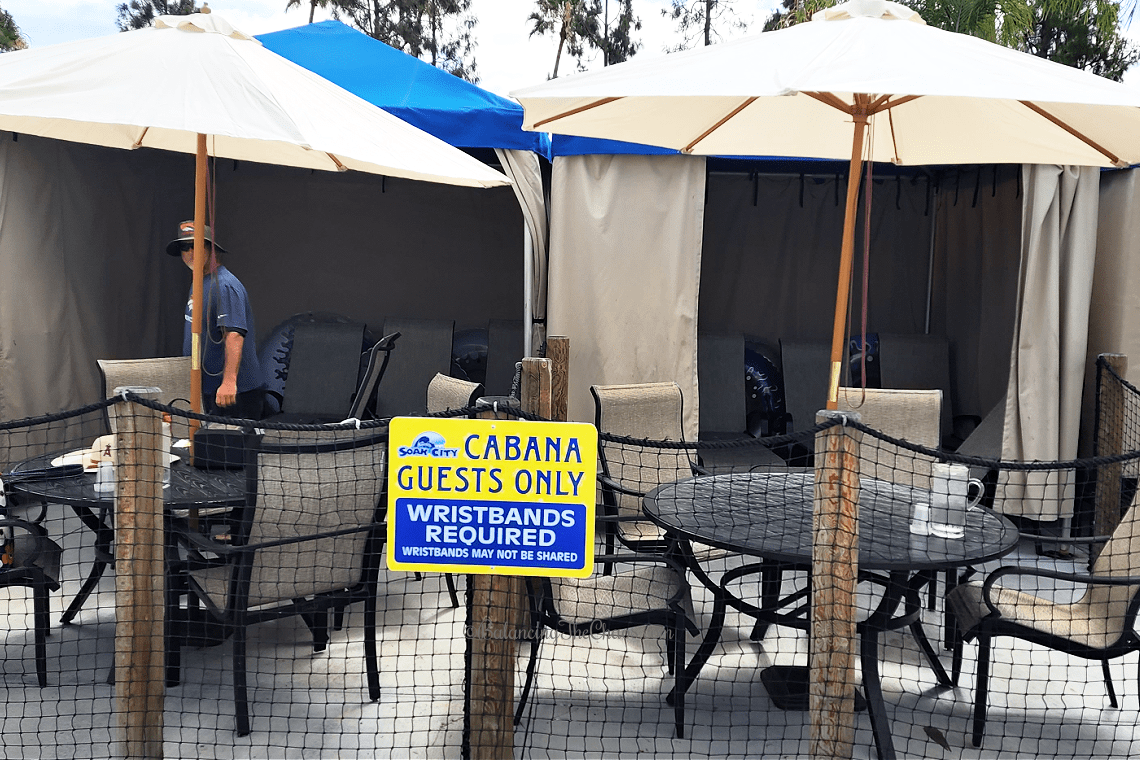 Knott's Soak City Upgrades
Want to add a little more fun to your Knott's Soak City Waterpark Day? Upgrade with these awesome options:
Cabana Rental: If you have 4-8 guests enjoying the park together, I'd highly recommend getting a cabana. Located in various areas throughout the park, you can have a designated place to meet. It includes a privately shaded area with 4 chaise lounges, a table with 4 chairs, and 4 tube rentals. Wait staff will visit approximately every hour to check in and see if you would like to order food. *There is an 18 service charge added to your food order.
With the rental of the cabana, you can receive up to 8 wristbands, and purchase up to 2 more for an additional fee. Information regarding how to rent and pricing can be found here: CABANA RENTALS.
Tube Rentals: Rent tubes to float in the day away in Tidal Wave Bay for an additional fee.
All Season Dining Pass: As a Gold or Platinum Knott's Berry Farm Season Passholder, you have the option to add the all season dining pass that permits you to purchase a meal starting at 11am when the restaurants open, and again 4 hours later. This could potentially give you two meals a day, depending upon the length of stay in the park.
All Day Dining Pass: For one day, you can eat every 90 minutes in the parks (Knott's Berry Farm or Knott's Soak City).
This photo brings me back to when my kiddos were about 4 and 6 years old, and they were waiting to get onto so many water slides. Amazing how at the time, it seemed so long to wait for them to be able to enjoy the "big kid slides" and now, I really miss those days.
If you have a season pass, do not forget to join in the fun this summer at Ghost Town Alive! and Knott's Summer Nights is included with admission to Knott's Berry Farm or with a special Knott's Hotel Summer Package.
The best way to enjoy all the fun offered day and night throughout Knott's summertime and the other Seasons of Fun is with a 2023 Season Pass. Get unlimited visits, food and merchandise discounts, plus so much more!
Enjoy your summer!