Disclosure:  We were invited to an advanced screening of The Lone Ranger and asked to share our thoughts and opinions about the movie.  In no way did this influence my view of the movie.  
Sometimes it's just great to have a night out, you know,  just the boys.   We're so busy with work, school and life, that we don't have many chances to do something with just us.  When we were asked to attend the advanced screening of The Lone Ranger, we were like, "Heck Yeah"!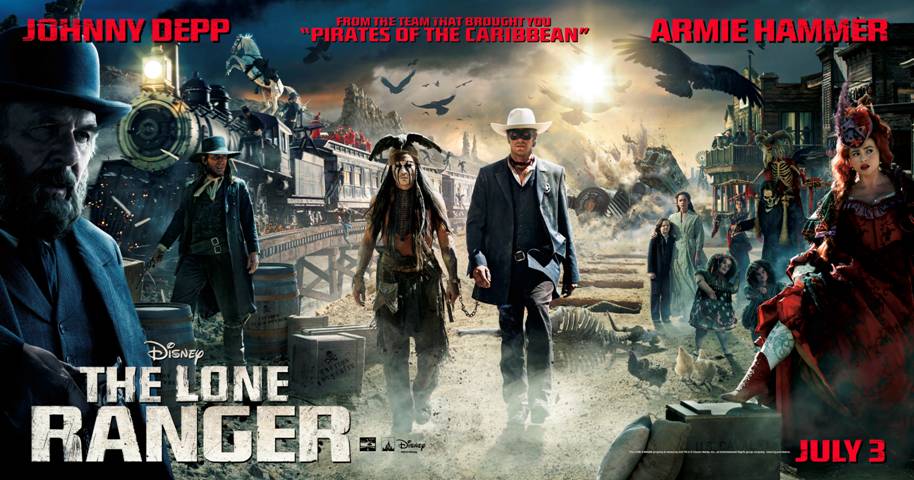 From producer Jerry Bruckheimer and director Gore Verbinski, the filmmaking team behind the blockbuster "Pirates of the Caribbean" franchise, comes Disney/Jerry Bruckheimer Films' "The Lone Ranger," a thrilling adventure infused with action and humor, in which the famed masked hero is brought to life through new eyes.  Native American warrior Tonto (Johnny Depp) recounts the untold tales that transformed John Reid (Armie Hammer), a man of the law, into a legend of justice—taking the audience on a runaway train of epic surprises and humorous friction as the two unlikely heroes must learn to work together and fight against greed and corruption.  
The movie was very entertaining, great for adults and mature kids.  My son, Nathan and I laughed a ton and were captivated by the storyline.

My favorite was when Tonto (Johnny Depp) and The Lone Ranger (Armie Hammer) were stuck on a rooftop that was on fire….then Silver appears on the roof too! What? Very funny! "Silver saves the day"!
Nathan's favorite part was when Tonto argued and debated with Silver about whether to bring the Lone Ranger back to life or not.  He thought the movie was "Funny and Awesome."
Here's a little "behind the scenes featurettes:
 The Lone Ranger Featurette: "The Craft"

The Lone Ranger Featurette: "Hi Yo Silver"
For more information about The Lone Ranger visit the website,  Facebook, or Twitter 

Contributor: Damian Willoughby
Damian is a new contributor for Toddler Trails.  He is a 46 year old family  man, devoted husband and father to Taylor and Nathan.  Recently retired from Ralphs after 29 years to devote his time to D & J Auto, restoring and repairing Volkswagens. 
www.dandjauto.com