"The Results Are In- A Kybella Transformation" – A sponsored post written by me (a CosmetiCare Mom) on behalf of CosmetiCare.
My Kybella journey started in in April of last year. After I had my first peel with Lisa at CosmetiCare, I spoke with her about potentially looking into Kybella because I was unhappy with my appearance. For several years, I was frustrated with my double chin, especially whenever anyone took pictures of me. I'd try to find the best angle to hide my embarrassing saggy chin. Now that I've had 3 Kybella injections and have let all of the swelling subside, I can finally see the true results.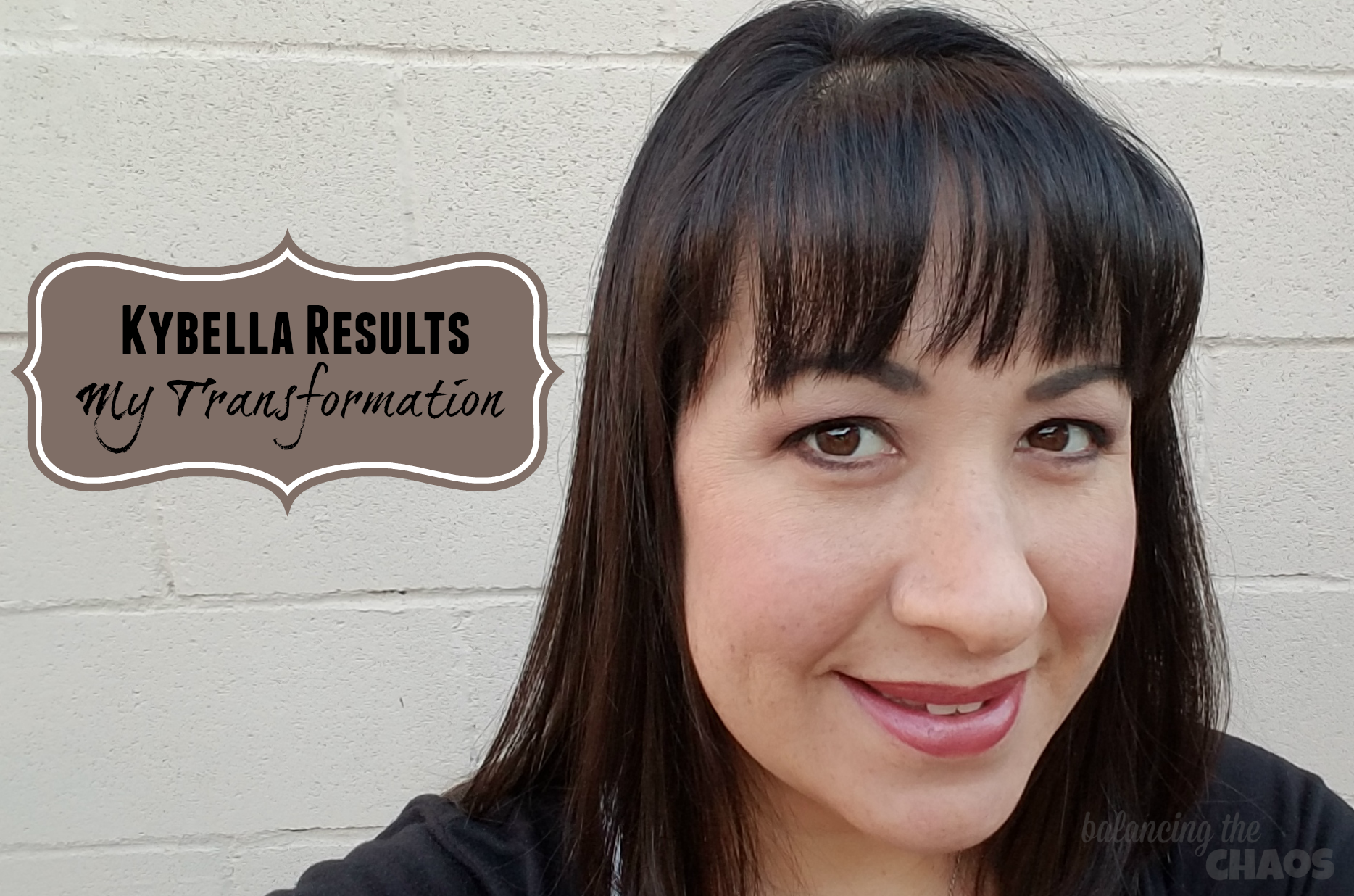 My first treatment  was back in May and I remember wondering at the time, if I was actually going to see results during the Kybella process. Having inherited a saggy chin, I was anxious to have a beautifully tight neck and jaw line without going through a surgical procedure. I've shared the results of the first injection, as seen in the photos below, surprised at the initial swelling the day after the injections, but with each treatment, I did notice a slight difference.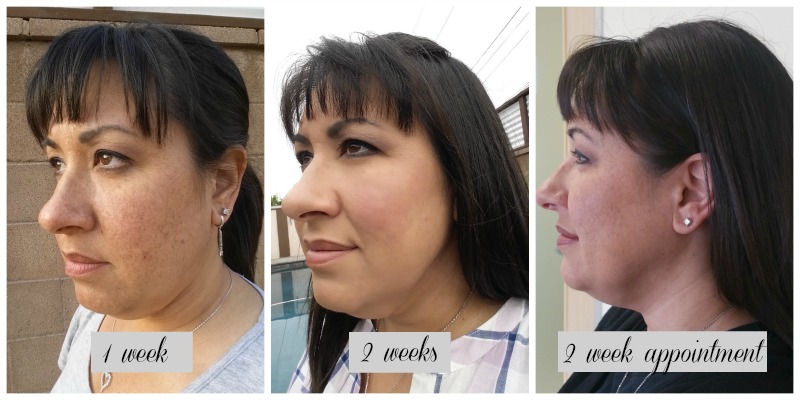 Thankfully I have photos from along with they way to be able to see the difference from treatment to treatment. As seen below, I have lost quite a bit of my double chin with the Kybella injections. My neck and chin look significantly smaller.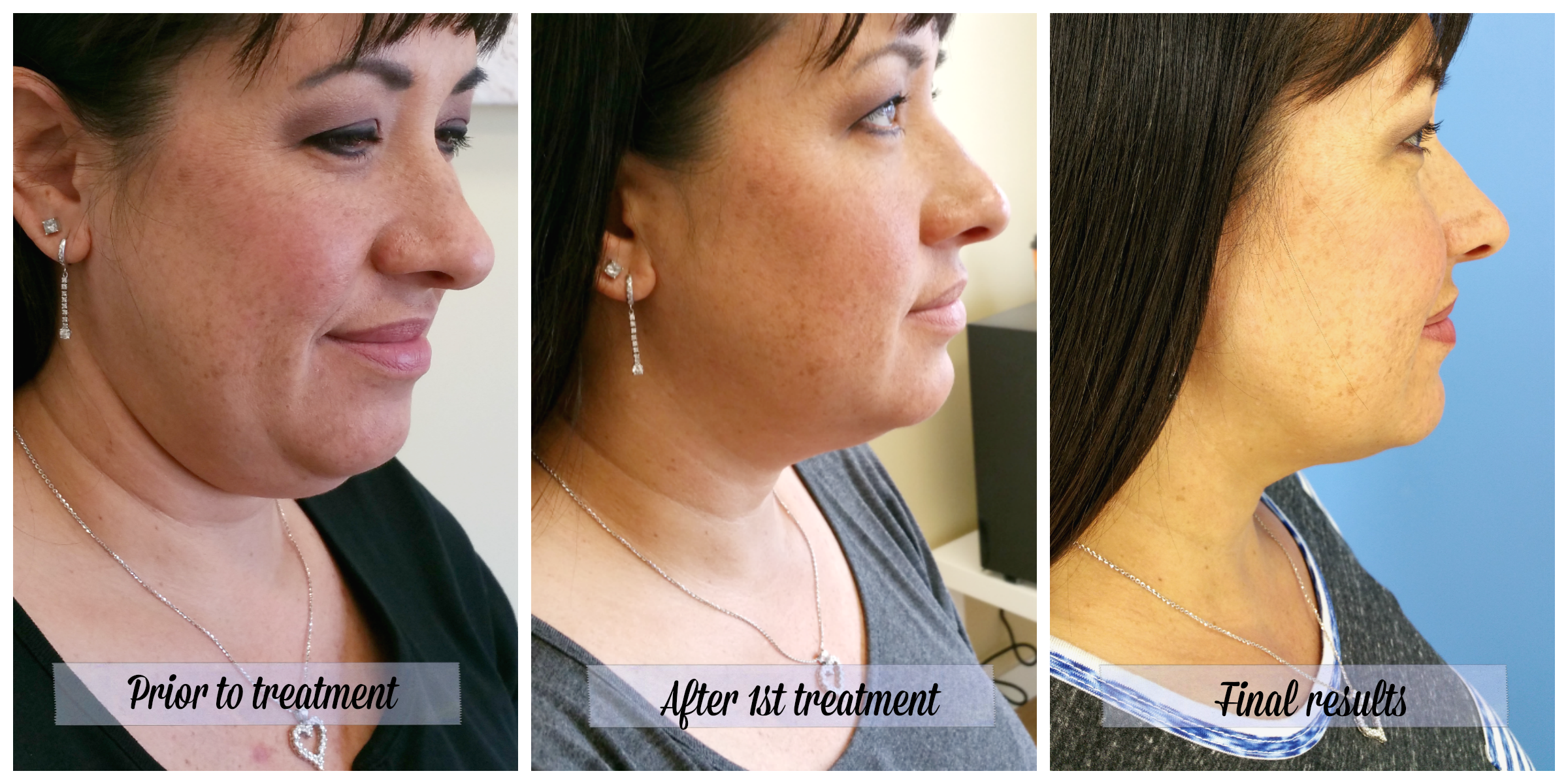 Now that I've gone through 3 Kybella injections, here are some things to keep in mind:
Consult your Medspa provider for all possible side effects
There is a bit of pain with injections that will last approximately 30 minutes.
Bring your ice packs with you if you are receiving a round of treatments. Icing assists with the initial injection pain.
One you are finished with your injections, you will notice a decrease in the size, however you may have saggy skin.
If you have a lot of saggy skin in the area, you may not be a candidate for the Kybella.
Am I happy with Kybella results? Yes, I am very glad my double chin is much smaller. However, now I need to focus on the next step of the process – weight loss. Staying young is certainly work now that I'm over 40! Have a favorite exercise or class? Please share because I need to find something fun!
As stated in the last post regarding Kybella, most patients need 3 treatments, each scheduled 6 weeks apart for the full benefit of the treatment. However, not all experiences show the same results.
Looking to tackle a few cosmetic issues you may have? The team at CosmetiCare is quite amazing and can give you great ideas on how to look your best, keep your skin young and rejuvenated as well as skin care options and more.
Newport Beach Office

1101 Bayside Drive, Suite 100
Corona Del Mar, CA 92625

Long Beach Office

2664 Atlantic Avenue
Long Beach, CA 90806