There is so much to see and do right here in Southern California from the beaches, to the mountains; from Knott's to Disneyland and SeaWorld. Did you know you can also enter the world of the swashbuckling pirates?  The Pirates Dinner Adventure is located just down the street from Knott's Berry Farm in Buena Park, CA  and is a great way to spend a night with the family or celebrate a special occasion!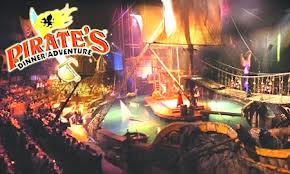 The Pirates Dinner Adventure in Buena Park is one of the world's most unique and interactive dinner shows.  Its a two-hour live performance featuring an astonishing display of special-effects wizardry, aerial artistry, swashbuckling swordplay and dynamic duels.
Guests will enjoy a four-course feast fit for a pirate king includes Preshow Appetizers, Vegetable Soup or Fresh Garden Salad, Roasted Half Chicken or BBQ Beef Kabobs, Buttery Mashed Potatoes or Caribbean Rice and Fudge Brownie a la mode. If you're a vegetarian, meals are available upon request.  There are even special kids meals too. Unlimited soft drinks and complimentary coffee are included in the meal.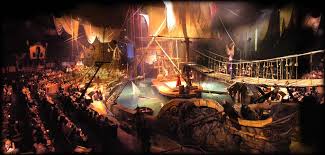 During the holidays, I took the family to catch the Pirates Dinner Adventure.  What we enjoyed most was that the audience played a major part in the show. The kids were in a trance, watching the pirates swing from rope to rope, sword fights and more while the parents were laughing at the pirate humor.  We're really looking forward to taking the family back for some more pirate fun!
Pirates Dinner Adventure
7600 Beach Boulevard
Buena Park, CA 90620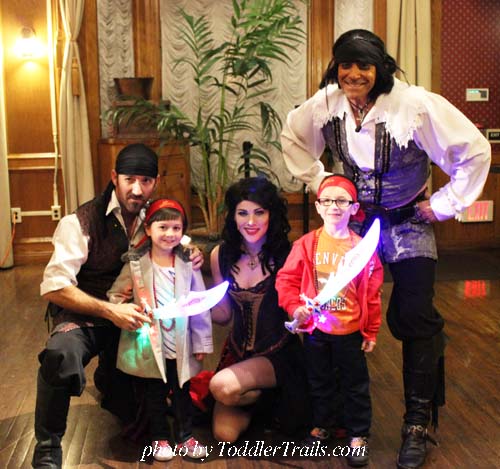 Ticket Information:
2014 Season (California only)
Adults (12 years and older) $59.95 plus tax
Children (3 – 11 years old) $36.95 plus tax
Group rates and are available for parties of 10 or more.
Wholesale rates are also available.
Prices and policies may change without notice.
DISCOUNTS:
Interested in planning a night with the pirates? My Readers Save $25 off Adult and $15 off Child admission.  $25 off Adult and $15 off Child admission over the phone and mention code "USFAM" at time of purchase. Visit Pirate Dinner Adventure Coupon Reservations required.
Disclaimer: We received complimentary tickets to the Pirates Dinner Adventure to enjoy the show and share our experience and giveway with Toddler Trails fans.