This year, I'm participating in the annual CHOC Walk in the Park presented by the Disneyland Resort. This family fundraising event brings the community together for one single goal – to raise money for health care programs, education and research for Southern California's kids. Those registered to participate in CHOC Walk in the Park get to hike around Disneyland and Disney's California Adventure with beloved Disney® characters cheering you on. And if you hurry, you can get in on the early registration discount.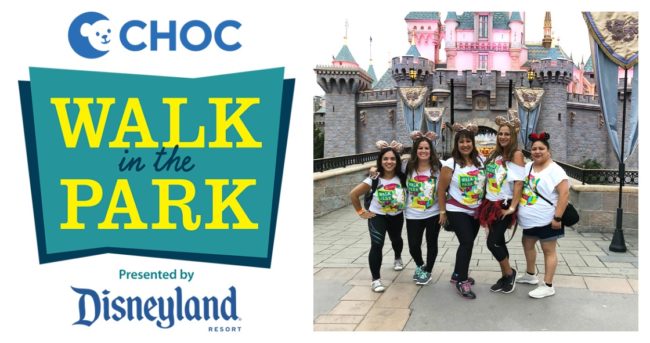 Participating in CHOC Walk in the Park is quite easy. Simply visit https://www.chocwalk.org/ and register. As a participant, there is a $85 fundraising minimum to cover your registration. And if you meet that minimum, you'll have the opportunity to purchase specially priced Disneyland® Resort Park Tickets on the day of the CHOC Walk – Sunday, August 11.

Pricing for this year's CHOC Walkers is as follows:
$67 – 1-Day, 1-Park ticket (valid at either Disneyland® Park OR Disney California Adventure® Park)
$93 – Disneyland® Resort 1-Day Park Hopper® ticket for BOTH Parks
Tickets are valid August 11, 2019 through September 10, 2019 with the following blockout dates: 8/31/19 – 9/03/19 *Limit 1 ticket per wristband.
**You must wear your CHOC Walk wristband and purchase the Disneyland® Resort tickets on the day of CHOC Walk: August 11, 2019. To purchase, simply visit any ticket booth or additional ticket carts in the Disney® Esplanade and show your CHOC Walk wristband at any time on August 11.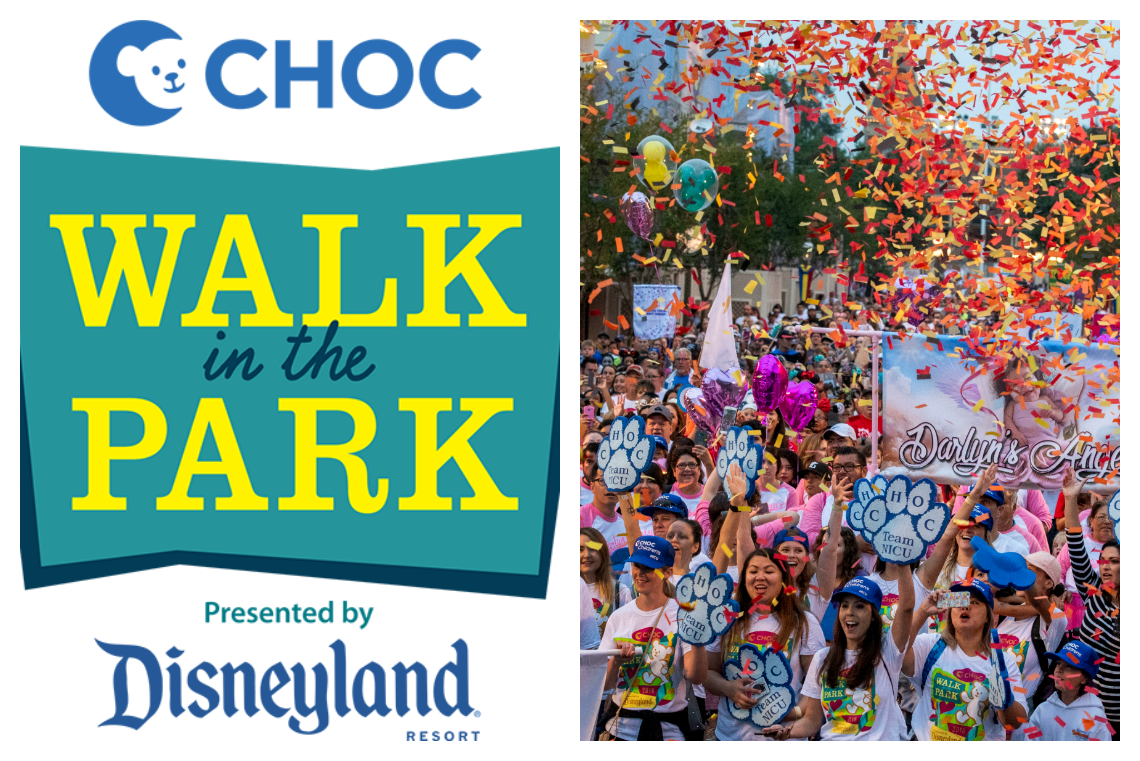 As a participant in the CHOC Walk in the Park, while helping to raise funds for Orange County children, you will also have the opportunity to earn prizes based on the amount of funds you raise:
CHOC Walk participants earn prizes for their fundraising efforts. In addition, the top team and top individual fundraisers are awarded grand prizes for their hard work. CHOC Walkers can continue to fund raise through September 12, 2019, giving you more time to surpass your fundraising goal, earn more prizes and make a difference for children!
Individual Fundraising Incentives:

$85 – CHOC Walker
CHOC Walker Wristband*
(Includes opportunity to purchase (1) specially priced Disneyland® Resort 1-Day Park Hopper® ticket or 1-Day, 1-Park ticket valid at either Disneyland® Park or Disney California Adventure® Park. See details below*)
FREE Chick-fil-A® Chicken Sandwich
(Participant must bring their 2019 CHOC Walk in Park wristband to any Orange County Chick-fil-A® location to redeem sandwich by 8/30/2019. Closed on Sundays)
CHOC Walk in the Park commemorative T-shirt
$225 – CHOC Walk Pin
CHOC Walker Wristband*
(Includes opportunity to purchase (1) specially priced Disneyland® Resort 1-Day Park Hopper® ticket or 1-Day, 1-Park ticket valid at either Disneyland® Park or Disney California Adventure® Park. See details below*)
FREE Chick-fil-A® Chicken Sandwich
(Participant must bring their 2019 CHOC Walk in Park wristband to any Orange County Chick-fil-A® location to redeem sandwich by
8/30/2019. Closed on Sundays)
CHOC Walk in the Park commemorative T-shirt
CHOC Walk in the Park commemorative lapel pin
$350 – CHOC Walk Medallion
CHOC Walker Wristband*
(Includes opportunity to purchase (1) specially priced Disneyland® Resort 1-Day Park Hopper® ticket or 1-Day, 1-Park ticket valid at either Disneyland® Park or Disney California Adventure® Park. See details below*)
FREE Chick-fil-A® Chicken Sandwich
(Participant must bring their 2019 CHOC Walk in Park wristband to any Orange County Chick-fil-A® location to redeem sandwich by
8/30/2019. Closed on Sundays)
CHOC Walk in the Park commemorative T-shirt
CHOC Walk in the Park commemorative lapel pin
CHOC Walk in the Park lanyard and medallion
Free Chick-fil-A ® Breakfast Item (redeemable at any Orange County Chick-fil-A® location)
$700 – Disneyland® Resort Fun
CHOC Walker Wristband*
(Includes opportunity to purchase (1) specially priced Disneyland® Resort 1-Day Park Hopper® ticket or 1-Day, 1-Park ticket valid at either Disneyland® Park or Disney California Adventure® Park. See details below*)
FREE Chick-fil-A® Chicken Sandwich
(Participant must bring their 2019 CHOC Walk in Park wristband to any Orange County Chick-fil-A® location to redeem sandwich by
8/30/2019. Closed on Sundays)
CHOC Walk in the Park commemorative T-shirt
CHOC Walk in the Park commemorative lapel pin
CHOC Walk in the Park lanyard and medallion
Free Chick-fil-A ® Breakfast Item (redeemable at any Orange County Chick-fil-A® location)
(1) Disneyland® Resort Park Hopper® Ticket
Rubio's FREE Taco
$1200 – Double the Park Hopper® Fun
CHOC Walker Wristband*
(Includes opportunity to purchase (1) specially priced Disneyland® Resort 1-Day Park Hopper® ticket or 1-Day, 1-Park ticket valid at either Disneyland® Park or Disney California Adventure® Park. See details below*)
FREE Chick-fil-A® Chicken Sandwich
(Participant must bring their 2019 CHOC Walk in Park wristband to any Orange County Chick-fil-A® location to redeem sandwich by
8/30/2019. Closed on Sundays)
CHOC Walk in the Park commemorative T-shirt
CHOC Walk in the Park commemorative lapel pin
CHOC Walk in the Park lanyard and medallion
Free Chick-fil-A ® Breakfast Item (redeemable at any Orange County Chick-fil-A® location)
(2) Disneyland® Resort Park Hopper® Tickets
(3) Rubio's FREE Tacos
$2500 – Triple the Park Hopper® Fun
CHOC Walker Wristband*
(Includes opportunity to purchase (1) specially priced Disneyland® Resort 1-Day Park Hopper® ticket or 1-Day, 1-Park ticket valid at either Disneyland® Park or Disney California Adventure® Park. See details below*)
FREE Chick-fil-A® Chicken Sandwich
(Participant must bring their 2019 CHOC Walk in Park wristband to any Orange County Chick-fil-A® location to redeem sandwich by
8/30/2019. Closed on Sundays)
CHOC Walk in the Park commemorative T-shirt
CHOC Walk in the Park commemorative lapel pin
CHOC Walk in the Park lanyard and medallion
Free Chick-fil-A ® Breakfast Item (redeemable at any Orange County Chick-fil-A® location)
(3) Disneyland® Resort Park Hopper® Tickets
Rubio's FREE Entree
Dave and Buster's $25 Power Card
$5,000 – CHOC Walk Hero
CHOC Walker Wristband*
(Includes opportunity to purchase (1) specially priced Disneyland® Resort 1-Day Park Hopper® ticket or 1-Day, 1-Park ticket valid at either Disneyland® Park or Disney California Adventure® Park. See details below*)
FREE Chick-fil-A® Chicken Sandwich
(Participant must bring their 2019 CHOC Walk in Park wristband to any Orange County Chick-fil-A® location to redeem sandwich by
8/30/2019. Closed on Sundays)
CHOC Walk in the Park commemorative T-shirt
CHOC Walk in the Park commemorative lapel pin
CHOC Walk in the Park lanyard and medallion
Free Chick-fil-A ® Breakfast Item (redeemable at any Orange County Chick-fil-A® location)
(4) Disneyland® Resort Park Hopper® Tickets
(1) Standard Hotel Room at the Disneyland® Hotel for 8/10/2019**
(2) Rubio's FREE Entrees
Dave and Buster's $25 Power Card
$10,000 – CHOC Walk Super Hero
CHOC Walker Wristband*
(Includes opportunity to purchase (1) specially priced Disneyland® Resort 1-Day Park Hopper® ticket or 1-Day, 1-Park ticket valid at either Disneyland® Park or Disney California Adventure® Park. See details below*)
FREE Chick-fil-A® Chicken Sandwich
(Participant must bring their 2019 CHOC Walk in Park wristband to any Orange County Chick-fil-A® location to redeem sandwich by
8/30/2019. Closed on Sundays)
CHOC Walk in the Park commemorative T-shirt
CHOC Walk in the Park commemorative lapel pin
CHOC Walk in the Park lanyard and medallion
Free Chick-fil-A ® Breakfast Item (redeemable at any Orange County Chick-fil-A® location)
(4) Disneyland® Resort Park Hopper® Tickets
(1) Hotel Suite at the Disneyland® Hotel for 8/10/2019**
Rubio's $50 Catering Certificate
Dave and Buster's $50 Power Card
Ready to join me in raising funds for this amazing cause? Log in today and register at the $85 registration available through July 28th. Prices will increase after that date. https://www.chocwalk.org/