Now that summer is in full swing and the weather is warming up, we were invited to a family fun day at the largest water park in California, Raging Water San Dimas. We have been so busy with traveling, dance recitals, baseball and football, that we decided it was time to take the kiddos on a splashing adventure with water slides, a lazy river and all kinds of water fun.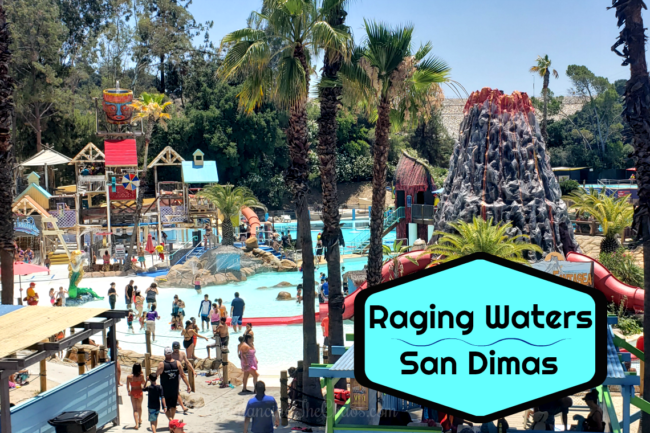 Raging Waters, is one of the TOP 10 water parks by USA Today and ready for the summer! Equipped with more than 50 slides and attractions on over 60 acres of land, it is a great destination for cooling off in the summer heat and having tons of fun!
Just 30 minutes from either Anaheim/Disneyland or downtown LA, Raging Waters is located in San Dimas and has lots of attractions for all ages. We arrived just after opening, and were curious about all of the options the park had to offer.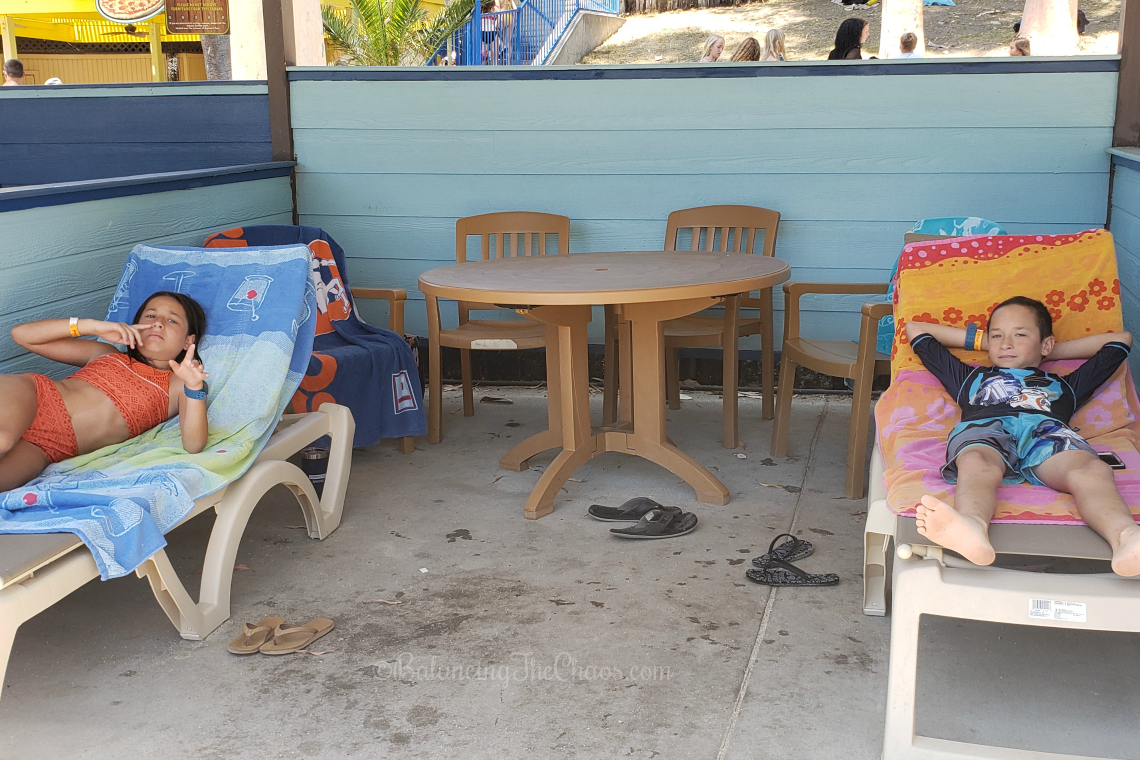 Cabanas:
While we LOVE hanging out in the sun, I like the opportunity to have a central location to meet up, and take a break from the slides. Raging Waters offers several different cabana options that are located throughout the park:
Grand Party Vista Cabana
Grand Vista Cabana
Premium Vista Cabana
Vista Cabana
These cabanas are offered at different price points, and really depend on location and how many people are in your party. They accommodate from 4 guests up to 12 guests and all include a private cabana server who will take care of your meal needs. We enjoyed a premium vista cabana that was located next to Splash Island Adventure.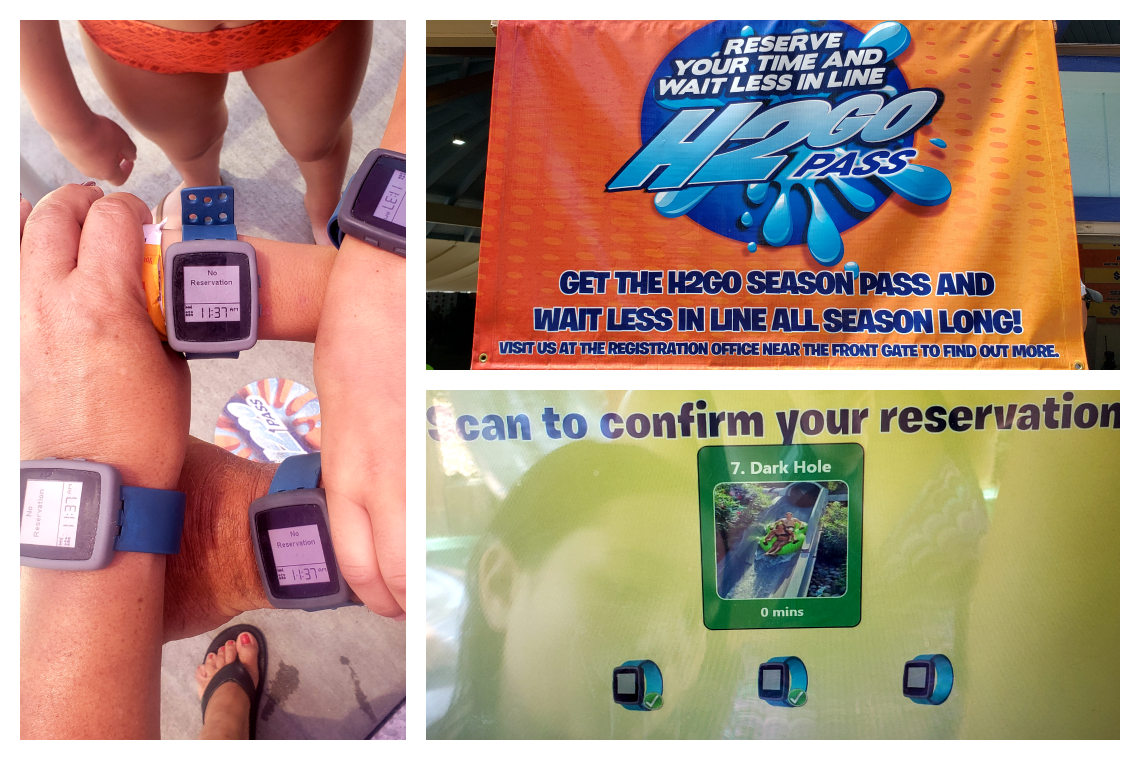 H2Go Pass:
We had a limited time at the water park because my son and husband both had afternoon practices. Therefore, we were looking to make the most of our time. With the H2Go pass, you can make a reservation for the water slide/ride you want to enjoy. The attractions available for H2Go pass are usually the level 3-4 water slides, meaning high demand, fast pace slides. This pass cuts down your wait time dramatically, especially on the weekend, so I'd highly recommend it, starting at $19.99 each.
You get a water proof wrist device that holds your reservation. Walk up to one of the many kiosks around the park, select the attraction you'd like reservations for, and touch your device to the kiosk. Once everyone has their devices registered, you are given a time frame in which to return to that attraction and enter the H2Go line.
Once we were set up with our cabana and H2Go Passes, we were told by one of the managers that the first water slide to hit up at Raging Waters LA is Neptune's Fury. Apparently it is a high speed water slide for up to 4 people that twists and turns down a dark tunnel, which I screamed down the whole time and had so much fun.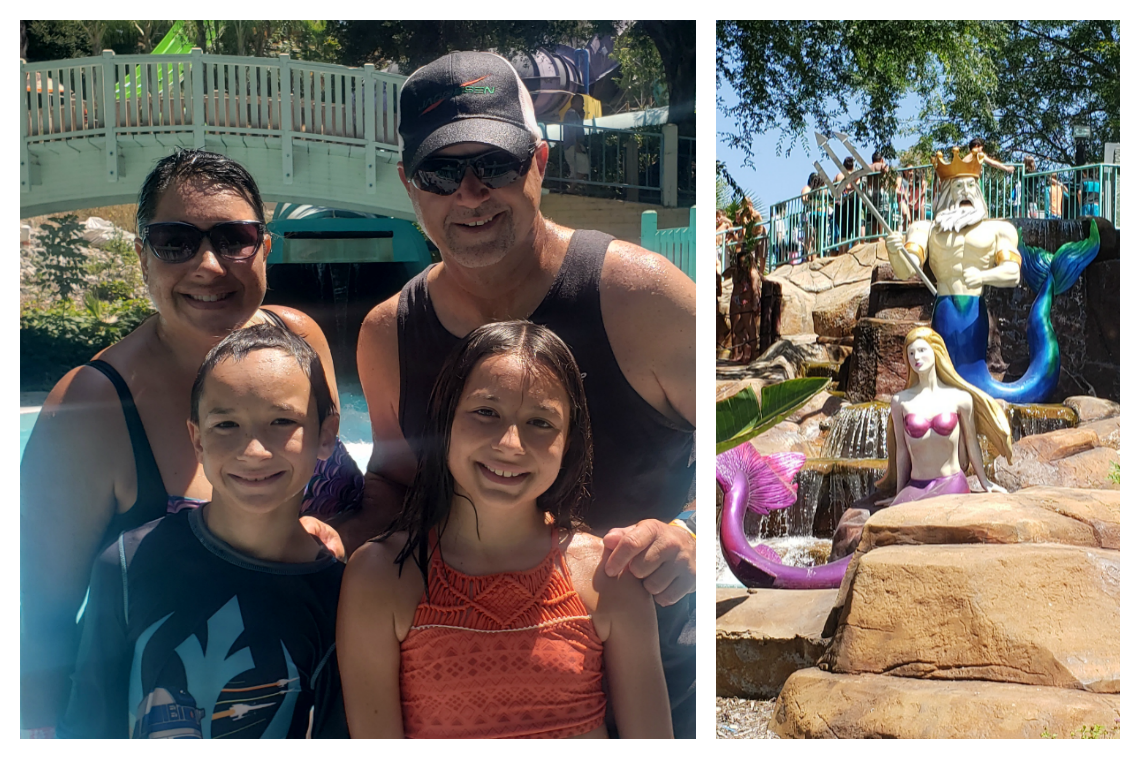 For The Daring:
Aqua Rocket – Speedy combination of roller coaster/water-slide with 3 drops and speeds of 30 mph
Bermuda Triangle – Three twisting turning downward tunnels that funnel into the Bermuda Triangle
Dragon's Den – A two person inner tube slide with a 45 foot drop through an enclosed tunnel and a spin around a 30 foot bowl.
Dark Hole – The first two person raft fully enclosed fiberglass flume with a 52 foot drop.
Drop Out – Seven story open drop slide
High Extreme – 600 foot long flumes with head first mats.
Neptune's Fury – A 600 foot long four man raft ride with a 60 foot drop.
Raging Racer – Eight lanes of head first side by side racing
Speed Slides – Raging Rocket and Screamer are body slides that takes you through 8 stories of crazy fun
Dark Von's Tunnel of Terror – A 40 foot drop, in the dark
Thunder Rapids – A tube slide for groups with 550 foot long, 14 foot wide flume
*The Vortex – A four story tower with two enclosed 270 foot long spiral body flumes.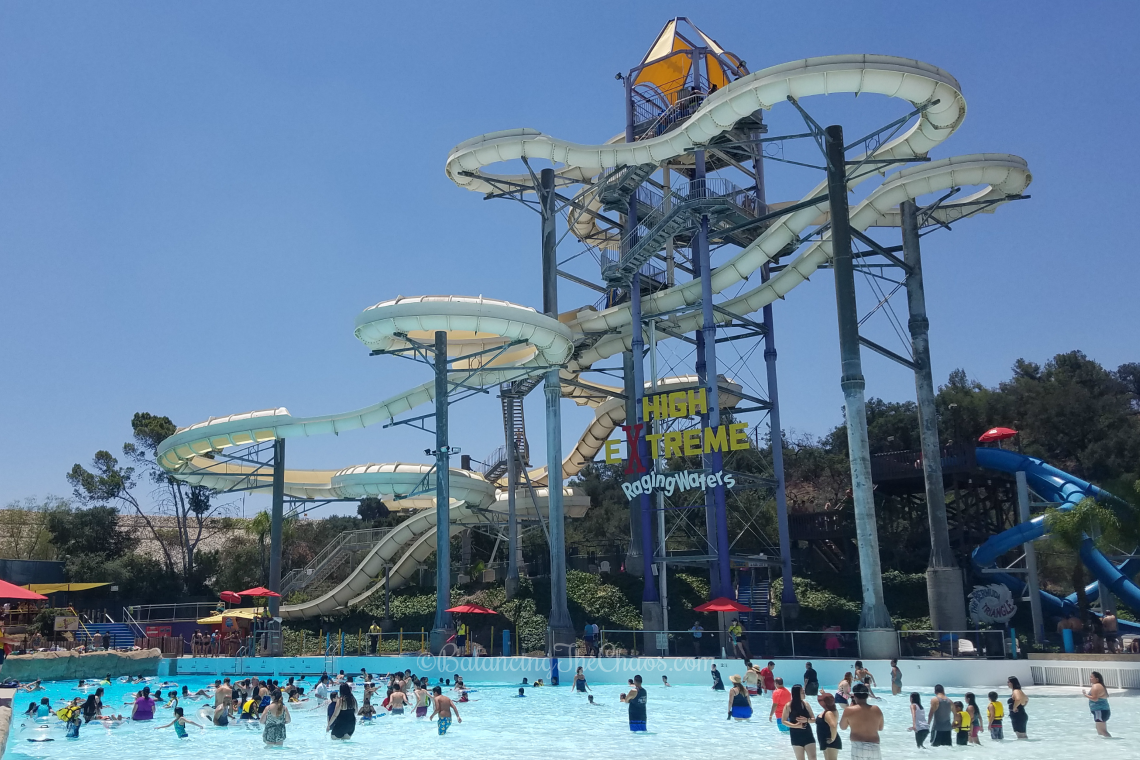 Time to Relax:
Amazon Adventure – A lazy river that is a quarter of a mile long that floats around the park
Flowrider – Perfect for surfers, this wave pool offers the feel of the ocean for surf or body boarders
Lily Pads – obstacle course through the lagoon
Splash Island Adventure – Designed for the family, 12 levels of 75 activities that include slides, cannons, crawl tunnels, cargo nets, swinging bridges and a 1,000 gallon splash bucket
Wave Cove – 3 food wave pool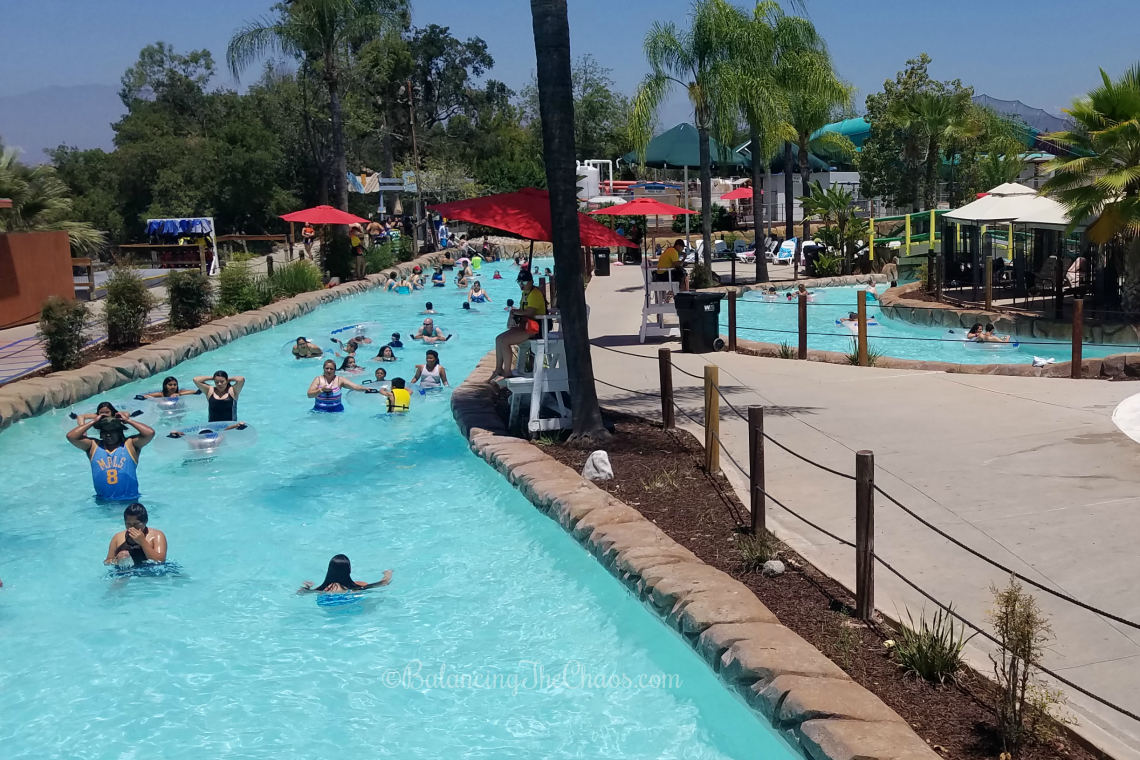 For the Little Tykes:
Kids Kingdom – a 30,000 square foot water playground with plastic tube mazes and tunnels, slides and waterfalls
The Little Dipper – For the guppies, this mini water play land features miniature slides, wading pools, fountains and water falls.
Splash Adventure Island – above
Volcano Fantasea – A giant volcano with a crystal blue lagoon with slides.
The best days to visit Raging Waters are mid week – Tuesday, Wednesday or Thursday. Even though we had the H2Go passes, they lines weren't really that long. If you get there at opening, you have a better chance on getting on all of the popular slides, and then just enjoy the rest of the day relaxing in either the Amazon Adventure or the Wave Cove.
DISCOUNTS:
There are discounts offered at Raging Waters, and different times of the summer, there are different promotions available. Right now, there are discounts on season passes, smart days admission, 7-days advance admission rates and special discounts for teachers and military personnel. Just visit their website for their current offers.
If you're deciding to make a day of it at Raging Waters, there are several different options for lunch breaks and snacks including a Carl's Jr. on site. We decided to bring our own snacks and drinks, which you can opt to do, however you need to make sure you eat outside the park in the designated benches, as coolers are not permitted into the park.
Not sure what to do with your valuables while you enjoy the park? Three different locker sizes are available for a daily fee starting at $12.99
For more information on Raging Waters, connect via social media: Twitter, Facebook, Instagram