We're super excited all things creepy, scary and fun, have taken over Knott's Berry Farm. On Thursday, September 16th our favorite season kicked off as the theme park transitioned into everyone's worst nightmare with eight mesmerizing mazes, five sinister scare zones and roughly a thousand creepy characters to frighten the most wary. Knott's Scary Farm has returned for 27 terrifying nights from now through October 31st.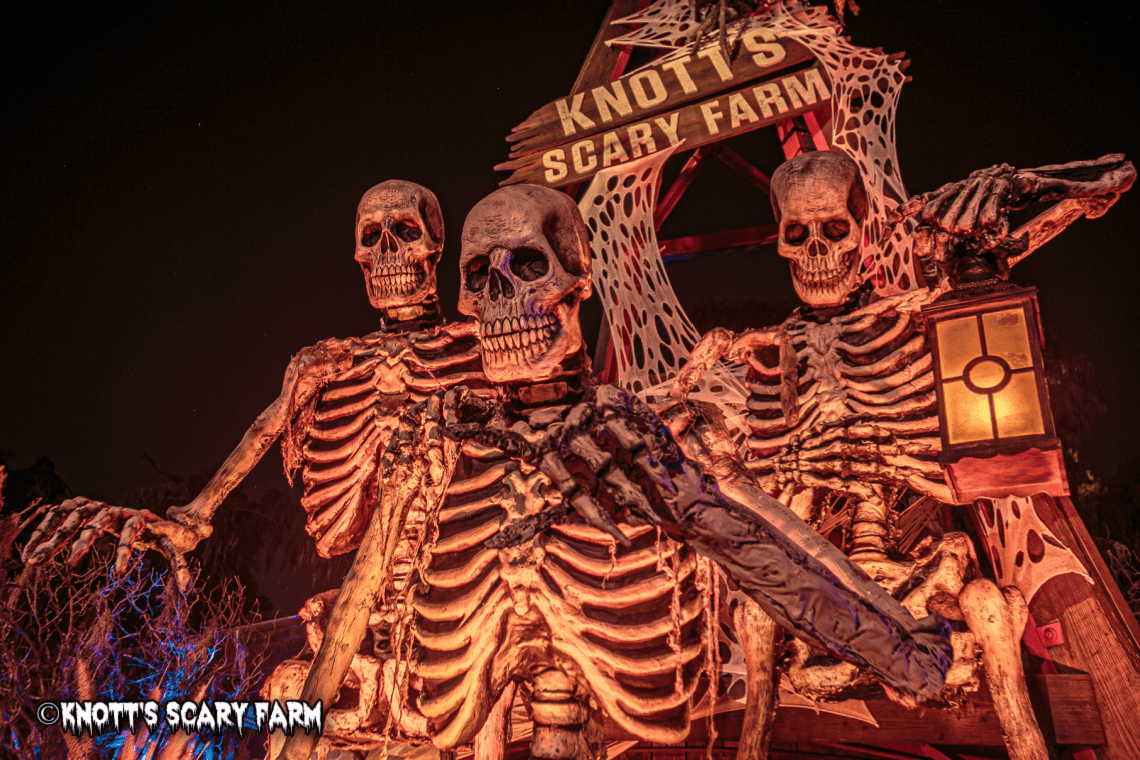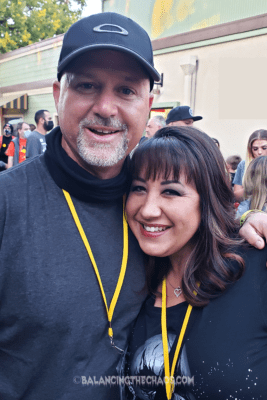 As Knott's Ambassadors, we were invited to kick off the haunting season by attending opening night. It was extremely fulfilling to be able to experience a new Scary Farm normal as we walked through the gates and into the fog. We were immediately greeted with the likes of the conductor and other menacing characters as they were parading through the grounds, startling Scary Farm fans as they made their way to mazes and attractions.
We were delighted to discover that four mazes were located in the same area. With the Fright & Fast Lane pass, we were able to quickly complete all within about 35 minutes or so. The Fright & Fast Lane gives guests priority access to all mazes and priority boarding to all Fast Lane rides. This amazing addition to the regular Knott's Scary Farm admission is the best way to visit all attractions in a single evening. It stars at $99 and varies by night.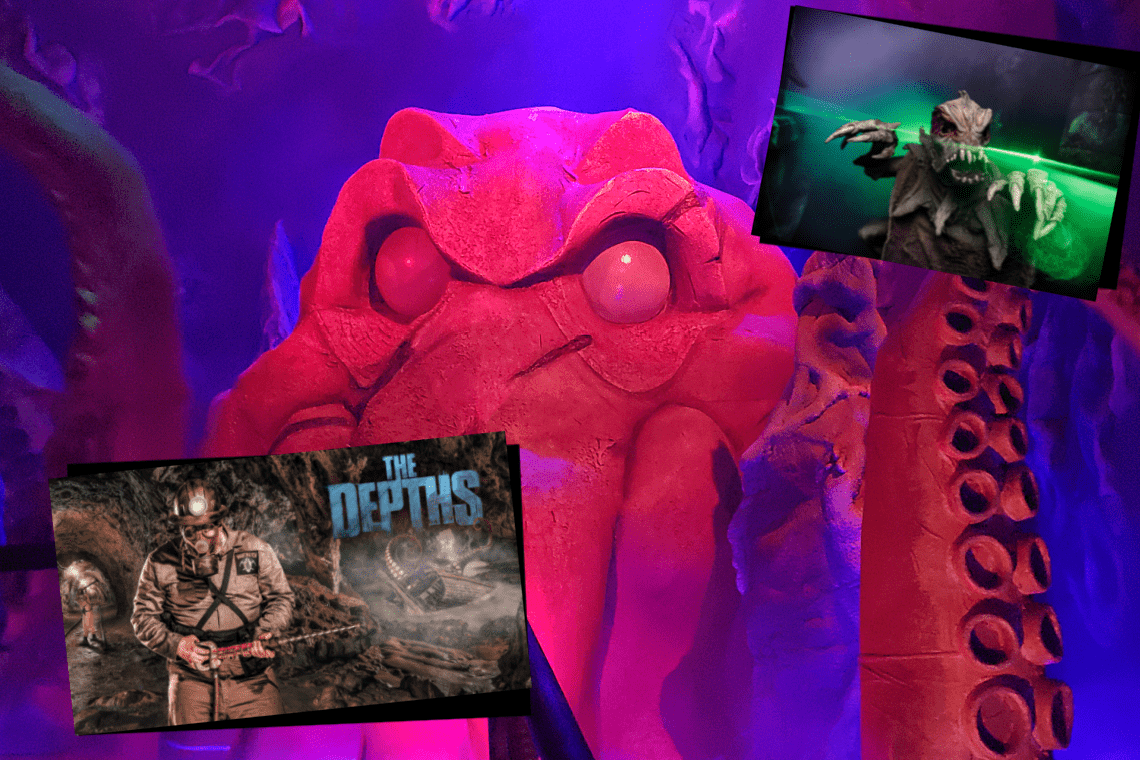 The mazes we started with were returning attractions located by Ghost Rider:
Wax Works: Wander through an eerie abandoned wax museum, where Dr. Augustus Scratch created terrifying life-like gruesome masterpieces of hot molten wax and bloody flesh that will try to lure you in as the next addition to his collection.
The Depths: Find yourself in an abandoned port village where ancient creatures lurk inside dark underground caves. Watch for missing crew or vicious creatures that have been lost in the underground caverns.
Paranormal, Inc.: In it's last season, The Haunting of Hayden Hill: Paranormal Inc. maze opens it's doors for the last time, hiding bizarre and supernatural adventures, each and every turn of the haunted hospital full of deranged doctors and nurses.
Dark Entities: You're teleported beyond Earth into an invaded space station where unearthly inhabitants have fed on unwilling victims.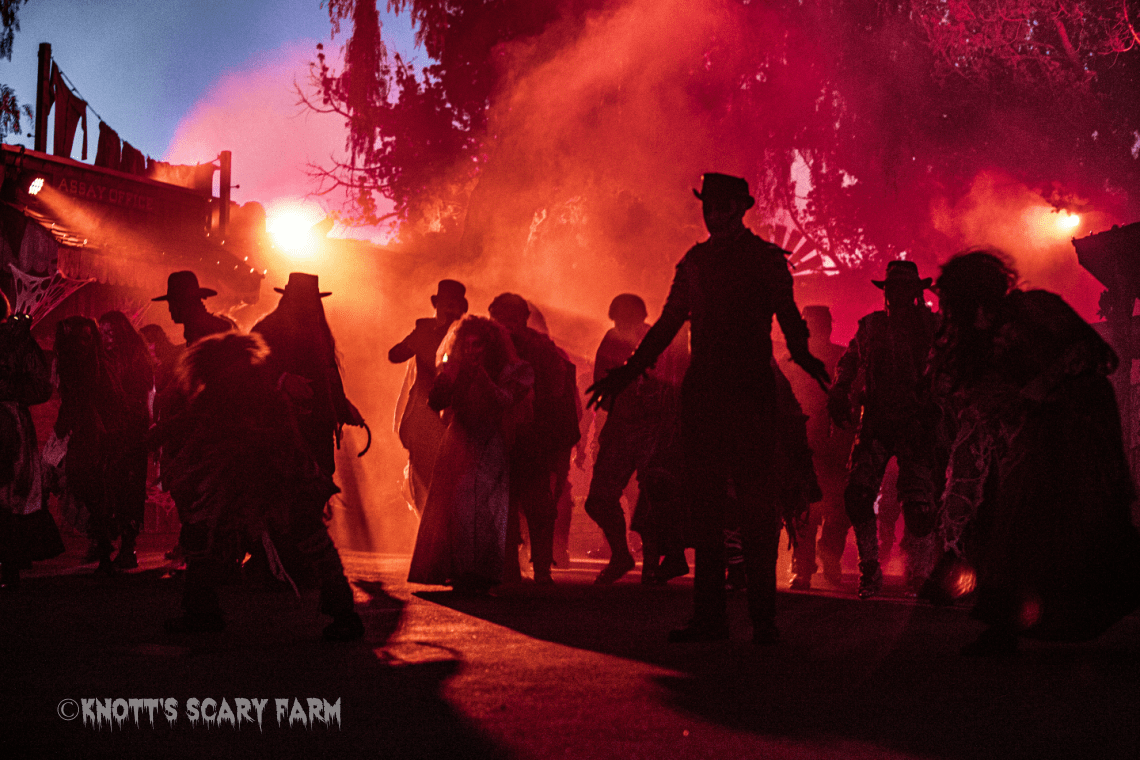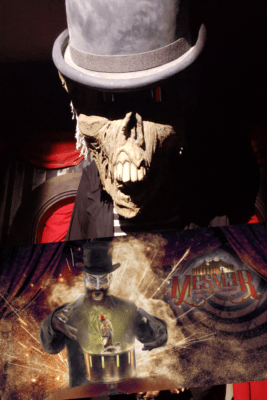 So much amazing haunt goodness, after completing all four attractions, we were primed and ready to venture through the Ghost Town Streets, where bands of half-human, half-animal monsters prowl the dark and foggy corners, where sliders pop up around each and every dark turn.
New to Scary Farm this year, Mesmer: Sideshow of the Mind maze, located by Excelerator, the hypnotist, Mesmer and his sinister side show preys on all's hidden fears of madness, torture and eerie enlightenment. As we wandered through the tent, I felt like we were immersed in the time of carnivals and old gypsy hypnotists, that unleashed horrific insanity. This, hands down, was our favorite maze with the most unique set and story line.
We took a break from the macabre and decided to get a bite to eat. Knott's Scary Farm offers numerous amazing and ghoulishly themed bites. Many of which we had the opportunity to sample during the media events. Check out what is offered this year:
As we indulged in savory spooky foods, the Fiesta Plaza came alive as Doce de la Noche took the stage. This electric dance troop, dressed in their most colorful and fiendish attire, got the audience up on their feet, dancing to recognizable tunes from so many different genres, all high energy beats that had me wanting to jump up on stage with them.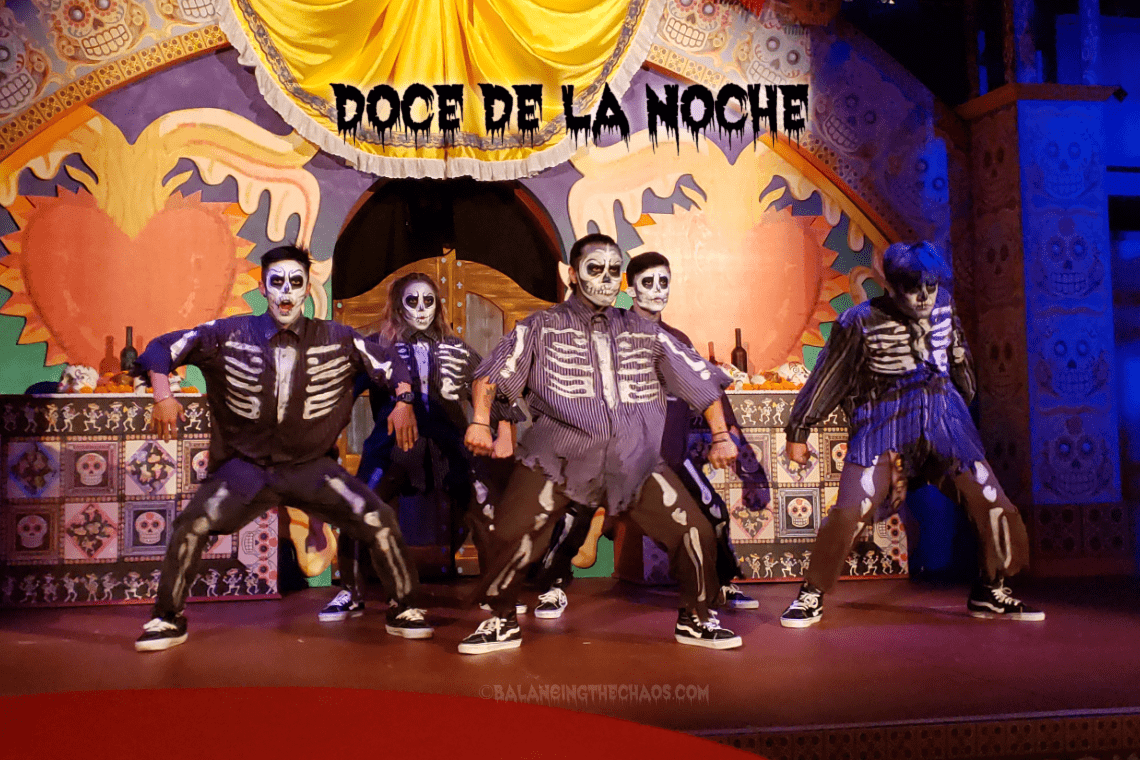 Once we were fueled up, we decided to check out the newest scare zone, the Gore-ing 20's on the way to Puppet Up! Uncensored.
The Gore-ing 20's scare zone takes park goers back in time to the prohibition era where gangsters ran illicit hooch for ghostly revelers as otherworldly musicians play the music of the damned. We spent the most time in this area of the park because we were able to interact with hustlers, laborers, flappers and the most dishonest of gangsters, asking for the secret password for the speakeasy or picking up the newest paper with the latest criminal activity.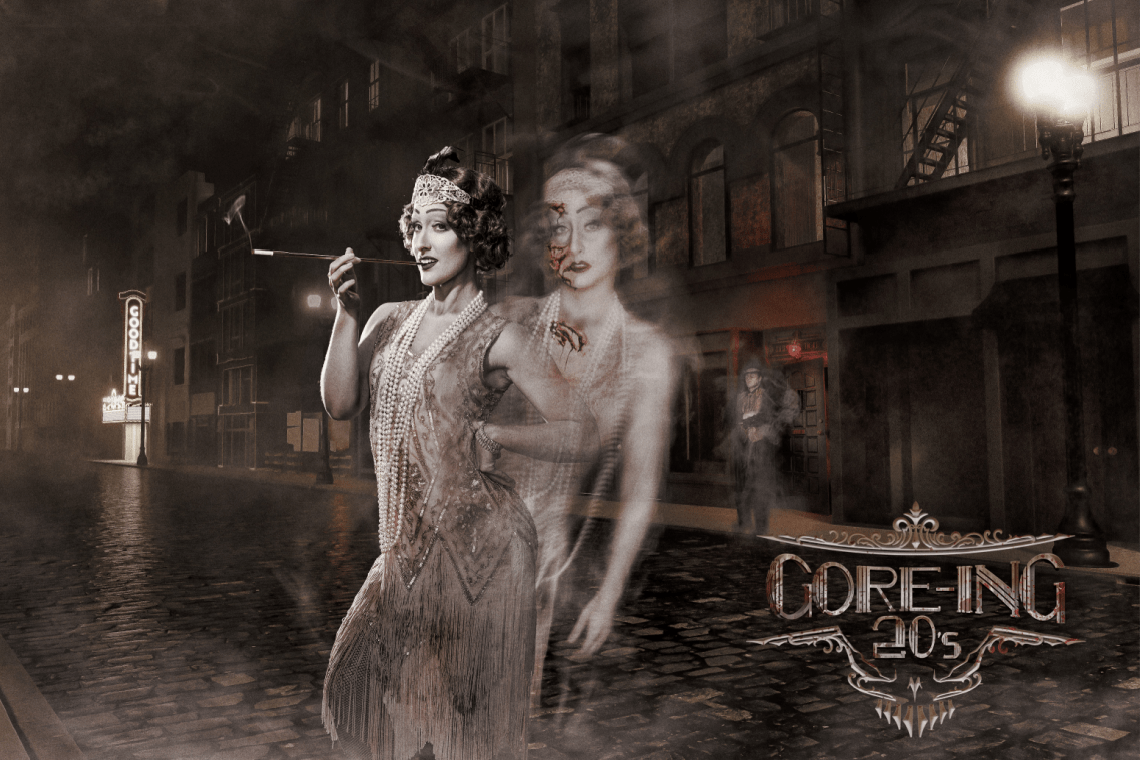 At the Walter Knott Theater, Puppet Up! Uncensored was an outrageous, off the cuff, improvisational comedy show featuring world class comedian puppeteers from the Jim Henson Company. As the show begins, the host – Patrick Bristow warns the crowd they will need to get involved, shouting out topics to weave into the show, uncensored, with many zany antics and naughty shenanigans. The cast had the audience rolling in their seats, and at one point, we couldn't hear topics shouted out because so many were participating. It was quite a show.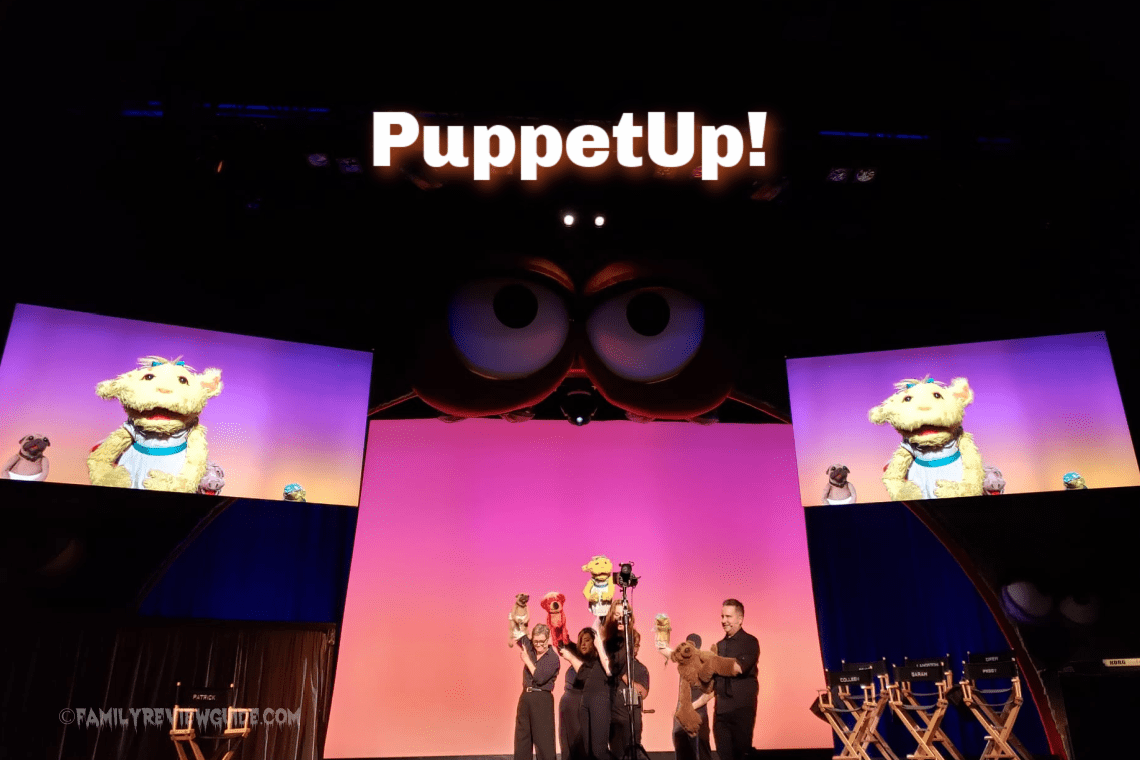 After the show, we headed back to our original task, of making sure we conquered each and every maze:
Origins: The Curse of Calico: Sarah Marshall was put on trial in the town of Calico, for her suspected crimes of witchcraft. Discover secrets of the town are slowly revealed as the Green Witch arose and curses the townsfolk, turning all who have accused her into a wicked horde of malicious creatures.
Pumpkin Eater: Brave individuals must survive the murderous 7-foot tall creature that haunts the old town, wandering the woods while we wandered the woods. We realized we walked through ginormous pumpkins, even feeling the rotten sliminess of the inside the gourd while trying to escape rats and evil creatures lurking about.
Dark Ride: Took us through an abandoned carnival ride where cruel carnie folk are seen lurking in the shadows with no way out.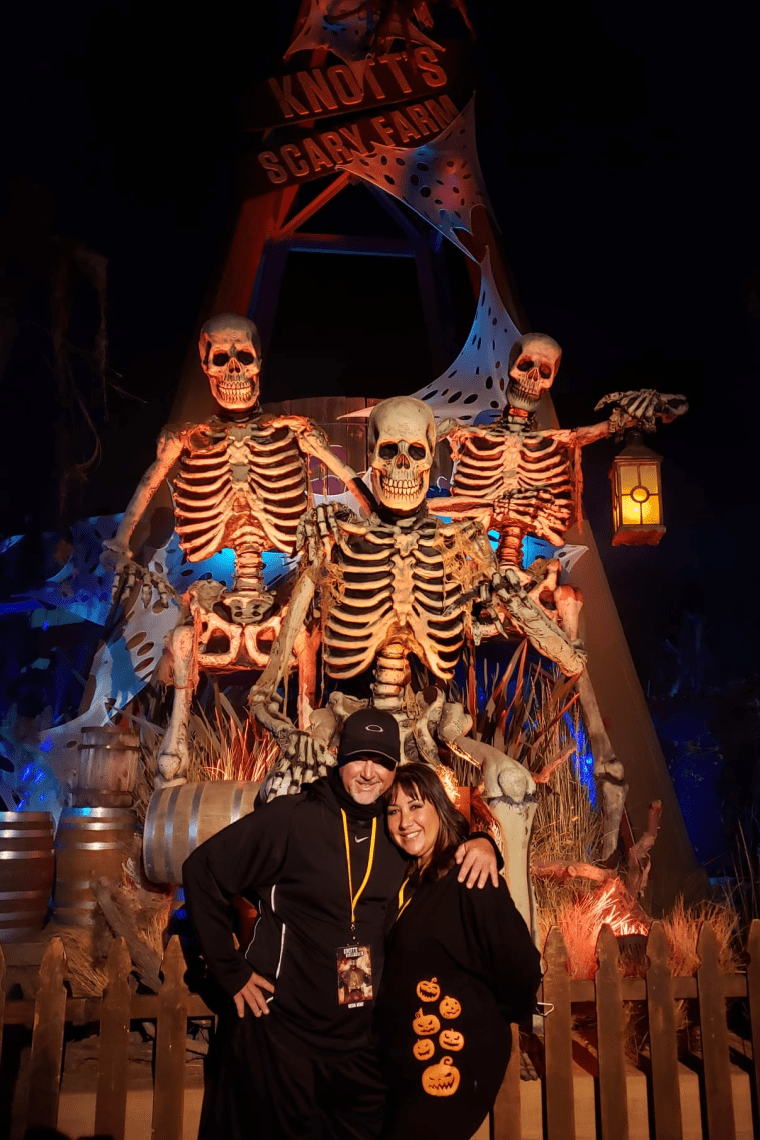 There was so much more to see an do with additional shows, scare zones and more that we have opted to return to check out the rest of Knott's Scary Farm in October. Tickets are still available for select nights and can be still be purchased. Save up to $39 when you buy online as they are $89 at the main gate.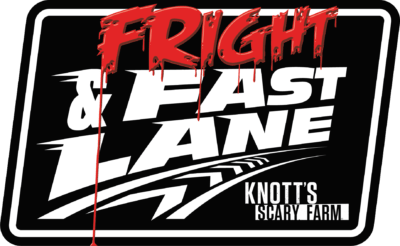 Like I discussed earlier the Fright & Fast Lane is the surefire way to get in every maze and scare zone, along with some of the spookiest of rides. The Timber Mountain Log Ride has been transformed into Halloween Hootenanny and The Calico Mine Ride has a Knott's Scary Farm décor overlay to enhance the ride.
Add in the Knott's Scary Farm Boo-Fet offered at Mrs. Knott's Chicken Dinner Restaurant and Spurs Chophouse. The meal includes a $2021 souvenir bottle with unlimited complementary refills on the night of the event and $1 for the rest of the 2021 season. After dinner, enjoy early entry into select areas of Knott's Scary Farm a few minutes before the park is open to other guests. This is the best way to access the first 4 mazes early.
Tip: All Season Long Parking is valid for Knott's Scary Farm Knights if you have a season pass, however meal plans are not valid during the special event. General parking for Knott's Scary Farm is $25.For more information regarding Knott's Scary Farm, including admission, park hours and events, visit knottsscaryfarm.com.