We have been traveling a lot this summer in our "home away from home" Willey Mobile, so naturally I'm going a little nuts at how such a small space can get so dirty! Imagine my delight when I received two Big Green Swiffer Boxes on my doorstep.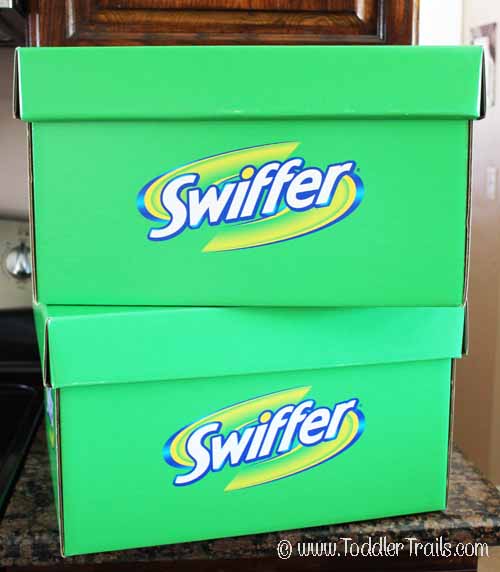 With our new Swiffer products, I decided that it was time to recruit the kids. They are at the perfect age to learn the importance of cleaning, and Swiffer makes it easy.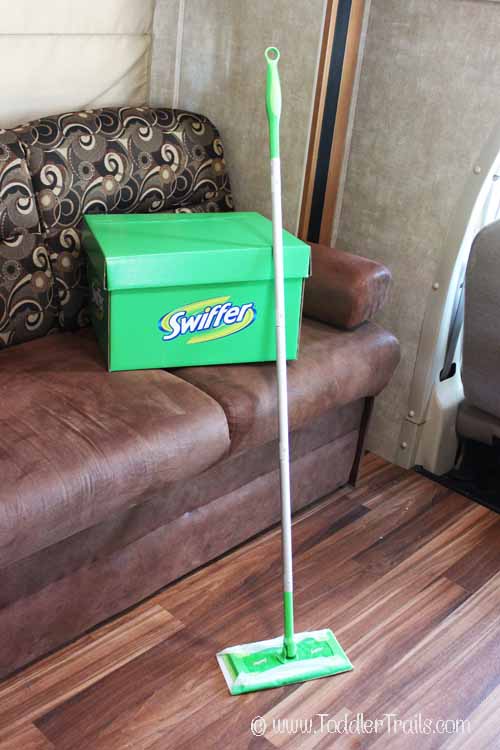 If you've gone camping, you know how quickly you can track in dirt, dust, and rocks. My handsome boy was eager to learn how to use the Swiffer Sweeper. First I swept up as much of the The sand dirt and rocks as I could, then assembled the Swiffer Sweeper with the help of my boy. Each of the pieces of the mop just click into place, then you attach the wet or dry pads to the bottom by punching the ends of the rag into the holes on the Swiffer mop – then you're ready to go.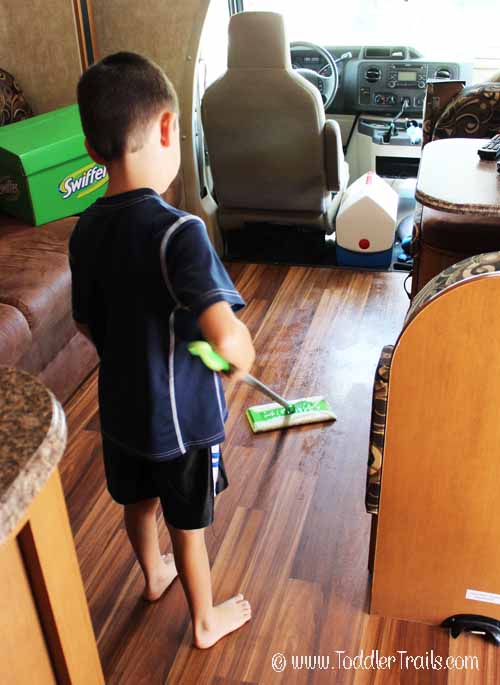 He used the wet mop sheets to mop up the laminate floor throughout the coach. We followed that with the dry mop cloths so that no one would slip (not to worry too much because the wet mop solution dried pretty quickly).
While traveling, we decided to spread the Swiffer effect to a loved one. The kids got into the idea of surprising grandma, even offering themselves up as part of the delivery package.
They couldn't wait to get into action cleaning her house with their new toys, and this gave my mom and I some time to catch up, while watching the kiddos get to work.
Because of the ease and convenience of the Swiffer Sweeper, I decided to bring the kit into the house once we were done camping. Having messy kids and a shedding dog at home, this is such a great way to keep our floors clean. Besides, since the kids love using the products, maybe that's their new chore.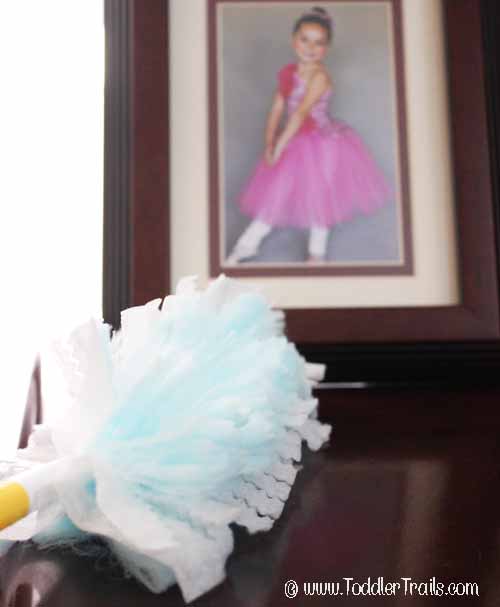 One of the household chores I dread the most is dusting. Using a spray, and a rag, I tend to sneeze all through my dusting afternoon. With the Swiffer Duster, things have changed. Once I place the disposable duster on the handle, I can quickly dust around the house without even touching that old nasty dirty rag. Better yet, the kids can do it. Hey, this is a win-win! Now I'll have a little me time.
Have a Swiffer story?  Please share! Check out actor Eric Stonestreet keeps his house clean when his mom visits: https://clvr.li/1nUK9en
I was selected for this opportunity as a member of Clever Girls Collective and the content and opinions expressed here are all my own.