Sport fishing experience by Peter Hernandez on behalf of Dana Wharf and Sport Fishing.
Sport fishing is something that one does not usually consider when weighing options for family outings. Images of sea sickness, greasy fish guts and the foul odor of chum may come to mind for most, and this may turn many off to sport fishing. Additionally, the lack of overall knowledge and etiquette when fishing may also deter many people from taking the leap of faith and booking themselves on a boat to go ocean fishing. I was of this mindset when we were invited for an evening of fun with friends on a twilight fishing excursion with Dana Wharf Sportfishing and Whale Watching.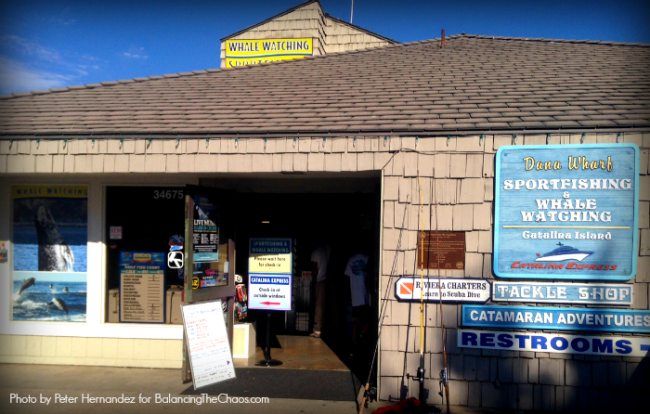 On this particular day, the weather was exceedingly hot, as a high pressure system had moved into Southern California, and the cool ocean breeze made my first impression of ocean fishing a positive one. Upon entering the building to check in, I was met by a very hospitable and knowledgeable young man (who's name I did not get…) who answered every question I had and even gave me advice about how I should set up my line once on the boat. We all rented fishing poles for $18 per pole, and along with paying for a saltwater enhancement ($5.50) on my existing fishing license, we were ready to fish. The quality of the fishing poles was excellent as they were relatively new and well taken care of by the deckhands, and we were also given a set of hooks and weights to use.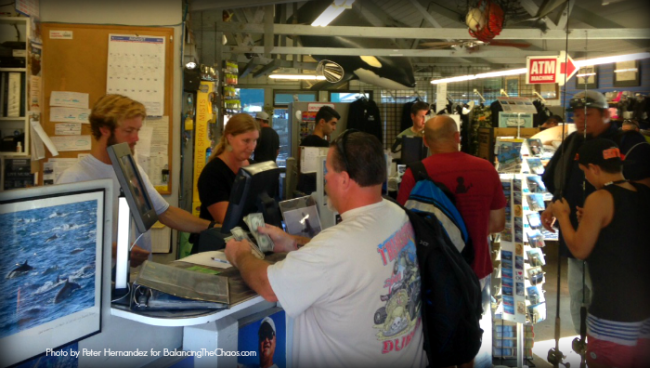 After renting poles for the three of us, we made our way to the gangplank and went aboard a 65 foot fishing vessel named Clemente. My immediate impression of the Clemente was that this boat had seen many fishing trips but was still very clean and welcoming. The captain, who took our tickets, greeted us and then we were directed to the bow of the boat to take our spots along the rail. The captain even came around to everyone on deck and introduced himself and helped those who were new to fishing with setting up their lines. Since there was a 12 year old boys birthday party onboard, the captain was preoccupied with setting up the boys with their lines and going over fishing etiquette with them before we left the harbor.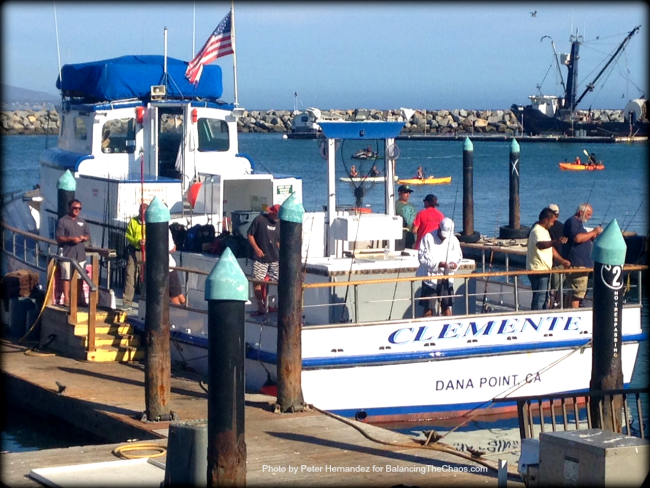 After 15 minutes of waiting for everyone to get on board the boat, we were greeted to several large sea lions that seemed to circle the boat. It immediately became apparent to me that these sea lions were going to be a constant companion on this excursion because of the bait that we were going to use: mackerel cut up into small pieces, cut up squid and even live mackerel. Sure enough, for the entire fishing trip we were constantly entertained by the sea lions, but they also proved to be a nuisance when fishing, as they would also try to take your bait from your hook. Yes, some were even hooked by unsuspecting fishermen, but the deckhands of the Clemente did their best to make sure that the sea lions were not harmed too badly.
The rest of the fishing trip consisted of us looking for fish on the fish finder, anchoring and then fishing, mainly for calico sand bass. The captain was very knowledgeable of the fish, geography of the ocean floor and what bait would be best to use for calico sand bass. For the most part, the fishing was excellent for the three of us, as we constantly caught Calico Sand Bass and mackerel. Unfortunately for us, none of the fish that we caught were keepers (>14" in length), but the entertainment of reeling up a fish was unparalleled to anything else that I would have been doing on a normal Friday night, plus the scenery was amazing from the ocean. The California coast is a spectacle to behold from the ocean, and when the remnants of the Perseid meteor shower were added to the scenery, it could not have been any more beautiful of a night to go fishing out of Dana Wharf.
Some suggestions that I would make for anyone willing to venture out into the ocean with Dana Wharf Sportfishing and Whale Watching would be:
Dress or the occasion: wear clothes that can get dirty and be willing to throw them away if necessary afterwards. Remember: you are fishing and you will get scales, fish guts and blood on your clothes.
Bring a towel to wipe your hands with and also a small bungee cord (this will help anchor your fishing pole to the rail so that it wont fall down and take everyone's fishing poles with it).
Bring money: food and drink is provided in the galley of the boat, and it is reasonably priced. Beer is sold on the boat ($3.50 for domestics, $5 for craft beers), but you are not allowed to bring any alcohol with you onto the boat.
You can also buy extra tackle from the deckhands if you run out of hooks and sinkers, but I would definitely bring a knife or multi-tool of some kind to help with securing the hook to your line. This will help you to tie your lines faster, get fish off of your hook when you catch them and also cut bait into smaller pieces.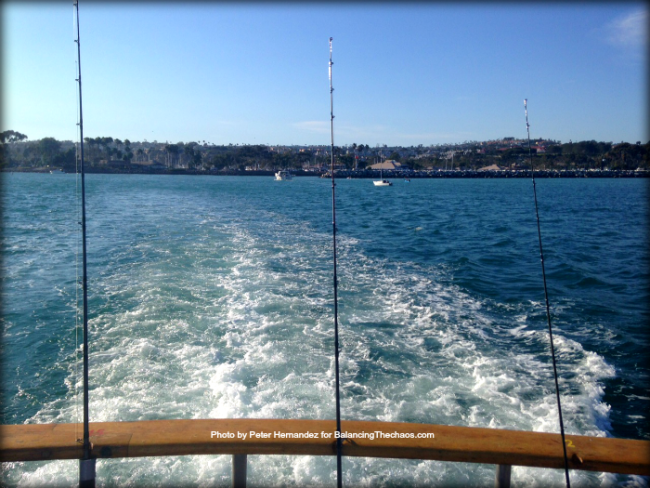 For the price of twilight fishing excursion ($29 per person) out of Dana Wharf you have can have a unique opportunity to fish the waters of Southern California and see a different side of Orange County. There are several deals that Dana Wharf Sportfishing and Whale Watching are currently running with the most attractive being the 2 for 1 Tuesdays on ½ day, ¾ day fishing and all whale watching cruises. Definitely check out Dana Wharf Sportfishing and Whale Watching for excellent service, knowledgeable captains and an experience that you can share with the whole family.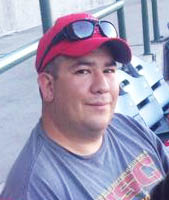 Contributor: Peter Hernandez
Peter is a married father of 4, middle school teacher in North Orange County. When he's not in the classroom, he's either coaching little league, soccer or spending time with family and friends.