We have become quite the traditional family, enjoying the same top Southern California "Hot Spots" during special times of the year. Knott's Berry Farm offers seasons of fun, celebrating all of our favorite holidays including: all things boysenberry, spooky and merry. Knott's Berry Farm Season Passes are the perfect gift for families of all ages, and here are our top reasons why: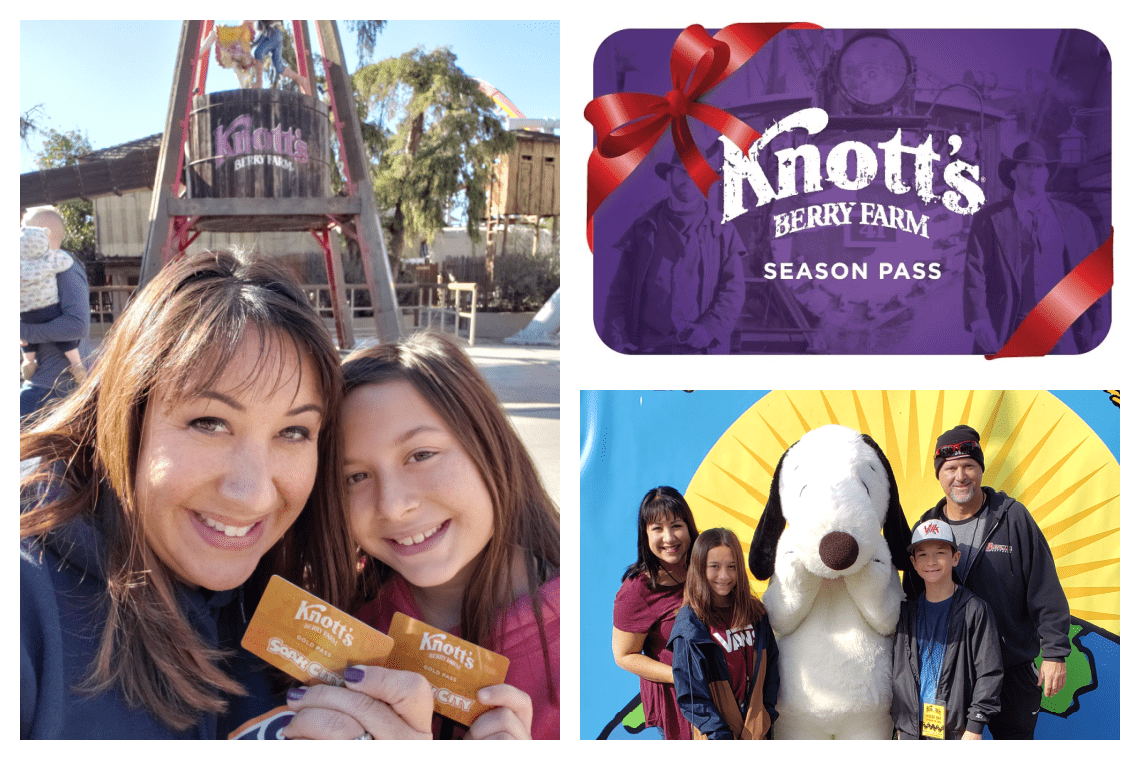 annual family traditions:
When my kids were about 4 and 5 years old, we received Knott's Berry Farm season passes as holiday gifts. Actually, my entire family did, so it was the plan to get everyone together to enjoy the park. At that time, I didn't realize that we'd spend so many seasons, year after year, celebrating the holidays, inside the park. Annual photos with Santa and Santa Snoopy, trick or treating through the trails of Camp Spooky, singing and dancing with the Peanuts Characters, it was valuable time we all looked forward to. Now, looking back, we have such amazing memories of our kids growing up, at Knott's Berry Farm.
seasons of fun:
A season pass at Knott's Berry Farm is an investment in fun, seasons of fun that is. The park offers 5 seasons of fun: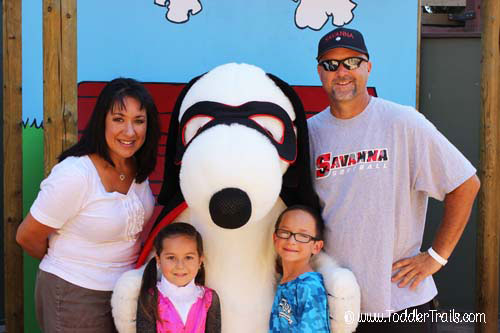 The Peanuts Celebration.
The Boysenberry Festival
Ghost Town Alive and Knott's Summer Nights.
Knott's Scary Farm and Spooky Farm.
Merry Farm
All of these seasons of fun include festive foods, tantalizing treats, season themed shows all wrapped up in a beautifully decorated amusement park. Knott's Berry Farm is a great way to celebrate a fantastic year.
Variety of Fun
The fun is endless at Knott's Berry Farm. Included in the cost of admission/season pass is the thrilling rides, delightful entertainment and fantastic foods. Scattered through out, you'll find a little bit of the region's rich history, with additional -on addoptions including Knott's Soak City water park and Knott's Scary Farm.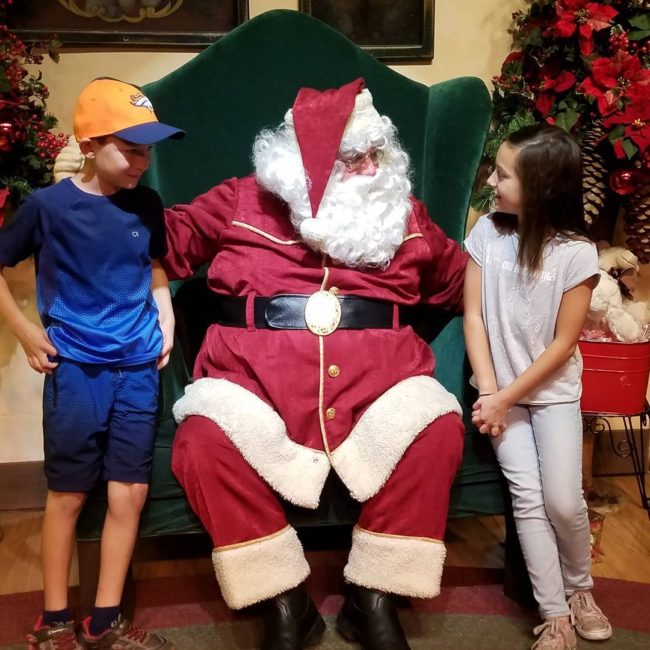 The Convenience
The convenience of having a Knott's Berry Farm season pass is basically what sold me on continuing this tradition with my family. Knott's is located in Buena Park. We benefit, being minutes away from the theme park, but honestly, it is a location that is quite easy to access. We live about 5 minutes away, and the kids attend a school about 15 minutes away, so getting to the park is quick and easy. Another convenience is that you currently do not have to make reservations to visit the park. And finally, we have so many friends who have passes, seems like a no brainer. The kids can grab friends, and they're of the age to experience the park on their own.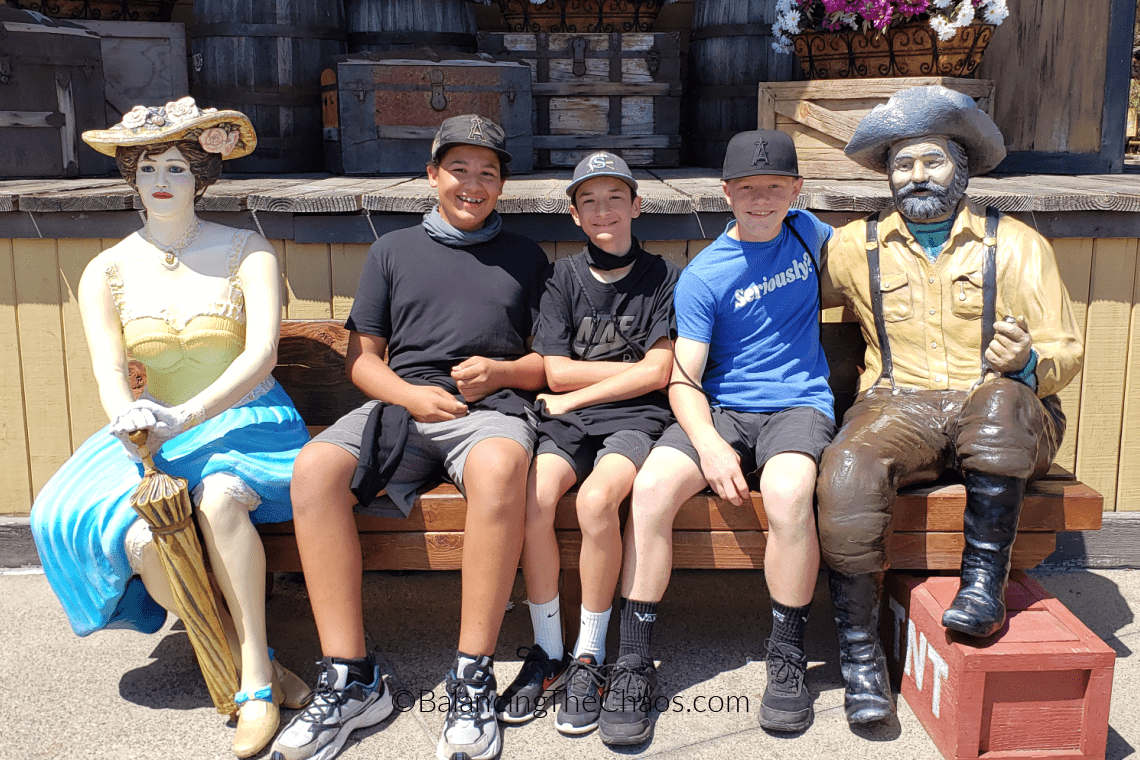 With a season pass, we don't have to get it all in one day. We can take in "The Farm" when our schedule permits. Whether it's for the entire day, a few hours after school, or even a quick bite to eat for dinner, the season pass gives us the flexibility to come and go when it works for us, and avoid the larger crowds.
DISCOUNTS
I am a sucker for discounts and saving money. Knott's Berry Farm offers three-season pass options: The Season Pass, The Gold Pass, and the Platinum Pass. With the Season Pass, you get a 10% discount on select food or merchandise purchased inside the park. With the Gold Pass, you also get a 10% discount and with the Platinum Pass, you can take advantage of a 20% discount on select food or merchandise. Additionally, you have the option of purchasing Knott's Scary Farm tickets at a discounted rate. Want to stay at the Knott's Berry Farm Hotel? Season Passholders receive a 15% Discount on their stay.
What are you waiting for? With crazy delivery and shipping delays, why not make your holiday shopping a lot easier to handle. A Knott's Season Pass is the perfect gift for everyone. Pick up yours here: KNOTT'S SEASON PASSES. And, if you get in on it now, you'll be able to spend a few days in the park now! Restrictions do apply.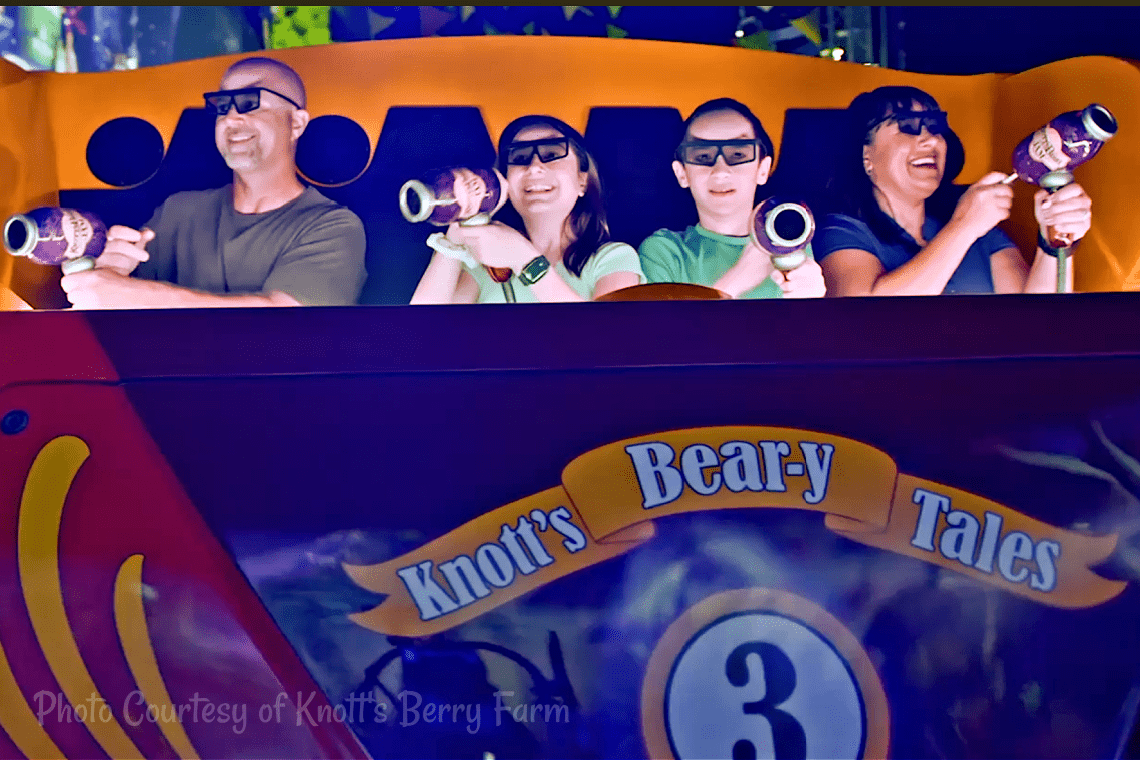 2022 SEASON PASSES INCLUDE:
Easy pay payment program
Unlimited visits to Knott's Berry Farm in 2021 through December 17th, plus all of 2022.
Want to visit Dec 18-31, 2021, pay only $14.99 per visit
10% discount on select food and merchandise at Knott's Berry Farm
Access to Knott's great seasonal offerings, including Knott's Merry Farm, Knott's Berry Bloom, and Camp Spooky
Up to 15% discounts on Knott's hotel stays
Discounts on Knott's Scary Farm Tickets
Options for unlimited Soak City Water Park
The other two pass options have added benefits. With the Gold season pass, you have the opportunity to add on Knott's Soak City to your annual pass. The Platinum season pass has parking included, and you also have the ability to visit all Cedar Fair theme parks.
To purchase passes and find additional information on all Knott's Berry Farm has to offer, visit Knott's Berry Farm Season Passes
GIVEAWAY
Enter to win (4) 2022 Regular Knott's Berry Farm Season Passes – a total prize value of $500
a Rafflecopter giveaway
The giveaway ends December 15, 2022, at 11:59 PM PST. Open to US Residents 18 and older only. The winner will be selected at random and be notified by email. Winners have 48 hours to respond before a new winner is selected. Winners will only be allowed to claim one set of season passes from one Merry Maker Giveaway in 2022. Not liable for unclaimed prizes or fulfillment. The blog has represented each sponsor with the expectation they will fulfill their prize and in a timely manner. No purchase is necessary to enter or win; however, you must enter for a chance to win. Purchase does not increase the chance of winning. Chances of winning depend on the number of entries. My opinions are my own and were not influenced by any form of compensation. Facebook, Twitter, or any other social media platform are in no way associated with this giveaway. By providing your information in this form, you are providing your information to this blog. I do not share or sell information and will use any information only for the purpose of contacting the winner. Not liable for unclaimed prizes or fulfillment.