For the month of November, Pretend City is celebrating with the Fall Farm Festival.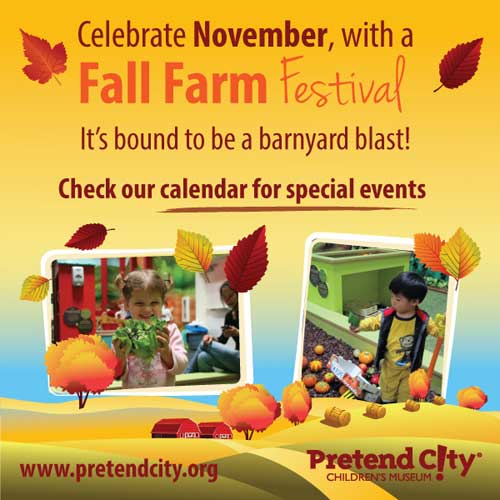 November takes us back to the farm at Pretend City, getting us ready for warm pumpkins, pecans, corn, and sweet potatoes. Children will have the opportunity to learn about delicious fall foods, cultural traditions, plant life-cycles, farm trucks, and so much more! So get ready for this barnyard blast!
Daily Activities – Art Studio Sessions:
Time: All Day
Find the fun, educational lead art activity day that best suits your child's developmental level:
* Mondays – Infants (Birth – 12 months): Fall Farm Senses
* Tuesday – Young Toddler (12 – 24 months), Toddler (2-3 years): Farm Faces
* Wednesdays – Preschool (4-5 years): Farming the Fall Harvest
* Thursdays – School Ages (6 years and up): Thanksgiving Art
* Fridays – Kindergarteners (5-6 years): Silly Scarecrows
* Saturdays – All ages: Growing Up on the Farm
* Sundays – All Ages: Harvest Painting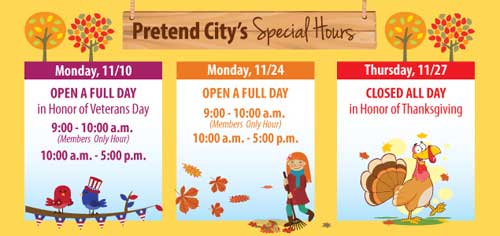 Calendar of Events:
Saturday, November 1: Celebrate Dia de los Muertos
Time: 10:30a.m. – 12:30p.m.
Celebrate Dia De Los Muertos at Pretend City! Enjoy a day remembering loved ones that have passed away and learn about the traditional Mexican holiday with a sensational story time, smart art and a Dia de los Muertos parade.
Monday, November 10: Celebrate Veteran's Day –OPEN A FULL DAY UNTIL 5:00p.m.
Time: 10:30a.m. – 12:30p.m.
Veterans Day is a a time to remember those those who have served or are serving in the military. Enjoy a heartwarming story about our nation's vets at sensational story time and create a memorable keepsake for the veteran in your live at smart art.
Monday, November 17: Family Autism Event
Time: 5:00p.m.-7:30 p.m.
This special evening is an opportunity for children and their parents/siblings/caretakers to have some fun in an autism-friendly environment along with other families. Many of our community partners, who specialize in supporting children on the autism spectrum, will be on-hand to enrich your family's play experience with welcoming smiles and practical support. If you would like to visit our museum prior to the event (adult only pre-tours), you are welcome to stop in on Tuesday, November 11, 2014 from 10:00a.m.-11:00a.m. or 4:00-5:00p.m. Watch a video tour of our museum here.
Tuesday, November 18: Welcome the Dimant Family
Time: 10:30a.m. – 12:30p.m.
Today we welcome the Dimant Family to the Our Home exhibit! This family will share their family values, traditions, and activities which are deeply rooted in their very strong passion for the Jewish religion. Visitors will learn about traditions such as how the Dimant family sits down to enjoy Shabbat meals together every Friday. You will also learn how to make homemade challah (braided bread) with your very own take-home recipe card. This family's strong tie to their heritage and maintenance of traditions will inspire your family to begin traditions of your very own!
Friday, November 21: Homeschool Day
Are you a home schooler? Once a month Pretend City offers Homeschool students unlimited access to interactive exhibits offering learning through fun experiences.
MOMMY AND ME PLAYGROUP DATES
TWEET: Play and learn together! Sign up for @PretendCity's Mommy & Me classes with your little one. Session starts Nov11. https://pretendcity.org/classes/
Tuesday, November 11 – December 16: Baby Steps Plus Playgroup: Fall Into Learning Through Play!
Specifically for: 18 – 24 months
Time: 3:00-5:00p.m.
• Toddlers will have the opportunity to hone their motor skills and focus on development stimulation while learning about the seasonal changes that take place in the fall!
Wednesday, November 12 – December 17: Terrific Two Playgroup: Exploring through Play!
Time: 3:00-5:00p.m.
Specifically for: Children 2 years of age; Grown-ups
• At age two, little ones become more energetic and curious! With sensory and motor development at the forefront of a two year old's explorative play, music and movement are the foundation of this playgroup! Children and grown-ups are sure to have a blast dancing, singing, and learning together!
Thursday, November 13 – December 18: Three Year Old Playgroup: Discovering Together Through Play!
Time: 3:00-5:00p.m.
Specifically for: Children 3 years of age; Grown-ups
• Three year olds are rapidly developing their cognitive, motor, and early literacy skills. Each week, a new theme will be introduced with a variety of interactive activities from music play to science experiments.
• As the holiday season approaches, discovering fall and winter traditions from around the world will be a special highlight of this Thriving Three session!
Friday, November 14: Fabulous Four Playgroup: Learning Around the World!
Specifically for: 4 years
Time: 3:00-5:00p.m.
• Children will engage in a variety of activities and group-based functions exploring winter cultural traditions from around the globe! Activities will range from drum circles to science experiments so you won't want to miss out!
*If minimum enrollment is not met play group is subject to cancellation
*Fee: $75.00 per grown-up and child pair; $60 for Members
About Pretend City Children's Museum
Pretend City Children's Museum features a small, interconnected city designed to "build better brains" through purposeful play, hands-on learning experiences, role playing, and educational programming. As a non-profit 501(c)(3) organization serving all children, it depends on community-based funding and guest support. Through 17 interactive exhibits and activities guided by a highly trained professional staff, children learn foundational math, reading and science skills, while fostering curiosity, creativity, critical thinking, problem solving, organization, teamwork, self-confidence and socialization. The museum is a unique community resource offering developmental screenings and tools for families, educators and community agencies working to ensure that each child gains the experiences needed to discover their potential and build toward a productive and fulfilling future. Pretend City Children's Museum is located at 29 Hubble, Irvine, CA 92618. For more information, please visit www.pretendcity.org.