Love The Way You Look – CosmetiCare Services a sponsored post on behalf of CosmetiCare.
We all have that one thing we're not happy with when it comes to our appearance. For me, It's always been my double chin and my nose. As a CosmetiCare Mom Ambassador, I was delighted to have the opportunity to experience Kybella, and was curious as to the additional services they offer. Did you know, CosmetiCare also offers services including liposuction, breast augmentation, rhinoplasty, and injectable fillers?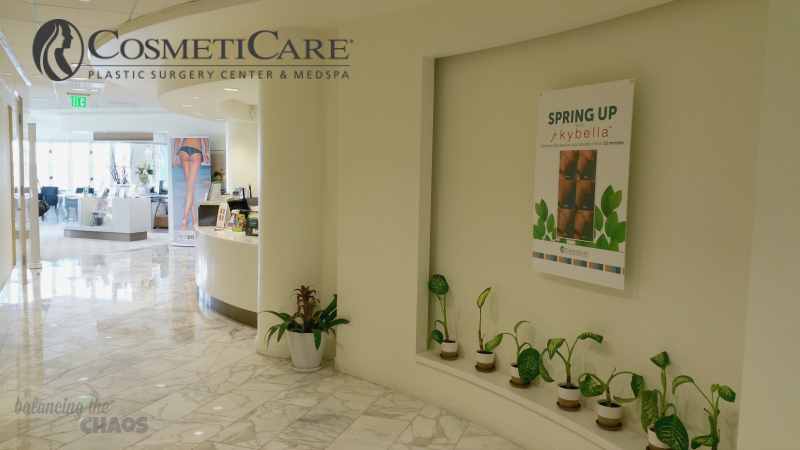 Taking care of your skin is so important. I'm constantly in the sun because of sporting events with the family or substituting and watching the kids during PE, which is so bad for your skin. CosmetiCare offers the following treatment just to revitalize your skin.
The Liquid Facelift includes a combination of fillers and Botox to restore facial volume and reduce fine lines and wrinkles.
Dermalpen with PRP is collagen induction therapy used to reduce scars. This treatment also assists in improving skin tone and texture.
Lunch Hour Facelift – Have a limited amount of time, stop in for a laser treatment or injectable.
Smoothie Lift – A mini face lift where a surgeon tightens and lifts the skin of the lower part of the face with minimal down time.
R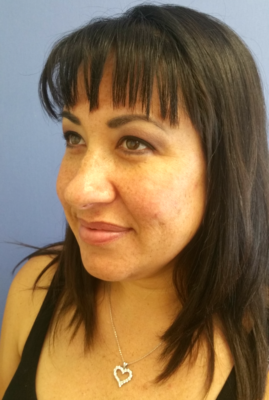 egular treatment installments are also a great idea when it comes to keep your skin looking healthy. I recall working for a day spa when I was in my 20's and a regular skin care plan can be quite beneficial. CosmetiCare's MedSpa offers:
Medical Skin Analysis – Analysis of your skin to see what treatment plan will work best for you
Facials:

Spa Facial
Hydra Facial with Diamond Tip

Exfoliation
Peels:

Illuminize Peel
Vialize Peel
Vi Peel
Now that I've reached my 40's, my age (and skin damage from my 20's) is starting to shine through. Fine lines, wrinkles and age spots have begun to emerge and like most, I'm not too happy about it. Injectables and laser treatments are an option with the following services:
Botox – Reduce the appearance of wrinkles by relaxing specific muscle groups
Juvederm – Reduces the volume loss, making your skin appear softer and more smooth
Radiesse – Just like Juvederm, Radiesse reduces moderate volume loss, making your skin appear softer and more smooth
Sculptra – Treat moderate to severe wrinkles and folds by activating collagen growth
Voluma – FDA approved filler to instantly add volume to cheek area
IPL – Treats red and brown discoloration of face
Skin Tightening
CO2 – Treats wrinkles, sun damage and scars
Vbeam – For general redness and vein removal
Laser Hair Removal – Get rid of unwanted hair on face and/or body
Laser Tatoo Removal
Laser Fat Reduction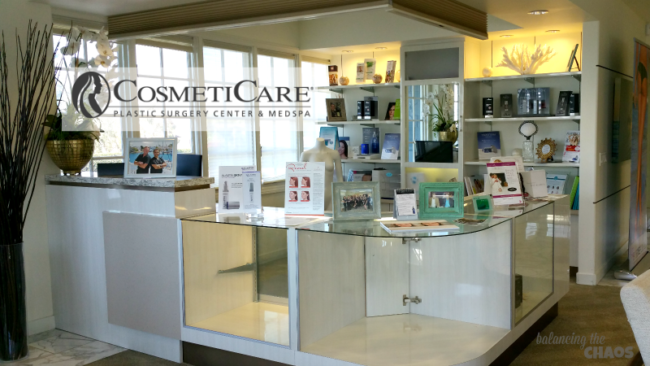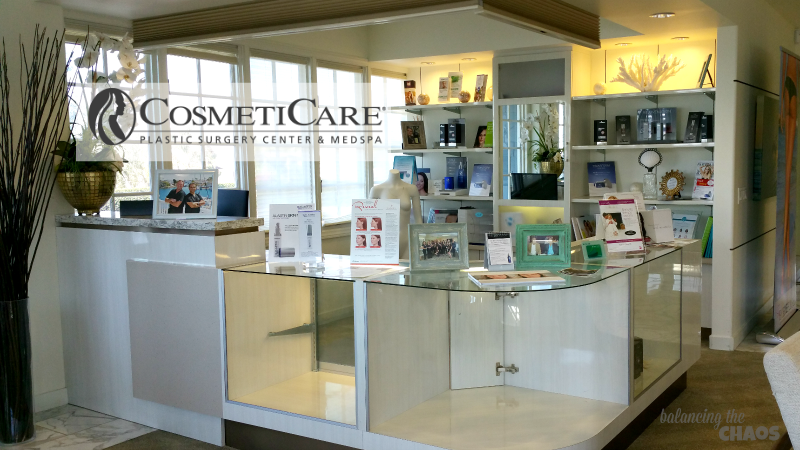 Looking to tackle a few cosmetic issues you may have? The team at CosmetiCare is quite amazing and can give you great ideas on how to look your best, keep your skin young and rejuvenated as well as skin care options and more. They are hosting their second annual Beautyland event on Thursday, November 17th. This is a great opportunity to learn about non-invasive beauty treatments and meet the experts at CosmetiCare. Plus, there will be a ton of great prizes, specials and of course, great food and wine in the beautiful CosmetiCare offices. RSVP at 949.718.6900 or via email at inquiry@cosmeticare.com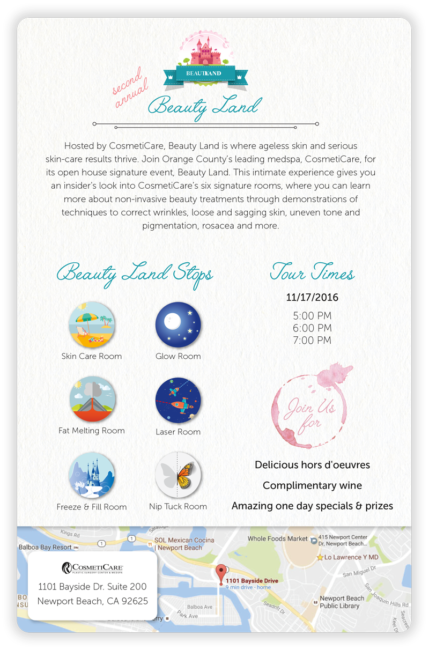 Check out some of the giveaways you'd be eligible to win at the second annual Beautyland event on Thursday, November 17th: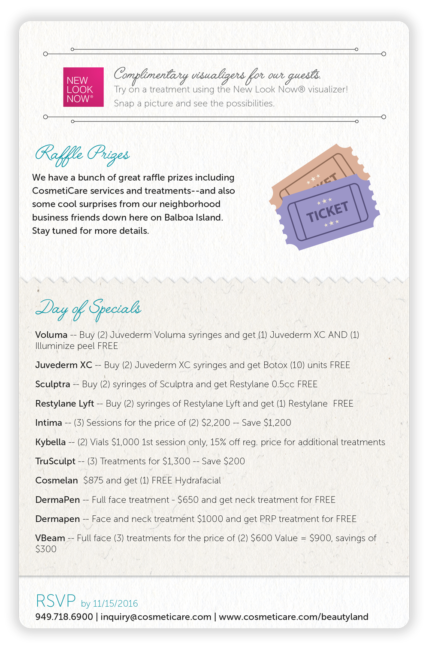 Newport Beach Office

1101 Bayside Drive, Suite 100
Corona Del Mar, CA 92625

Long Beach Office

2664 Atlantic Avenue
Long Beach, CA 90806
Be sure to RSVP at 949.718.6900 or via email at inquiry@cosmeticare.com or make an appointment today: https://www.cosmeticare.com