My son, Samuel, and I were lucky enough to literally JUMP IN and check out
Legoland's
new
Chima 

Water Park
 on behalf of Toddler Trails and we are so excited to share our experience with Jennifer and all of you!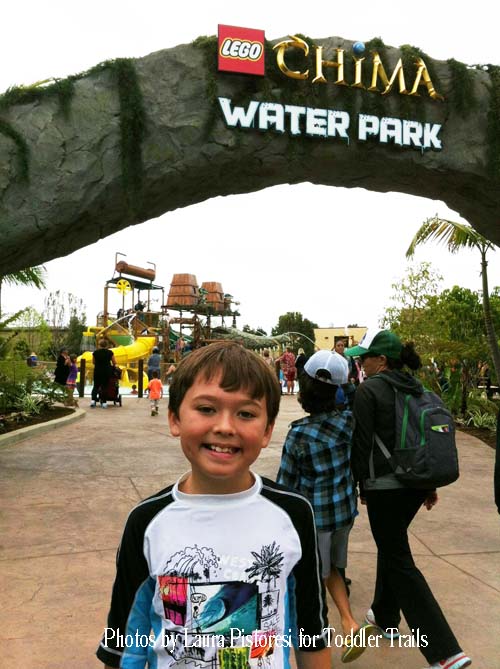 Legoland has added to its already amazing water park with the addition of a Chima themed area!  My son has been crazy about Lego's Chima sets for the last year, so he was thrilled to see many of those characters larger than life!  We started our Chima adventure by first stopping at Cragger's Swamp.  This one foot water area is filled with over 50 interactive water features, the chance to slide out of crocodile's mouth plus two other fun slides!  There was endless fun in this area and since the water is only a foot deep, it was super easy to get some fun pictures, without mom becoming soaking wet!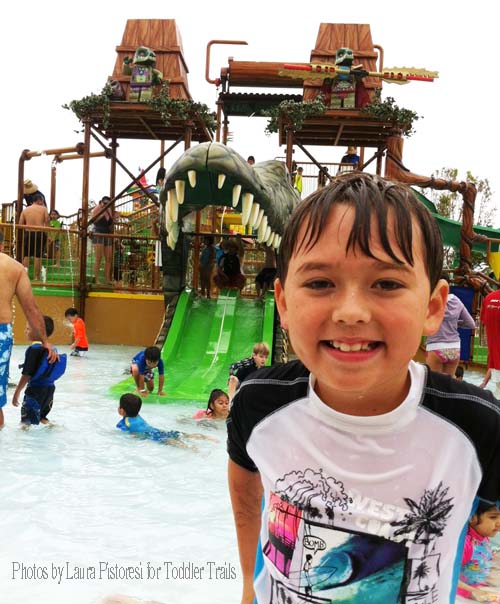 We were then up the stairs to check out
Eglor's Build-A-Boat
area!  This area had what every little boy loves….. Legos and Water!  We started at the building area and grabbed our boats!  Then with the unlimited 
opportunities
 to use our imagination, we had tons of Legos to choose from to build our own unique boats! Once our creations were complete, it was time to race!  We set our boats at the start and announced, "On your marks, get set….GO!".  Off the boats went, down the course…. with my son being the winner!  We grabbed our boats and headed back up to race again!  Best two out of three, of course!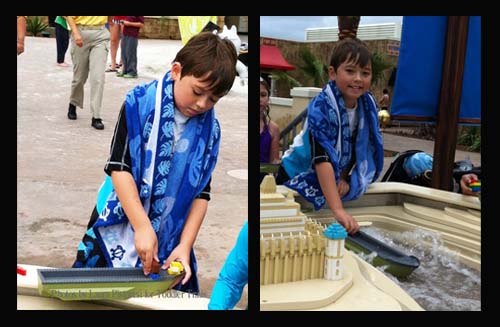 With all the hard work building boats, it was time to cool off again, so we heading to the
Lion Temple Wave Pool
. This wave pool was the perfect place for us to both cool off.  I have to admit that I did the "Big Toe Test" first, with the anticipation of the water being a tad bit too cold for this mom, but it wasn't!  I later found out Legoland pumps in all its water to the water park at 80 degrees!  Three cheers for
Legoland

Chima Water Park
keeping us moms in mind!  My son is a fairly strong swimmer, so I was thrilled to take a break from the water and sink my feet in the sand at the
Rhino Beach
, which gave me a perfect vantage point to watch my son continue to enjoy the water!  (
Legoland offers complimentary life jackets in this area
.)  
Lion Temple Wave Pool
is a wonderful place for families to enjoy the relaxing wave motion of this giant pool area!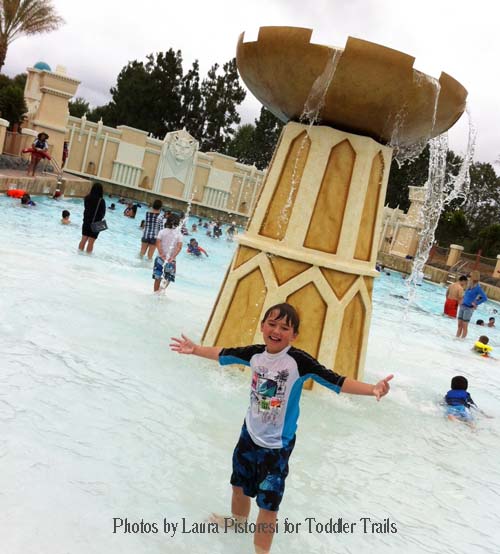 All that fun made us quite hungry, so we headed over to the Wolves' Den to grab a bite!  Everything on the menu looked yummy, but we decided to try the hot dogs!  While we waited for our food, my son checked out the Speedorz Arena.  There were tons of Chima Speedorz ready to race up and down the tracks!  The fun never seemed to stop!!!!  Having enjoyed all the areas, we did what anyone one would do…..we had to revisit every place we had already been again!  But in between, we had to stop for some photo opts with some of the fun kid size Chima characters!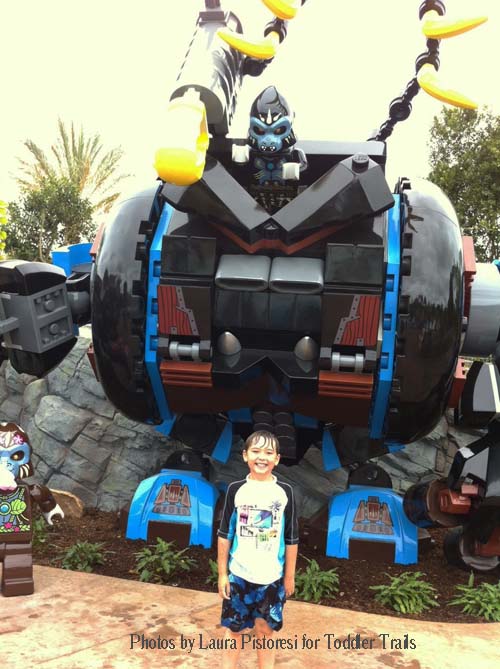 The Chima Water Park officially opened Memorial Day weekend, so this summer is the perfect time to go check it out!  The Chima Water Park is located inside Legoland's existing Water Park, which is inside Legoland California.  There are lockers available and a number of family size changing stalls inside the Water Park, so it was super easy to change!  There is an additional entrance fee required to visit the Water Park and it is well worth it…. you won't be disappointed!  And though our house is "all boy", this new Chima area was certainly being enjoyed by lots of girls too!!!    So grab your suits, towels and sun screen and ENJOY!
CONTRIBUTOR: Laura Pistoresi
Laura Pistoresi made the move to Anaheim Hills almost three years ago from the small Central Valley town of Chowchilla.  She refers to herself as the "country mouse" coming to the city and has taken full advantage of playing tourist and loves finding new things to do in Southern California!  She is mom to an eight year old son and loves just being know as "Samuel's Mom".
Disclaimer: We received complimentary admission to Legoland and Legends of Chima Water Park to share our honest opinions.  No other compensation was received.