Each year Pretend City in Irvine puts on their 5th Annual Health And Wellness Fair to promote healthy childhood development.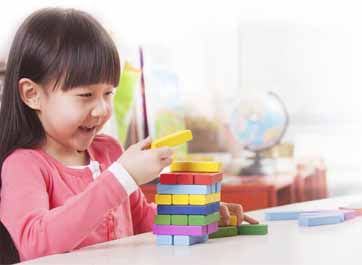 This year the Good To Go From Head To Toe Family Fun & Wellness Fair is FREE for families and is taking place on Saturday, June 7, 2014 so mark your calendars for this event.
Southern California families will have the opportunity to receive free developmental checkups and health screenings for children under 5 years old in a fun atmosphere.  Have questions regarding the development of your child? Have you noticed a few habits that you may be concerned about? Or, wonder about dental exams or bmi – this is the best place to speak with qualified indiviuals and get some valuable information.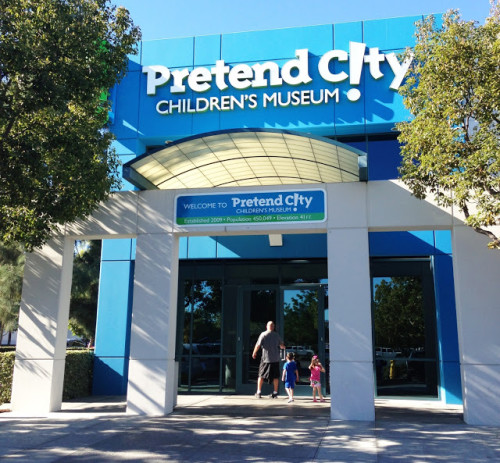 Sponsored by the Children and Families Commission of Orange County, every child that visits three of the eight checkup stations received free admission valid for six months to Pretend City Children's Museum, adding more value to every little Family Fun and Wellness Fair guest's checkup.
During the event enjoy great food, live music, the opportunity to visit all kinds of exhibitors with information on products and services all geared towards families.
A variety of health-related vendors were present at the Fair including:
Providence Speech and Hearing
Help Me Grow
Speech Pathology Associates
Blind Children's Learning Center
Smile Wide Dental
Child Guidance Center, AAP-CA4
Irvine Police Department/D.A.R.E
MOMS Orange County
Child Behavior Pathways
OCHCA – Immunization Project, Juice Plus/Tower Garden
National Children's Study (WESTAT)
TIA-CREF Financial Services (Scholar Share)
Play Your Part
Arts & Learning Conservatory
Discovery Toys
Small Print, Girl's Inc. of Orange County
The Bump
Sae Arc-4BetterSpince.com
Lakeshore Learning Center
KIDA, Safer 3 – Water Safety Foundation
Hoag Medical Group
SoCal Moms
Lula Roe
First Investors Corporation
Babies 'R Us
Winder Farms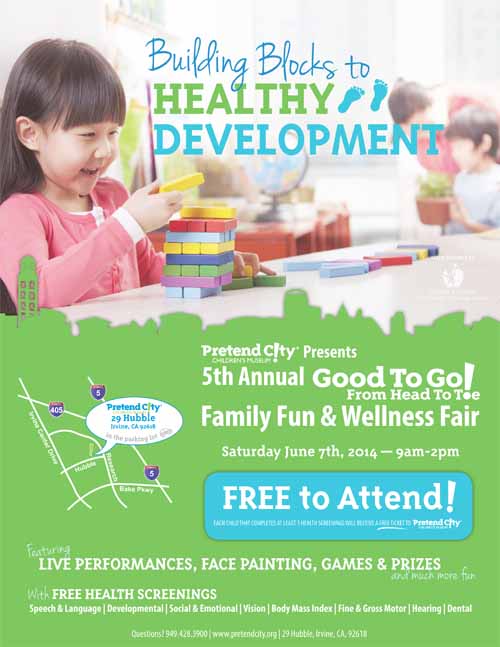 Planning on attending the 5th Annual Health And Wellness Fair?  If your child completes 3 health screenings, they will receive an admission ticket to Pretend City!
The 5th Annual Health And Wellness Fair is a child development initiative delivered by Pretend City Children's Museum and made possible by Children & Families Commission of Orange County, in addition to the generous support of our sponsors.
5th Annual Health and Wellness Fair
29 Hubble Irvine, CA 92618
.
For more information on Pretend City or the Health & Wellness Fair, please visit their website or social media outlets: Facebook or Twitter
About Pretend City Children's Museum:
Pretend City Children's Museum is the first educational facility of its kind in the western United States representing a small, interconnected city designed to "build better brains" through purposeful play, hands-on learning experiences, role playing, and educational programming. As a non-profit 501(c)(3) organization, it depends on community-based funding and guest support. Through 17 interactive exhibits and activities guided by a highly trained professional staff, children learn foundational math, reading and science skills, while fostering curiosity, creativity, critical thinking, problem solving, organization, teamwork, self-confidence and socialization. The museum is a unique community resource where families, educators and community agencies come together to ensure that each child gains the experiences needed for a productive and fulfilling future. Pretend City Children's Museum is located at 29 Hubble, Irvine, CA 92618. For more information, please visit www.pretendcity.org.