With the start of a new year, I've decided to make some changes. The kids have been getting away with murder around the house, so I decided it was time to give them a few responsibilities and give myself a break! I've scoured the internet – pinterest to be specific and found a few great ideas, but ended up creating this Kids Daily Responsibility Chart that fit us perfectly.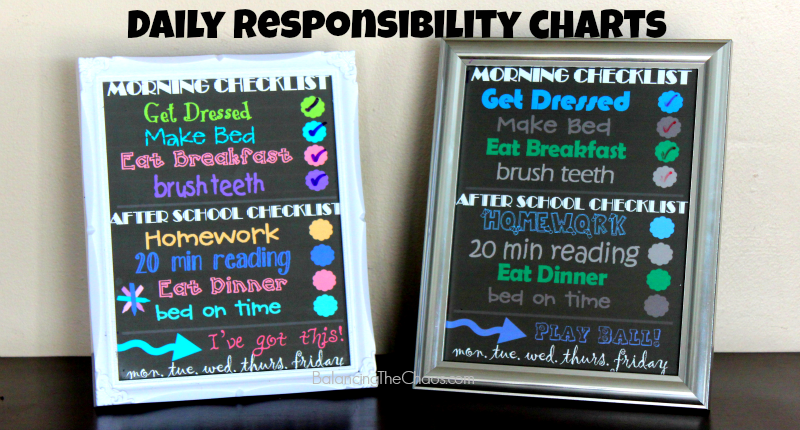 I think I'm a little over the top with keeping the house clean. Usually as soon as the kids are done playing with something, I'm right behind them picking up and making the area tidy. Yeah, I'm a little OCD with it, so I've been pretty lax when it comes to them picking up after themselves because I didn't want to get them involved with my issues. However, I'm tired and they are LAZY! Now Mama is putting her foot down (gently).
Rather than telling the kids 100+ times to get up, get dressed, etc. I figured it was time to give them a check list where they can see exactly what they've accomplished through the day. If they complete the morning responsibilities, then they can earn a little t.v. time OR a little tablet time.
What's fun for them? They picked out their own frame, markers and are able to check off each accomplishment on their own. The best part for me – these are reusable! Place the printable behind glass and the kids can draw all over them with a dry erase marker. At the end of each day, I can erase the marks and they start over in the morning.
Responsibility Checklist 1
(click the image for a printable version)

Responsibility Checklist 2
(click the image for a printable version)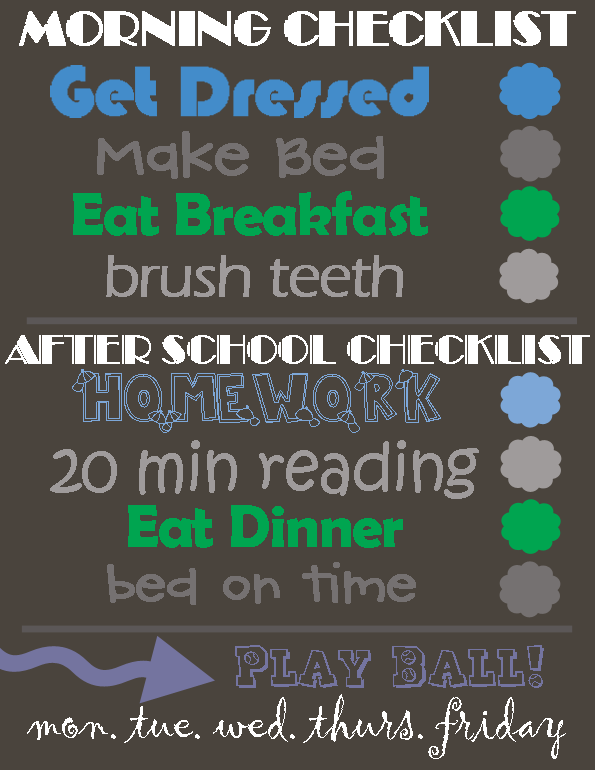 Now, the challenge is to keep this going! I've been guilty of implementing chores one week, and by week 2, it's already forgotten. This time, I hope to build on this. First, they will earn the fun stuff – hopefully this will turn into more chores where they will actually start earning an allowance.
I'd LOVE your tips! How are you getting your kiddos to help out around the house so you're not going crazy?