November 9th through December 24th, experience the North Pole and Santa's Workshop with HGTV Santa HQ at Lakewood Center and Los Cerritos Mall. Santa HQ incorporates a traditional Santa experience with an augmented reality environment and captivating social media experience. Upon entering Santa HQ, kids will instantly learn if they are on Santa's naughty or nice list after being "scanned" by the Naughty or Nice O'Meter and spend time at an observatory to catch a glimpse of Santa's remarkable world through the miracle of Elf-Ray Vision tablets and much more.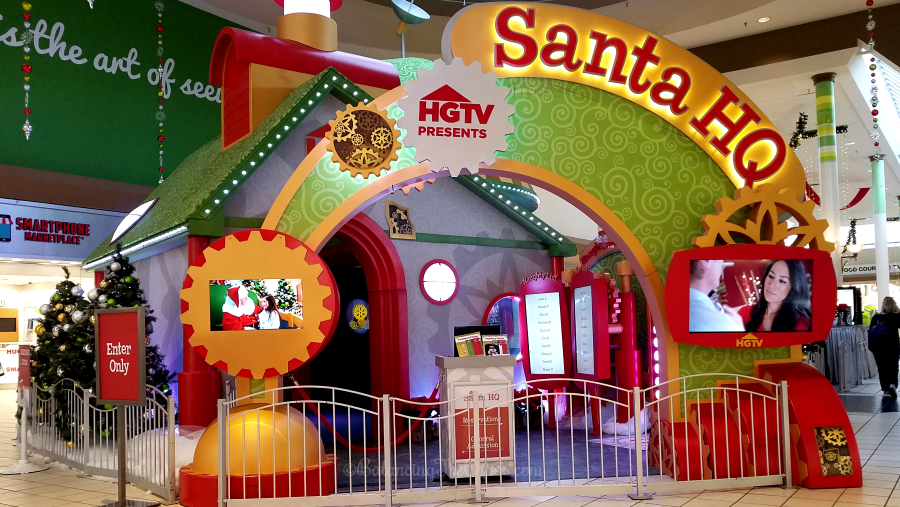 At HGTV Santa HQ, the first thing the kids got to do was to see if they were on the nice list, or the dreaded naughty list. After entering their names on the computer, they stood on some marked footprints, and the meter behind them rose and fell, according to how good they had been during the year. Miraculously, they were both on Santa's nice list!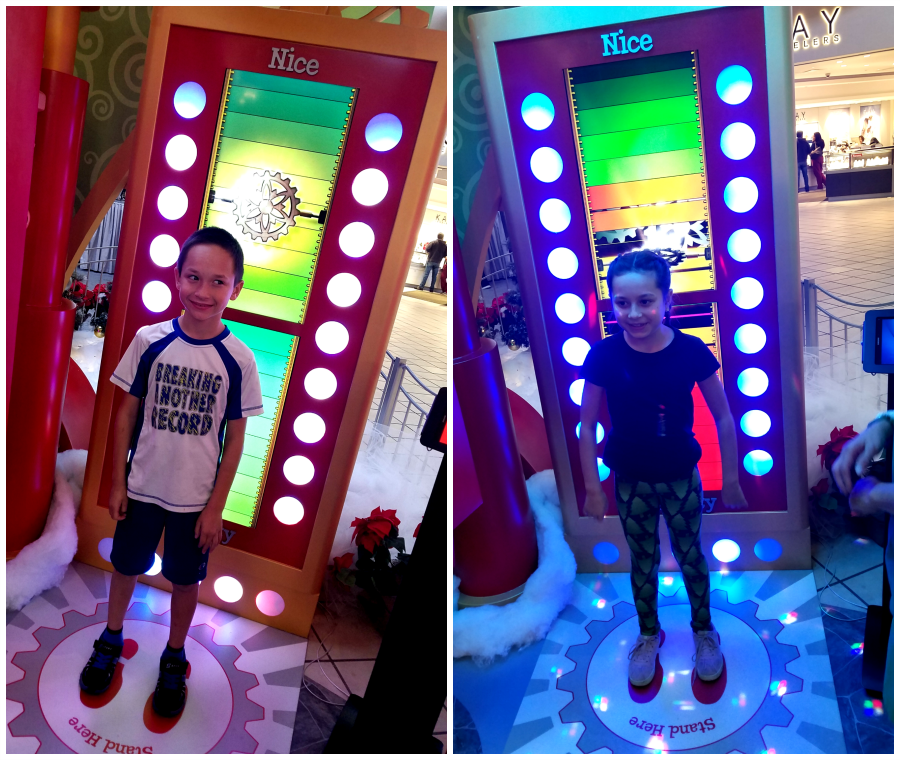 Next up was some more interactive fun. We walked into a replica of Santa's living room and discovered Elf Vision.  At a little console on the wall, the kids took quick selfies, and a minute later, they were transformed into little elves, doing a choreographed dance with Santa! They got a good laugh out of the silly dance.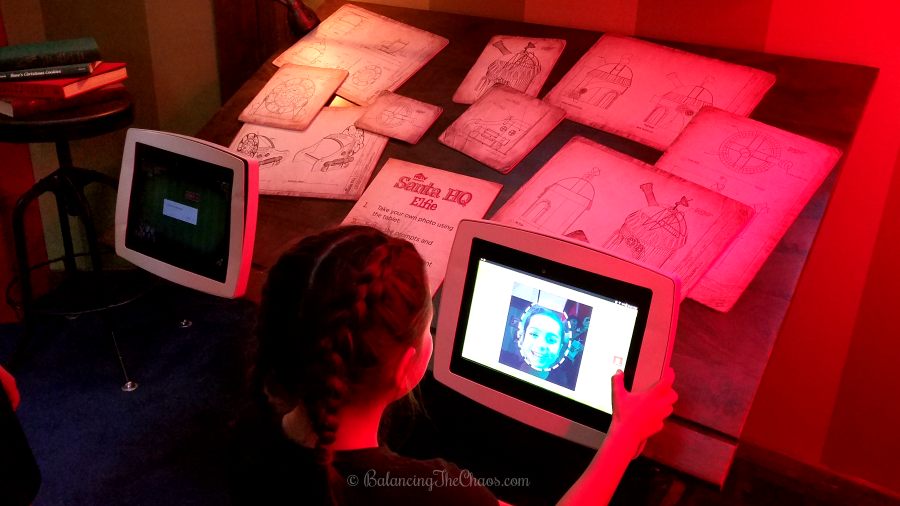 At the Santa HQ Control Center, children are invited to interact with the control board to get a sneak peek into Santa's Workshop. With the help of tablets provided (or down load the Santa HQ app to your cell phone or device), interact with objects on the wall. When they held the device up to the door painted on the wall, displayed a line of wrapped presents flying by on a wire. Tapping on the gifts made them fall to the ground, and once they were on the ground, you could tap again to open them. Very cool use of technology.
After walking through HGTV Santa HQ, it was almost time to meet the big guy himself! We first stopped in front of a backdrop for a quick picture, and then it was time to meet Santa!  While we waited, Christmas music filled the air, and the lights on the trees danced in time with the music.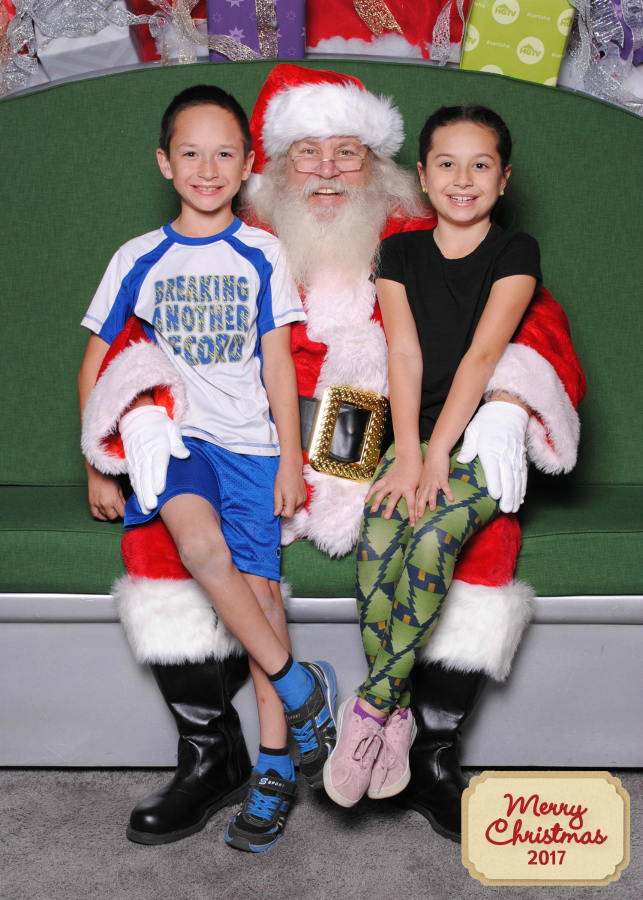 After visiting with Santa and sharing their requests, we ordered portraits and had them delivered to us electronically! Now I can share this photo with our entire family.
GIVEAWAY
Enter to win a complimentary Santa HQ photo package valued at $39.99 redeemable at the Los Cerritos Center only.
a Rafflecopter giveaway

In the Los Angeles Area, HGTV's Santa HQ will be open at two locations November 9th through December 24th:
Los Cerritos Center
239 Los Cerritos Center  Cerritos, CA 90702
Special Dates: 
Santa Paws, Pet nights with Santa: November 12, 19, 26, December 3 &10 from 5 – 8pm
Grandparents Day:  November 29
Holiday PJ Days:  November 30 & December 6
Ugly Sweater Day:  December 13
Lakewood Center
500 Lakewood Center Mall Lakewood, CA 90712
Special Dates:
Pet Night with Santa at Santa HQ:November 12, 19, 26 and December 3 & 10, 5 p.m. – 8 p.m.
Grandparent's Day: November 29
Holiday PJ Day: November 30 & December 6
Ugly Sweater Day:December 13
Cookies with the Claus's: December 14 6 p.m. – 8 p.m.
CHiP's4Kids Toy Drive: December 11 – Dec 23
Register now for your selected time and location at www.santa-hq.com.
ABOUT HGTV
America's leading home and lifestyle brand, HGTV features a top-rated cable network that is distributed to more than 96 million U.S. households and HGTV.com, the premier source for home-related inspiration, instruction and entertainment, attracts more than six million people each month. The brand also includes the HGTV HOME™ consumer products line which showcases exclusive collections of paint, flooring, lighting, furniture, plants, fabrics and other home-oriented products. For more information on HGTV HOME branded products and to find a retailer, go to www.hgtvhome.com. In partnership with Hearst Magazines, the HGTV Magazine, a home and lifestyle publication, is currently available on newsstands. Viewers can become fans of HGTV and interact with other home improvement enthusiasts through Facebook, Twitter, Pinterest andInstagram. Headquartered in Knoxville, Tenn., HGTV is wholly owned by Scripps Networks Interactive, Inc. (SNI).
Giveaway Rules:
Giveaway ends November 16th, 2018 at 11:59 PM PST. Open to US Residents 18 and older only. Tickets will be mailed directly to the winner's home (or mailing) address. Winner will be selected at random and be notified by email. Winners have 48 hours to respond before a new winner is selected. Not liable for unclaimed prizes or fulfillment. Blog has represented each sponsor with the expectation they will fulfill their prize and in a timely manner. No purchase necessary to enter or win; however you must enter for a chance to win. Purchase does not increase chance of winning. Chances of winning depend on number of entries. My opinions are my own and were not influenced by any form of compensation. Facebook, Twitter or any other social media platform are in no way associated with this giveaway. By providing your information in this form, you are providing your information to this blog. I do not share or sell information and will use any information only for the purpose of contacting the winner. Winners can only win once per month. Not liable for unclaimed prizes or fulfillment.