A couple of weeks ago, the hubster and I went to the Janet Jackson concert, after waiting a year to see her performance. Once we dropped off the kids at my mother in law's house, we decided on a quick dinner. I had heard that Romano's Macaroni Grill now offers a tiered happy hour menu with a variety of 11 appetizers and a wide variety of alcoholic and non-alcoholic beverages for $6 or less. Once I mentioned it to the hubster, we decided it was a must do!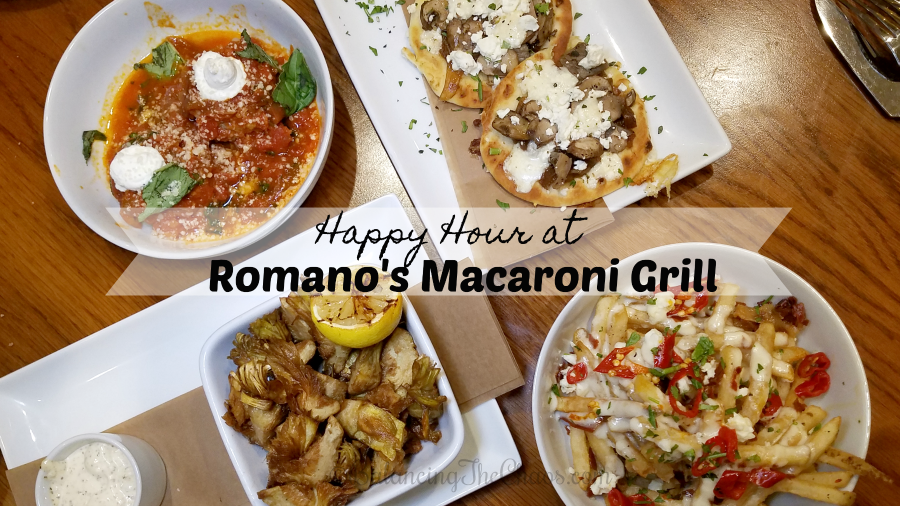 Romano's Macaroni Grill, a national restaurant chain that creates classic Italian dishes, is introducing today its new happy hour program at its 16 Southern California locations. As of today, Southern Californians can choose appetizers and beverages from three unique happy hour menus, priced at $4, $5 or $6. Macaroni Grill's culinary and beverage teams developed several new items that are now available on the new happy hour menu including a warm, whipped feta served with grilled rosemary bread points, Pizza Piattos – four varieties of three-inch crispy pizzas including mushroom and goat cheese, and beverages such as Italian margaritas and non-alcoholic Frizzantes.
Many of our guests are looking for a comfortable happy hour that offers a unique and flavorful menu but that doesn't put a significant dent in their wallet," said Holly Wagstaff-Bellomo, Vice President of Marketing, Macaroni Grill. "We're excited to offer our Southern California guests the opportunity to relax and connect with friends  in our bar to enjoy our Happy Hour menu after a long day, every day, until our restaurants close."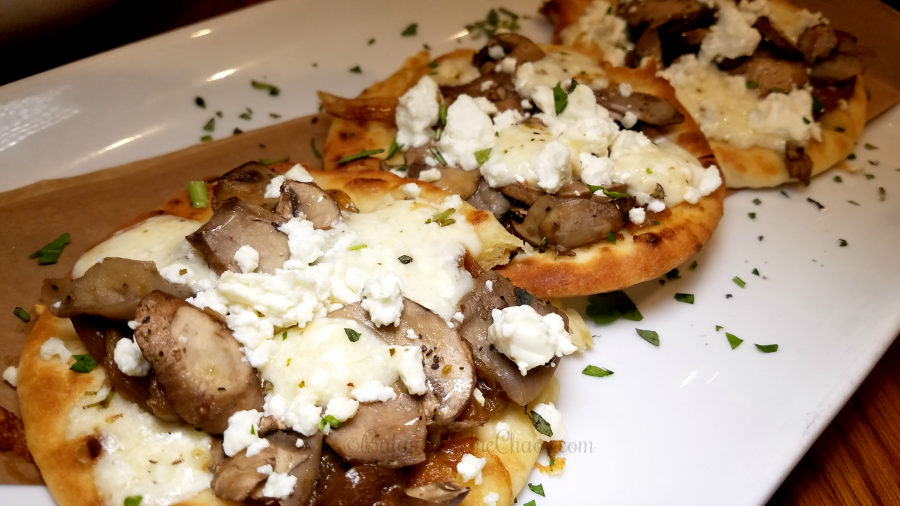 We had the opportunity to speak with Hugo Torres, General Manager at the Cerritos location as well as sample several of the new happy hour menu items. Hugo shared that he LOVED all the options, and was so honored to be serving them to customers. We loved the fact he visited each table in his restaurant. As a matter of fact, he had no idea we were on the property to sample the menu – he is just that passionate about his restaurant, the food he serves, and making sure his guests are happy with their items.
While we were browsing the menu, our waiter recommended the Pizza Piattos. Delicious little bites of pizza served with four topping options were amazing. We tried the mushroom and goat cheese version and the blend of flavor was scrumptious.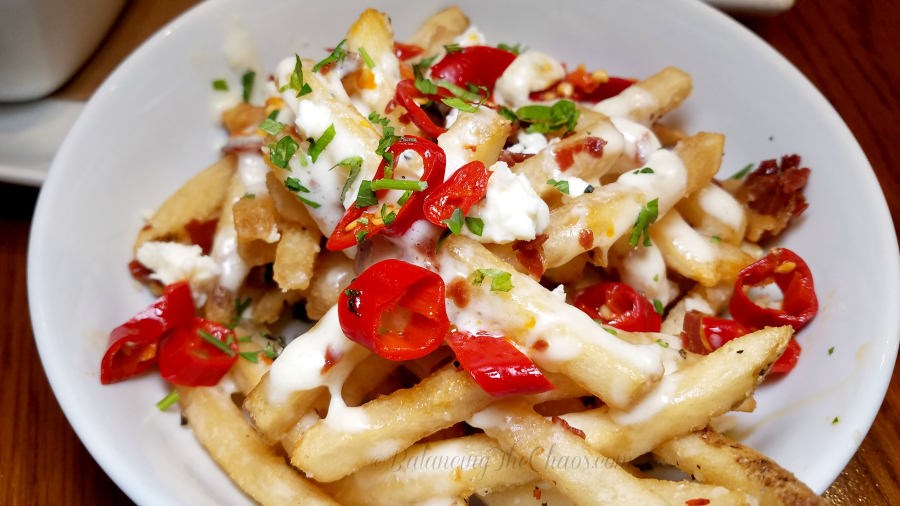 The loaded fries were so good with deliciously crispy fries smothered in a which cheesy sauce, crispy prosciutto and parmesan and Calabrian peppers. Seriously, I could have made an entire meal on these tasty bites.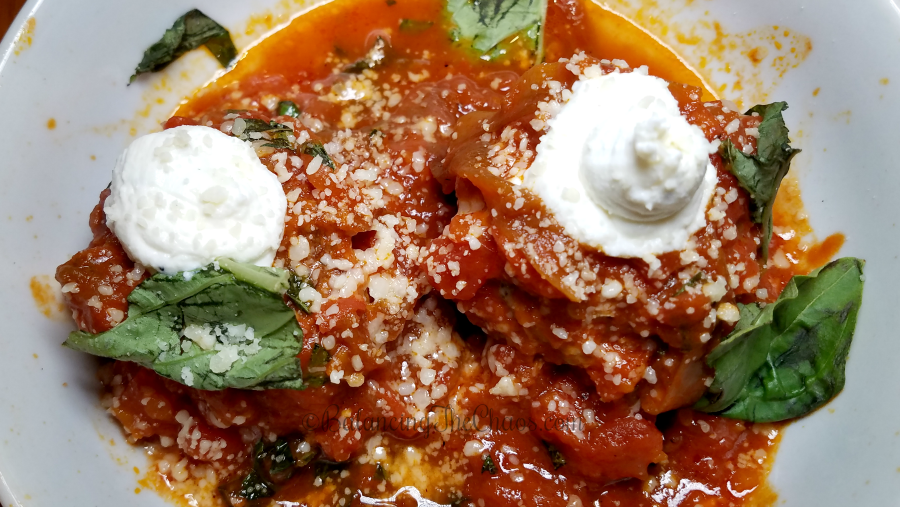 Another delicious sharable appetizer is the Ricotta Meatballs. The hubster and I shared two spicy house-made beef, veal, pork and ricotta meatballs. They were hearty and full of flavor, especially when topped with caramelized onions, red Chile, topped with arrabbiata and whipped ricotta – super tasty!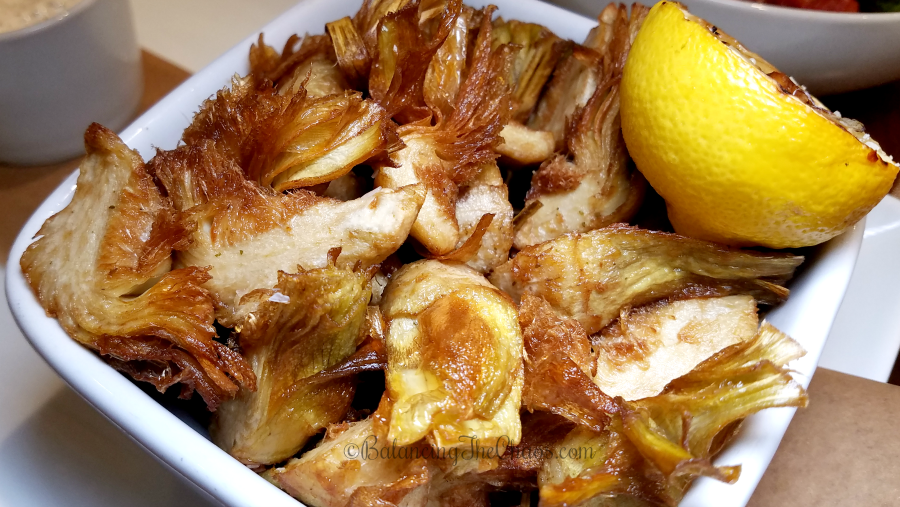 The last happy hour the hubster and I sampled at Romano's Macaroni Grill was the Crispy Artichokes. I literally devoured most of the bowl of artichokes that were charred with lemon and citrus black pepper aioli, with just the right amount of crunch.
We already have our next list of happy hour menu items we want to try on our next visit. Macaroni Grill's happy hour is available in its bar only from 3pm to close, seven days a week, at 16 Southern California locations:
·       Aliso Viejo: 26641 Aliso Creek Rd.
·       Anaheim Hills: 8150 E Santa Ana Canyon Rd.
·       Bakersfield: 8850 Rosedale Hwy.
·       Cerritos: 12875 Towne Center Dr.
·       Corona: 3591 Grand Oaks
·       Huntington Beach: 7901 Edinger Ave.
·       North County Fair: 202 E Via Rancho Pkwy., Escondido,
·       Northridge: 19400 Plummer St.
·       Oceanside: 2655 Vista Way
·       Otay Ranch: 2015 Birch Rd. Suite 2500, Chula Vista
·       Puente Hills: 17603 Colima Rd., City Of Industry
·       Redlands: 27490 W Lugonia Ave.
·       Seal Beach: 12380 Seal Beach Blvd.
·       Simi Valley: 2920 Tapo Canyon Rd.
·       Temecula: 41221 Margarita Rd.
·       Tustin: 13652 Jamboree Rd., Irvine
To express gratitude to all the tireless first responders, Romano's Macaroni Grill, a national restaurant chain that creates authentic, inventive Italian dishes, will offer a free Mom's Ricotta Meatballs & Spaghetti entrée to those who have helped so many of America's communities recently. First Responders are invited to visit and enjoy their complimentary Mom's Ricotta Meatballs & Spaghetti starting today, Tuesday, Oct. 10 through Tuesday, Oct. 31, at any of its
For a full line of menu choices, visit
www.macaronigrill.com.
Special thanks to Hugo Torres of the Cerritos Macaroni Grill for your hospitality and delicious food.
*Updated 9/26/23 Thank you to a valuable reader, it appears Macaroni Grill no longer offers this feature at their restaurants.