As a Fox Home Entertainment Insider, we receive advanced copies of Fox Movies to review and share with readers.  No monetary compensation was received.
Have you seen Freebirds yet?  Owen, Wilson, Woody Harrelson and Amy Poehler team up for a hilarious animated adventure about two turkeys from opposite sides of the tracks who travel back in time in order to keep their species off the Thanksgiving menu.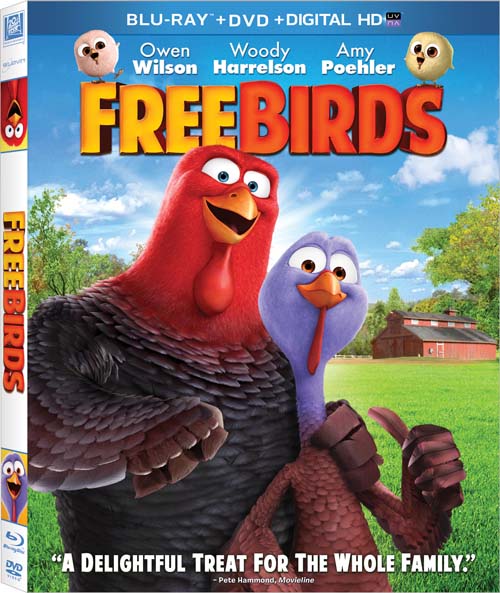 In honor of the February DVD release, we had a family pizza viewing party.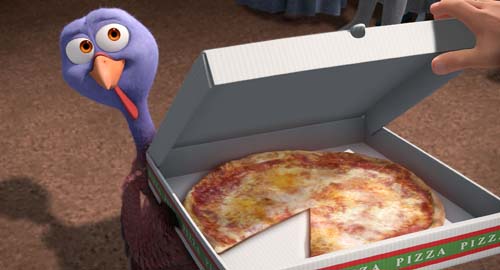 Typically over the weekend, we try to set aside time for family movie night.  We usually get the house cleaned up, the kids bathed and pull up our comfy couches, blankets and pillows and a few munchies.  However, for this viewing party, we decided that pizza was going to be on the menu!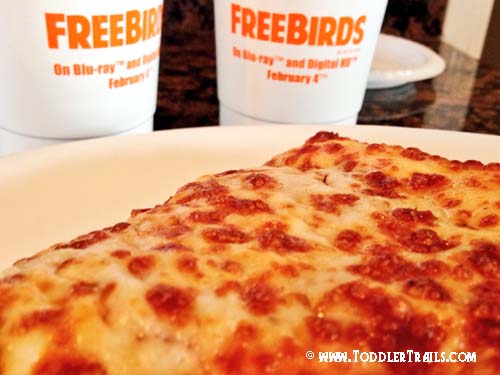 We contacted our local Pizza Hut down the street for their delicious cheese pizza – the kids' favorite!  Specifically for families, they also sell a dinner box that includes a small pizza, bread sticks and cinnamon sticks for $10 – a steal!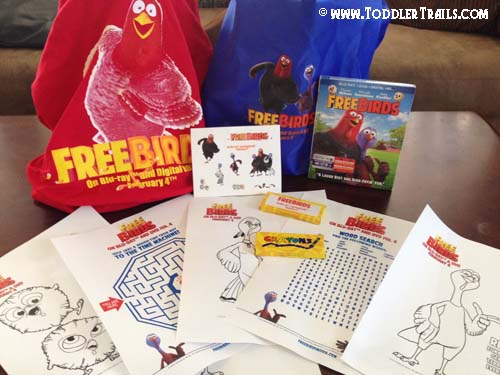 Thanks to our friends at Fox, we received a super fun party pack that included these awesome tumblers (my new favorite cup) and some  Swag for our FreeBirds Pizza Party.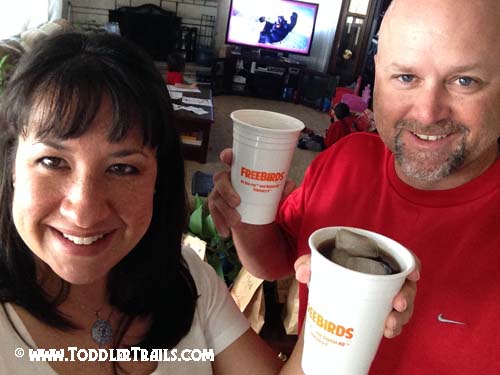 While watching the movie, the kids were running around acting like turkeys – quite silly.  Trying to real them in….they kids loved the activity sheets.  As a matter of fact, they raced to find the end of this maze:
(click on the photo for printable version)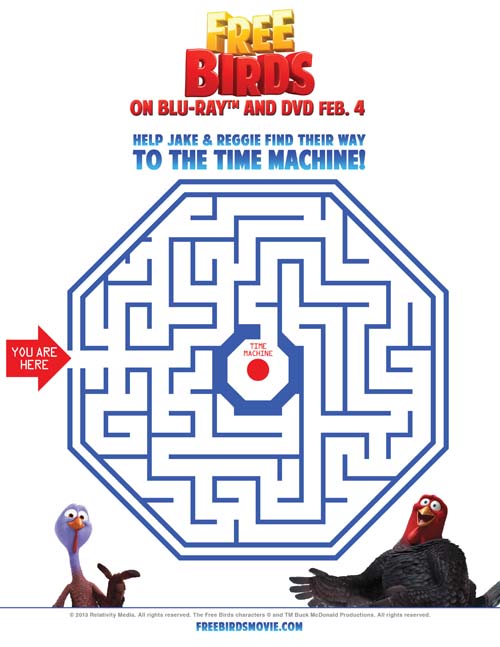 Not sure my princess liked the idea of racing through the maze against her brother as he is much better, but it was awesome to see her figure it out on her own.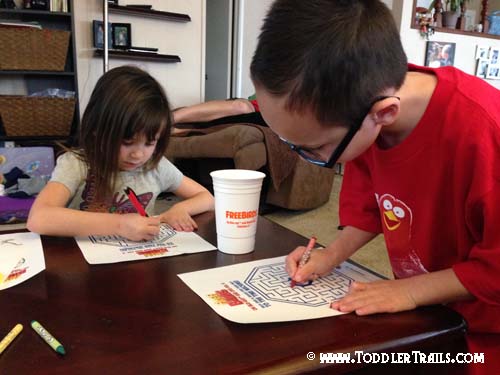 My son, who loves word searches, really got into finding all the words in this printable:
(click on the photo for printable version)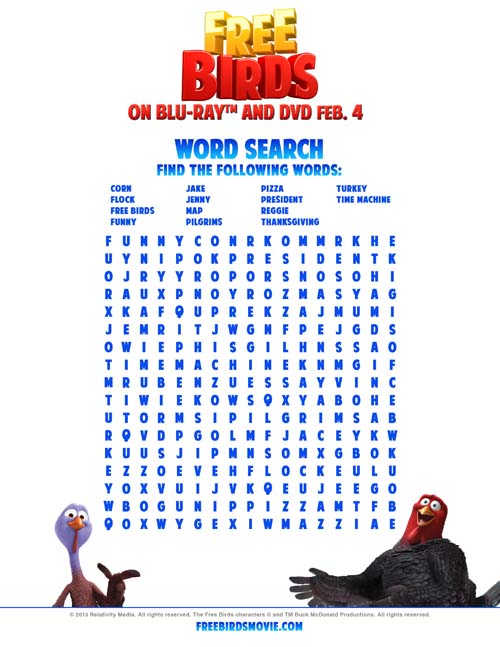 I think he had a hard time deciding if he wanted to watch the movie or do the word search!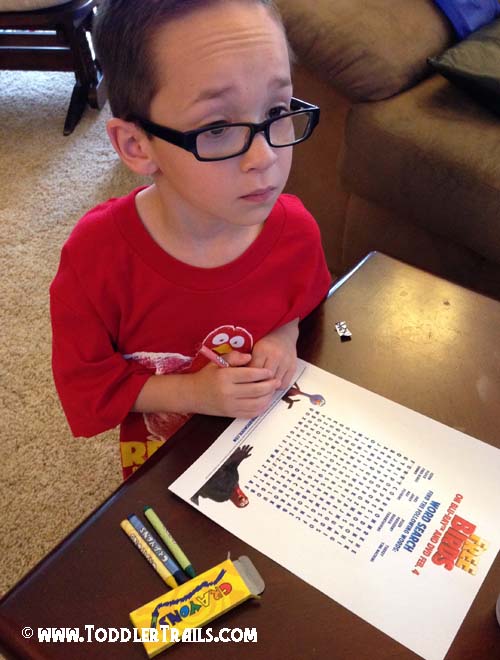 You too can host your own FreeBirds Pizza Party – hey, save the Turkeys, right?  If you haven't done so already, click on the activity pages. You'll be directed to printable versions your kids will love!  FreeBirds will entertain the whole family with the comedic one liners and storyline.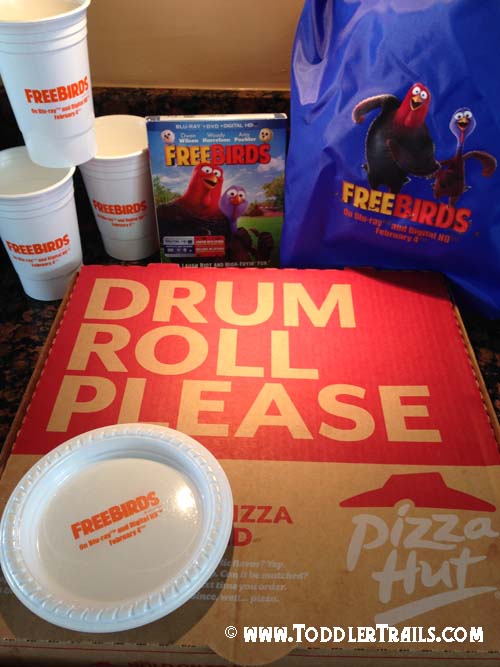 Thanks Fox Home Entertainment and Pizza Hut for making this the perfect family viewing night!  Check out FreeBirds now available on Blu-ray and DVD! And for added fun, you can color your favorite Free Birds with the FREE Coloring Pages Below:
(click on the photo for printable version)