Over the weekend while keeping my eye on my sick baby girl, I happened to catch an interesting show about a comedian ventriliquist.  Typically I would just change the channel, but have you ever heard of Jeff Dunham?  He and his cast of characters are hilarious!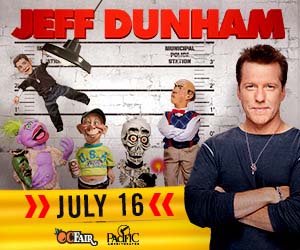 The show was about Jeff's rise to the top.  As a kid, he fell in love with the "dummys", had a passion for making them talk.  As he got older, he mastered the art of ventriloquism and began performing for small crowds.  The funniest thing he shared – many of his school photos included one of his puppets.  You can see one from his instagram feed here: https://instagram.com/p/azDaEtpZIM/
The path of a stand up comedian is a hard one.  Imagine what it's like for a ventriloquist.  Many felt that he wasn't in their relm, or worthy of the stage they shared. He focused on entertaining where he could, but his sights were set on television to get his name out.
I discovered Jeff Dunham from my brother-in-law, who was a HUGE fan in the early 90's.  And I even purchased his first DVD: Arguing With Myself for my BIL as a gift, and we all sat around and watched it over and over again.
Days after I watched Jeff's history on tv, I received a press release – Jeff Dunham is coming to the OC in July! If you have the opportunity to get a sitter and make this a special date night, this is show is sooo worth it!  I'm certainly planning on making it a date night with The Hubster!
Jeff Dunham will be performing at the
2014 OC Fair
in the Pacific Ampitheater
  Wednesday, July 16 at 8:15 p.m. (The OC Fair opens at Noon and closes at Midnight this day.)
Details
Tickets start at $39.50 and include FREE OC Fair admission for the same day. Tickets are now available at ticketmaster.com, from any official Ticketmaster outlet or from the OC Fair Box Office
The 2014 OC Fair is July 11-August 10 (Wednesday-Sunday) and more details can be found at ocfair.com.
Keep informed about upcoming shows or promotion codes for online pre-sales, subscribe to ocfair.com today.