Now that most of the "Big Kids" are back in school; for September, Pretend City is calling all little and big explorers to sail away and find the treasure in reading. Celebrate "Talk Like a Pirate Day" and take a literary peek into a pirate's life on the rolling seas.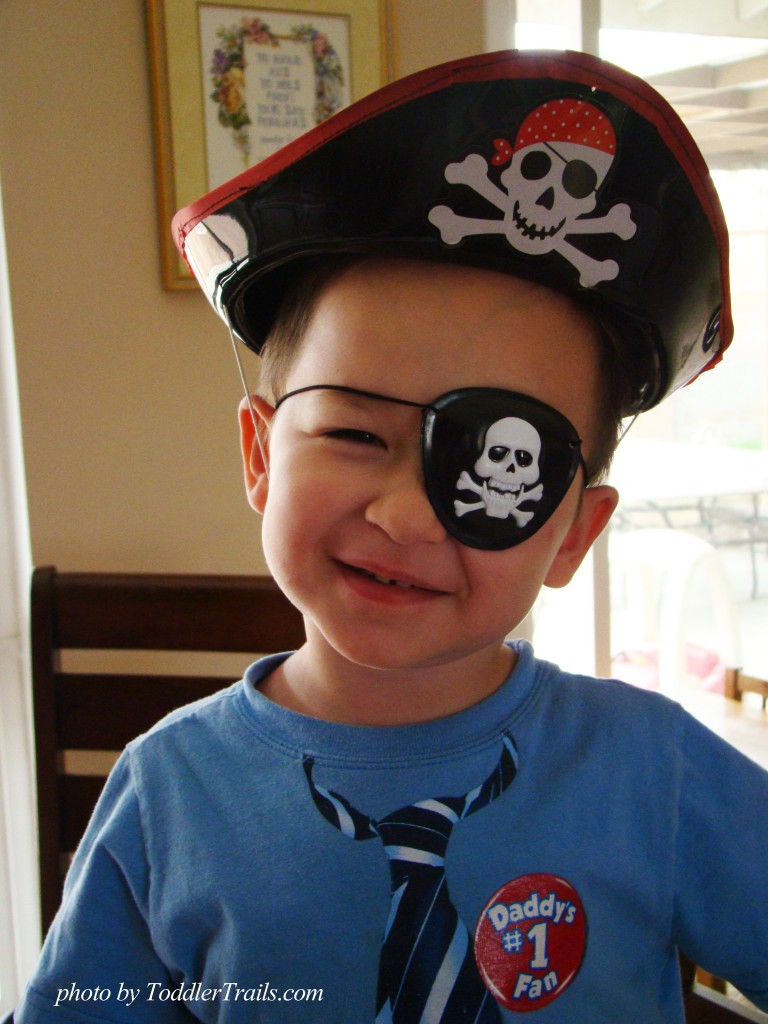 Celebrate reading in September because it is National Literacy Month! Pretend City encourages the love of reading and promotes literacy as a fundamental skill for children's success.
Many children are interested in pirates and pirate stories.  This month, they can focus on the life of a pirate and build the literacy and social skills necessary for literacy development.  It's a month-long pirate adventure, so hang up those swords, and get ready to read!
Children will love getting involved in these two special pirate activities: 
Pirate and Princess Ballet Class
Fridays, September 6-27:  Time: 3:00p.m. – 3:35p.m. Final Recital and Party – Friday, September 27 from 3:00p.m. – 4:00p.m. Specifically for: Preschoolers (4-5 years old) and Kindergartners (5-6 years old). Introduce your children to the world of ballet and pirates as they delight in the magic of pirate and princess life through dance!  Children have the chance to utilize wings, crowns and chiffon scarves as they transform into ballet princesses and ballet swashbucklers will transform into pirates as they walk the plank and express themselves through dance.  RSVP: max 15; please visit Pretend City online under Visit and click Calendar of Events to register Fee: $10 for 4-week session.  Museum admission is not required nor included.
National Talk Like A Pirate Day and Pirate Party!
Thursday, September 19:  Time: 11:00a.m. – 3:30p.m.; Pirate Dance Party is at 11:00a.m. and 2p.m. Visit Pretend City for a swashbuckling adventure to celebrate National Talk Like a Pirate Day!  You and your little buccaneers can participate in pirate speak all day at Pretend City, dance to the rhythm of the beat at the Pirate Dance Party in the Orange Plaza and stomp your boots in the fun pirate parade and don't forget to test your little one's gross motor skills by walking the plank!  Special pirate-themed story times will occur every hour along with facilitated activities throughout the day.  This is a journey you won't want to miss! Lil' Me Morning: Ye Old Snack Map – Even pirates need to eat healthy!  Follow this map for a healthy eating adventure. Engaging Afternoon: Word Wallet – See what pirate tales children will tell as they create their own word wallet to construct surprise sentences. Special Promotion:  Buy one admission ticket and receive one free admission ticket when child dresses up in their best pirate garb.
Additional September Highlights include:
Sunday, September 8: Celebrate Grandparents Day!
Time: 10:30 a.m. – 2:30 p.m. Specifically for: Children of all ages; Grown-ups Come celebrate Grandparents Day at Pretend City and take part in some "grandpa and grandma" story time!  Children can participate in fun, pirate-themed activities as part of their morning start and finish the afternoon with grandma's fun activities . Lil Me Morning: Sensational Story Time – How to Babysit a Grandpa is a hilarious how-to guide.  You won't want to miss this story time filled with tips for your buccaneer family, including how to build a pirate cave! As a bonus, children can create their own "how-to" pages. Engaging Afternoon: Grandma Games—41 Uses for a Grandma explains all the reasons why grandmas are great! Children can participate in some of grandma's fun activities in the follow-up literacy games.
Monday, September 9: Baby Steps through Pretend City!
Time: 2:00-3:30p.m. Specifically for: Infant (0-18 months), Grown-ups. For the comfort of our infant guests, no older siblings please.  Bond with your baby and spark your baby's development in this monthly Baby Steps event that focuses on infant art activities. Join other parents and share your child's developmental milestones as you and your baby visit the Art Studio, Beach, and Grocery Store. Take advantage of the Ages & Stages Questionnaire to check that your little one is developing on track. They're FREE, fast and easy! RSVP: max 60; please visit Pretend City online under Visit and click Calendar of Events to register Fee: $10 per adult, FREE for infants and Pretend City Members  
Friday, September 13: Way to Play Day, Package of Learning!
Time: 10:00a.m. – 3:00p.m.; Way to Play Days occur on the 2nd Friday of every month Specifically for: Infant (0-12 months), Young Toddlers (12-24 months), Toddlers (2-4 years), Preschoolers (4-5 years) Join us as we assist you to find the answers to questions about your child's development at Way to Play Day.  Our play partners (Help Me Grow OC and Irvine/Laguna Beach School Readiness Nurses) are here to assist with the following: Parenting resources: connecting families to developmental, behavioral, learning, parenting, educational and support services ASQ developmental check-ups from 10a.m. to noon: assess speech, motor, cognitive and social areas (first come, first served; limited spaces available) RSVP: Not required Fee: Check-ups and activities are included with museum admission.
Monday, September 30: Family Autism Event
Time: 5:00-7:30 p.m. Specifically for: Families with children of all ages who are on the autism spectrum; Pretend City will be closed to the general public This special event is an opportunity for children and their parents/siblings/caretakers to have some fun in an autism-friendly environment along with other families. Many of our community partners, who specialize in supporting children on the autism spectrum, will be on-hand to enrich your family's play experience with welcoming smiles and practical support. RSVP: max 80 families; please visit Pretend City online under Visit and click Calendar of Events to register Fee: Free
PRETEND CITY
29 Hubble, Irvine, CA
Connect with Pretend City via
WEBSITE, FACEBOOK or TWITTER
About Pretend City Children's Museum:
Pretend City Children's Museum features a small, interconnected city designed to "build better brains" through purposeful play, hands-on learning experiences, role playing, and educational programming.  As a non-profit 501(c)(3) organization serving all children, it depends on community-based funding and guest support.  Through 17 interactive exhibits and activities guided by a highly trained professional staff, children learn foundational math, reading and science skills, while fostering curiosity, creativity, critical thinking, problem solving, organization, teamwork, self-confidence and socialization.  The museum is a unique community resource offering developmental screenings and tools for families, educators and community agencies working to ensure that each child gains the experiences needed to discover their potential and build toward a productive and fulfilling future.  Pretend City Children's Museum is located at 29 Hubble, Irvine, CA 92618. For more information, please visit
www.pretendcity.org
.