Have you ever tried indoor rock climbing?  Sender One and Funtopia is bringing the art of rock climbing to a whole new level of family fun!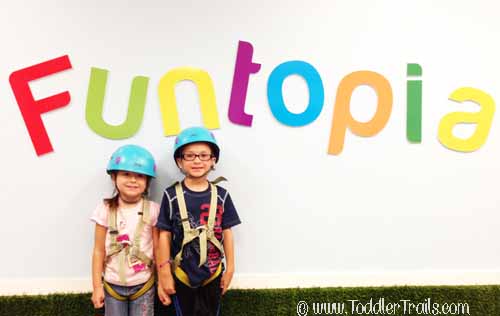 Last week we had the opportunity to tour and experience Funtopia in Santa Ana.
1441 S. Village Way Santa Ana, CA 92705 (714) 881-3456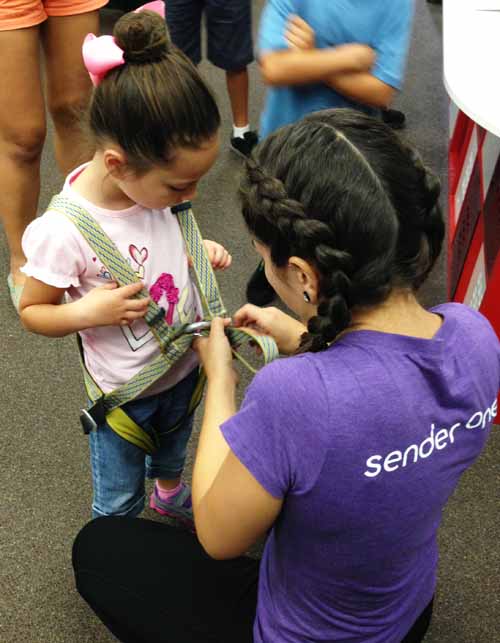 The kids started off a little scared and intimidated walking in, not sure what to expect.  First stop is check in.  This is where the friendly staff helps you get into your harness, helmets and an instructional video.  My princess being on the shy and scared side, as she didn't know what to expect, didn't really want to get into the harness.  Tip: Moms, you need to strap up first!  Once she saw me getting into the harness, she was more willing to try it out, besides, they don't want to miss out on all the fun.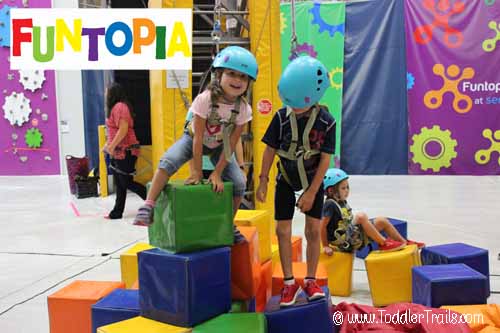 To start off, the blocks are a kid favorite!  This is where the kids will get the "feel" of the harness, light weightedness and more.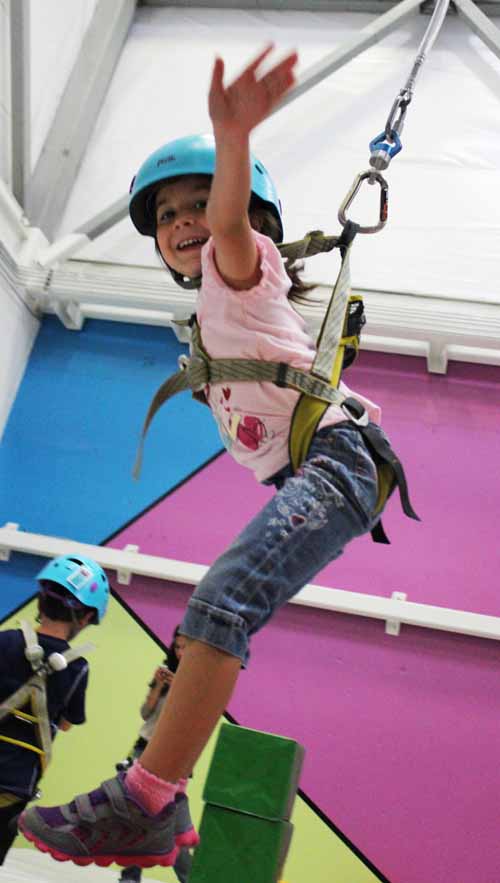 The walls are bright and colorful, but a little scary for those who are timid – starting off at the blocks was a quick warm up – they didn't want to stop!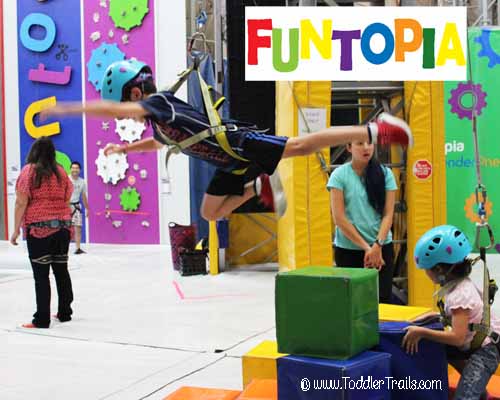 As you can see, my little "superman" loved soaring through the air! Once they get the hang of this, they're ready to try out the walls.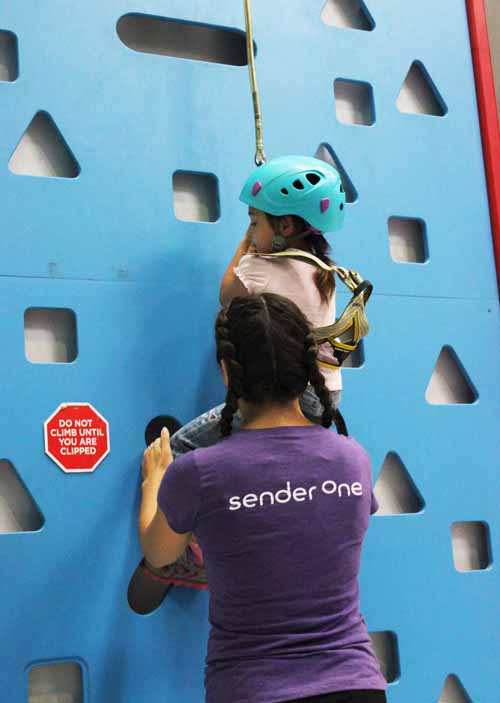 One thing to note is the RED sign.  All through Funtopia, the staff and signs will remind you that there is no climbing until you are clipped – this is for your own safety.  Parents are taught how to clip the kids harnesses in case a staff member is helping another.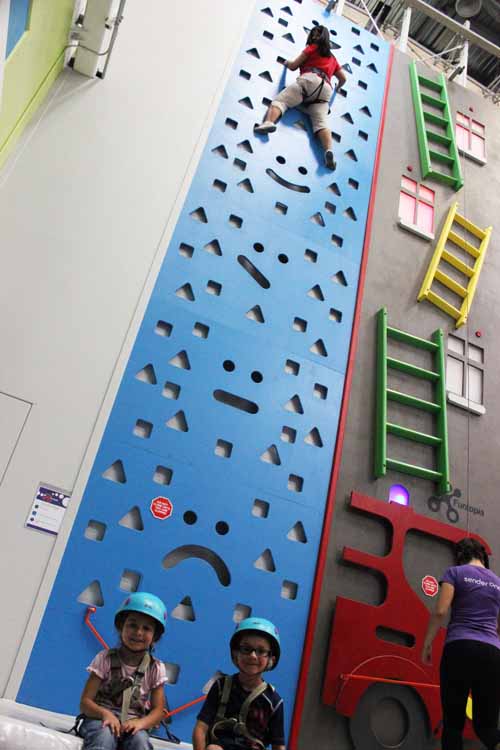 Parents, you can do this too!  That is me, on my way to the top of the smile wall. By watching me climb to the top, the kids were encouraged to try harder and go farther. At one point, my princess asked to climb along side of me – which is very easy to do with all the different courses you can take.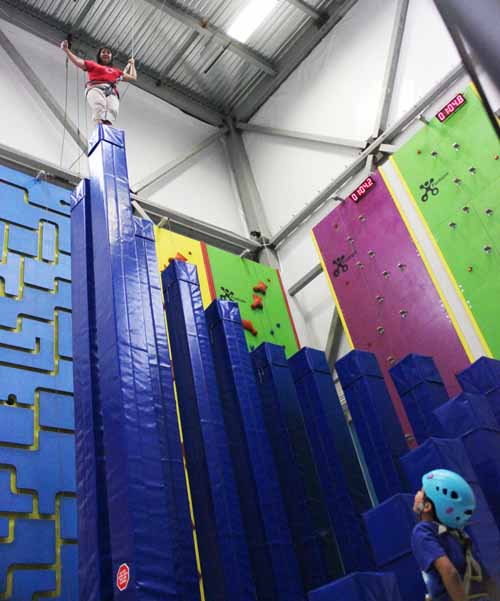 This was a fun – yet frightening climb! Clipped and harnessed you climb the stairway of blocks (that move by the way) until you reach the top – then you JUMP! Scary, but super fun.  And as you can see behind this structure, there are several other climbing options.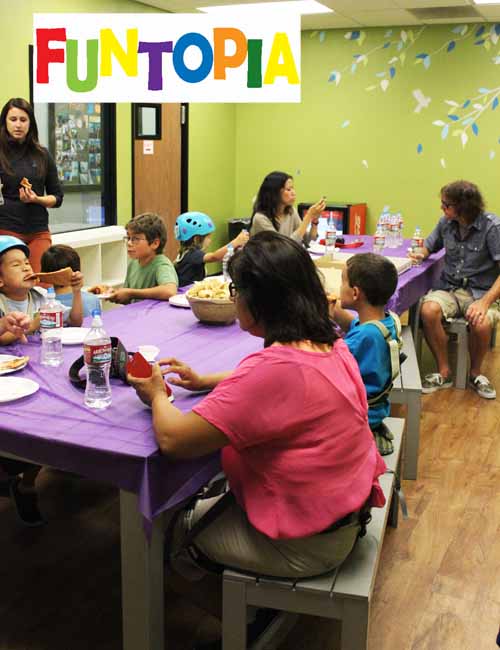 Funtopia is the perfect place to party! Have a birthday or special occasion to celebrate?  Funtopia is a great place for interactive climbing challenges and activities.
As of July 2014, here is a look at their pricing:
General Admission:
$17 a person for unlimited use for the day Special Add-ons: Drop Slide $3, Jump Catch $3, Slide & Jump Combo $5, Extra Jump or Slide $1
Parties & Groups:
Friday – Sunday & Holidays
Packages start at $27 per person which includes admission, Slide, Jump and private party room. You'll get an hour in Funtopia and an hour in the Party Room. (12 person or minimum of $324)
Weekday (Mon-Thurs)
Packages start at $25 per person which includes admission, Slide, Jump and private party room. You'll get an hour in Funtopia and an hour in the Party Room. (8 person or minimum of $200)
Summer Camp:
Sender One & Funtopia offer a summer camp (Monday – Friday) for kids ages 6-14.  Full Day (9am – 4pm) $420 a week Half Day (9am – 12:30pm) $265 a week
Act now to register for SUMMER CAMP! The first 20 people to register for camp with code: 

20OFF_SUMMER_CAMP

gets on bookeo gets

20% off

!
Or you are a climbing fanatic, you'll LOVE Sender One!  They offer unlimited memberships and day options for all.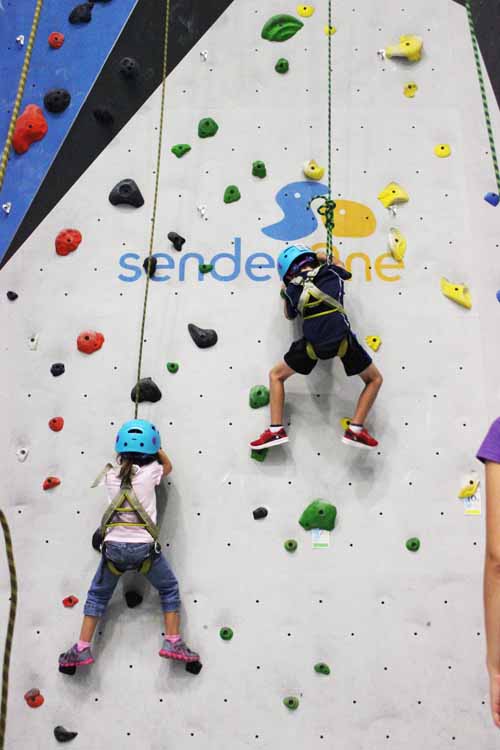 You may be asking yourself what the difference is between Funtopia and Sender One – well, Funtopia is just that – all fun and themed rock climbing for kids and families.  Sender One is for beginning rock climbing through advanced with walls full of hand and food holds. Follow the specific colored courses – holds – and it will guide you to the top.
To find out more about Sender One and Funtopia connect with them via social media: Website, Facebook, Twitter or Instagram.
Disclaimer: We were invited to Funtopia to check it out with the family and share our honest opinions.  No other form of compensation was received.