When it comes to planning a vacation, you want the best for your family. We have made it a point to plan family vacations each year, giving us the opportunity to relax and enjoy time together without the stressors of our typical day to day life. Last week I had the opportunity to attend the grand re-opening of the Carnival Cruise Line's Long Beach Cruise Terminal and hear some of the amazing expansion plans scheduled though 2019.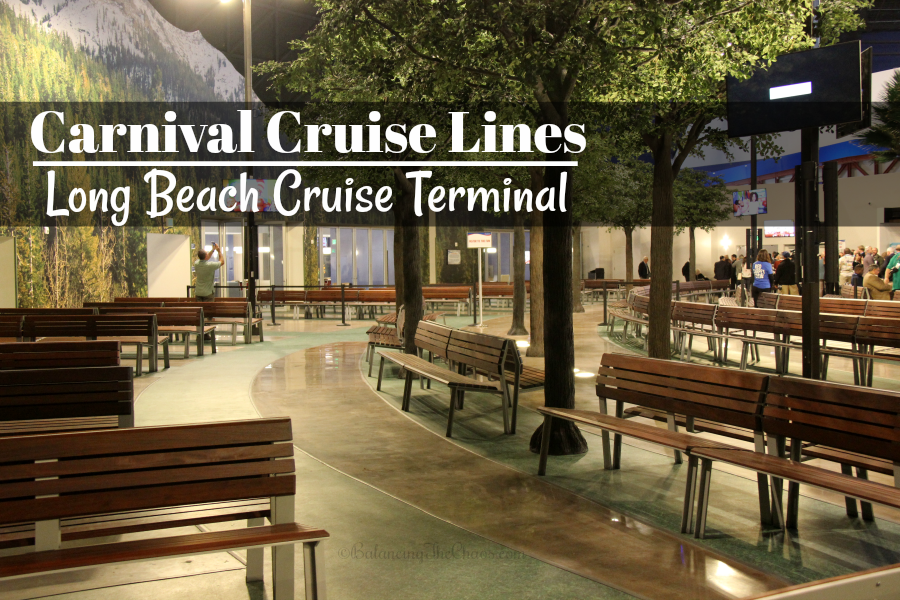 My kids tease me that I'm a stress case when I travel. That may be true, because we're not regulars at vacationing by ship or plane, so having to wait in long lines to check in, and handle luggage does make me nervous while trying to keep the kids entertained. At the new Carnival Cruise Terminal in Long Beach, the stress has been eliminated. Housed in the giant dome that was previously the home of Howard Hughes' Spruce Goose plane, Carnival Cruise Lines now uses 100% of the dome for operations. Passengers see the greatest benefit as it dramatically enhances check-in and wait times in a beautiful relaxing setting.
When you walk into the Cruise Terminal, you're immediately escorted to security check point stations. With a quick check of identification and papers and stand up desks, you're quickly ushered to the next stop of security check – metal detectors and scanners. There are about 5 of them, so the lines move rather quickly.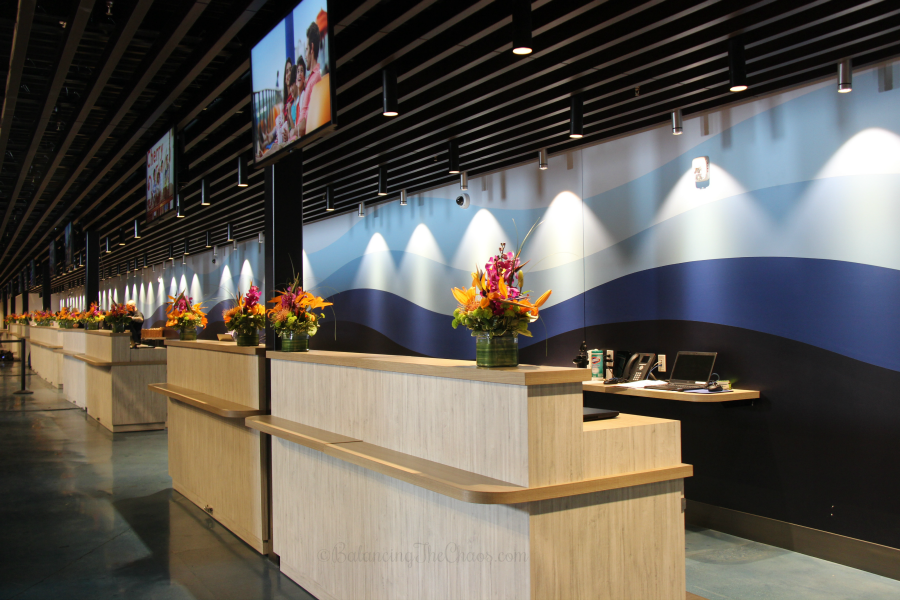 Once you're through security check, you will be directed to the check in desks. There are approximately 10 – 13 check in counters to expedite the process, which enhances passenger experience and operational flow.
While you're waiting in line, you'll notice California's iconic natural elements including a backdrop of the Sierra Nevada mountain range and a large waiting area that has a park ambiance. Numerous benches and trees line a large walk way for a relaxing wait. Flat screen monitors offer future destinations and family vacation ideas. If the kids are bored, there are a few arcade games off to one side that may possibly keep them entertained for a bit as well.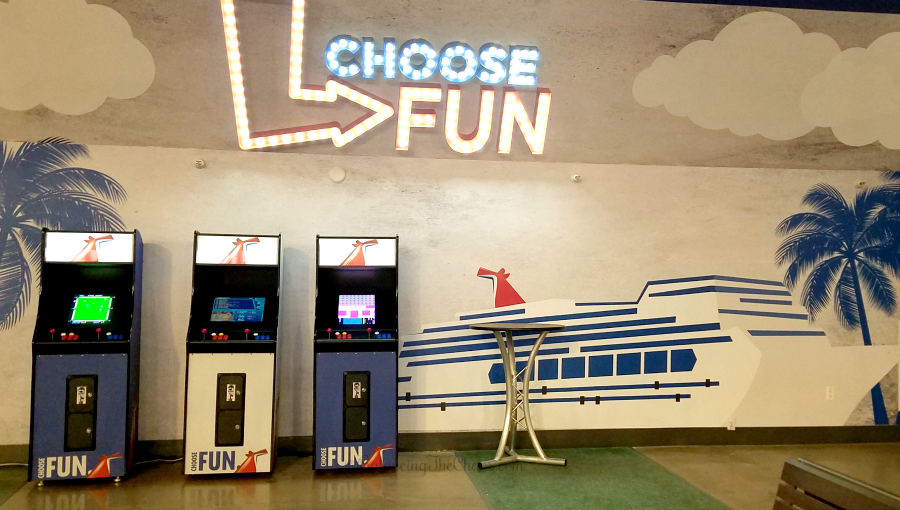 Once you're ready to board, there is an indoor ramp that will take you up to the second floor where you will enter the walkway to board the ship. Need assistance, there is also an elevator. However, with the new design, the crew at Carnival has made loading the ship quite easy.
Carnival Splendor Now Sailing out of Long Beach:
The Grand Re-Opening of the Long Beach Cruise Terminal coincided with the arrival of Carnival Splendor to Long Beach. Vacationers will enjoy either seven day excursions to Mexico or even longer voyages to Alaska and Hawaii, representing a 40% capacity increase on this route. The 113,000 ton Carnival Splendor is the largest ship based year-round in Southern California and offers a variety of on-board amenities including a Cloud 9 Spa, Steakhouse, a sliding magrodome covering the main pool areas and nearly 600 balcony staterooms.
Carnival Splendor will join Carnival Imagination and Carnival Inspiration in Southern California. Together, these three ships carry approximately 600,000 guests annually from Southern California to more than 250, 3-14 day adventures to numerous destinations.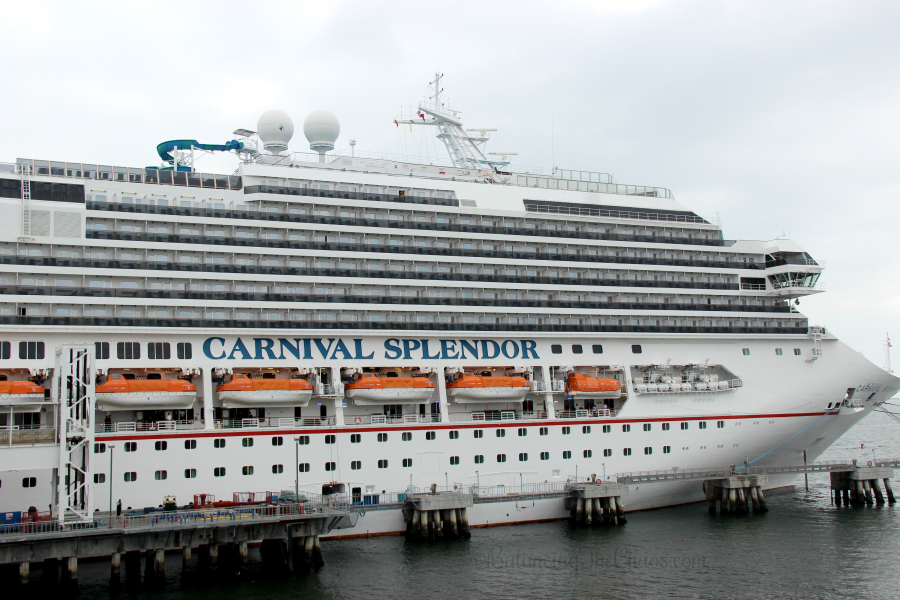 New Ship Coming to The West Coast: Carnival Panorama
Carnival President, Christine Duffy proudly announced that a new, state of the art cruise ship will join the Carnival fleet in 2019. The Carnival Panorama, a Vista-class ship will host 3,960 passengers on seven day Mexican Riviera cruises out of Long Beach. This fantastic new ship will include venues offering both indoor and outdoor al fresco experiences including the Fahrenheit 555 steakhouse, Library Bar, and Bonsai Sushi.
Thrill seeker guests will enjoy open air attractions like the groundbreaking bike-ride-in-the-sky attraction SkyRide, a massive WaterWorks aqua park, and the SportSquare recreation area. Families will love the Family Harbor that features extra roomy accommodations along with the Family Harbor Lounge. We're looking forward to hearing about more exciting features of the new ship as they are announced.
Want to make plans to vacation on the Carnival Panorama? Reservations are expected to open in late March 2018.
Exciting Port Development Project in Ensenada
Christine Duffy also announced the major port development project in Ensenada, Mexico. The expansion will include a one-of-a-kind dining and retail experience as you step ashore, along with unique attractions for guests, which will entice vacationers on long and short cruises. This, combined with the Carnival Panorama will make Ensenada one of the West Coast's premier destinations.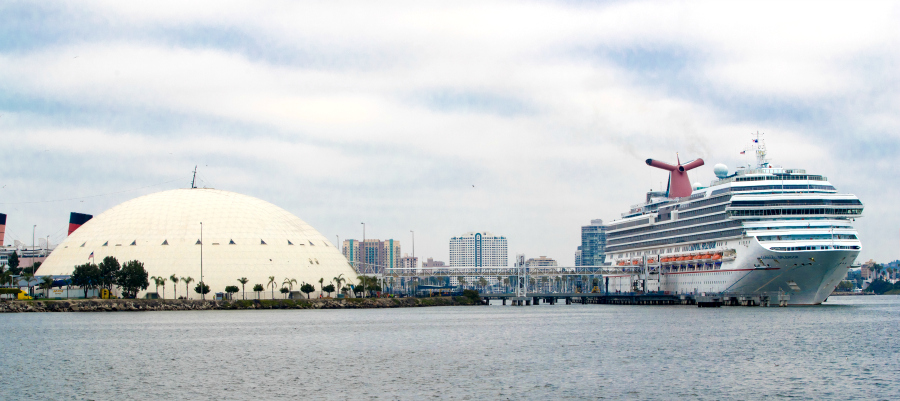 Plan your next family vacation now. Reservations can be made at Carnival.com