"Save Time And Money with The LG Twin Washing System" is a sponsored post. The reviewer has been compensated in the form of a Best Buy Gift Card.
With a family of four, and all of the activities we're involved in, I am constantly running our washer and dryer. Unfortunately, this means we've recently had to replace our washer because of over use. Therefore, the hubster and I headed out to our  "go to" retailer for electronics and major appliances: Best Buy where we were intrigued by the latest LG Twin Wash system.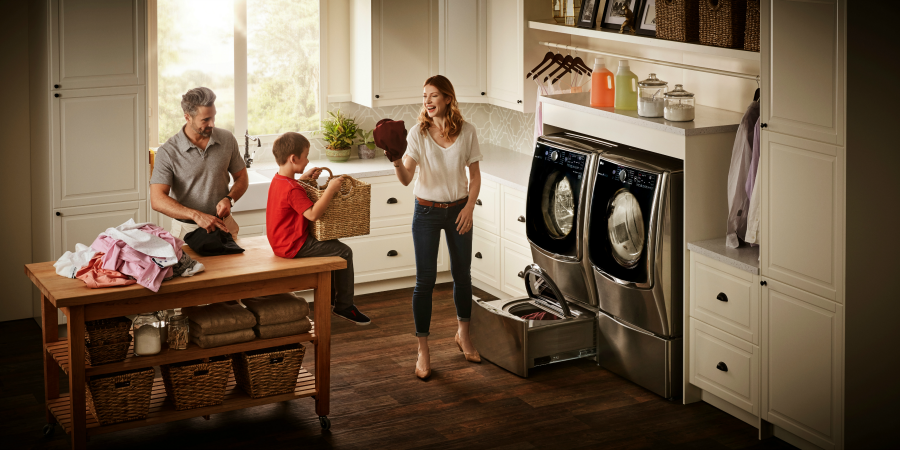 With LG's Twin Wash system, you get the best of both worlds. How many times do you have small load of high priority clothing that just can't wait? With the amount of dance clothes, uniforms and my latest Lula Roe obsession, I'm constantly washing mini loads. The LG Twin Wash system gives you the option of purchasing a Side Kick pedestal washer specifically designed for these small loads with a 1.0 cu ft. capacity, along with a standard sized front load washing machine.
Save time! The LG front load washer combined with the LG Side Kick allows you to tackle two loads of laundry at once. This is perfect for when I'm running my delicate Lula Roe garments in the Side Kick pedestal and all of the daily laundry in the other. I'd consider this top notch multi-tasking. These mega capacity washers will even save you money because they are energy efficient while giving you the best cleaning performance. No wonder more households have chosen LG laundry over any other brand!
Save even more! From now through April 25, 2018 receive up to $500 off a LG laundry solution for your home. Visit your local Best Buy or BestBuy.com for more details.