We started off our summer road trip at Kampground of America's flagship store, Ventura Ranch. We had stayed here last year on our 2014 summer road trip, however we were not able to experience several of their signature attractions due renovations. Now that the upgrades are complete, the Ventura Ranch KOA is a fun campground with lots of family fun.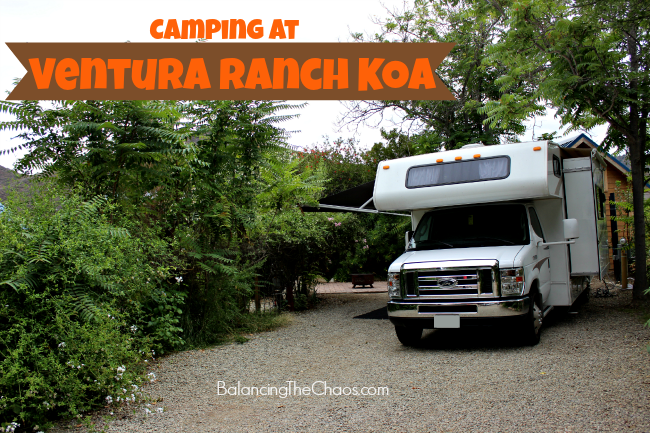 The KOA at Ventura Ranch has a variety of different camping options to choose from. Since we have an RV, we selected an RV site for two nights that included full hookups, a fire pit and a small table with chairs. Other options include glamour cabins, glamour tents, tipis and more.
As we typically do, we headed out exploring. The kids took off on their bikes while hubster and I walked behind and went down to the activities area where there is a pool, outdoor inflatable pillow, rock climbing wall, go carts and more.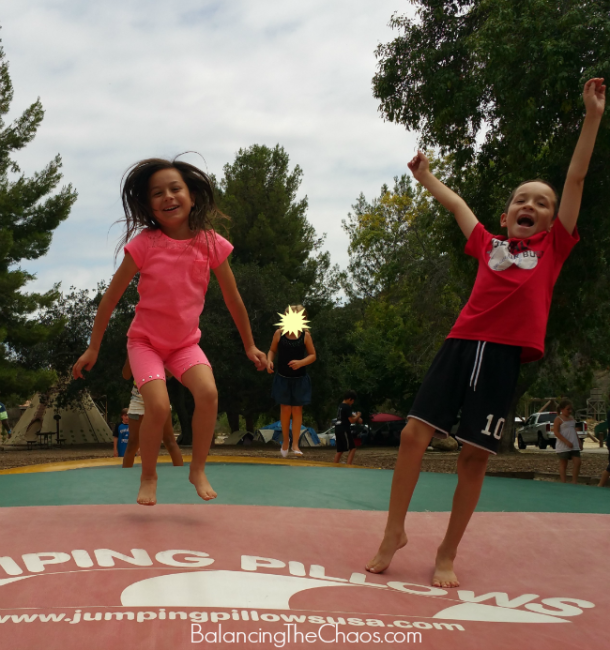 The kids immediately ran to the giant inflatable pillow. With our without a pair of socks, this outdoor inflatable is similar to a bounce house without the sides. When the hubster and I decided to jump with the kids, we noticed it didn't quite let us jump unless we did it consecutively – may have been our weight. We took turns and ended up launching each other – kinda funny. Of course my princess used it as her stage and began dancing for us, also teaching me a few of her favorite ballerina moves.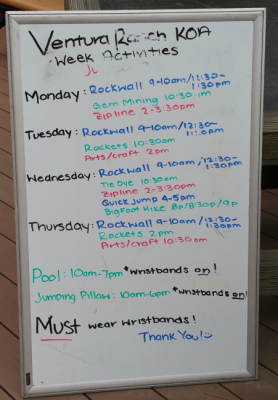 Each day the activities team lists the events and times different attractions open up, a great way to plan your day while staying at the Ventura Ranch KOA.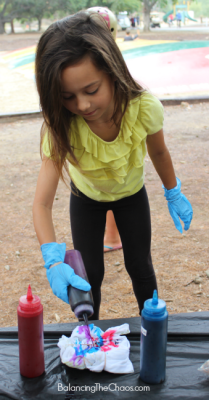 After we filled up on breakfast, we headed my little artsy craft girl wanted to tie dye her own shirt. For $10 you can purchase a Ventura Ranch KOA t-shirt and decorate it with the colors and style you want. My princess opted for a spiral design with blue, purple and pink.
The handsome boy was eager to race the pedal bikes. A mini track was set up for kids of all ages to take on competitors.  The bikes go as fast as your legs can pedal.
A rock climbing wall available for those who are interested too.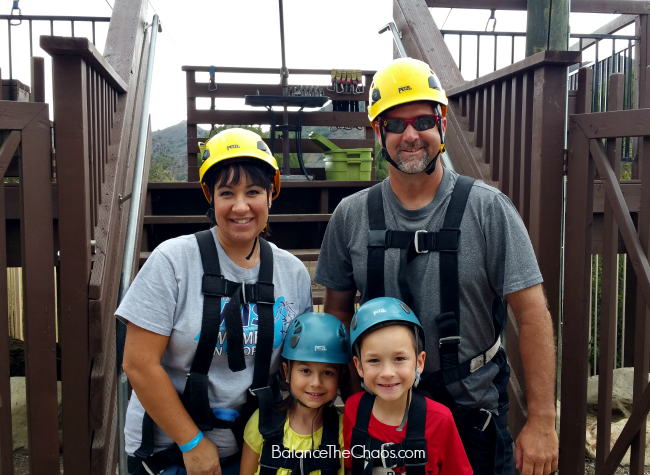 My favorite activity offered by Ventura Ranch KOA was the zip line. For $15, guests could zip line through the first part of the course. For an additional $10, adults could speed through the second part which is much higher with a steeper climb. I was so proud of the kiddos – the princess a little more of a daredevil was ready to take on the challenge. My handsome boy was a little skeptical, but ended up joining us in the end and really liked it.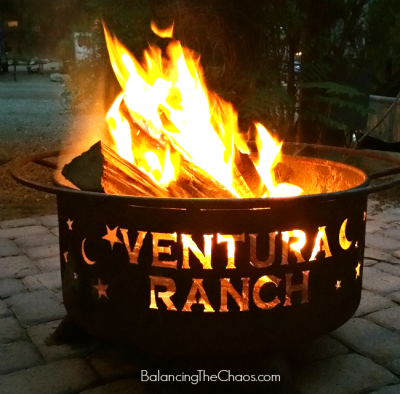 The newly renovated pool is definitely a crowd pleaser. Lots of seating all around, the pool reaches depths of 3.5ft to 6ft. It was a little overcast and drizzly during our visit so we didn't get a chance to splash around, but will on our next visit.
There are also hiking trails, giant checkers, a small play structure and swing sets for families to enjoy.  When I polled the family on their favorite activities, besides the pedal bikes, zip line and tie die, they enjoyed playing catch and hanging out by the fire – I guess we've turned into a true camping family.