Product Review Disclaimer: We received product in order to review and share our opinions of the product with readers.  The fact that the items in this review were free, in no way altered my opinion about the product or the company.
If you have been following my Instagram feed, you may have seen that I've been on mini vacations the last couple of weeks.  First, I went on a weekend getaway with some girlfriends.  Mom's weekend away consisted of my bestie and me, along with several of her closest friends/neighbors heading out to Palm Desert for a relaxing time.  Next, it was a quick family trip to Las Vegas for a little fun and family time.  I'll share more about these mini vacations later, but first what do these two trips have in common?  Beautiful HOT sunny days of 103 degrees!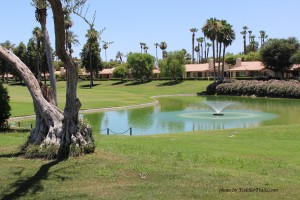 Naturally, if the weather is in the triple digits, wouldn't you spend your time in a pool?  Well, that is what I did, so I needed a great sunblock. 
Badger has a line of sunblock that is great for families.  Here are some of the benefits:
SPF 30
Hypoallergenic
Bio-degradable
Non Greasy
100% certified natural
87% certified organic
Comes in a regular and a water resistant
Contains zinc oxide
Great scent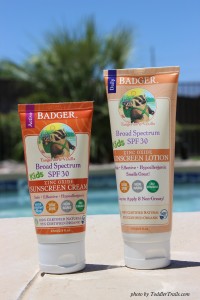 Now I like a product that goes on pretty easy and is effective.  The Badger sunscreen is thicker that most sunscreen I typically use on my family. When initially applied, it is a thick white lotion because of the zinc oxide, and takes some time to rub into the skin.  I however, found this a benefit, because when putting it on the kids, I was able to make sure all exposed areas were covered with sunblock, then I continued to rub it in.  However, when I rubbed it on my skin, I didn't rub it in enough, so when I jumped into the pool, I noticed my skin was streaky.  The problem is that once you are wet, it becomes difficult to rub in the sunscreen.
After swimming for about 3-4 hours, we got out of the pool, and I noticed that the kids' skin looked great.  The sunblock worked as expected, protecting their skin from the sun's harmful rays.  (When looking at the directions, it says to be sure to apply the sunscreen a minimum of 15 minutes before getting into the sun – which is key!)  As for me, I felt like I had a slight burn, but that was probably for a couple of reasons:
When I was in Palm Desert, I only applied the sunblock once.  The directions state that you should re-apply every 2 hours.  I so didn't do that, actually 1  application for 6 hours, yes I did get slightly burned
Then the following weekend I used the sunblock, but didn't rub it in thoroughly.  Basically, I just added to the prior week's exposure.
So, if you were to ask me, do I like the Badger sunscreen?  Yes, I really do.  I loved the "Tangerine & Vanilla" scent and loved that I felt I had a protective layer on my skin.  I just recommend you follow the directions, like I did when I used it on my kids.  Hmmm, what a concept!