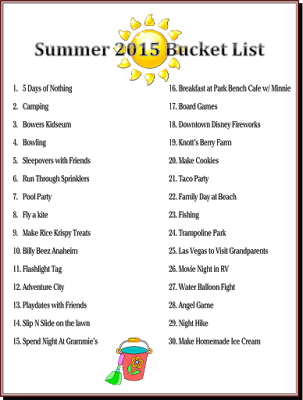 We're late! Summer is here, the kids are out of school, and we haven't yet planned out what we're going to do!!! Ahhh!! Yes, I'm one of those moms who plans down to the last minute if I can, summer is no exception.
Each year we sit down as a family and figure out what we'd like to do for the summer. This year, if you can believe it, the dental assistant told me about some ideas my darling daughter had shared with her. I guess that means it was time to get our Summer Bucket List 2015 in order.
Its been such a crazy year that we don't even have our summer trip planned. A lot of what we put on the bucket list has something to do with where ever we have already set our sites on. (Makes planning that much easier). However, we do know a camping trip is the big trip for July – so that's on the list. This is what the family has come up with – everyone having some sort of input.
5 Days of Nothing (Totally my darling husband's contribution)
Camping
Bowers Kidseum
Bowling
Sleepovers with Friends
Run Through Sprinklers
Pool Party
Fly a kite
Make Rice Krispy Treats
Billy Beez Anaheim
Flashlight Tag
Adventure City
Playdates with Friends
Slip N Slide on the Lawn
Spend Night At Grammie's
Breakfast at Park Bench Cafe w/ Minnie
Board Games
Downtown Disney Fireworks
Knott's Berry Farm
Make Cookies
Taco Party
Family Day at Beach
Fishing
Trampoline Park
Las Vegas
Movie Night in RV
Water Balloon Fight
Angel Game
Night Hike
Make Homemade Ice Cream
Now I have to be completely honest, this is just a list of the things we'd like to accomplish during the summer. My husband is not a fan of the Summer Bucket List because he feels like we HAVE to get all of these things done. That is a NO! However, it is quite fun when the kids get up in the morning, race to the cabinet to pick something to do. Their favorite part is to cross off the items as we complete them.
So, do you plan a Summer Bucket List? Or make a list of things you'd like to do during the summer? If so, please share some of the items you add – we're always looking for fresh new ideas!