The next leg of our journey took is to Yellowstone National Park. I was particularly excited about this leg of the trip because I was eager to see Old Faithful.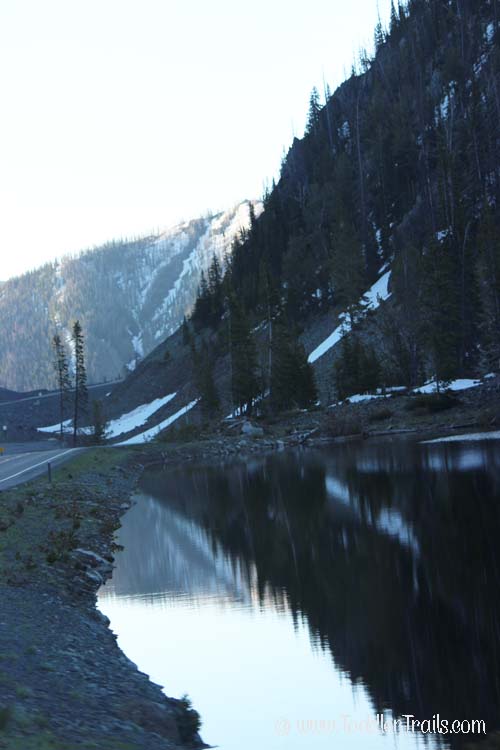 It was a little overcast while we driving through Yellowstone, but to me, it added to the picturesque landscape.
It was a little odd seeing cars stopped alongside the roads, until I realized what they were out doing. We spotted bison and deer grazing in the grassy areas along side of the road. I was quite amazed how close some of these crazy people were getting to these wild animals, they just didn't seem to be a safe distance away.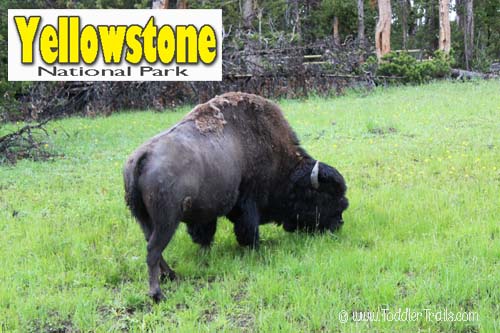 Once we got past the road block, and I decided to put down my camera for a minute, we came upon what looked like steam rising into the air against parts of the blue sky.  I guess I never really thought about hot springs and geysers located throughout Yellowstone National Park, until we stumbled upon them.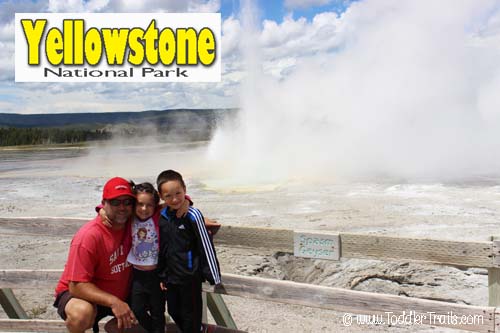 A must stop, as evidence of the number of vehicles turning off, and the massive amounts of people walking the wooden bridges around the geyser and hot spring areas, first think that is noticeable is the smell of sulfur, as my kids were quick to point out the stinky smell of eggs.  Naturally the kids were fascinated with the water shooting up into the air, stopping by one of the geysers that was bubbling up not to far from us.
Quickly jumping back into the RV, we headed off to Old Faithful.  Through the years, we've heard so many things about the beauty of the geyser, I couldn't wait to experience it for myself.
So we arrive at the visitor center.  First task at hand – to find parking.  I guess I had just assumed parking would be easy – however the place was packed! Naturally, this is quite a tourist area. There were several gift shops, a couple of eating options and the Visitor Center which had a little museum with all kinds of facts regarding Old Faithful and the science behind the eruptions.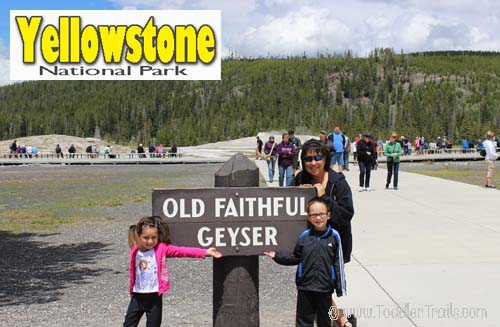 When we arrived, we had just missed the eruption.  It was predicted to erupt again within approximately an hour, plus or minus 10 minutes.  Apparently, Old Faithful is one of 5 geysers located in Yellowstone National Park that Rangers can predict the eruptions. So, while we waited, we decided to explore and take a few pictures.  Did you know, you can make reservations to eat pretty close to the location of Old Faithful? Just be sure to make reservations in advance.
The funny thing about our trip to see Old Faithful was that it was really cloudy.  I had noticed that there was a HUGE BLACK CLOUD that seemed to be heading right towards us as we sat out on benches, awaiting the eruption.  I had joked with my husband that that cloud was going to rain upon us right when Old Faithful was going to blow.  The bad news – my prediction was right, and we were not dressed appropriately for a summer shower. Luckily I had sweatshirts and the kids in pants, but that was it – hubby and I were in shorts.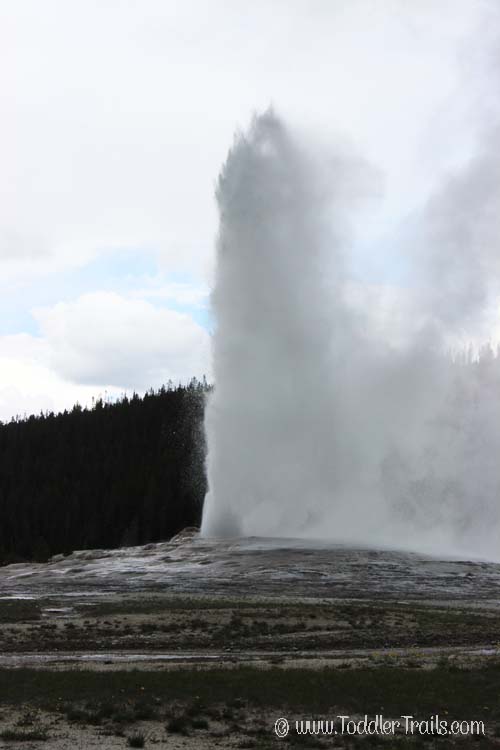 And so Old Faithful and the cloud proceeded to drench the crowd.  We grabbed a few pictures, like everyone else, then headed for cover because it quickly began to pour.  My brave hubby decided to run after the RV while we ducked into one of the gift shops on the search for our placemats and stickers.
On our way to our campsite – the Fishing Bridge RV Park, we stopped at the Fishing Bride Visitor Center and snapped this beauty of a family photo: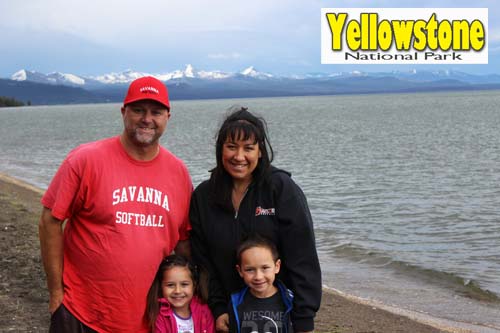 Then pretty much stayed in the RV for the evening.  The Fishing Bridge RV Park was a small little campground with sites pretty close together.  The hubster went exploring for a little bit, but I had the kids stay inside since I was worried about eaten alive by mosquitoes.
In the morning, we got up early and headed out at around 6am.  Since this was the longest driving leg of the trip, we figured we'd get an early start.  While the kids were still asleep (benefit of rv traveling), we quickly unplugged and were on the road.  Such an amazement at that time of the morning to see so much wildlife along side the road. Deer, bison and a beautiful bear cub were all grazing and looking for food along the route we took – which we discovered about an hour later, was going out the east gate of Yellowstone, rather than North through the Grand Canyon of Yellowstone.  Unfortunately this wrong turn made our trip about 2 and a half hours longer than expected.
Tip: Make sure you follow your maps and double check where your going.  Oh, and at those elevations, iphone GPS will not be of any assistance since you won't have network service.