For Father's Day, I had planned a camping trip as a gift for my hubby. One of our favorite camping locations is in the San Diego area – Santee Lakes. While on the way, we were craving some delicious Mediterranean faire, and stopped in Mission Viejo at Panini Kabob Grill, for healthier made from scratch, Mediterranean dishes.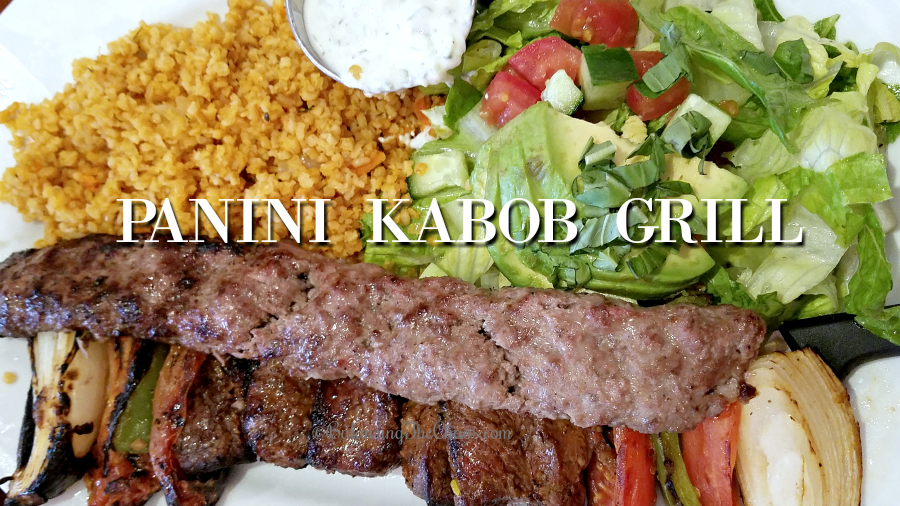 Panini Kabob Grill uses the finest quality ingredients including organic eggs, hormone and antibiotic-free proteins, nothing processed or containing MSG. They also import olive oil and cheeses from Europe and receive their fresh breads daily from La Brea Bakery.
We started with the Appetizer Combo Platter  that is the perfect starter for a family of four. The platter features homemade hummus trio, falafel, delicious caprese and Tzatziki, which is grated cucumbers, yogurt, fresh dill, parsley, mint, fresh chopped garlic & oil. It is a great way to get a little sample all of their appetizers.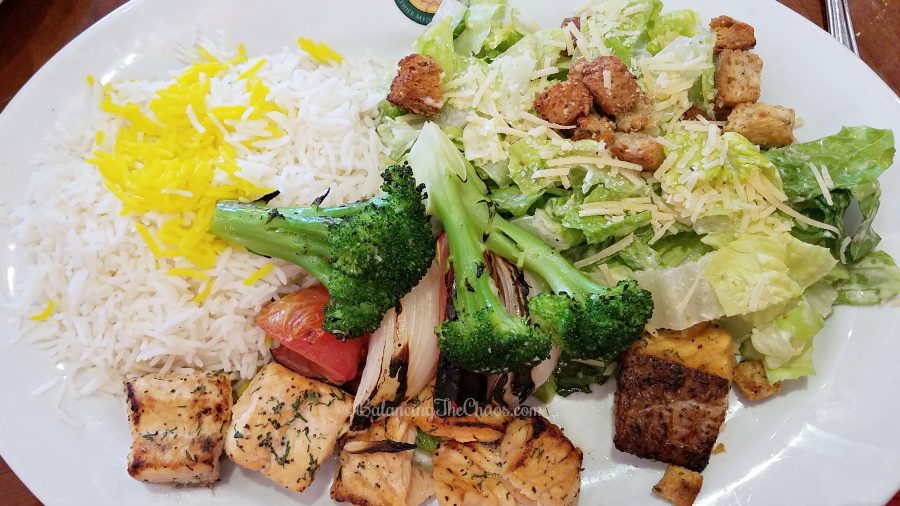 The hubster and I decided to share our meals. I selected the Fresh Salmon Kabob with Charbroiled Fresh Salmon that included grilled vegetables and a choice of  Served Basmati rice, brown rice or bulgur wheat pilaf, which I chose the Basmati rice. The dish also comes with a choice of salads: Caesar, Greek Mediterranean, or Avocado Romaine Salad, and I selected the Caesar.
The salmon pieces were larger than I had expected and was deliciously grilled with a lite sprinkling of herbs for flavor and the vegetables had the perfect amount of crunch – I don't like them too mushy.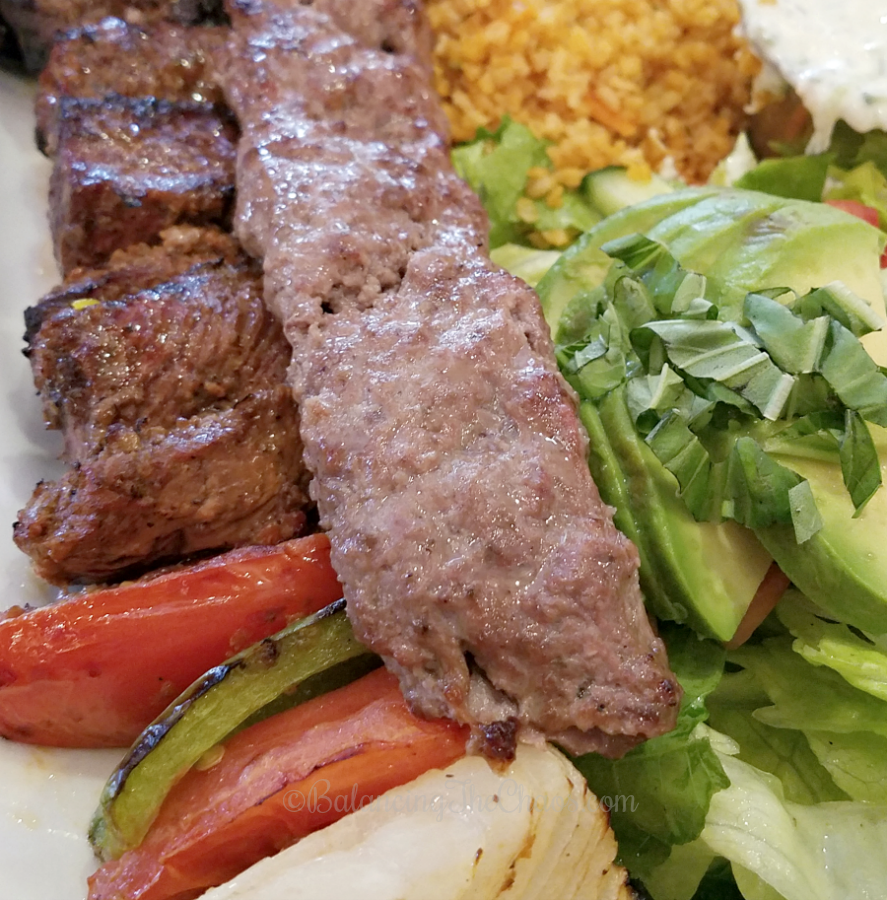 My husband selected the special of the day, which was the He had a hard time choosing between the steak kabob and the Koobideh kabob, where the special gave him the opportunity to sample both. One was a flat ironed steak, grilled to perfection – his was a medium well; and the Koobideh is a season ground sirloin that is charbroiled. The special also came with the choice of rice and salad, of which he selected the bulgur pilaf and the avocado salad. Different, but equally delicious, I enjoyed both types of meet. Actually, the Koobideh reminded us of a Salisbury steak.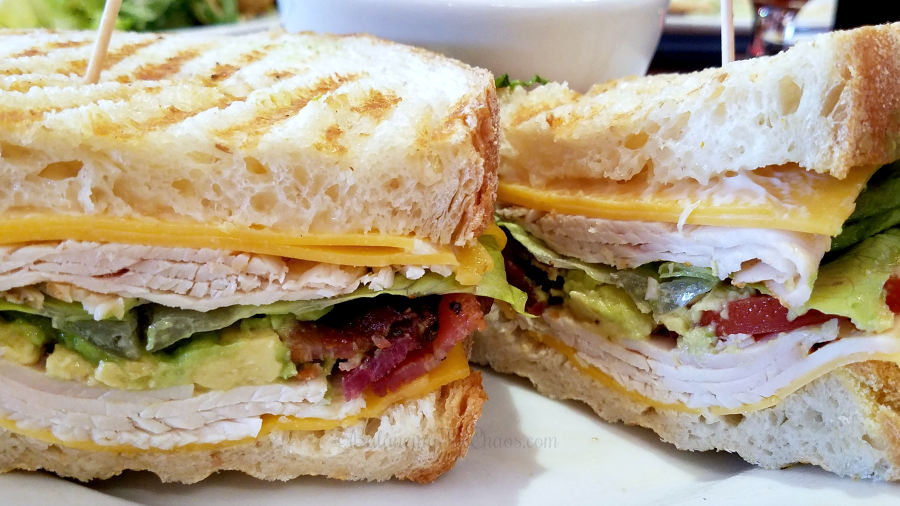 My daughter selected the Turkey Club with lots of mouth watering Michigan all-natural turkey, pepper bacon, a generous portion of avocado, tomatoes, lettuce and lite mayonnaise all piled on a lightly toasted sour dough bread.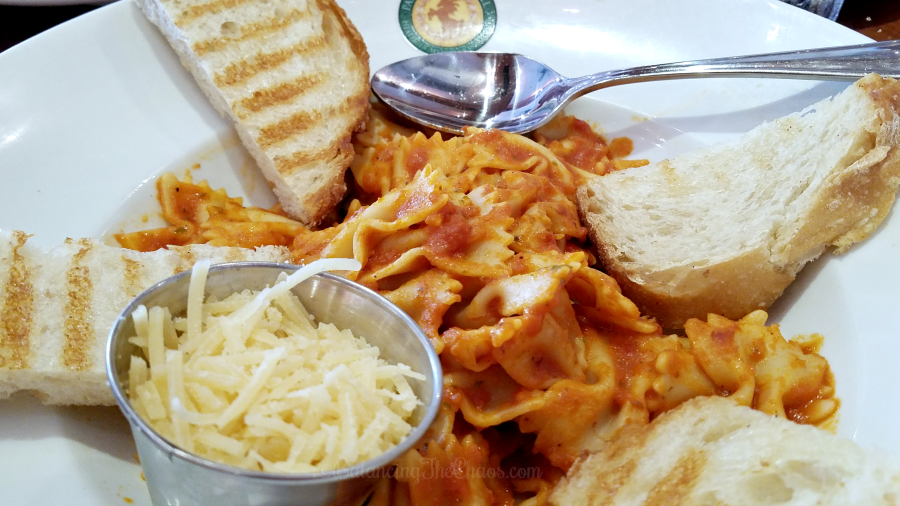 There are four options when it comes to the kids dinner selections:
7″ Pizza
Grilled Cheese Sandwich
Bow tie pasta with marinara
Bow tie pasta with butter
My son decided to stick with the kids menu and ordered the bow tie pasta with marinara, that included bread and freshly grated parmesan cheese, which he loved.
Panini Kabob Grill also offers a breakfast menu, that we can't wait to get back and try! Scrambled eggs, French toast, steak and eggs and so much more we are looking forward to our return visit.
Panini Kabob Grill is located at the Kaleidoscope center right off the 5 freeway and Crown Valley Parkway in Mission Viejo, and is on the outer right side of the facility with parking right outside their doors. Patio and indoor seating are offered as well. Now is your chance to visit Panini Kabob Grill on us.
GIVEAWAY
Win a $50 gift card to Panini Kabob Grill
Giveaway ends August 3, 2018 at 11:59 PM PST. Open to US Residents 18 and older only. Tickets will be mailed directly to the winner's home (or mailing) address. Winner will be selected at random and be notified by email. Winners have 48 hours to respond before a new winner is selected. Not liable for unclaimed prizes or fulfillment. Blog has represented each sponsor with the expectation they will fulfill their prize and in a timely manner. No purchase necessary to enter or win; however you must enter for a chance to win. Purchase does not increase chance of winning. Chances of winning depend on number of entries. My opinions are my own and were not influenced by any form of compensation. Facebook, Twitter or any other social media platform are in no way associated with this giveaway. By providing your information in this form, you are providing your information to this blog. I do not share or sell information and will use any information only for the purpose of contacting the winner. Winners can only win once per month. Not liable for unclaimed prizes or fulfillment.