"Wienerschnitzel Offers A Great Game Day Deal" is a sponsored post on behalf of Wienerschnitzel. As always, all opinions expressed in this post are mine.
Hey football fans, are you ready for the big game this weekend? Which team will you be cheering on, the Eagles or the Patriots?  While I enjoy the excitement of the game; the get together, commercials and more importantly, the FOOD, are my favorite aspects of game day. This year, Wienerschnitzel is taking the guess work out of what to serve or bring to the party with a winning offer available ONLY ON Sunday, February 4th: 25 MINI CORN DOGS for just $5!!!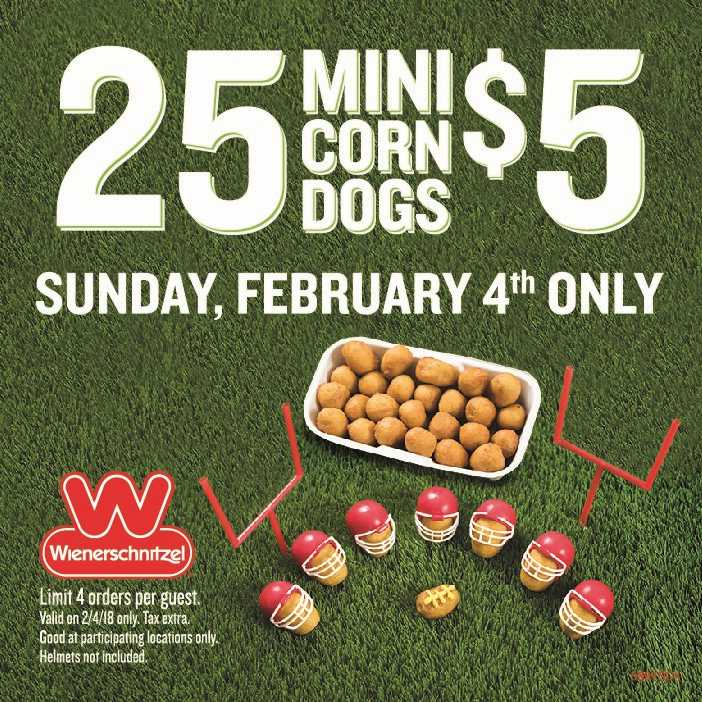 That's right! 25 MINI CORN DOGS for just $5!!! With locations all over Southern California, it's the perfect appetizer or main dish for any "Game Day" shindig. This offer is valid all day, February 4th. That means, you can pick some up before, during the game and after the final touch down.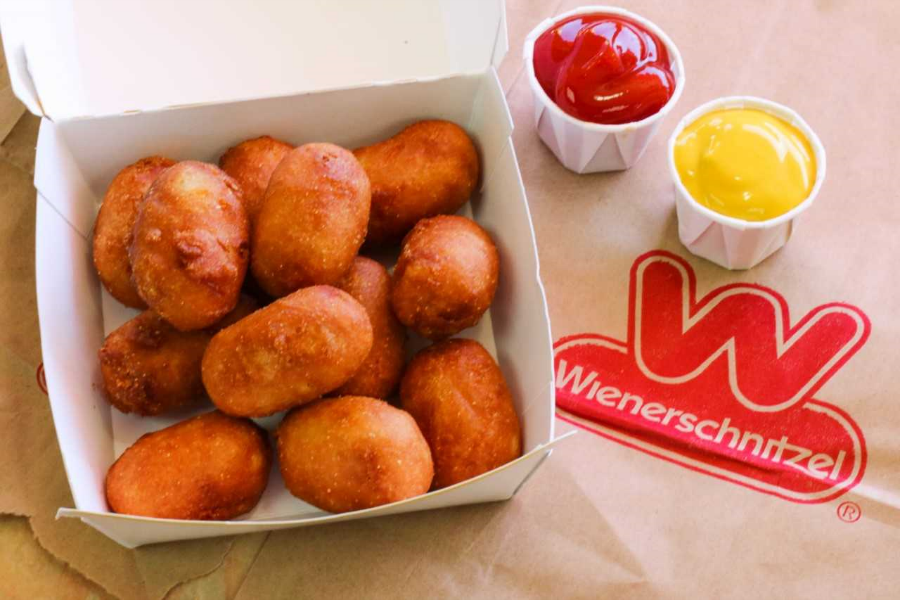 Our Mini Corn Dogs are a great way to try something other than pizza, chicken wings or being in the kitchen all day cooking for the Big Game this year," said Doug Koegeboehn, chief marketing officer at Wienerschnitzel. "Covered with sweet honey batter, Wienerschnitzel Mini Corn Dogs are a fan favorite. I'm getting them for my party as well as some Chili Cheese Fries and Chili Dogs to share. I can't wait."
We're planning on picking up at least one order of the delicious mini corn dogs for us. My kids love them.  As a matter of fact, during this promotion, fans can enjoy up to four orders. That's 100 Mini Corn Dogs for $20!
This is the first year Wienerschnitzel is offering this deal, but they hope to make it an annual tradition. To find directions to the nearest Wienerschnitzel, visit www.wienerschnitzel.com.
Photos courtesy Wienerschnitzel