Can you believe this record breaking heat we're having here in Orange County?  If this is Spring, Summer is going to be absolutely crazy!!! I can't believe Summer is already here in Orange County!  With record breaking heat, we have already been in the pool, which got me thinking… when do our local splash pads turn on the water? And What about local water parks?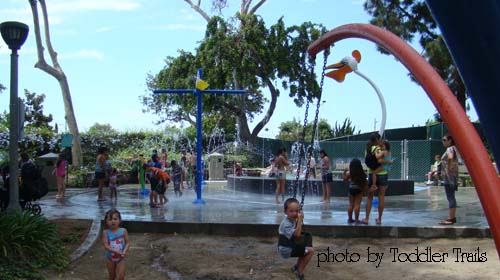 The nice thing about being in Orange County, CA is that there are many water places to keep cool. Check out these splash pads:
13630 Atlantis Way, Garden Grove, CA 92844 (714) 892-6015
One of my favorite parks in Orange County, this adorable splash pad is located in a historic park that is getting ready to celebrate their 50th Anniversary.  The splash pad's water is scheduled to start up on Tuesday, June 10th, 2014 through Labor Day, September 1st, 2014
10350 Fern St. Stanton, CA 92841 (714) 379-9222 x 270
Harry M Dotson Park, also knows as the "Pirate Park" is a themed park in Stanton with one entrance with an open gate.  There are two play structures, one a gigantic pirate ship and the other one for toddlers.  The saloon splash pad opens Memorial Day weekend, May 25th, 2014 and will continue through Labor Day, September 1st, 2014.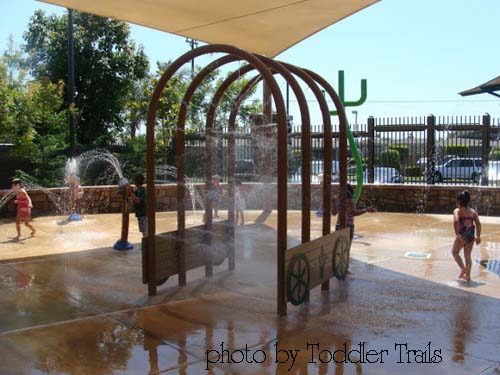 14301 Yale Avenue, Irvine, CA (949)724-6750
There is a nice playground and the splash pad consists of a star with water that shoots up in arches.  Fun for the kiddos.  Runs 10:00am – 6:00pm daily.
701 S. Lemon Street Fullerton, CA 92832  (714) 738-6575
The Spray Pool is open daily, Memorial Day Weekend, May 24th, 2014 through Labor Day Weekend, September 1st, 2014  12:00 p.m. – 5:00 p.m. Remember, you must wear a bathing suit to play in the Spray Pool.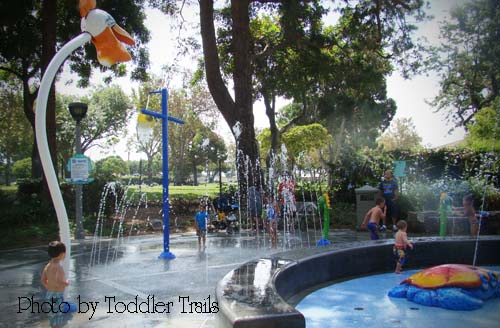 10250 Pioneer Road Tustin, CA 92782 (714) 573-3000
A fun park in Tustin, Pioneer has play structures, open grassy areas and a splash pad which will be open daily from Memorial Day Weekend,  May 24th through September 30th 10:00am – 4:00pm.  (Hours are subject to change)
Rancho Jurupa Park

:
4800 Crestmore Road, Riverside, CA 92509 – Phone: 951-684-7032
a gorgeous 200-acre recreational area with many amenities. Activities include a thrilling splash pad for water play, a rock climbing playground, miniature golf surrounded by spectacular waterfalls, and a disc golf course. Splash pad will be open upon demand.
7200 Plaza Street Westminster, CA 92683 (714) 895-2860
Located in Westminster, this splash pad is in a beautiful park setting with the splash pad enclosed with a gate. Picnic tables are available to sit on and watch the youngsters enjoy the water but if I recall, you are not allowed to bring food into the splash area.  The splash pad opens Memorial Day weekend, May 24th, 2014  for Saturday and Sunday only through June 22nd. Then, starting Monday, June 23rd, the splash pad will be open daily and will continue through Labor Day, September 1st, 2014
26281 O'Neill Drive Ladera Ranch, CA
For Ladera Ranch residents and guest only, this park features restrooms, outdoor showers, small splash & play area, water features including a bucket that dumps water into pool ever 3 minutes, 3 reservable picnic areas (covered), little kid bike course with BBQ's.  The splash pad will be in operation Memorial weekend through Labor Day (Sept 1st), then weekends only throughout September.
Now if you are looking for something a little more adventurous, check out the following locations:
13806 La Mirada Blvd. La Mirada, CA 90638 (714) 902-3191
"Buccaneer Bay" is loads of family fun with a pirate themed water park.  Enjoy a floating river, three water slides and a kids interactive play structure. The zero-depth beach entry and two spray pad areas are perfect for the little ones.  Pirate themed elements include: a marooned ship, a dramatic skull rock, shade canopies that resemble sails, cannon walls, wharf plank benches, and crow's nests. The park opens weekends 10:30am – 5:30pm on Saturday, May 24th, 2014 through Sunday September 28th.  The park will be open daily June 13th through September 1st, 2014.

3405 Michelson Drive, Irvine CA  (949) 559-38341
Buccaneer Cove, the newest attraction is now open at Boomers, Irvine.  It's a super-sized water play area that's five levels high with slippery slides, wet tunnels, spray loops and a huge splash bucket. Children have so much fun with the spray cannons and the interactive aqua dome. There is over 1000 feet of water slides for older kids and the smaller kids will enjoy a kiddie slide and a splash pad area.  The park is currently open weekends 11:00am – 6:00pm and will open daily between Memorial Day (May 26th) through Labor Day (September 1st).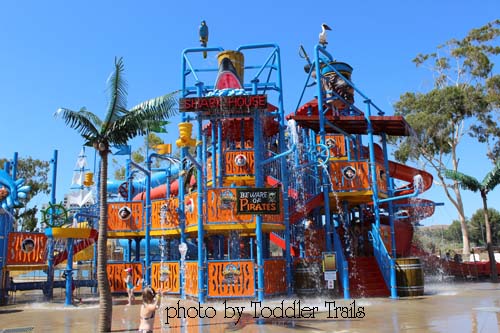 8039 Beach Blvd, Buena Park, CA 90620 (714) 220-5200
Across from Knott's Berry Farm, Knott's Soak City offers guests a little bit of everything when it comes to water entertainment.  For the little ones, there is a kiddie lagoon, the lazy river and the wave pool.  For the daring, there are several slides that will keep you coming back for more.  Soak City opens May 17th at 10:00am daily through August 31st and select days in September.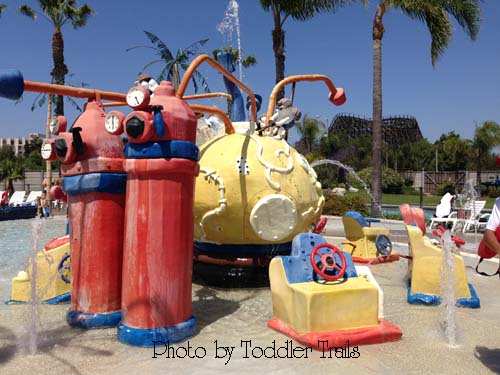 All days of operation and hours are subject to change.  Please contact individual cities for questions regarding the parks, reservations, water schedule.